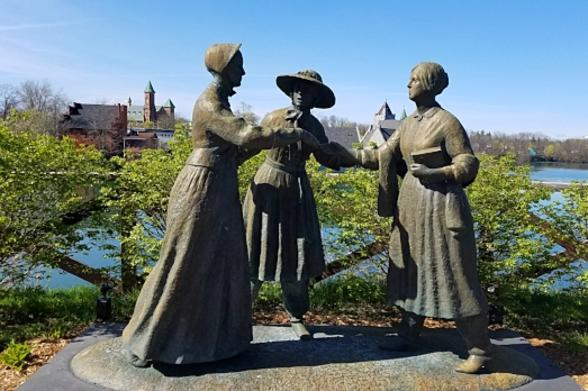 From July 19–20, 1848, a group of 300 women and 42 men came together in Wesleyan Chapel in Seneca Falls for the first-ever women's rights convention in the U.S. They began laying the groundwork for what would lead to women's suffrage in New York in 1917, three years before the nation followed. It has been over 100 years since​ the ratification of the 19th Amendment, which granted women the right to vote. The Wesleyan Chapel stands at the corner of Fall and Mynderse Streets, anchoring a charming strip in a Finger Lakes town that makes for a perfect weekend getaway.
Originally published 03/20/2020
FRIDAY
5 pm: Check in to the Gould Hotel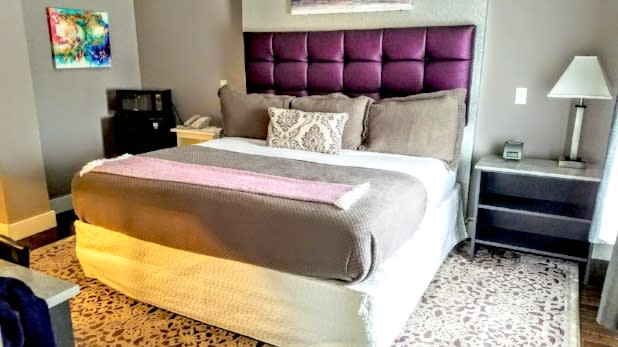 Check into the historic Gould Hotel—which dates back to 1920, but is definitely not stuck in the past. The chic rooms, complete with a chandelier above every comfy bed, have a decidedly boutique vibe with high ceilings, purple-and-gray accents, and dark hardwood floors. After you settle in, head to the Gould's dining room for delicious and wide-ranging fare like saffron pink peppercorn mahi and burrata ravioli. If you want to eat like a local, try one of the hometown favorites, like herb-crusted whitefish or chicken parm.
7:30 pm: After dinner, swing by the bar to enjoy a local brew with the locals (the staff is quick with a recommendation), and check out a live music performance. (The Gould hosts them every Friday night.)  
SATURDAY
9 am: Grab Breakfast at Penny's Place
Take a quick drive (or a pleasant 30-minute stroll) over to Penny's Place, which serves classic and kid-friendly diner fare like omelets and pancakes. TripAdvisor users have rated it one of the top places to eat in Seneca Falls.
10 am: Explore the National Women's Rights Historic Park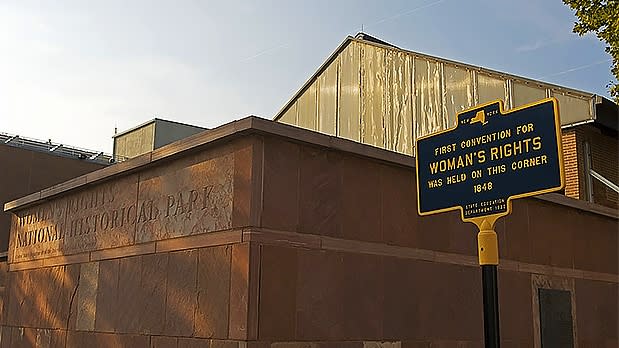 The National Women's Rights Historic Park isn't a single park, but rather a collection of historic sites in Seneca Falls and the surrounding communities. The Visitor's Center is located right in the middle of town, next to the Wesleyan Chapel. Stop by here to learn more about the various sites associated with the Park, and check out sculptor Lloyd Lillie's "The First Wave" installation, featuring life-size bronze statues of key figures at the First Women's Rights Convention.
12 pm: Get Lunch at Downtown Deli
This popular lunch spot is famous for its intimidatingly huge sandwiches with names like Balboa, Old Blue Eyes, and Drama Queen. Plan to split the whole sandwich or just order half if you're flying solo.
1 pm: Visit the It's A Wonderful Life Museum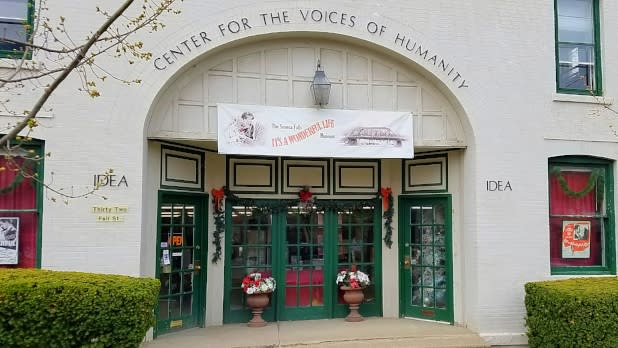 It's widely believed that Seneca Falls was the inspiration for the fictional town of Bedford Falls in the classic film It's A Wonderful Life. This charming collection features items from and related to the film and its cast members, Richard Goodson and Karolyn Grimes, and includes international movie posters and information on Donna Reed's peace activism during the Vietnam era.
2 pm: Discover the National Women's Hall of Fame
Trailblazing American women from Anne Hutchinson to Oprah Winfrey and beyond are honored in this info-packed hall where visitors can read the impressive biographies of some of the most important figures in American History. It's inspiring stuff, and kids will love leaving a note about women who have inspired their own lives. Former First Lady Michelle Obama and former PepsiCo CEO Indra Nooyi are among the recent inductees.
4 pm: Shop and Play at Destiny USA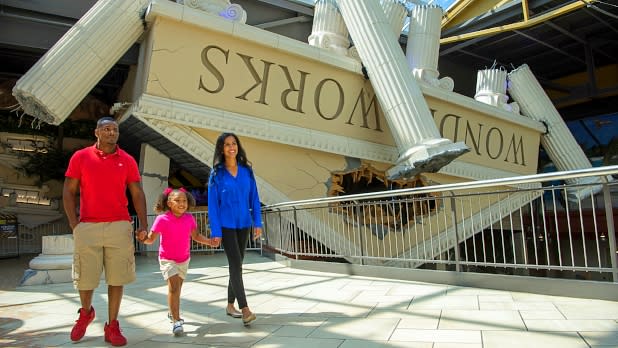 Syracuse is just about 45 minutes from Seneca Falls, so check out this ever-expanding fun-plex. Among its dozens of shopping, food, and entertainment options, Destiny USA includes fun activities like go-karts, a mirror maze, and the "amusement park for the mind," WonderWorks, where you can lie on a bed of nails, experience hurricane-force winds, and more. Or challenge your children's mental and physical skills at Trombi's Tower, Destiny USA's newest 5-stage obstacle course enclosed in transparent walls! (Ages 5-12)
SUNDAY
9 am: Walk the Canal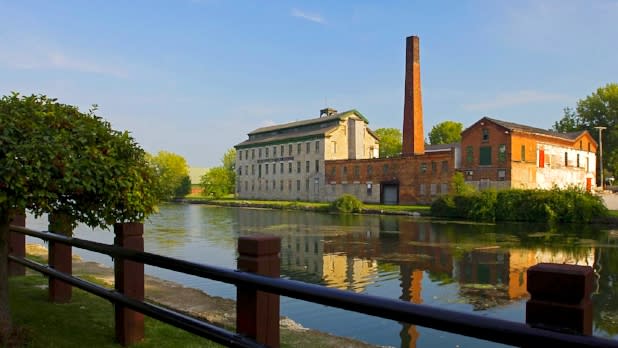 After breakfast at the hotel, head out for a walk around town. The Cayuga–Seneca Canal—down the hill across from the hotel—makes for a lovely stroll, and there are benches along the way to stop and take in the scene (and snap some pictures). Across the canal, the National Women's Hall of Fame and the Center for Great Women, formerly the site of the Seneca Knitting Mill. To learn more about the project and renovation, head here. Right next to the building, you'll see what's known by locals as Bailey Bridge, the very crossing said to have inspired the events in It's a Wonderful Life.
11 am: Learn More About Women's History
Check out M'Clintock House, another part of the Women's Rights Historic Park. This was once the home of Thomas and Mary Ann M'Clintock, a couple who was involved in virtually every reform movement of their era, including women's suffrage and abolition. The house was even a stop on the Underground Railroad. (Call ahead before visiting to confirm hours).
2 pm: Raise a Toast to Your Trip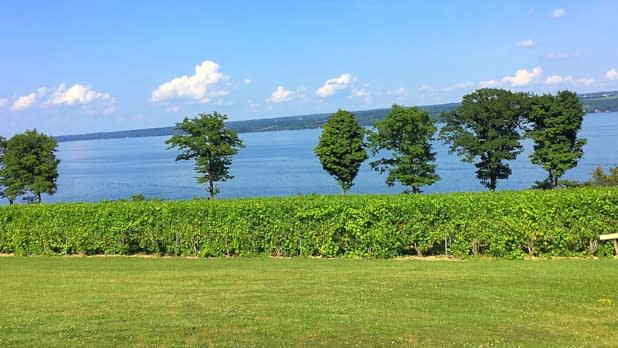 When in the Finger Lakes, you need to sample wine! Head to the Thirsty Owl, part of the Cayuga Lake Wine Trail, just 20 minutes outside of Seneca Falls. Grab lunch at their Bistro (check website for hours) with crowd-pleasing options like truffle parm french fries, fresh fried mozzarella balls, sandwiches, and hot entrees like lobster mac and cheese. The Bistro also serves fresh desserts prepared daily. Taking in views of beautiful Cayuga Lake will be the perfect cap to your weekend. (And don't forget to pick up a few bottles before you head home.)
GETTING THERE
By Car:
From Albany: 3 hours
From Buffalo: 2 hours
From NYC: 5 hours
From Philadelphia: 5 hours
From Cleveland: 5 hours
From Montreal: 5 hours
From Boston: 5 hours, 45 minutes
Closest Airports:
Syracuse Hancock International Airport: 1 hour
Frederick Douglass–Greater Rochester International Airport: 1 hour
By Train:
Amtrak to Syracuse or Rochester