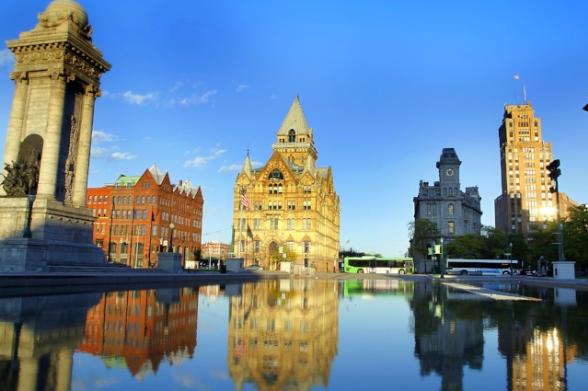 Updated 2/2/23
Syracuse's prime location along the Erie Canal helped establish it as an industrial powerhouse, but today, the powerhouses in the city are barbecue, family fun, and college basketball. With scenic parks surrounding Onondaga Lake, world-class museums, and an up-and-coming dining scene on historic streets, you're guaranteed a great weekend.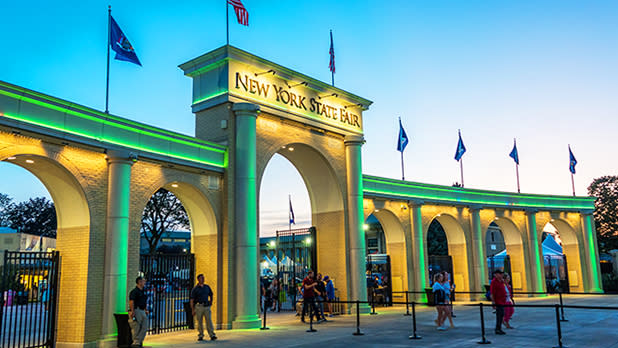 Important note: if you're in Syracuse between August 23 - September 4, 2023, hit up the Great New York State Fair for free concerts, thrill rides, and more fried food than you can imagine.
FRIDAY
5 pm: Survey the Syracuse Scene

Credit: Visit Syracuse
Explore Armory Square Historic District, the cultural hub of Syracuse, with shops and restaurants making use of historic buildings from the 1800s. Find fashion boutiques, unique home goods, and plenty of dining, including our recommendations for dinner and drinks below.
7 pm: Explore the Pastabilities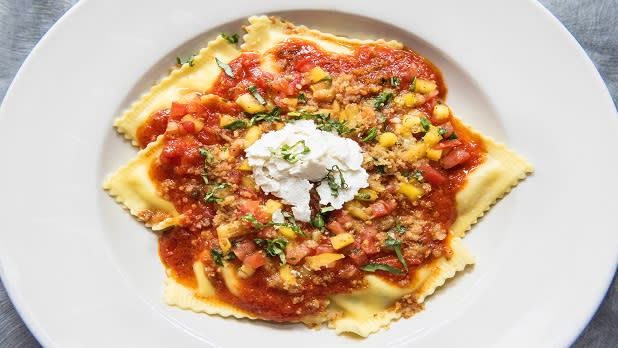 Dine at Pastabilities, a classic but contemporary spot, in its fourth decade of serving Italian fare in Syracuse. Locals and visitors alike devour the signature spicy hot tomato oil and stretchy bread, homemade pasta, and belly-filling mains like chicken parm and steaks.
9 pm Late Night Bites
Hit up the Hops Spot in Armory Square for beers on tap, flights, wine, and cocktails. From 10 pm to midnight, grab a late-night snack off their poutine menu, with a base of hand-cut fries from New York potatoes and many varieties to choose from (such as "Classique," with gravy and Yancey's Fancy New York cheese curd, "The Alamo," with fresh avocado, pickled jalapenos, tomatillo salsa, NY cheese curd, spicy ranch, and cilantro, or "The Big Lebowski," with fresh cheese curd and deep-fried pierogis).
SATURDAY
9 am: Rise and Shine and Dine

Credit: Funk 'n Waffles
Traditionalists should flock to beloved Stella's Diner, famous for its pancakes and Betty Boop decor (and open at 5 am every day, for you early risers out there!). For something more adventurous, have your breakfast at Funk 'n Waffles. Bypass plain old waffles and syrup and try zany combos such as banana bread waffle with walnuts and blueberries; brownie waffle with ice cream, whipped cream, and chocolate sauce (the "James Brownie"); a spinach and feta stuffed waffle; and a waffle made of stuffing and topped with smoked turkey, mashed potatoes, cranberry sauce, and gravy (the "Jive Turkey," pictured). Go with a group and sample a bunch, or if you're dining solo, Funk 'n Waffles thoughtfully offers most options in ¼ or ½ sizes, so you can still try more than one!
10:30 am: Make the MOST of Your Visit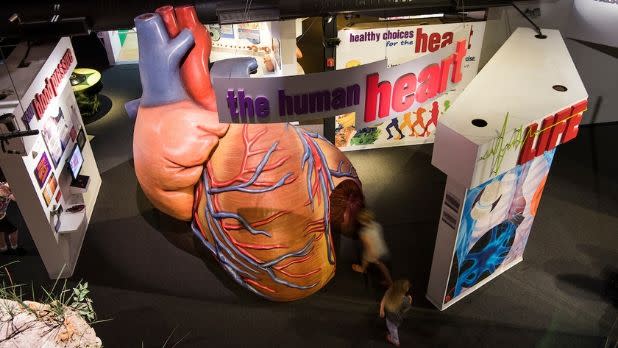 Spend the rest of your morning at the Milton J Rubenstein Museum of Science & Technology aka MOST, a hands-on science and technology museum for all ages with interactive exhibits. Sit in the cockpit of an F-16 fighter jet or in a flight simulator once used to train pilots for the Army Air Corps. Learn about plate tectonics, cave-forming, climate change, weather, and fossils in the Earth Science Discovery Cave. Then marvel at the artistry of Toothpick World, an exhibit of iconic buildings (including Yankee Stadium), and scenes (like a Star Wars-themed diorama) all built using more than 5 million toothpicks.
12:30 pm: A Piece of Apizza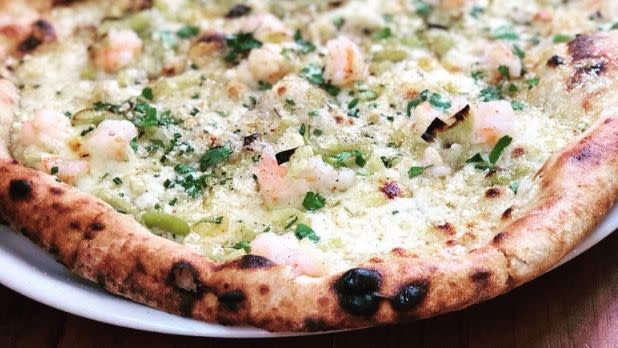 We are totally biased about Apizza Regionale because what's coolest about this Italian restaurant is that their ingredients are sourced from all over New York State! The flour for the dough is ground in Ithaca, the salami and cured meats are from the Bronx, the produce is from the farms of Central NY, and the dairy and eggs are from the surrounding Finger Lakes. Creative wood-fired pies include the Utica Nod (sauteed greens, Prosciutto di Parma, roasted garlic, pepperoncini, breadcrumbs, mozzarella, Pecorino) and the Calabrian (tomato sauce, soppressata, mozzarella, caciocavallo, fresh oregano, Calabrian chili-infused local honey).
2 pm: Embrace Your Wild Side

Credit: Cassie Guerra
Visit with more than 700 animals representing 216 different species at the Rosamond Gifford Zoo at Burnet Park. The Humboldt penguin exhibit has six viewing windows for you to get up-close and personal with everyone's favorite birds. At the domestic animal barn, pet alpacas, donkey, and rabbits. Don't miss the Giant Pacific octopus, though, fair warning: it's intimidating. The zoo welcomed many new arrivals in the last year, including a pair of African Cape porcupines, Bjorn the Andean Bear, six young Chilean flamingoes, and more!
4:30 pm: Shop 'til You Drop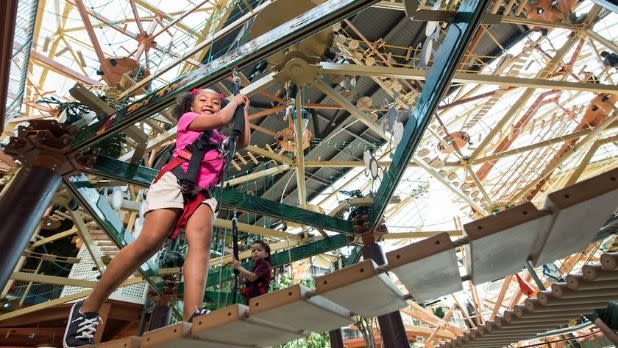 DestinyUSA is home to more than 250 retail and outlet brands for all of your shopping needs, but it's also a playground for people of all ages in a perfectly controlled climate year-round. You'll find an antique carousel you can ride, a comedy club, an escape room, electric go-karts, and the world's largest suspended indoor ropes course at WonderWorks. 
6:30 pm: Bib-worthy Bar-B-Que

Credit: Dinosaur Bar-B-Que
This barbecue phenom now stretches from Brooklyn to Troy to Buffalo and even out of state, but the original Dinosaur Bar-B-Que was founded right here in Syracuse in 1988. Your best bet is a combination plate so you can sample multiple types of meat (St. Louis ribs, pulled pork, brisket, chicken, sausage, wings, shrimp) and sides (including beans, fries, chili, coleslaw, macaroni salad, and applesauce). 
8 pm: Catch a Show or a Game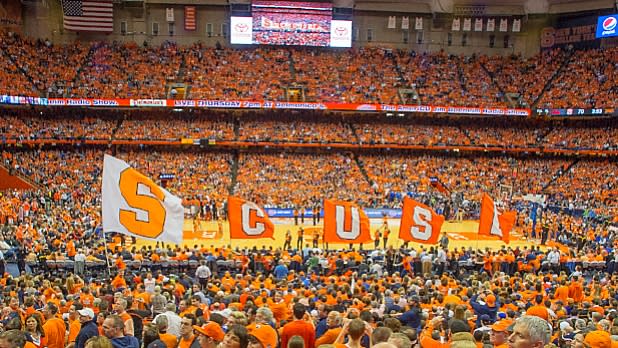 Depending on the season, check the schedule to find an event at Landmark Theatre or at Syracuse University (athletic and community events). 
SUNDAY
8:30 am: Stroll Around Skaneateles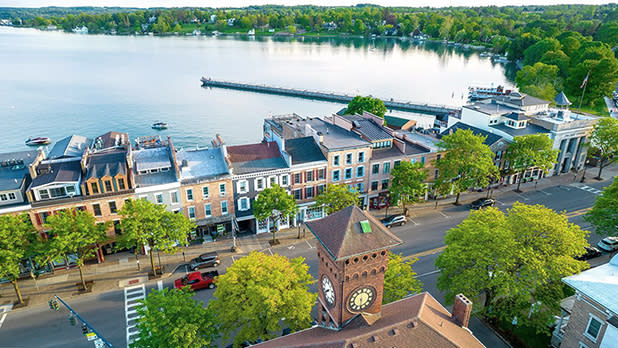 Head into the charming village of Skaneateles on the Finger Lake of the same name, just a 30-minute drive from Syracuse. In case you're wondering, it's pronounced "Skinny Atlas." The name means "long lake" in Iroquois and describes the 16-mile-long but just .75-mile-wide lake perfectly. When you see the crystal-clear lake water, you'll know why it provides drinking water to all of Syracuse, #nofilter. Have breakfast sandwiches and coffee at local hot-spot Skaneateles Bakery and don't forget to grab some doughnuts for the rest of your day.
10 am: All Aboard!

Credit: Mid-Lakes Navigation
At Clift Park, hop on a cruise with Mid-Lakes Navigation. Take in the gorgeous views and learn about the history of the lake as well as which mansions have been rented by celebrities (Justin Bieber is one of them!) In addition to daily tours, the company offers a special US Mailboat tour and moonlight sightseeing cruise, so check the schedule if you're in town for longer. Seasonal: May–September, tour times change depending on the month.
11 am: Shopping in Skaneateles
Charming villages have charming shops, and Skaneateles has them all. Stroll the area around East Genesee Street for unique clothing boutiques, toy stores, and art galleries. Don't miss the Local Branch, with its artisan leather goods.
1 pm: Lunch Time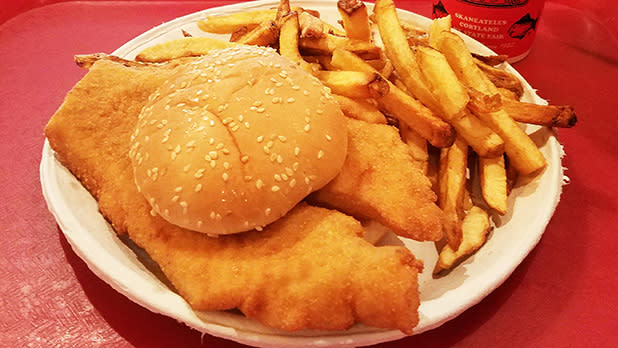 The choice is yours for lunch. Doug's Fish Fry is an affordable classic whose founder (Doug) is a local celebrity. For small plates and craft pizzas (including varieties of pesto or hot soppressata), head to Gilda's. Founded in 2019 is Adam and Kim Weitsman's Elephant and the Dove, which derives its name from a description of Diego Rivera and Frida Kahlo, the famed Mexican artist couple, and serves up Mexican cuisine. Also notable: former (original) Queer Eye host Thom Filicia designed the striking 7,500-square-foot space. The Weitsmans also revived Skaneateles classic the Krebs, a fine dining restaurant housed in a historic building from 1899. Staying in town a few more hours? Try out the make-your-own Bloody Mary bar at Blue Water Grill.
3 pm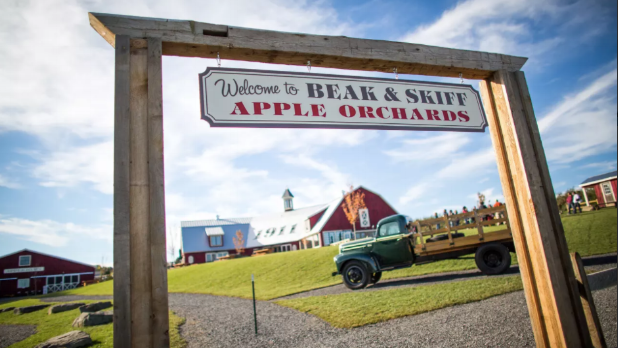 On your way out of Skaneateles, stop by Beak n' Skiff Apple Farm, Store, Distillery, & Winery, voted #1 apple orchard in the US by USA Today. Visit the tasting room to learn what you like, then stock up on apples, cider, Honeycrisp vodka, gin, and more to enjoy when you're back home.
---
GETTING THERE
By car:
From Buffalo: 2 hours, 30 minutes
From NYC: 4 hours
From Montreal: 4 hours, 30 minutes
Closest Airport: Syracuse Hancock International Airport
By train: Amtrak to Syracuse Station or New York State Fair (active for the duration of the NYS Fair)
By bus: Trailways to Adirondack Trailways Bus Stop or Greyhound to Syracuse Regional Transit Center.
Don't forget to post photos of your New York adventures on Instagram and Twitter with #iSpyNY and tag us on Facebook!