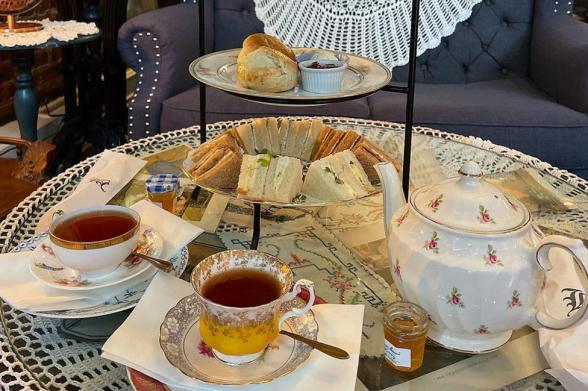 Pinkies up! An afternoon of elegance awaits in New York State. First introduced in the mid-1800s, the fancy mid-day meal known as afternoon tea, consists of three-tiered stands decorated with delicate finger sandwiches and petite pastries alongside a warm pot of tea. Today, establishments across the state have put their own twist on this lavish gathering. From historic tea rooms adorned with Victorian-era antiques to a New York City sightseeing tea tour bus, you'll be sipping like royalty after a visit to one of these piping hot spots for afternoon tea in New York State. 
Photo by Kim McVeigh
When you think of afternoon tea, The Plaza Hotel might be the first destination to come to mind. Scenically located across from Central Park, this luxurious retreat has been one of New York City's most iconic afternoon tea locations for more than 115 years. From 10:30am-4pm, you can delight in the timeless elegance of the Palm Court and enjoy all kinds of lavish bites like applewood smoked pearl salmon sandwiches, oolong tea cheesecake, cranberry spiced scones, premium tea, and the choice to add in a glass of champagne or other cocktails. There are even options for the younger tea aficionados (12 and under) called the Children's Eloise Tea ($118 per child) with more kid-approved snack selections. Gluten free, vegan, and vegetarian menus are available upon request and dietary and allergy restrictions are honored with 72 hours notice. Manhattan. Tea services start at $155 per person. 
If you're looking for a charming and historic afternoon tea experience, look no further than Adelaide's at the Asa Ransom House. This secluded and romantic inn in Clarence has a rich history dating back to 1853 and a traditional afternoon tea service that's sure to please. Served Thursdays and Saturdays, Adelaide's afternoon tea includes all the works with dainty finger sandwiches, warm scones with Devonshire cream, butter, or jam, adorable bite-sized desserts like mini cheesecakes, and a pot of tea or coffee. Clarence. $34.95 per person. Reservations are required.
Credit: Lana's The Little House
Over the river and through the woods to Lana's,The Little House in Forestville! This adorable English-style cottage is plucked straight out of a fairytale and located in the heart of the Chautauqua Lake Erie wine region. Live out your cottagecore dreams with the private Tea & Tour experience where you'll learn about the history of the tea house on a tour of the cottage and grounds narrated by Lana herself. Afterward, you'll get to enjoy elegant afternoon tea in the dining room complete with homemade scones and butter tarts, over 80 blends of fine teas, and live classical music played from the Little House baby grand piano. In true storybook fashion, the address is a well-kept secret that's revealed only after you secure your reservation. Forestville. Three-hour Tea & Tour is $45 per person. Reservations are required.
Make a reservation for traditional afternoon tea in one of Brooklyn High Low's two eclectic tea rooms. In Prospect Heights, you'll find an escape from the hustle and bustle of the city in the cozy tea room and garden, and in Park Slope, you'll find the Speak'Teasy Tea Room under the stoop of a Brooklyn Brownstone, each location providing a one-of-a-kind afternoon of elegance. This grand establishment offers four different services for afternoon tea all of which include a variety of classic tea sandwiches, freshly-baked scones with clotted cream and jam, and of course, a bottomless pot of tea. Gluten free and vegetarian options are available. Brooklyn. Tea services range from $30-$70 per person. Reservations are required. 
Take a step back in time and into the traditional Victorian era tea room at Charlotte's in Warwick. This relaxing establishment is a true escape from the hustle and bustle of daily life, so you won't find any wifi, television, or 30-minute table time limit. Enjoy an ever-evolving menu combining a traditional English afternoon tea experience with homespun American favorites from one of the three magical Clue-inspired rooms or the seasonal front porch. There's several options for tea service like the Tea for Two ($55) that includes an assortment of tea sandwiches like curried chicken salad, two scones, two desserts, and a large pot of tea, or the Wee Tea ($16 per child) for children under 10. Warwick. Reservations are recommended. 
Credit: @ms.zabala on Instagram
Sip, savor, and sightsee around New York City on the Tea Around Town Afternoon tea bus. This adorable, pink traveling tea room includes all the luxurious comforts of your standard afternoon tea like a three-tiered stand filled with savory and sweet treats and unlimited tea, but also the chance to see some of New York City's most famous landmarks like Radio City Music Hall, Times Square, and the Empire State Building. Your tea-rrific 90-minute trip will be narrated by an experienced guide and include performances from a live singer. If you're looking to elevate your afternoon tea experience, you can upgrade to premium admission ($109 per person) which includes a glass of sparkling wine and an enhanced menu. Manhattan. Standard admission starts at $69 per person. 
Scones, savories, dessert, and piping hot tea await at Robinson's Tea Room in Stony Brook. At this cozy, British-themed tea room, afternoon tea is their specialty and features over 60 varieties of loose leaf tea to choose from. Your lavish afternoon will include unlimited hot tea, iced tea, or coffee, and a decadent three-tier stand adorned with your choice of fresh baked scones, finger foods like mini quiche, and chef's choice of delicious pastries on top. There's also a children's option ($35 per child) for little tea enthusiasts, a gluten sensitive version of afternoon tea service, and vegan options. Make sure to hit the shops in the Stony Brook Village Center and explore the Long Island Music & Entertainment Hall of Fame before or after your tea time. Stony Brook. British Afternoon Tea service is $45 per person. Reservations are recommended. 
Relax and enjoy the inviting  atmosphere of the Whistling Kettle. With three full service cafe locations and one tea bar scattered throughout the Capital region, the Whistling Kettle is a tea lover's dream with over 130 tea blends to sample. You'll find that their afternoon tea service comes with a unique twist: you can build your own! For $20, the build-your-own afternoon tea comes with your choice of a salad or soup, an entree, and a sweet treat like a lemon drop scone for dessert, served on a three-tiered stand. If you're looking to step up your tea game, explore their wide range of beverage options that include tea cocktails, all served a la carte. Even better, there's a menu solely dedicated to vegan and vegetarian cuisine and tasty gluten free substitutions are aplenty. Ballston Spa, Troy, Schenectady, and Albany. Afternoon tea is $20 per person.
Fall down the rabbit hole at this quirky Rochester restaurant and bakery boasting a British tea service with a Mad Hatter-approved twist. This tea adventure is split into three courses where you choose your own path through a delicious wonderland. Course one is a bottomless pot of organic loose leaf tea with fresh fruit and crumpets served with clotted cream, preserves, and butter. For course two, you'll choose from four Alice in Wonderland-themed packages that feature finger sandwiches, salads, and cheese boards. Course three is a chef's choice of petite but tasty pastries. Gluten free and vegan packages are also available. Rochester. Reservations are required. Packages range from $18-23 per person. 
Sip and savor sweeping views from the Lake Lounge at Mohonk Mountain House in New Paltz. Not only does this historic hotel boast a truly luxurious getaway, but it's also rated one of the top 25 best places for afternoon tea for 2023 by Historic Hotels of America. This delightful service offers your choice of tea sandwiches like smoked salmon, scones with housemade jam and locally-whipped butter, chocolate bon-bons, and fruit tarts, and of course a variety of teas including the hotel's own black tea blend. Options for children, and additions such as prosecco for adults are also available. Depending on the season, you might even get to enjoy some live music while you relax among the mountains. New Paltz. Tea for two is $175 and can only be booked with a dining, spa, or overnight reservation and cannot be booked on its own. 
Grab your best tea hat and step back in time to this Victorian era tea room in Binghamton. Vintage Vibes Cafe is found in the Your Needful Things antiques shop which means that you can enjoy your afternoon tea surrounded by beautiful trinkets and afterward shop for some of your own to take home. Afternoon tea includes an assortment of adorable tea sandwiches, scones, and other sweet treats all served on an authentic three-tiered stand alongside a steaming pot of tea. Binghamton. Afternoon tea is $23 a person.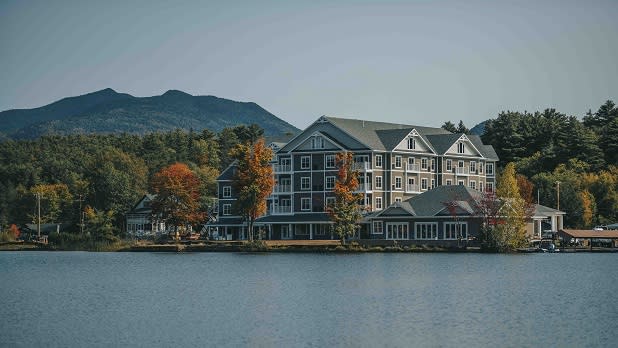 Make memories among the mountains at afternoon tea in Saranac Lake. Found at the Saranac Waterfront Lodge, Navigator's Lounge is the perfect spot to cozy up with a warm cup of tea and take in stunning views. The afternoon tea service includes delightful tea sandwiches like smoked salmon and cream cheese on pumpernickel bread, a variety of sweets like scones and chocolate hazelnut torte, and an assortment of teas to choose from. If you're looking to spice up your traditional afternoon tea, there's also the option to add in a cocktail from the bar. Saranac Lake. Afternoon tea is $32 per adult and $16 per child. Reservations are required.  
For the ultimate afternoon tea trip, be sure to book this annual journey to "Millionaires Row" with the Alexandria Historical Society. Your day kicks off with a boat ride to Casa Blanca on Cherry Island, which was once the Victorian summer home of the Amsterdam Family. You'll then get to sip tea and delight in delicious desserts and finger foods on the veranda overlooking sparkling waters and get to tour the home and many of its original furnishings. Alexandria Bay. 2024 date to be announced. $50 for non-members.
Create your own tea-lightful experience from the warm and inviting Albergo Allegria Inn found in Windham. While you won't find your traditional afternoon tea service featured on the menu, you will find an impressive tea wall featuring more than 50 varieties that's sure to wow any tea enthusiast. Enjoy a warm cup from the adorable breakfast room or outdoor patio (weather permitting) alongside scrumptious baked goods like coffee cake, biscotti, or gluten and dairy free banana muffins. Windham. 
---
Share New York State adventures with us on TikTok, Instagram Twitter with #ILoveNY and #iSpyNY, and tag us on Facebook!