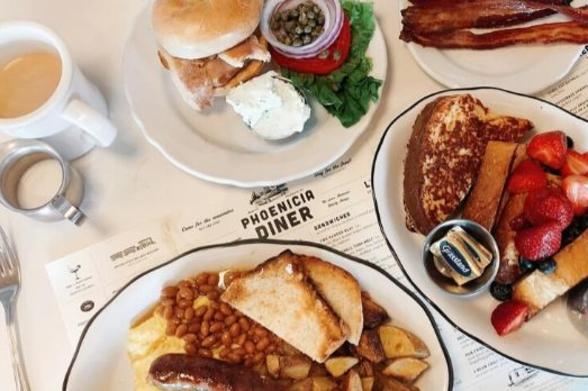 Is there anything better than diving into stacks of pancakes covered with maple syrup? Or savoring a milkshake made with local ice cream after a cheeseburger and fries? With great food, a friendly atmosphere and the occasional award-winning chef behind the counter, diners and luncheonettes remain some of the best places to grab a bite in New York State. From New York City to the Adirondacks and everywhere in between, these family-friendly mainstays are the stuff of mouthwatering memories. Discover original diners, where the atmosphere has been generations in the making, as well as award-winning hot spots that welcome all to linger over a meal. 
Masks are encouraged, but optional in most settings per New York State guidelines. Individual businesses or attractions may require mask wearing. Call ahead and check websites and social media to make sure attractions and amenities are open and available. 
Updated 03/14/2023
Original standing diners 
This all-American eatery opened its doors in 1969, the same year Woodstock made its debut 20 miles down the road. Visitors are greeted with a glass dessert case filled with cakes, pies, and assorted homemade baked goods. Whether you take a seat at the counter or claim a table, this Trout Town USA hot-spot will serve up something fresh and delicious. Go for a mouthwatering burger piled high with fries or choose a Greek specialty like Moussaka—either way, you'll leave satisfied. Kids will love their special menu, which offers standards like macaroni and cheese as well as mini pizzas and hot dogs. 
What to order: Chicken Athenian with artichoke hearts, sun-dried tomatoes, mushrooms, feta, and oregano. 
When to go: Open Sunday-Wednesday 6 am–9 pm and Thursday-Saturday 6am - 10pm
Troy's oldest restaurant for pickup was established in 1913, and has been hailed as a landmark place to dine ever since. Manory's offers classic diner fare that will delight all ages. The menu covers everything from burgers to deli sandwiches to salads and wings, as well as ice cream and milkshakes. 
What to order: A handspun milkshake with whipped cream and toppings. We recommend the Brown Sugar Poptart Pancakes. 
When to go: Open Tuesday - Sunday from 7:30am - 3pm.
This 1950s-era diner in Johnson City is a hometown favorite that still offers a classic diner menu. Signature sandwiches and unique breakfast combos make this a fun place for the whole family to feast. Fish tacos share menu space with grilled Cubano sandwiches and eggs any style. 
What to order: Root Beer Float Pancakes. They're topped with vanilla bean ice cream and homemade root beer syrup. 
When to go: Open 8am–3 pm Wednesday through Friday, 8am - 12pm Saturday, and 7am - 2pm Sunday.
Originally the Northport Diner, the landmark became Otto's Shipwreck Diner during the early '70s. Head to what's now known as Tim's Shipwreck Diner in Northport in the summer and feast on classic diner fare while sitting out back on the terrace or inside the nautical-themed trailer-style dining room. Family-owned for half a century, Tim's serves up mimosa flights made with different juices, decadent rice pudding, and heavenly cheese blintzes. 
What to order: Cup of grits with cheese and bacon (only available on weekends), and a Nectar Mimosa. 
When to go: Go for breakfast on Thursdays when the crowds are thinnest! Open Monday 8am- 3pm, Wednesday - Friday 8am - 3pm, Saturday - Sunday 7am - 3pm, and closed Tuesday.
Recently revamped or renovated locations
For three decades, this Hauppauge mainstay has been serving up freshly prepared comfort food to the masses. Completely rebuilt in 2003, their extensive menu offers everything from traditional diner fare like Eggs Benedict and pancakes to Greek specialties such as gyros and souvlaki. Gluten-free options are available, as well as fountain milkshakes, pasta, seafood, steaks, and homemade desserts. Hauppauge is the place to go when your appetite strikes! 
What to order: A cheeseburger. Toasted buns, ample fries, and a juicy burger. Can't go wrong with this diner classic. 
When to go: Go for lunch! Open Sunday-Thursday from 6 am–2 am and Friday-Saturday 6 am –3 am. 
This 1930s diner was fully restored in 2017, but still serves up delicious breakfasts and lunches. Mahogany trim, a barrel-vaulted ceiling, and walls made of porcelain enamel create a cozy, upscale atmosphere, while hearty diner favorites like poutine with fresh cheese curds, and biscuits and gravy satisfy any appetite. 
What to order: The meatloaf melt with muenster, red onion, spicy thousand island dressing, on a sourdough bun. Or the Chicken n' Donuts when it's on the menu!
When to go: Open seven days a week from 7 am–3 pm.
This circa-1925 diner has moved from Connecticut all the way to Chatham, NY, where owner Dan Rundell spent 12 years restoring it to luster and glory. Stop by for the Hot Mess breakfast featuring a delicious medley of eggs, peppers, onions, ham, cheese, and home fries for breakfast and stick around for lunch!
What to order: A Patty Melt, made with swiss cheese, sauteed onions on grilled rye with pickles, followed by a chocolate sundae.
When to go: Open Monday-Friday 6am-2 pm, and Saturday-Sunday 7:30 am-2 pm. 
Famous/award-winning restaurants
"Home of the World's Largest Omelet," Crazy Otto's in Herkimer is a 1952 Mountainview diner with neon lights and lots of counter space. Otto's has several accolades to its name, but none is quite as unique as the World Record for the "Largest Omelette Pool Table," where owners created an omelet spanning 2,128.75 square feet. 
What to order: An omelet, obviously! Scotty's Chili Cheese Dog omelet features diced hot dogs, cheese, and chili. Healthier options are available. 
When to go: Open 7 am–3 pm Sunday through Thursday, and 7 am–4 pm Friday to Saturday. 
This mom-and-pop eatery in Penn Yan is small but mighty, with five tables and 10 counter seats. Current owners and friends Anna Sweet, Nate Salpeter, Alicia Avellaneda and Cameron Mills strive to offer great food and a great experience, and it shows. When the diner went up for sale, the group decided to go into business together as friends and partners, to ensure the diner continued its long tradition of being an important part of the Penn Yan Community. NYup.com has awarded several accolades to the diner, including the coveted Judges' Choice Best Diner in Upstate NY, Best Pancakes, Best Home Fries, and Best Atmosphere. The diner itself dates back to 1925, and offers a "retro-licious" vibe to customers. Breakfast is served all day, and daily special dinners make this a must-stop.
What to order: Gluten-friendly pancakes, hot sandwiches, and diner-made pie a la mode! 
When to go: Open from 8 am–2 pm, seven days a week On Sundays, breakfast is the only meal served.
Head over to this family-owned, Buffalo favorite featured on "Diners, Drive-Ins, and Dives'' for your breakfast and lunch cravings. This mother-and-son-run gem cranks out anything from your typical American diner classics to Greek specials. Be sure to try some of their fresh-baked toast served with breakfast or on one of their signature sandwiches. 
What to order: For breakfast, try the Apple Cinnamon Walnut French Toast. For lunch, try the Open Face Chicken Sophia Sandwich. 
When to go: Open Monday - Saturday 7am - 3pm

Credit: @nhkueny on Instagram
Two locations, one in Brewster and one in Hyde Park, make this a mainstay for hungry Hudson Valley residents and visitors alike, and scored the diner a mention on "Diners, Drive-Ins and Dives." The menu is filled with recipes handed down from generation to generation, offering everything from street tacos to classic New York Deli-style sandwiches. Expect a 1950s vibe, complete with a jukebox and soda fountain treats. 
What to order: Ed's Famous Malted Waffles with ice cream and whipped cream. 
When to go: Both locations are open Monday-Sunday 7 am - 10 pm.


Credit: Funk 'n Waffles
There's a reason why Funk 'n Waffles in Syracuse draws worldwide crowds including the one-and-only Guy Fieri. Owner and Syracuse graduate, Adam Gold is known for serving up tons of creative waffle combos from locally sourced producers. Try one-of-a-kind waffle creations like Red Velvet Cake, Chicken Parm, and Meat Lover Waffles. Give their grilled sandwiches and chicken 'n fries a go if waffles aren't your thing. With live music every night, there's never a dull moment at this Syracuse favorite.
What to order: For something savory, try the Jive Turkey (pictured), a stuffed waffle with smoked turkey, garlic mashed potatoes, gravy, and a side of cranberry. For something sweet, try the Banana Bread Belafonte waffles made with banana bread batter and topped with blueberries and walnuts.
When to go: Wednesday 9am - 4pm and Thursday - Monday 9am - midnight.
Mom & Pop/hometown/local favorite spots 
This is the kind of place where regulars hang out, if not for the delicious food, then for the friendly banter with the staff. Owner Marty Richardson and her sister Ana lead the charge in serving up the "Best Central New York Breakfast." The menu is straightforward, offering omelets and scramblers, pancakes and french toast, waffles, and other classic diner fare. This Syracuse favorite is renowned for its generous portions and friendly service. 
What to order: Frittata Nestico's Style. Made with four eggs, onions, peppers, veggies, pepperoni, homefries, and cheese, it might just fill you up for the day. 
When to go: Open Monday-Sunday 7 AM - 2 PM.
Named after Noon Mark Farm and the eponymous mountain peak in the Adirondacks, this Keene Valley landmark has been serving up unfussy homemade goodness since 1981. Known for their homemade pies, the lengthy menu features everything from eggs and toast to gluten-free breakfast and lunch items. Noon Mark is the perfect stop for hikers, fishermen and women, and anyone who's up for a great meal before heading out into the great outdoors. 
What to order: Gluten-free lasagna or a slide of maple walnut pie. Pick up desserts, baked goods, and pies to bring home!
When to go: Open daily from 7 am - 4 pm.
On Maple Avenue in Saratoga Springs, this unassuming diner offers a cozy atmosphere and down-home cooking. Daily specials, homemade soups, and desserts keep the Capital Region coming back for ample breakfasts and satisfying lunches. 
What to order: A homemade ice cream sandwich with whipped cream and strawberries on the side! 
When to go: Open Monday-Saturday from 7 am–2 pm and Sunday 7am-1pm.
All-natural, freshly prepared are the hallmarks of this Syracuse staple. The owner, Danielle Mercuri, shops local and buys from area farms as much as possible to create the breakfast, lunch, and early evening dishes that keep fans coming back for more.
What to order: With eight different kinds of Eggs Benedict, you might be tempted to go for the Pork Belly Bacon Benny, but we recommend an order of Flaming French Toast with bananas and pecans caramelized in butter, brown sugar, and rum. If you're not feeling like dessert disguised as breakfast, the Rise & Shine Burger might just be what you're looking for! 
When to go: Open Monday-Thursday 7 am - 3 pm and Friday- Sunday 7 am - 5pm.
This Smithtown local is the place for homemade cooking that sticks to your ribs and leaves you hooked. A rotating menu of family recipes means that you will find a new favorite every time you visit. Decadent stuffed French Toast, oatmeal made from scratch and baked to perfection, savory egg dishes topped with cheese, and sinfully rich pastries make Maureen—or Mo's—Kitchen one of the best places to grab breakfast or lunch on Long Island. 
What to order: Ricotta pancakes or the crabmeat omelet with scallion, tomato, and lacey Swiss cheese. 
When to go: Open 7 am–2 pm Monday, Tuesday, Thursday, Friday, 6am–2pm on Wednesdays, and 7 am–1:45 pm on weekends.
Located in Jamestown, this colorful diner offers a variety of traditional and non-traditional diner fare. Their dinner menu is extensive, offering everything from lasagna to roast beef platters. Their Italian-themed menu options include pizza, chicken parmesan, and spaghetti and meatballs. 
What to order: The Reuben.
When to go: Open Monday-Wednesday from 7 am-3 pm, Thursday and Friday from 7 am -8 pm, Saturday from 7 am-12am and Sunday from 7 am-2am. 
Luncheonettes/ brunch/ breakfast locations
Gracie's is a tucked-away hot spot in Leeds, just a few miles from Interstate 87's Exit 21. Since 2016, the luncheonette has been grabbing the attention of diners and making headlines for its delicious fare. Routinely acknowledged as one of the best restaurants in the Capital Region, Gracie's actually started out as a food truck in 2014. Their made-from-scratch menu includes locally sourced products from area farms and purveyors. 
What to order: Pimento Cheese Burger with fried green tomato, followed by a salted caramel milkshake. 
When to go: Open 10 am - 7 pm Monday and Wednesday-Friday, on Saturday and Sunday, and closed Tuesdays.
Located in historic downtown Ticonderoga, Burleigh's Luncheonette is still serving up 1950s nostalgia and breakfast all day. With roots dating back to the 1920s, this 2020 Ticonderoga Business of the Year award-winner is a favorite among locals and travelers alike for its friendly atmosphere, delicious lunch and dinner specials, and homemade desserts. 
What to order: Cheeseburger club sandwich with toasted bread, lettuce, tomato, bacon, and mayo, and a rootbeer float for dessert.
When to go: Monday-Wednesday 7am-3pm and Thursday to Saturday 7am-8pm.
Rated as one of the best breakfast spots in the state, Koffee Kove is a must-visit for coffee and breakfast lovers everywhere. Sit down for a CITAVO coffee and feast on old-fashioned favorites like Liver and Onions, ale battered shrimp, pancakes, and more. 
While the restaurant is not a gluten-free facility, they do have a gluten-friendly menu.
What to order: The Crabby Patti Eggs Benedict features two handmade crab cakes with homefries. 
When to go: Open Monday-Friday 7 am - 7 pm and Saturday - Sunday 7 am - 2 pm.
Grazin' (Hudson Valley)
The Hudson Valley is known for its farm-to-table restaurants, and Grazin' is one of them. The restaurant serves up local, sustainable, grass-fed and finished, organic, biodynamic, animal welfare-approved dishes with ingredients sourced from the owners' farm, Grazin Angus Acres, the first NYC Green Market farm to become Animal Welfare Approved (AWA). The menu is a mouth-watering meander from field to stream that includes burgers, fries, sandwiches, and spirits from their farm distillery.
What to order: The Dude burger with house-made chipotle mayo or try one of their vegetarian options like the Bello with buttermilk ranch and balsamic marinade.
When to go: Sunday-Thursday 12pm-8pm and Friday-Saturday 12pm-9pm.
Chef-Driven 
The original diner opened in 1953 as one of four such diners, and to this day, it still offers that original 1950's spirit with a decidedly retro twist. Chef and owner Kristopher Schram is a CIA graduate with a Michelin Star and James Beard Award–winning restaurant pedigree. He was also the force behind the internationally acclaimed Bæst in Copenhagen. Lucky for us, he's returned stateside to bring his culinary philosophies to Ancram's finest. 
What to order: French Toast Tower with house-made whipped cream from the breakfast menu.  
When to go: Open Friday - Monday 9am - 4pm. 
This easygoing Polish eatery offers a lot more than just sweets. For the past 25 years, chef and owner of Eva's European Sweets, Eva Zaczynski, has brought authentic Polish comfort food to Syracuse using only the freshest of ingredients. Choose from 10 different types of pierogi, a rotating menu of homemade desserts, and enough Polish specialty plates to keep you coming back again and again.
What to get: Potato and Farmer's cheese Pierogi and the Kielbasa Dinner.
When to go: Open Tuesday-Thursday 11am-8pm, Friday 11am-9pm, and closed Sunday and Monday.
Featuring locally sourced ingredients and top-notch dishes, the Phoenicia Diner is a gem in the Catskills. Seating is on a first come, first served basis, so plan accordingly—we promise, even if you do have to wait, it's worth it! After you've indulged at the diner, explore the surrounding Catskill Mountains, any time of the year. 
What to order: With breakfast served all day, try the Taco Skillet with scrambled eggs, chorizo, crispy corn tortilla, pico de gallo, crema, refried beans, salsa verde, and queso fresco. For something a little sweeter, get the French Toast with toppings, such as fresh fruit, maple syrup, berry jam, chocolate hazelnut spread, or cream cheese. 
When to go: Thursday - Tuesday 8am - 6pm, closed on Wednesdays.
Hungry? We certainly are. Don't forget to share your experiences with #ISpyNY and #ILoveNY.