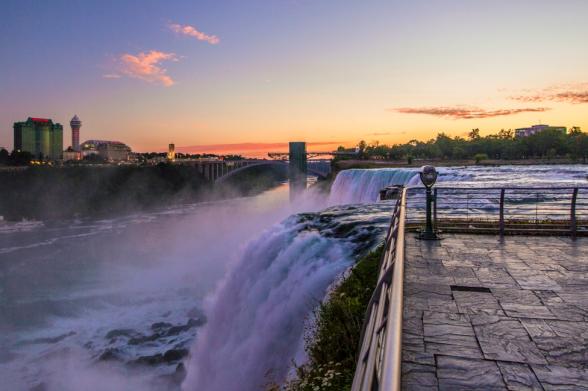 Buffalo has long been known for its sports culture and as a great place to take in an NFL game, but New York's second-largest city and the surrounding Greater Niagara region offer so much more. Featured as one of the New York Times' 52 Places to Go in 2018 and selected as one of Lonely Planet's Best in Travel 2020 destinations, Buffalo has been experiencing nothing short of a renaissance. Classic buildings now house luxurious hotels and hot new restaurants. A burgeoning brewery scene has been racking up awards and accolades. A newly redeveloped waterfront offers plenty of outdoor recreation opportunities and unique entertainment. While you can easily spend several days exploring the city and getting to know its friendly residents—Buffalo is often called the City of Good Neighbors—no visit would be complete without exploring the region's majestic natural wonders, like Niagara Falls and Letchworth State Park, which was named the #1 State Park in America in a prominent national poll. 
We asked local icon, Pro Football Hall of Famer, and legendary Buffalo Bills running back, #34 himself, Thurman Thomas, for some of his favorite places to go in Buffalo and the Greater Niagara region during football season. 
Explore the Waterfront
Situated at the Western terminus of where the Erie Canal meets Lake Erie, Canalside offers a myriad of recreation options. Go for a run or try cross country skiing along Lake Erie's Outer Harbor, or just park yourself in an Adirondack chair along the boardwalk to watch as the sun sets over the water—Buffalo is one of only a few cities in the eastern United States where you can do this—or a nightly light show projected on a grain elevator right across from Canalside (nightly, dusk to 11pm). From November 20 to March 1, the rink at Canalside comes alive with outdoor ice skating, ice bumper car rentals, ice bikes (yes, an actual bicycle designed to glide over ice), and curling. Head over to Buffalo RiverWorks (pictured), a hip entertainment complex built in and around two towering grain elevators. There you can enjoy live music, play arcade games, sample beers from the world's first silo brewery and grab a meal at a full-service restaurant all without getting back in your car. Between May and early October, RiverWorks also features a zipline between the silos, as well as silo-climbing and indoor rock climbing. 
Go Downtown and See Design Masterpieces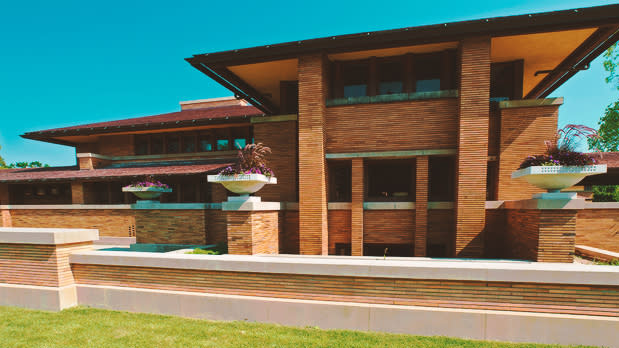 Buffalo is home to masterpieces by some of the biggest names in architecture. Frank Lloyd Wright's Darwin D. Martin House (pictured) is considered one of his finest residential works and one of the most popular attractions in town. The grounds and home underwent a two-decade-long renovation completed this year, so it's a great time to visit. Downtown Buffalo is also home to Art Deco buildings and spaces dating to the 1920s and 1930s, including Buffalo City Hall, the Rand Building, and the lobby of the Hotel at the Lafayette. 
Thurman likes to encourage visitors to learn about the city's rich history. Situated in landscape architecture legend Frederick Law Olmsted's stunning Delaware Park, the Buffalo History Museum tells the story of how Buffalo and Western New York influenced industry and humanity throughout the centuries. The collection includes art and artifacts relating to aviation, the Industrial Revolution, Native American history, and sports—among other Bills memorabilia, you can see Thurman's jersey and helmet on display. 
Hit the Buffalo Wing Trail and More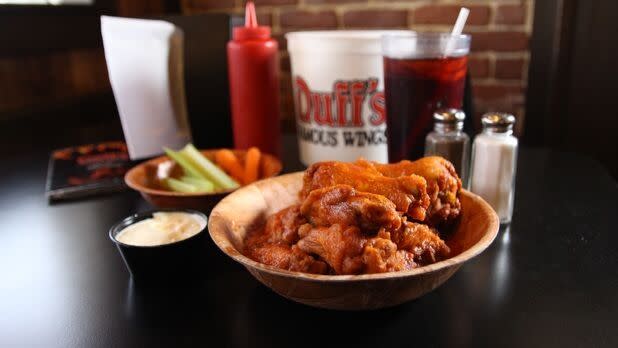 Any trip to Buffalo starts, of course, with wings. The Buffalo Wing Trail, which allows visitors to sample chicken wings from the city's best wing-slingers, includes Duff's Famous Wings, which along with The Big Tree Inn, are two of Thurman's favorites. Another local invention is beef on weck, a local spin on a roast beef sandwich with a dip in au jus. Thurman recommends trying this unique treat at traditional German restaurant Schwabl's and at Charlie The Butcher. The city's best-kept food secret is Buffalo-style pizza, which is a nearly crust-less cheese pie topped with cup-and-char pepperoni. Thurman says to try it at Santora's Transit Road Depew location. 
Buffalo's higher-end dining scene is noteworthy as well. Exciting restaurants include neighborhood Italian hot spots Osteria 166 in Downtown, Mulberry Italian Ristorante in Lackawanna, Tempo in Allentown, and popular steak, seafood, and chop houses Lucia's on the Lake right on Lake Erie and Hutch's in Elmwood Village. No trip to Buffalo would be complete without sampling some of the city's locally brewed beer. Thurman's must-stops include Big Ditch, Resurgence, and Buffalo Brewpub. Craft beers are also on tap at 716 at Canalside, a family-friendly sports bar with massive screens showing all the big games! 
See Natural Wonders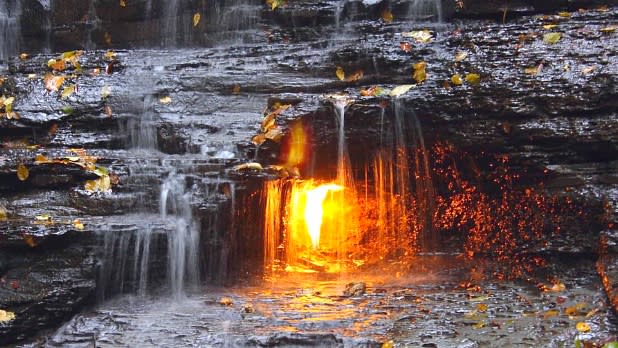 Credit: Bob Lennartz
Thurman's favorite way of experiencing the epic grandeur of Niagara Falls during the NFL season is to follow the foliage on a scenic drive up the Niagara Scenic Parkway. Just half an hour from downtown Buffalo, Niagara Falls is stunning any time of year, but especially so when surrounded by the vibrant colors of the changing leaves in autumn. Later on, the Falls freeze over and the entire Niagara Falls State Park turns into a veritable winter wonderland. For a unique vantage point on the American & Bridal Veil Falls, stop at Goat Island. Take a guided tour to learn the history behind this natural wonder and its importance as a source of sustainable electric power for New Yorkers (bus tours leave from Niagara Falls daily; call ahead to see if a pick-up from your Buffalo hotel is available). 
On a nice day, take a moderate hike (one-mile round-trip) out to one of the Buffalo area's most Insta-famous locations, Eternal Flame Falls (pictured), a waterfall with a natural gas spout that, when lit, produces a picturesque flame amid the rushing waters. 
A little more than an hour east of Buffalo is the magnificent Letchworth State Park, also known as the "Grand Canyon of the East." The massive 14,350-acre park is beloved for its scenic waterfalls and a gorge featuring 600-foot cliffs, which makes rafting trips down the Genesee River especially breathtaking. 
Bring the Kids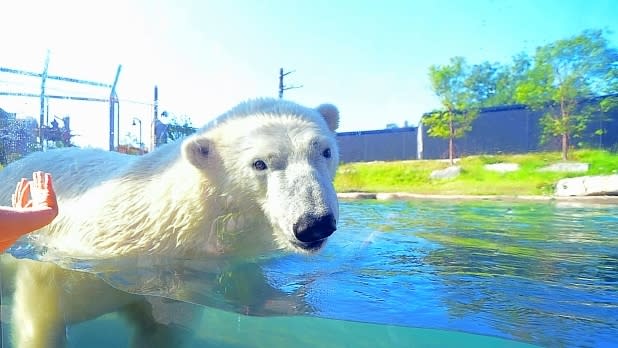 If you're bringing the whole family, the newly opened Explore & More - The Ralph C. Wilson, Jr. Children's Museum at Canalside is on Thurman's must-see list for youngsters and big kids alike. A place where  "do not touch" becomes "try it out," there's easily enough to do to spend the better part of a day here. Likewise, the Buffalo Museum of Science and Buffalo Zoo offer plenty of family fun.
Take Day Trips Outside Buffalo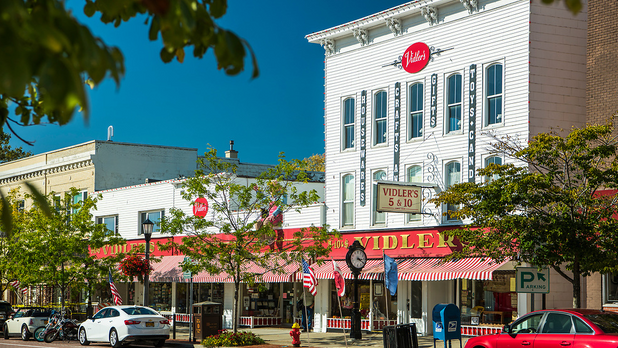 East Aurora
A quick 20-minute drive from downtown Buffalo, East Aurora combines small-town charm with world-class activities. Why is it so quaint? Craftspersons founded the town in the late 19th century and made it a center of the Arts and Crafts movement, known for its devotion to handcrafted materials and woodworking. You can see examples throughout the town, including at the historic Roycroft Inn, with a gift store, small hotel, and tours. Visitors with small children should visit the Fisher-Price Toy Store and the Healthy Zone ice skating rink with a pavilion roof, which is open from October to March. Thurman also likes to take visitors to East Aurora for a bite at the Bar-Bill Tavern, a favorite for both Buffalo wings and beef on weck, and to catch a movie at the vintage Aurora Theatre. 
Ellicottville
The one-hour ride south down Route 219 is another one of Thurman's favorite scenic foliage drives and leads to the charming village of Ellicottville (in the Chautauqua-Allegheny region, which is worth more exploration in its own right). The downtown here boasts some of Thurman's favorite restaurants and bars. If you're lucky, you might just run into him and wife Patti at Villaggio or the Gin Mill (best fries around!). Take a tour of the bustling Ellicottville Brewing Co. and browse the unique shops in town. Whether you love hitting the slopes or hitting the links like Thurman, the Holiday Valley ski resort offers plenty to do year-round, including slopes for skiers and snowboarders of all levels, children's and adaptive ski programs, a Double Black Diamond golf course, a thrilling mountain coaster ride, and an onsite spa. 
Lewiston
Thurman, his wife, and children like to golf! When they want to go golfing, the Lewiston area near Niagara Falls is another favorite destination. The town has two golf courses, while there are another 22 within a 20-minute drive, including three public and 14 municipal courses. 
GETTING THERE 
By plane: Buffalo Niagara International Airport: 15 minutes
By train: Travel Amtrak direct from Chicago, Toronto, Albany, and New York City. The three stations in the Buffalo-Niagara region include Exchange Street (BFX), Buffalo Depew (BUF) and Niagara Falls station (NFL). Taxi service is available upon arrival at Depew and Niagara Falls stations. And the Exchange Street station is walking distance from downtown Buffalo and Canalside attractions!  
By bus: Greyhound to Buffalo
By car:
From NYC: 6 hours
From Philadelphia: 6 hours and 15 minutes 
From Baltimore: 6 hours and 20 minutes
From Washington D.C.: 7 hours
From Albany: 4 hours and 30 minutes 
From Cleveland: 2 hours 
From Toronto: 1 hour and 45 minutes
Don't forget to post photos of your New York adventures on Instagram and Twitter with #NYLovesFall and #iSpyNY and tag us on Facebook!