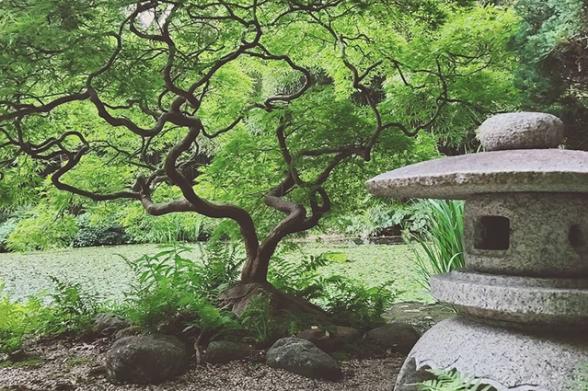 New York is a great place to celebrate the achievements and contributions of Asian Americans and Pacific Islanders. From visiting a treasured Buddhist temple in the Catskills to feeling the peace and wisdom of nature at a Hudson Valley Japanese stroll garden to enjoying Burmese cuisine in Buffalo, here are ways to learn about, appreciate, and experience Asian Pacific American culture and history in New York State! 
Related Blog: Check out these great places to visit in New York State and the incredible people behind the scenes sharing their culture and heritage through enlightening and enriching experiences.
Originally Published 04/20/2021

Credit: @xy_pxr on Instagram     
Designed by I. M. Pei & Partners, the Herbert F. Johnson Museum of Art not only offers spectacular panoramic views of Ithaca and Cayuga Lake, but features 40,000 works of art in its permanent collection spanning six millennia and encompassing art from most world cultures. Among the collection's strengths are the holdings of Asian art, with more than 22,000 prints, drawings, and photographs ranging from the 15th century to the present. View Melanesian sculpture and decorative arts from Papua New Guinea and contemporary Aboriginal paintings from Australia, as well as Chinese ceramics spanning 5,000 years, bronze and stone sculptures from Indonesia's classical era, and much more.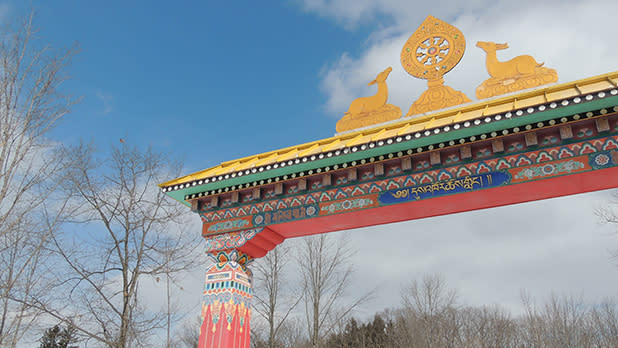 The Namgyal Monastery Institute of Buddhist Studies, nestled on 28 expansive acres in Ithaca, is the North American seat of the Dalai Lama and soon to be the home of the Dalai Lama Library and Learning Center. The new 9,000-square foot space will host its grand opening ceremony July 6, 2023 — the 88th birthday of His Holiness the 14th Dalai Lama. The center will serve as a repository for all the works of the current and previous Dalai Lamas, will have an exhibition area, as well as an area for private study and a 250-person Great Hall for conferences and presentations. The monastery hosts classes, retreats, and daily meditations open to visitors or students of any faith.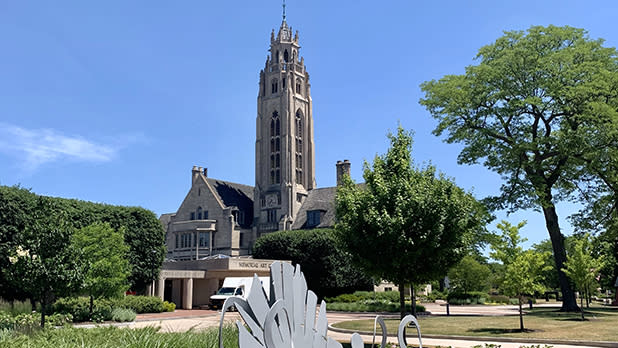 The University of Rochester's Memorial Art Gallery regularly offers Rochester area families and community members the opportunity to learn more about specific cultures. On May 7, 2023, you and your family are invited to take part in an Asian Pacific American Heritage Celebration Day featuring live performances, cultural displays, and more. The celebration will run from 12 pm-5 pm and registration is required. (There is a suggested donation of $5 per group when you RSVP.)
Located behind The Buffalo History Museum in the Olmsted Conservancy's Delaware Park, the Japanese Garden of Buffalo offers lush gardens and a serene lake, providing a contemplative refuge for all to enjoy. In December 1962, the city of Buffalo joined the United States Sister City International initiative by connecting with Kanazawa, Japan and a wonderful history of sharing resources has grown. In 1996, Kanazawa was largely responsible for the major renovations to the Garden, providing trees, shrubs, paths, and the unique stone lanterns.
Get an introduction to Buffalo's diverse communities at the Downtown Bazaar, the city's first world marketplace! The bazaar was built to offer an opportunity for newly arrived residents, both immigrants and refugees, to start their own shops or restaurants. The Downtown Bazaar opened in the heart of Buffalo's Theater District in April 2023 after a fire displaced businesses at the West Side Bazaar location the previous September. You'll still find the market bustling as always full of arts and crafts, and delicious offerings from a variety of cultures including Burmese and Filipino at the communal multicultural cafeteria. 
Buffalo's Burmese population has greatly expanded in recent years as refugees from Myanmar seek haven in the United States. The Buffalo Burmese community celebrates during their annual water festival, heading to local businesses like Sun Cuisines, where owners Kevin and Stephanie Lin have developed Buffalo's first innovative Burmese and Thai menu. Now available at three locations, the signature dishes include sushi made with black rice, featuring the dark, nutty grain thought to have medicinal qualities. In fact, Sun Cuisines offers the only black rice menu offered anywhere in the United States.
Situated on 225 acres in Kent, in Putnam County, Chuang Yen Monastery is a Buddhist temple whose name means "Majestically Adorned." At the temple, visitors can marvel at the Hall of 10,000 Buddhas circling Buddha Vairocana, the largest indoor statue of Buddha in the Western Hemisphere. The monastery is currently featuring events and celebrations, including the May 21 celebration of Vesak, commemorating the birth, enlightenment, and death (Parinirvana) of Gautama Buddha.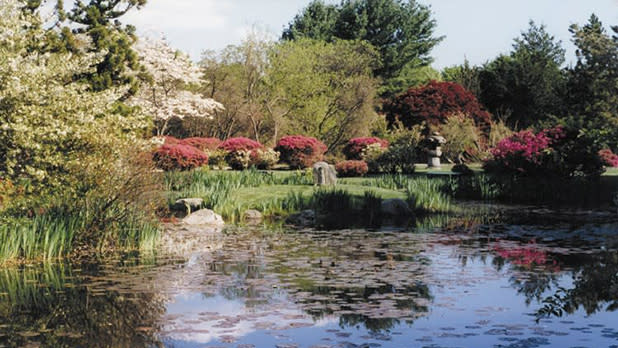 Gain an appreciation of the artistic traditions of the East in the West in the Hudson Valley. The Hammond Museum and Japanese Stroll Garden in North Salem features art exhibitions with items from its own collections and works on loan from other institutions. Music, dance, and theater programs feature historical and contemporary material representing Eastern and Western cultures, and there are art programs, lectures, films, and seminars for all ages, including Tai Chi Classes. The beautiful Japanese stroll garden, with each plant chosen according to aesthetic principles, has been the gorgeous backdrop for many memorable weddings and photographic events.


Credit: Courtesy of Mt. Fuji Steakhouse
Since 1969, the Mt. Fuji Steakhouse in Hillburn has served as one of New York's premier destinations for Japanese Hibachi cuisine. The steakhouse is an architectural wonder situated on a 45-acre private mountain, making it an iconic landmark restaurant unlike others. You'll be amazed as skilled master chefs perform personalized flaming presentations of hibachi artistry at tableside while preparing delicious and flavorful meals. The steakhouse also offers fresh sushi, authentic Japanese dishes, and a fine selection of sake.
For a great retreat providing passive recreation and contemplation, take in the John P. Humes Japanese Stroll Garden, a world-class Japanese garden located on 7 acres of rolling woodland on Long Island's North Shore in Mill Neck. Ambassador and Mrs. John P. Humes created the garden following a visit to Japan in 1960, hiring Japanese-American landscape designer Douglas DeFay and his wife, Joan to design it.
Founded in 1956 by John D. Rockefeller to promote understanding between Americans and Asians, the Asia Society and Museum opens visitors' eyes to the aesthetic and technical accomplishments achieved in Asia between 1,000 B.C.E. and the 1800s. Most of the 300 works in this small-but-sweet museum belonged to Rockefeller and his wife and include some of the best-known examples in the field. Regularly scheduled events at the museum include art and history discussions, virtual and on-site performances, and family days for guests of all ages to learn more about Asian holidays and traditions.
Located at Snug Harbor Cultural Center & Botanical Garden on Staten Island, the New York Chinese Scholar's Garden is one of two authentic classical outdoor Chinese gardens built in the United States and is based on Ming Dynasty gardens (1368-1644 AD). The garden features magnificent rocks resembling mountains that inspired the poetry and paintings of Confucian, Buddhist, and Taoist monks, as well as other scholars. When you're there, explore eight pavilions, a bamboo forest path, waterfalls, a koi-filled pond, Chinese calligraphy, and a variety of Gongshi scholar's rocks including a 15-foot formation that towers over the central courtyard. 
Chinatowns and Other Neighborhoods (New York City)
New York City's Asian-Pacific neighborhoods are well worth a visit for a memorable meal, great shopping, and sightseeing. In addition to the famed Chinatown in Manhattan (pictured), you can find vibrant Chinatowns in Brooklyn's Sunset Park and Queens' Flushing neighborhoods. Eastern Flushing is also the edge of Queens' Koreatown, which stretches onto Long Island. It's home to many of the city's best Korean restaurants, as is Manhattan's Koreatown, or "K Town." Also in Queens is Himalayan Heights. The longtime home to immigrants from India, Bangladesh, and Pakistan, the neighborhood on 74th Street between Roosevelt and 37th Avenue in Queens has seen the arrival of immigrants from Nepal and Tibet, adding to the area's incredible shopping for jewelry and fabrics, and making an already dynamic dining scene a true must-visit for food obsessives.

Credit: @carmmy8 on Instagram
The South Cairo, NY retreat of NYC's first Buddhist Temple on the East Coast is open to the public year-round. Mahayana Buddhist Temple amazes with traditional temple structures rising from a beautiful landscape, including the seven-stories-tall Jade Buddha Pagoda and Arhats Hall (the only structure of its kind in the U.S.). Treasured by Buddhists everywhere, the temple is a wonderful place to reset and escape from hectic city life and enjoy meditation.
Harana Market in Woodstock features a diverse selection of Asian groceries and a Filipino Deli with hot food and grab and go options. Stop in for lunch or to shop, and feel good about supporting a business that gives back to its community by sourcing its items primarily from other minority-owned businesses. Online ordering is also available.
---
Don't forget to post photos of your New York adventures on Instagram and Twitter with #iSpyNY and tag us on Facebook!