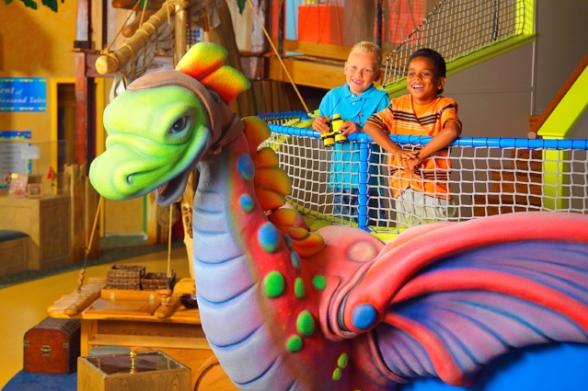 Bring your whole family to some of the most incredible indoor activities in New York State. From interactive museums and thrilling adventures to underwater exhibits and toys that will make your parents nostalgic for their childhood, check out these places with fun activities that could very well be the highlight of your year! 
Masks are encouraged, but optional in most settings per New York State guidelines. Individual businesses or attractions may require mask wearing. Call ahead and check websites and social media to make sure attractions and amenities are open and available. 
Originally published 1/28/2020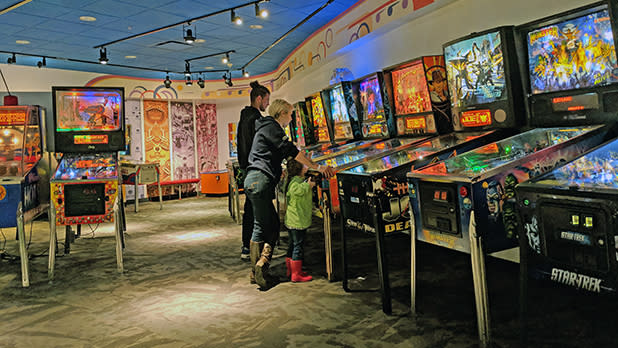 Bring your family for a day of play at the Strong Museum in Rochester. Parents can relive their childhood exploring collections featuring Parker Brothers games like Monopoly, Clue, and Risk, and doll collections showcasing Barbie and American Girl dolls, to name a few. Kids will have a blast walking through a large kaleidoscope in the Field of Play exhibit, and transforming into superheroes for the day at the Super Powers School in the American Comic Book Heroes: The Battle of Good vs. Evil exhibit. While you're at the museum, also check out the National Toy Hall of Fame. Open Saturday-Thursday 10 am-5 pm, Friday 10am-8 pm; price varies.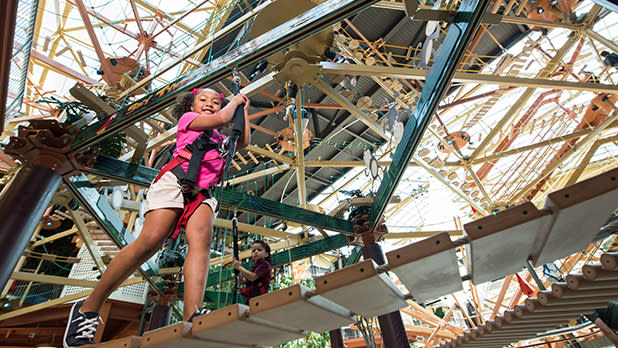 Find adventure on the Canyon Climb! This indoor ropes course, located inside Destiny USA Mall, is 70 feet high and features more than 80 obstacles—making it the world's largest suspended indoor ropes course. Conquer the tremor bridge as you make your way through the course. Participants must be a minimum of 42 inches tall to participate in the Canyon Climb. Have an adventurer who doesn't meet height requirements? Not a problem! The Sky Tykes Ropes Course is for children 48 inches tall and under, and includes 10 different obstacles with room for parents to help along the course. Hours vary depending on the day; price varies depending on the course.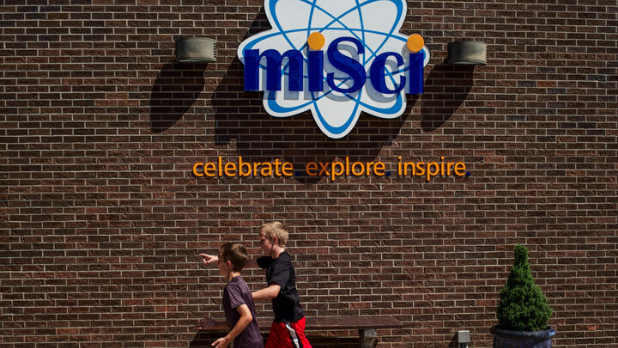 Immerse yourself in science and technology through interactive exhibits at miSci (the Museum of Innovation and Science) in Schenectady. Create buildings and structures in the Design, Build, Create, KEVA! exhibit, see how Magnetic Resonance Imaging (MRI) is used in health care in the MRI: Examining the Human Body exhibit, or learn about the importance of renewable energy in the Wind + Solar: The Renewable Energy Revolution exhibit. Don't forget to check out the Suits-Bueche Planetarium to watch a high definition show inside the 30-foot dome. Open 10 a.m. - 5 p.m. Tuesday-Friday, 11 a.m.– 5 p.m. Saturday–Sunday; price varies.
All levels of climbers can enjoy a day of indoor rock climbing at A.I.R., Albany's Indoor Rockgym. The carefully designed walls allow beginners to confidently take their first journey while also inviting more advanced climbers to challenge themselves. The rockgym is also home to an indoor caving system that includes tunnels, a 60-foot zipline, a cargo net, and more. Open Saturday-Sunday 12 pm-9 pm, Monday 5 pm-10 pm, Tuesday-Friday 12 pm-10 pm; price varies.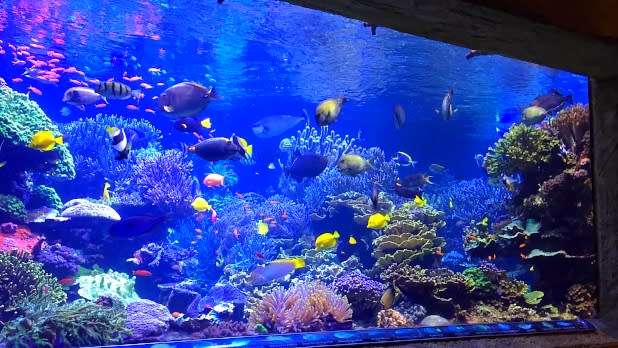 Archer Fish, Marmosets, and Giant Pacific Octopus—these are just three of the many animals you'll find at the Long Island Aquarium in Riverhead. See African penguins in the aquarium's year-round Penguin Pavilion, have an exotic parrot land on you in the aviary within the Butterfly, Bugs, and Birds exhibit, and discover unique corals, as well as hundreds of fish at the Coral Reef exhibit. Also, check out the sand tiger sharks and the bottom-dwelling nurse sharks in the 120,000-gallon Lost City of Atlantis Shark exhibit. Open weekends 10 am-5 pm and weekdays 10 am-4 pm; price varies. 
Everybody in the family will have fun at the National Baseball Hall of Fame and Museum in Cooperstown. With worn uniforms, game balls, and baseball bats, you'll see artifacts used by the sport's most celebrated figures. Make history come to life as you experience exhibits honoring the people who have made the game what it is today—including players, coaches, managers, umpires, and fans. See how baseball brings people together, no matter who they root for. A visit to the Hall of Fame is a true family experience that's great for all ages. Open seven days a week (except Thanksgiving, Christmas, and New Year's Day); hours vary depending on the time of year; price varies.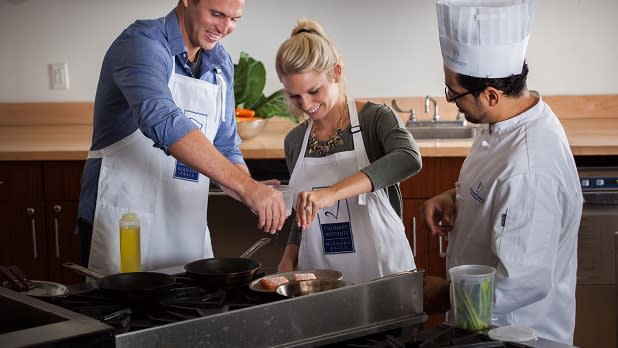 Spend some quality family time bonding in the kitchen with a cooking class at the Niagara Falls Culinary Institute. Whether you want to hone your cake and cookie decorating skills or learn how to make your favorite takeout at home, you'll get the hands-on culinary skills necessary to cook like a pro. The best part? You get to eat what you make! The school also has a student-run restaurant, European-style pastry cafe, and a Barnes & Noble-style culinary-themed store for even more fun.
Did you know that there are spectacular indoor (and outdoor) gardens featuring exotic plants right here in New York State? That's right, the Buffalo and Erie County Botanical Gardens are home to a multitude of unique plants and flowers. Take a self-guided tour and explore the gardens at your own pace. As you wander through the 12 indoor greenhouses, stop by the Palm Dome—an impressive 67-foot-tall greenhouse with tropical fruit trees, plants, and palms. Visit the gardens for one of their monthly events, and mark your calendars to attend their annual Gardens After Dark event that spectacularly illuminates the gardens. Open daily, hours vary depending on the time of year, check online for closed days; price varies.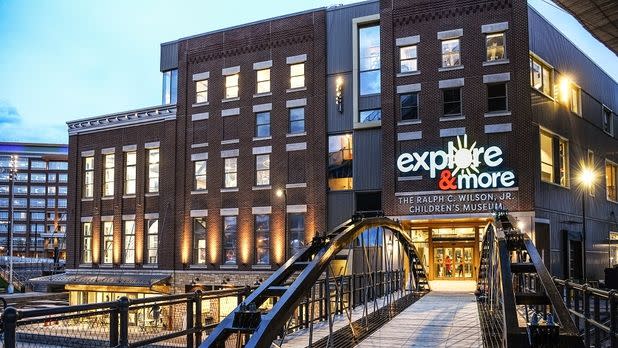 Learn about the history and spirit of the local region through interactive exhibits at Explore & More, the Ralph C. Wilson Jr. Children's Museum in Buffalo. From seeing the importance of Buffalo's waterways in the Moving Water exhibit to trying on uniforms from favorite Buffalo teams inside decorated locker rooms in the Playing Together exhibit, you'll feel the love for the region with each activity. Open daily 10am-3:30pm, except Tuesdays; adults and children (ages 1 and up): $13; children under age 1: free; Explore & More members: free.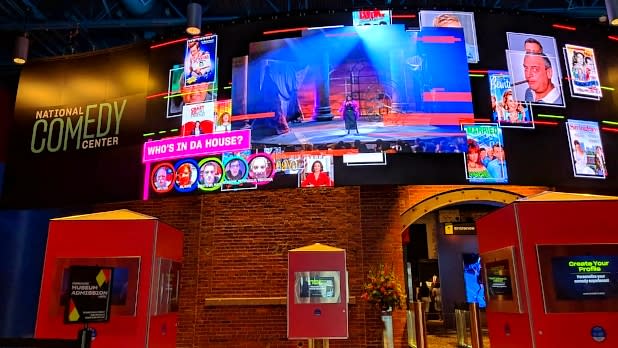 With more than 50 exhibits showcasing the influence and history of comedy, the National Comedy Center in Jamestown is sure to put a smile on your face. Discover unique facts about comedy icons and participate in hands-on activities throughout the center. Plan ahead to catch a show with a top-notch comedian or experience the National Comedy Center's annual Lucille Ball Comedy Festival. Also, check out the Lucille Ball Desi Arnaz Museum, operated by the National Comedy Center—you can get dual admission for a discounted rate. Open Thursday-Monday 10am-5pm, closed Tuesdays and Wednesdays; prices vary. 

Credit: @cmooswego On Instagram 
Located near Lake Ontario, the Children's Museum of Oswego features exciting exhibits that reflect the region's geography. Their Cloud Climber exhibit is a two-story climbing area that represents the lake effect snow that frequently hits Oswego each winter, and the Water Table exhibit includes hands-on activities where you can move cargo from locks to a port, aptly named after Port Oswego. Be sure to stop by Creation Station—while you're there, make a stop-motion animation video, write a message on the board, and more! Open Tuesday–Sunday; hours vary depending on the day; Children: $11, Adults: $10; children under 1 free, members also free.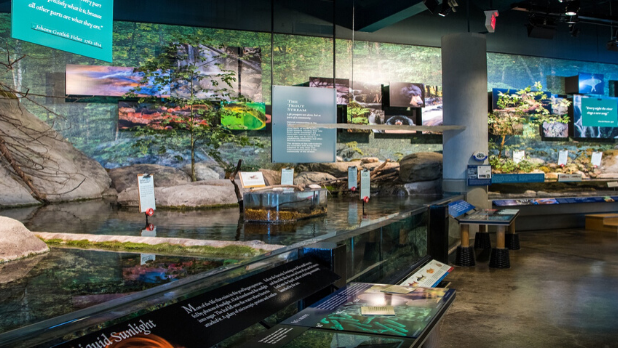 Nestled in the majestic Adirondack Mountains, the Wild Center in Tupper Lake offers a connection to nature. From getting up close with animals such as owls, turtles, and porcupines during Animal Encounters to watching films featuring Adirondack history and landscapes in Flammer Theater, the incredible daily options are perfect for any age. Also, explore exhibits featuring native Adirondack plants, fish, and other animals. If you decide you want to venture outside, walk along the treetops, taking in breathtaking views of the mountains and nearby Tupper Lake on the Wild Center's Wild Walk. Check website for current hours; price varies.
Catch an incredible show on Broadway during your next trip to New York City. With shows such as Wicked, The Lion King, and Aladdin, to name a few, there are options for all ages. From the Gershwin to the New Amsterdam, there are countless theaters to enjoy an unforgettable performance. Whether you've seen a dozen shows or it's your first time setting foot in one of the famed theaters, Broadway will not disappoint. Days and times of shows vary; price varies.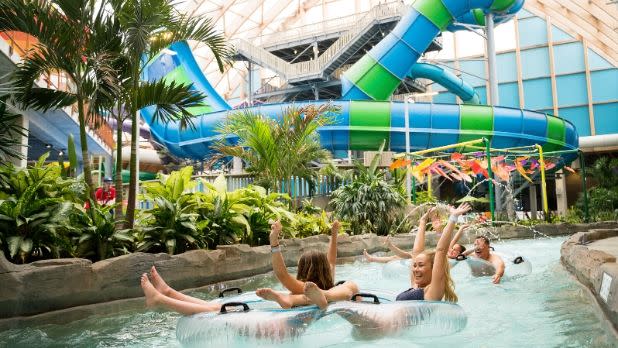 It's always summer at Kartrite Resort & Indoor Waterpark in Monticello. With an everyday temperature of 84 degrees, the indoor waterpark includes 80,000 square feet of rides and slides. Fly down the Krakken and the Nor'Easter waterslides, catch a wave in the Endless Summer Flowrider, or relax in the Empire Bay lazy river—there's an option for all types of waterpark enthusiasts. Traveling with younger children? Puddle Ducks is perfect for the littlest member of your family. Hours vary depending on the day. The indoor waterpark is included with a stay at the resort; daily Splash Pass prices vary. 
The Mid-Hudson Discovery Museum in Poughkeepsie is great for families with young children. Focusing on early education, the museum features exciting interactive exhibits that promote learning. Build different objects by moving large blue blocks at the Imagination Playground, hop on board the firetruck in the Rivertown exhibit, or create your own flying machine and test it on the Wind Table in the Science Revealed! exhibit. The opportunities for fun are endless! Hours vary; adult and children admission: $12; children under 1 are free.
---
Don't forget to post photos of your New York adventures on Instagram and Twitter with #iSpyNY and tag us on Facebook!