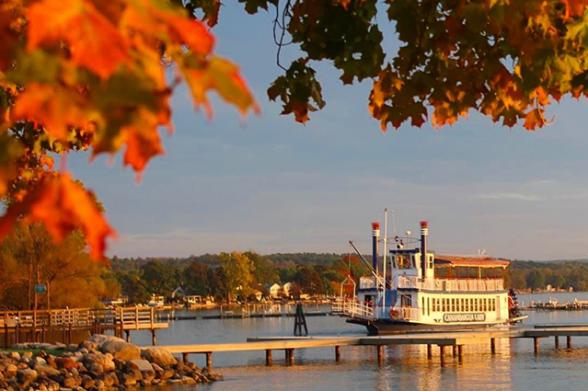 Get out on the water and see New York State's marvelous fall foliage from a different perspective! Witness the beautiful shades of autumn reflected on the water's surface as you cruise along historic canals, pristine lakes, and tranquil rivers passing everything from lighthouses to castles aboard steamboats, luxury yachts, and other majestic vessels. From Lake George to the Hudson River, here's how to enjoy the colors of the season by boat.
Masks are encouraged, but optional in most settings per New York State guidelines. Individual businesses or attractions may require mask wearing. Call ahead and check websites and social media to make sure attractions and amenities are open and available.
JUMP TO: NYC | Adirondacks | Capital-Saratoga | Central New York | Chautauqua-Allegheny | Greater Niagara | Finger Lakes | Long Island | Thousand Islands- Seaway
NYC
Trade the streets of the concrete jungle for unbeatable fall foliage views on a scenic 40-mile voyage along the Hudson River and up towards the beautiful Hook Mountain. Indulge in an Oktoberfest-themed menu featuring schnitzel, bratwurst, giant pretzels, and seasonal brews as you marvel at the sights including the mighty George Washington and Mario Cuomo bridges, 800-foot-tall sheer cliffs, and the glorious Palisades. Local bands will have you rocking on the four-hour trip, and you just might see a raven, hawk, osprey, or occasional bald eagle hiding among the autumn foliage. Through November 12; Prices start at $59

Credit: @seastreak on Instagram
Experience the magic of the change in season as you cruise along the tree-lined Hudson River to your destination of choice. The luxurious Seastreak catamaran offers cruises to Cold Spring for fine dining and boutique shopping, West Point for a historical tour of the U.S. Military Academy, and Bear Mountain for an afternoon of exploring nature (unavailable for the 2023 season). The brilliant colors of autumn can also be enjoyed on a picturesque Fall Foliage Brunch Cruise with a delicious buffet of apple salad, butternut squash bisque, smoked salmon, flank steak, southwestern grilled chicken with mango salsa, and more! Through November; Prices vary
Want to sail the Hudson River in a schooner? How about an elegant 1920s-style yacht? Classic Harbor Line offers several options to admire the autumnal vibrance of the Hudson Valley from the water. From brunch and lunch cruises to relaxing scenic sails, you'll be treated to dramatic foliage scenes no matter which ride you choose. Through November 12; Prices starting at $88
Adirondacks
The "Queen of American Lakes" is even more majestic in the fall when the surrounding Adirondack Mountains spring to life in crimson and gold. Cruise by the beautiful mountain wilderness on the crystal clear waters of Lake George aboard the Minne-Ha-Ha, one of the last steam paddlewheel ships in the US (through October 9). Experience the lake's best views from the upper decks of the Lake George Steamboat Company's flagship Lac du Saint Sacrement as you travel past the stately Sagamore Hotel, Dome Island, and Speaker Heck Island (a popular bald eagle nesting spot) on a midday or sunset sightseeing cruise. Prefer to take in the sights with a meal and a glass of bubbly? Then a dinner or champagne brunch buffet cruise may be just the trip you're looking for. A special Oktoberfest luncheon cruise, featuring wiener schnitzel, knockwurst, and of course, German chocolate cake, is also on the calendar (October 7). Prices vary
Capital-Saratoga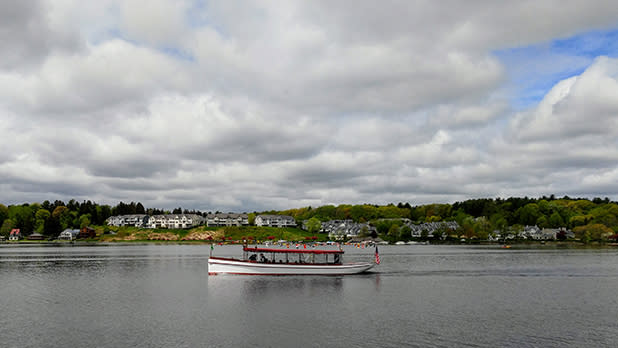 Sit back, relax, and soak in the history of Saratoga Lake on a narrated scenic cruise (mid-September through October 31) aboard the 50-foot General Schuyler, a 1920s replica fantail launch. This 1.5 hour jaunt across the water is the perfect way to enjoy the fall foliage around the lake and even bite into some fresh Saratoga apples, which are provided on each trip. Adults $25, Veterans $20, kids ages 10 and under $15
Dutch Apple Cruises amps up the fall vibes on their seasonal sightseeing cruises of the Hudson River and the state's capital city of Albany. Bask in the warm elegance aboard the Dutch Apple II, which evokes the Hudson River Day-liners of yesteryear. See the changing colors while enjoying a fall-themed beverage including Oktoberfest drafts, pumpkin spiced coffee, and hot apple cider paired with a sweet treat of apple cider donuts and apple strudel sticks. Friday - Sunday through October 31; Online ticket prices: Adults $28, Seniors/AAA/Military/AARP $25, Children ages 3 to 12 $18, children 2 and under free
Central New York
Indulge in the spectacular fall scenery of the beautiful Mohawk Valley as you travel the tranquil waters of the Erie Canal while your captain spins fascinating tales of this historic waterway. This 90-minute cruise will take you through massive guard gates and past the historic Fort Herkimer Church before embarking on the thrilling highlight of the journey — being raised and lowered over 20 feet in an Erie Canal lock! Through October 11; Adults $25, children (ages 4 to 10) $15, children 3 and under ride for free
Chautauqua-Allegheny
Breathtaking panoramic views of gorgeous fall colors will greet you as you cruise along the 17-mile Chautauqua Lake on this authentic Mississippi River-style steamboat, one of five such vessels still operating in the US. Built in the 1970s, feel the old-time charm of the Belle's iconic tall stacks and gingerbread lattice as you take in the scenery and hear stories about the lake from the late-1800s. Dinner cruises through September 30; $79 per person.
Greater Niagara
Lock, stop, and roll! Featured on the History Channel's "Modern Marvels," this unique narrated two-hour cruise accompanied by crowd-pleasing canal tunes popular in the 19th century will take you on an epic fall adventure. Journey along the Erie Canal under the widest bridge in the U.S., through the 20-foot high stone walls of the "deep rock cut," and past five of the original 1800s locks, dubbed the "Flight of Five." Also, experience being raised and lowered 50 feet in Locks 34 and 35, the only double set of locks on the Erie Canal. Through October 15; Adults $22.50, Children ages 4-10 $12 (under 4 free); AAA/CAA Members $21
It's hard to imagine the glorious Niagara Falls could be even more striking, but that's exactly what happens in the fall as the leaves trade their summer shades for the colors of autumn. Don your blue poncho and climb aboard the legendary Maid of the Mist for an unforgettable journey through the crashing waters into the heart of the American and Horseshoe Falls. Through November 5; Adults $28.25, Children ages 6-12 $16.75, free for children 5 and under 
Finger Lakes

Credit: @tkystudio on Instagram
Cruise into relaxation on a laidback leaf-peeping excursion aboard the Canandaigua Lady, a replica of a 19th-century double-decker paddlewheel boat. You'll hear stories of the Steamboat Era and the history of Canandaigua Lake as you take in the breathtaking views of the lush tree-covered hillsides surrounding the water. Through October 19; Adults (ages 13+) $30, Children under 12 $20
Enjoy a relaxing getaway showcasing the history and ingenuity of the Erie Canal amid the fall splendor aboard this replica packet boat as you depart from the charming village of Pittsford. The Erie Canal Lock 32 tour provides an authentic canal cruising experience as you enjoy a leisurely adventure charting a course through one of the country's most famous waterways. Get a taste of autumn on a Sunday cruise that comes with a glass of local apple cider and a tasty doughnut or embark on a scenic voyage passing through the Great Embankment. Through October 29; Prices vary depending on cruise
The Colonial Belle offers another way to explore the beauty of fall while cruising the Erie Canal. Experience the joy of "ducking down" for low bridges from the upper open-air deck on daily cruises departing from the village of Fairport, known as the "Crown Jewel of the Erie Canal." There's also a special four-hour fall foliage cruise to Downtown Rochester with live music and seasonal meal (October 8 and 15). Through late October; prices vary
Long Island
See the North Shore like never before by taking in the sights of elegant Gold Coast mansions amid dazzling fall foliage from the deck of a luxury yacht while cruising the marvelous Long Island Sound. You can do just that by booking a private charter for a group of up to 75 people with Eastern Star Cruises. The 85-foot yacht is all class with its spacious salon complete with a wood-burning stove, mahogany bar, and cozy library, plus a beautiful upper deck with 360-degree views, lounge areas, and white-cloth tables perfect for savoring a gourmet meal prepared by the ship's executive chef. Through mid-November; Contact for pricing
Thousand Islands-Seaway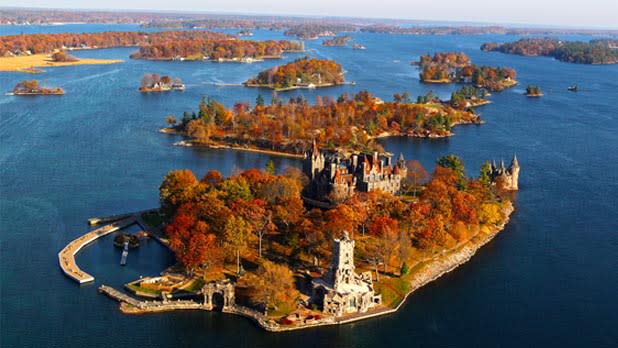 The Thousand Islands are a sight to behold when the lush landscape is blanketed in fall colors. Treat yourself to a two-hour cruise along the grand St. Lawrence River for breathtaking views of some of the area's main attractions including Rock Island and Sunken Rock lighthouses, plus Boldt Castle (pictured), which looks like it has been ripped from the pages of a fairytale. Through October 9, Clayton Island Tours runs cruises to Heart Island where you can take a self-guided tour of the castle and its grounds giving you a taste of life in the "Gilded Age." Cruises operate May-October; Prices vary.
See even more views of the stunning Thousand Islands region with a 22-mile journey that will take you through not one, but two nations as you tread American and Canadian waters. Learn about historic events that took place during the War of 1812, hear the colorful history of the lavish mansions as you cruise by Millionaires Row, and cruise through narrow passageways that get you up close and personal with the islands. Through October 29; Adults $28.50, Children ages 5 to 12 $17, Infants free
---
Don't forget to post photos of your New York adventures on Instagram and Twitter with #iSpyNY and tag us on Facebook!