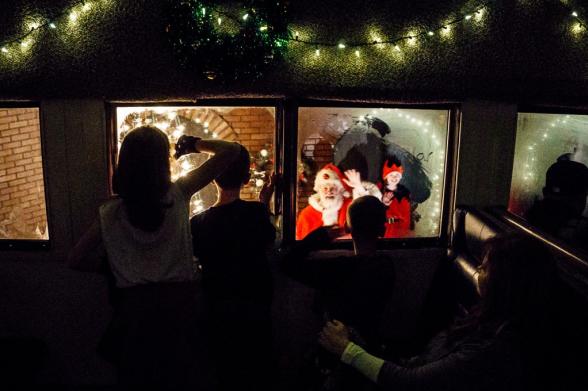 Embark on an enchanting journey into winter wonderlands with a fun holiday train ride! From the snow-covered mountains of the Catskills to the sparkling shores of Long Island, climb aboard a real Polar Express™ train that brings Chris Van Allsburg's cherished tale to life. Warm up with hot cocoa, festive cookies and treats, and even meet Santa, elves, and reindeer! Discover the magic of the holidays firsthand in New York State.
All aboard the Santa Express Train Ride on the New York & Lake Erie Railroad! Taking off from Gowanda Train Station, the whole family can delight in festive activities and fun, including a meet and greet and gifts with Santa! Gowanda; December 2-December 17, Saturdays-Sundays; $24/adult, $22/senior, $20/child, free/2 and under, $88/table for four.
Live the magic of the classic Polar Express™ Train Ride story with the Adirondack Railroad. Depart from Utica's Union Station and travel north while sipping on hot cocoa, nibbling on cookies, and listening to a reading of Van Allsburg's classic. Children (and parents) are encouraged to embrace the coziness and show up in pajamas. Upon arrival at the North Pole, Santa will board the train and visit with each family, giving the first gift of Christmas, the Silver Bell, just like in the book or movie! Utica; November 17-December 18; $47/adult (coach), $68/adult (first class*), $39/child (coach), $58/child (first class*), free/2 and under. First class* includes a souvenir ceramic mug and bag, and table seating.
Set to the sounds of the motion picture, climb aboard the Catskill Mountain Railroad and relive the classic story as you are whisked away on The Polar Express™ for a magical trip from Kingston to the North Pole. A perfect replication of the movie, conductors punch tickets just as Tom Hanks' character did, while dancing chefs serve hot cocoa and cookies. Once at The North Pole, Santa and his elves board the train to greet passengers and each guest is given the first gift of Christmas – a silver sleigh bell. During the trip, characters on each car lead passengers in caroling and on board entertainment. Kingston; November 17-December 29; $44/adult (off peak), $53/adult (peak), $34/child (off peak), $43/child (peak).
Bring cozy pajamas and a camera when you board The Polar Express™ as it departs from Riverhead toward Santa's workshop. Hot cocoa, cookies, and characters from the movie are just a few of the magical things you'll find on board. When your train arrives at the North Pole, Santa Claus greets travelers and his elves will give kids their first present of the season! Riverhead; November 24-December 23, Friday-Sunday; $62-$72/adult, $62-$72/child.
Travel through time on an enchanted train where you'll visit with Saint Nick while enjoying sweets and treats. Plus, you'll gain special access to the Medina Railroad Museum! When the Polar Express arrives at the North Pole, dancing elves, holiday music, and a knowledgeable museum staff will take you through history on this magical journey. Medina; November 25-December 17, Saturday-Sunday; $40/person, $220/table for four in first class.
Rejoice in winter whimsy with a trek to the North Pole, and a visit with Santa and his reindeer aboard The Wonderland Express Train Ride. Hop on a heated, vintage train where you will enjoy a round-trip excursion to Curriers Station (the North Pole). Children receive a wish list from Santa's elf to complete during their journey. Upon arrival at the North Pole, there are tons of activities for the whole family to partake in, including jumping on the lil' elf sleigh, taking a family photo in Santa's sleigh, mailing the wish list, visiting the Elf House, and much more! Souvenirs and food concessions (cocoa, cookies, chili, and more) are available for purchase at the Elf House and the Pavilion. On the way home, children will receive a gift from Santa and the railroad! Arcade; November 18-December 17, Friday-Sunday; $35/adult, $32/child, senior, military, free/2 and under.

Credit: @kamier10 on Instagram
No place does seasonal splendor quite like New York City! It's the most wonderful time of the year to visit the city that never sleeps, so get your whole family on the nice list with a round trip double decker bus ticket to the city's very own North Pole. Take in the sights of New York's winter wonderland, hear thrilling Christmas stories from a cheerful resident elf, and enjoy chocolate treats and hot cocoa on your way to see Saint Nick. Tell Santa your wishes and get a special good luck sleigh bell, all while making memories to cherish forever. Manhattan; November 11-December 31; $60-$100/adult, $56-$96/child.
Be part of tradition with the New York Transit Museum this holiday season as you embark on a Holiday Nostalgia Ride aboard a vintage 1930s train car! Departing from the F line's 2nd Avenue station in Lower Manhattan, the train will transport straphangers back in time every Saturday in December, for just the cost of a MetroCard swipe or OMNY tap ($2.90)! These vintage Independent Subway System (IND) cars feature rattan seats, paddle ceiling fans, incandescent light bulbs, roll signs, and period advertisements. They entered service on the Eighth Avenue line (today's A/C/E) in 1932 and ran until 1977. Today, they are preserved as part of the New York Transit Museum's collection. Manhattan; December 2-December 30, Saturday; MetroCard swipe or OMNY Tap.
Celebrate the holiday season with Cooperstown & Charlotte Valley Railroad aboard the Santa Claus Express and North Pole Express! The Santa Claus Express takes you on an afternoon ride with Santa and his helpers on the beautifully decorated train showing off lights strung along the outside to the garland and ornaments on the inside. There will be holiday music, goodies, and refreshments for everyone's enjoyment. Enjoy a casual nighttime ride along the Susquehanna River aboard the North Pole Express, featuring festive music, holiday treats, colorful light displays, and more. *These events are sold out for the 2023 season, but check the site for pop-up tickets.
---
Share New York State adventures with us on TikTok, Instagram and Twitter with #ILoveNY and #iSpyNY, and tag us on Facebook!