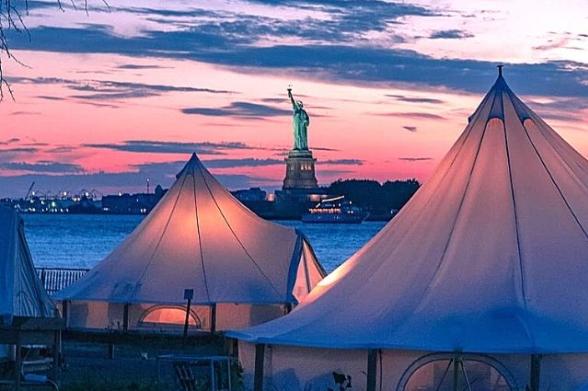 Credit: Mountain Horse Farm
Glamping takes one of life's simple pleasures—sleeping in the great outdoors—and elevates it with creature comforts and modern conveniences. There's no tent to set up, no hard rocks underneath your sleeping bag, and no outhouses. New York State not only has gorgeous nature but truly charming and creative glamping options, including these five standouts. For more ideas, visit Spring and Summer Camping Trips in New York to Plan Now.
Masks are still mandatory on all public transportation per New York State guidelines and in any business or attraction that requires mask wearing. Call ahead and check websites and social media to make sure attractions are open and available. 
Updated 8/19/22

Credit: Gatherwild Ranch
Sometimes you want to go where you can't hear car horns and shouting, where you leave your phone off and feel like a human again. Get off the grid at the Gatherwild Ranch outside the city of Hudson. Just like the resident free-range chickens, guests are invited to roam freely around the 15 acres of land. As for where you'll lay your head, choose between four unique yurts and one tepee. All are cozy and chic and enjoy a fair amount of private space on the grounds. You can also order farm-fresh food in advance and skip the run to the grocery store before your relaxing getaway.

Credit: Harmony Hill Lodging and Retreat Center
The glamping at Harmony Hill in the Catskills is a cross between camping and a cabin stay. Here, your lodging is an adorable, elevated yurt, replete with electricity, flushable toilets, lockable doors, a king-size bed, reading chairs, lamps, and a fully equipped kitchen. You can also cook on the charcoal grill outdoors and in either case, enjoy your food out on your personal deck. Adding to your comfort and enjoyment, each yurt has a domed skylight and a ceiling fan, though the density of the trees keeps things pretty cool even in summer. Your yurt even comes with its own designated parking spot.
You can stay just a stone's throw from the beautiful St. Lawrence River in one of two glamping tents—formerly used for Civil War reenactment! The tents are elevated on a wooden platform, and you can relax on your own porch. You'll need to bring your typical camping gear, like sleeping bags and s'mores ingredients, but you'll find a fire pit, a picnic table, water, and electricity ready and waiting for you. Plus, this one is a great spot to bring the kiddos because the campground includes several play areas, including a large wooden boat and a wooden castle. A fantasy camping trip for all.
You can now revel in the joy of glamping in one of the most unexpected and delightful places—Governors Island, NYC! You'll depart from the hustle and bustle of Manhattan on a complimentary private water taxi and land on the lush green shores of the island. There are three types of accommodations to choose from. The Summit Tent and the Outlook Shelter are both more private, with their own bathrooms with hot running water, a luxury spa soaking tub(!), and a king bed. The Journey Tents are part of a more communal experience. They're spaced slightly closer together and share a bathroom but are still elegant and comfortable. No matter where you sleep, enjoy fresh complimentary private in-tent continental breakfast and a one-of-a-kind view of Lady Liberty across the harbor.
Don't forget to share your summer vacation with us! Share New York State pictures on Instagram and Twitter with #FindWhatYouLoveNY and tag us on Facebook!