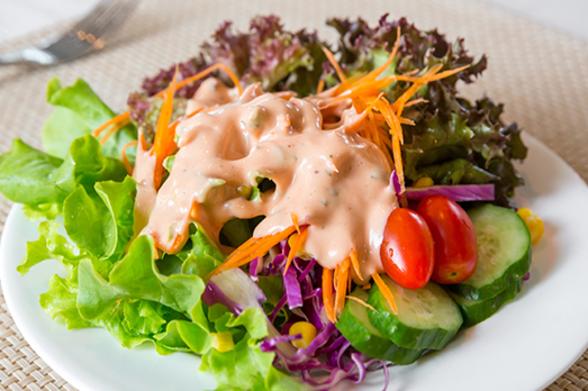 Green Salad With Homemade Thousand Island Dressing
(Thousand Islands-Seaway)
There is perhaps no greater New York mystery than the question of who actually invented Thousand Island dressing. One version attributes the invention to the personal chef of hotel magnate George Boldt, who built Boldt Castle on an island off Alexandria Bay to use as his country home. As the story goes, the castle chef whipped up the concoction from a few handy items when he realized he was to serve greens but had no dressing on hand. Another theory credits Sophia Lelonde, the co-owner of a local restaurant where a regular coaxed Lelonde to give her the recipe for what was known as "Sophia's Sauce," which was later shared with the Boldts. The result of both origin stories is the same: Boldt was so taken with the dressing that he introduced it to the kitchens at his hotels, including the famed Waldorf-Astoria in NYC. Now you can recreate this fine dining experience in your own home! Click here for a downloadable, printable card featuring this recipe.
Craft Beverage Pairing: Semi-Dry Riesling (wine); Pilsner or Pale Ale (beer)
Serves 4
Ingredients
½ cup mayonnaise
2 tablespoons ketchup
1 tablespoon white wine vinegar
2 teaspoons sugar
2 teaspoons sweet pickle relish
1 teaspoon white onion, finely minced
1/8 teaspoon salt
Dash fresh ground pepper
1 bag of mixed greens 
1 cucumber, sliced
1-pint grape tomatoes, sliced in half
1 carrot, peeled and shredded
Directions
Dressing
Combine mayonnaise, ketchup, white wine vinegar, sugar, sweet pickle relish, white onion, salt, and pepper in a small bowl. Stir well.
Place dressing in a covered container and refrigerate for several hours, stirring occasionally, so that the sugar dissolves and the flavors blend.
Salad
Rinse all produce. Slice grape tomatoes in half, peel and shred the carrot, slice cucumber in half, then slice in ½ inch half-moons. 
Place all sliced produce and mixed greens in a large mixing bowl and combine. 
Top with dressing.