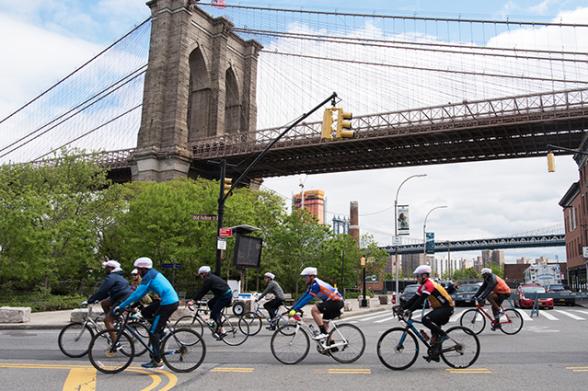 Courtesy of Julienne Schaer/NYC & Company
Looking for unique ways to sightsee in New York State? These bike tours will allow cyclists to see a different side of the Empire State. Depending on the tour, you might ride along the Erie Canal or on the back roads of the Hudson Valley. There are tours that will have you pedaling up mountains, around a sparkling lake, and on trails that American spies once tread upon. Find the ride that's right for you, don your helmet, and start pedaling! 
Masks are encouraged, but optional in most settings per New York State guidelines. Individual businesses or attractions may require mask wearing. Call ahead and check websites and social media to make sure attractions and amenities are open and available.
Updated 04/14/2023
Begin on the Erie Canal and End with a Craft Beer (Various Regions)

Credit: @518craftbeer on Instagram
Two things New York State is known for are the Erie Canal and craft breweries. Learn more about both with Beers, Bikes, and Barges, a series of bicycle tours hosted by the Erie Canal Museum. Tours take place in various canal towns and cities. The history you learn depends on the tour but each ride ends with a cold pint at a participating brewery. You might cycle along the Mohawk River in Utica, then toast your achievement at German-inspired Bagg's Square Brewing Company, or tour downtown Syracuse and then order a cold one at Talking Cursive Brewing Company. Each tour highlights brewing and canal history in different regions, so you might just want to join them all! Biweekly on Thursdays at 6 PM, May 25 through August 10 Advance registration required.
Join a Roving Party on Wheels (Capital-Saratoga)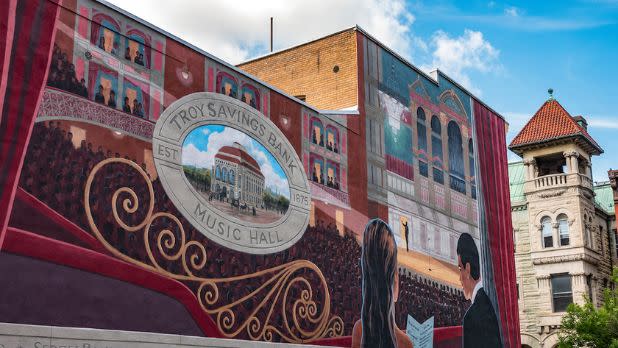 Gather your closest friends and board The Brew Cycle for a night ride you won't soon forget. The roof-covered group bicycle from Capital City Cycle Tours holds 14 people, making it a fun night out for a birthday or other special event. City tours on the pedal-powered group bicycle can be booked in Troy, Saratoga, or Schenectady. With a designated driver at the helm, participants will ride on city streets, getting a taste of local nightlife and enjoying onboard music. You'll stop at three local bars, with about 30 minutes to hang out at each one. But be sure to make your way back–pedal power is needed from all cyclists for the duration of the tour so you can't abandon ship! 
Tours on The Brew Cycle, whose motto is "Sip, Spin & Party," are two hours long, leaving plenty of time to check out local attractions. If you're in Schenectady, take a walking tour of the Historic Stockade, the city's oldest neighborhood. In Troy, learn about local history at the Hart Cluett Museum, get tickets to a live performance at Troy Savings Bank Music Hall (pictured), and check out the festival-like vibe at the Troy Waterfront Farmers Market.
Cycle Around a Scenic Lake while Supporting a Worthy Cause (Chautauqua-Allegheny)

Credit: @chq1874 on Instagram
Hundreds of cyclists are expected to take part in Chautauqua Gran Fondo, a community ride around beautiful Chautauqua Lake (pictured), during this annual event that benefits local non-profit organizations. During online registration, cyclists should select one of three route options: a 20-mile Social Ride, a 40-mile Fitness Ride, a 60-mile Challenge Ride, a 100-mile Century Ride, or 25-mile Trail/Gravel ride for experienced cyclists. All rides begin at Mayville Lakeside Park. Along each route, cyclists will find signs, distance markers, and water/aid stations. There will even be markers to point out attractions and photo ops along the way. The Chautauqua Gran Fondo is suitable for cyclists at all skill levels and everyone's invited to the after party for live music, food, and drinks back at Mayville Lakeside Park. 
If you're curious to explore the area after your ride, check out some of the unique local businesses around Chautauqua Lake. Reno Pottery is loaded with beautiful hand-decorated porcelain pieces. Hemlock House is a farm store and herbal shop with inventory that includes natural herbs, crystals, essential oils, raw honey, and handspun alpaca yarn. Or browse HFM Emporium, a multi-vendor indoor flea market. August 19, prior registration is required.
Sightsee and Sample Cuisine in Brooklyn (New York City)

Courtesy of Julienne Schaer/NYC & Company
How about touring a charming Brooklyn neighborhood by bike, then stopping at a local deli for a bagel with cream cheese? Or riding along the East River at sunset, stopping not only for photo ops but also for some of the best pizza Brooklyn has to offer? These options are only a glimpse of what's possible when you book an excursion with Brooklyn Bike Tours, a company founded by Tony Mantione, a Brooklynite with a passion for his borough as well as his bike. Depending on the tour, you might ride to neighborhoods like Greenpoint and Bushwick, making stops for freshly baked pastries, artisanal ice cream, and traditional egg creams. Or maybe you'll pedal under the Williamsburg and Manhattan bridges and then onward to the scenic Brooklyn Heights Promenade and the fashionable neighborhood that surrounds it. Brooklyn Bike Tours are a great way to see a lot of Brooklyn (and sample local goodies) in a day or less. They're suitable for all ages at all levels of cycling. Half-day tours last 4-5 hours; expect to spend 8-9 hours on a full day tour.
Before or after your tour, leave time to check out more of this scenic borough. Head to Pier 2 in Brooklyn Bridge Park to grab a kayak (for free!) and paddle on the East River (available select days from June-September). Or if you're a music fan, you'll love the unique experience of hearing live classical music at a floating concert hall at Bargemusic (May-July).
Ride on Country Roads and Visit Working Farms (Adirondacks)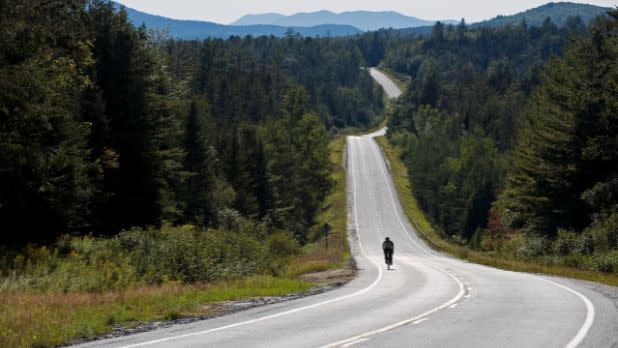 A season of tours with BikeADK takes cyclists on quiet country roads, around a lakeside campus, and to a Gilded Age Great Camp. Their touring season ends in early autumn with Bike the Barns, a one-day bicycle tour in the incomparable beauty of the Champlain Valley. Billed as a "farm-by-bike experience in the Adirondacks," this 25-30-mile ride has stopped in previous years at Reber Rock, a farm that specializes in pasture-raised chicken and beef,Juniper Hill, a 100-acre farm along the Boquet River and the 170-acre Echo Farm, located in between Sprig and Whipple Mountains. This year's Bike the Barns ends at Ausable Brewing Company, a farm-based nanobrewery located on 140 acres in the Champlain Valley. They'll host the after party where a farm-to-table meal, craft beverages, and live music will be on the scene. October 7
Follow the Trail of an American Spy Ring (Long Island)

Credit: @alias.smith67 on Instagram
Under orders from General George Washington, the people of Long Island banded together to deliver information vital to the Revolutionary War efforts. These civilians, who formed the Culper Spy Ring, developed a secret system of communication that involved hiding messages in the hollow of a tree or hanging a particular color of petticoat on a clothesline. Now you can follow their footsteps with Tri-Spy Bike Tours, a two-hour ride that takes cyclists to the significant places where the men and women of the Culper Spy Ring conducted their secret activities. After visiting historical sites like the 1665 Brewster House (pictured), and Strong's Neck, where spy ring members lived, learn more at Three Village Historical Society with their exhibit, Spies! How a Group of Long Island Patriots Helped George Washington Win the Revolution. Walking and kayaking tours are also available.
See New York State in all its Splendor  (Various Regions)

Courtesy of Beautiful Destinations
A multi-day tour with Wilderness Voyageurs will take cyclists to some of the most popular and scenic destinations in the Empire State. Ride on the quiet rural roads of Central New York to Howe Caverns (pictured) and Cooperstown and then attend the Glimmerglass Festival. Or cycle along Lake Champlain, around Brant Lake, and through the Hudson River Valley on a scenic Adirondacks tour. You can even spend an incredible six days cycling around lakes, taking waterfall hikes, and visiting wineries in the beautiful Finger Lakes region.
Cycle and Sample Locally Made Goods (Hudson Valley)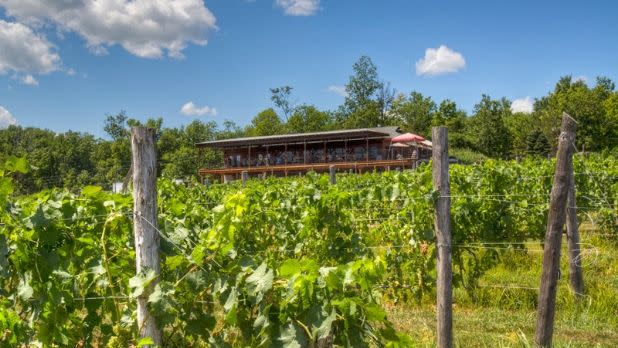 See the heart of the Hudson Valley when you sign up for a day-long ride with Gotham Bicycle Tours. They offer two rides that send cyclists on routes full of scenic vistas, with stops to sample locally produced food and beverages. The first, Hudson Valley Craft Brewery Bike Tour, is a 35-mile ride along a section of the former New York Central Railroad, now part of the Empire State Trial. The ride is car-free and shaded for much of the way. Lunch is included and the ride ends with a beer tasting at Captain Lawrence Brewery. The tour conveniently begins at the Brewster stop on the Metro-North, making this convenient for city dwellers looking for a rural respite. The second ride, Hudson Valley Farm-to-Table Bike Tour, is available for private booking only. It includes 30 miles of off-road bike paths and back roads. There will also be stops at participating local businesses like Rail Trail Cafe, Robibero Family Vineyards (pictured), and Tuthilltown Spirits Farm Distillery. Cyclists are welcome to sample products at each stop. At the beginning of both rides, participants will be met by someone from Gotham Bicycle Tours. They'll load you up with snacks and water and make sure you know where you're going, then they'll send you on your way. All tours include a support vehicle in case of breakdowns or other issues. 
Experience Buffalo's Food, History, and Culture by Bike (Greater Niagara)

Credit: @chuck_maley on Instagram
AA bike tour that stops for chicken wing samples in the city that invented them? Yes, please! If that sounds like an offer you can't refuse, sign up for a Wing Ride with Buffalo Bike Tours. They'll lead you to the best Buffalo wings imaginable and also divulge some hidden history of the famous food. If wings aren't your thing, you can opt to learn about Buffalo's past on the History Ride, explore the Outer Harbor on the Waterfront Ride, or sample diverse cuisine while learning about local immigration history on the Foodie Ride. Buffalo Bike Tours can arrange private tours; they also rent bicycles (regular and e-bikes) for cyclists who want to strike out on their own. If you love biking in Buffalo, take the Queen City Bike Ferry (pictured), which runs between Buffalo's Inner and Outer harbor. Once they arrive at the Bike Ferry Landing, cyclists will have access to the Greenway Nature Trail, Buffalo Harbor State Park, Tifft Nature Preserve, and more. The ferry operates Memorial Day-Labor Day and costs $1 per person each way, including bicycles. 
---
Don't forget to post photos of your New York adventures on Instagram and Twitter with #iSpyNY and tag us on Facebook!