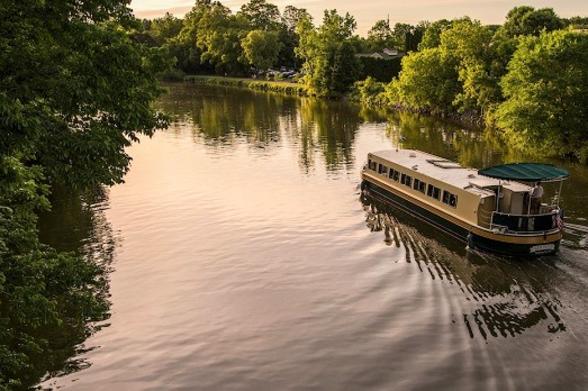 The New York State Canal system of waterways and trails provides a unique opportunity for hikers, bikers, and boaters to experience unparalleled history and stunning nature up close throughout upstate New York.
Flowing 524 miles from Buffalo, including routes up to Oswego and through the Cayuga-Seneca area, to Albany, where it then reaches up to Lake Champlain, the canals form the backbone of the Erie Canalway National Heritage Corridor and connect hundreds of unique and historic communities. These canalside cities, towns and villages offer a wealth of iconic cultural and historic sites, quaint main streets, charming shops, and great food for travelers to explore and enjoy throughout the seasons.
The scenic vistas, calm waters, and tranquil trails can be explored through On the Canals, a year-round program of free activities along the waterways and trails, sponsored by the New York State Canal Corporation. From kayaking, biking and hiking, to birding, and fishing there is something for everyone to enjoy. 
Art and History Meet Along the Canal (Central New York)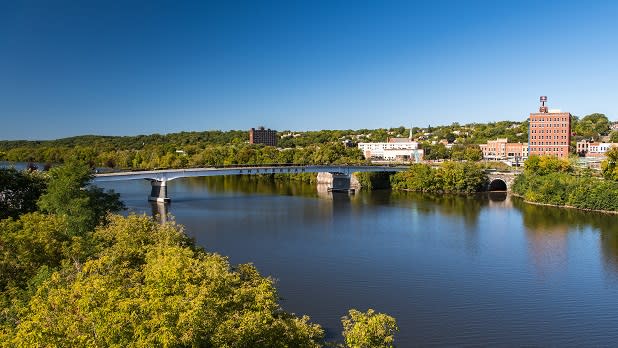 There are few New York State vistas more scenic than those along the Erie Canal. This summer, you can capture that beauty when you sign up for canal painting "en plein air" (French for "out of doors"). Each two-hour session will include all the art supplies you'll need as well as step-by-step instructions from artist Gail Talmadge to help you create a masterpiece to be proud of. After channeling your creative side and painting the view from the Mohawk Valley Gateway Overlook Bridge (pictured), walk the full length of the 511-foot bridge, which crosses the Mohawk River and connects the north and south sides of historic Amsterdam.
Visit the nearby Schoharie Crossing State Historic Site to check out the exhibit on Erie Canal stores at Yankee Hill, the ruins of Schoharie Aqueduct, and 18th century canal-related artifacts at Fort Hunter. Dig deeper into the region's history at Old Fort Johnson, a limestone house built in 1749 and seized when British owner Sir William Johnson fled the region at the start of the American Revolution.
Advanced registration is required for Canal Painting En Plein Air. Various sessions are offered for different age groups. 
Paddle Up in Oswego (Thousand Islands-Seaway)

Credit: @oswegocountyny on Instagram
Oswego sits on Lake Ontario's shore, earning it the nickname Port City of Central New York. This summer, thanks to a partnership with Oswego Expeditions, outdoor lovers can take advantage of several free activities centered around the city's proximity to the lake. From beginners' lessons on kayaking and paddleboarding, to guided sunset and city paddling, there's a canal adventure for everyone. Advanced registration is required. 
Once you're back on dry land, dive into 400 years of maritime history at the H. Lee White Maritime Museum, featuring exhibits on local shipwrecks, Indigenous people's use of area waterways, and much more. Seasonal tours of their historic vessels are also available. Tours via boat to the Oswego West Pierhead Lighthouse can also be booked through the museum. If you love to eat while you learn, book a tour with Oswego Food & History Tours, which includes stops at several local restaurants and businesses, as well as historical sites. 
Historic Cruises and Canalway Bike Rides (Central New York)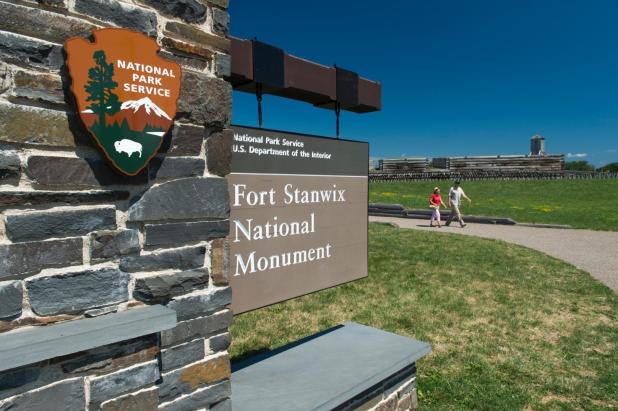 This summer, Central New York visitors will have lots of opportunities to engage with the historic canal. Erie Canal Cruises in Herkimer will offer narrated cruises with stories about the canal's construction, expansion, and impact. STEAM Workshops for Kids and Teens will be held throughout the summer at Lock 20 in Marcy, and cyclists can sign up for On the Canals Utica Evening Rides with Adirondack Ultra Cycling. Learn more about Erie Canal excursions in Central New York here.
For anyone interested in local history, tour Fort Stanwix National Monument (pictured), a recreated fortress originally built in 1758 as a defense against the French Army in Canada. And Rome's Industrial Revolution-era reputation as the Copper City lives on at local businesses. Debrief over a coffee at Copperccino's or unwind with a cold one at Copper City Brewing Company, Rome's first microbrewery since Prohibition. If you want to continue connecting the dots of history, visit Saranac/F.X. Matt Brewery in Utica, established in 1878 and known as the brewery that sold the first beer (a Utica Club) after the repeal of Prohibition. Utica is also significant to the Erie Canal; its first section, which opened in 1819, extended for 15 miles from Rome to Utica. 
Waterfront Fun in Buffalo and Flight of Five in Lockport (Greater Niagara)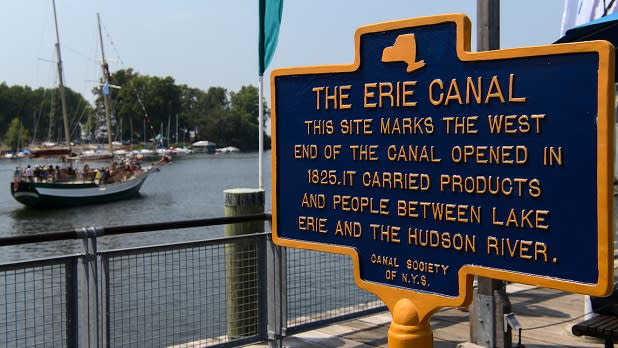 Explore Canalside Buffalo, the historic terminus of the Erie Canal, and the recently revitalized waterfront strategically located on Lake Erie. Travelers can take advantage of new and returning activities in Buffalo and Medina including hydrobike and kayak tours, bike rides, and nature and history tours. There's so much to do and see in these border towns, and exploring the Medina Aqueduct, the only remaining aqueduct of the 32 from the towpath era, and historic Canalside has never been easier. 
Since you're in the land of canals, don't miss the Locks Heritage District in Lockport. Get oriented and take a virtual boat ride at the Erie Canal Discovery Center, and then it's on to the Flight of Five Locks, the largest intact section of the Erie Canal. Take a narrated walking tour and then watch a demonstration of the five locks in action. Lastly, the Locks District Museum highlights the advancement of the technology of tools and equipment since the Erie Canal's heyday.
If you're in search of a charming place to wrap up your visit, check out the specialty shops and restaurants in Lewiston. A few dining options include upscale Italian at Casa Antica, gourmet burgers at Cask + Cow, and tender fall-off-the-bone barbecue at Brickyard Pub & BBQ. 
New ways to explore the beauty of the Champlain (Capital-Saratoga)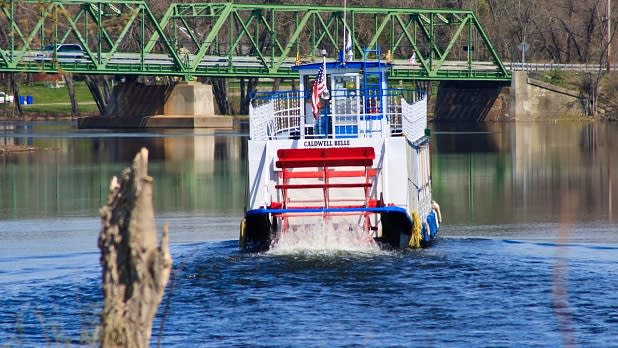 Schuylerville is one of New York's most historic towns and sits alongside the Champlain Canal, boasting countless opportunities to learn about how the town and its residents shaped the history of our country. Downtown has numerous art galleries, shops, and restaurants where you can enjoy a leisurely lunch or dinner. The Basin Grill is the place for fresh seafood while Amigos Cantina will satisfy your Mexican cuisine craving.
If you like history and recreational activities along the river, Schuylerville is the place to visit. Take a cruise through canal history on the Caldwell Belle (an authentic chain driven sternwheel paddle boat) to enjoy the natural sights and wildlife that the Champlain Canal and Hudson River provide. Or ride your bike up to Champlain Canal Lock 6 and then catch a ride back on the Caldwell Belle. 
To explore Schuylerville more deeply, spend the day at Hudson Crossing Park where you'll find picnic facilities, a play garden for kids, a kayak launch, and nature trails with sculptures scattered among the trees. A few miles to the south, visit Saratoga National Historical Park, which was the site of two major battles of the Revolutionary War. The Philip Schuyler Country Estate is also inside the park and open seasonally for visitors who'd like to learn more about Schuylerville's origins. 
Canal Cruising in a Houseboat and Birdwatching By Kayak (Finger Lakes)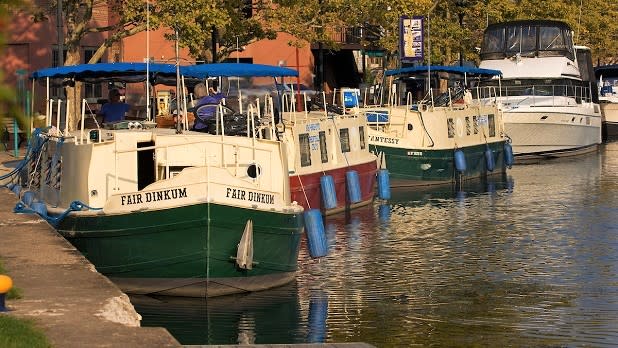 Want to be on the water day and night? Well, with a stay on a houseboat on the Cayuga-Seneca Canal, you never have to be away from the water. Cast off on a truly unique experience with Erie Canal Cruise Lines, which offers 42-foot English-style narrow boats (pictured) that sleep six for either a three-day or seven-day adventure. Finger Lakes Water Adventures also has a luxury four-bedroom houseboat for rent with all the fixings, including a service bar, hot tub, and water slide. 
The Cayuga-Seneca Canal not only connects the Erie Canal to the two largest Finger Lakes – Cayuga and Seneca lakes, it's also at the heart of New York's premier wine country. Enjoy unique tasting experiences and breathtaking views along the Cayuga Lake Wine Trail or the Seneca Lake Wine Trail. History buffs will want to explore the National Memorial Day Museum in Waterloo, where the holiday was first observed, and the National Women's Rights Historic Park in Seneca Falls, the birthplace of women's rights. And who doesn't love a souvenir? Pick up some artisan goods at the Seneca Falls Farmers Market to bring home a taste of the Finger Lakes or find anything you could possibly need at the Waterloo Premium Outlets. 
If you find yourself out this way through August, head to the 10,000-acre Montezuma National Wildlife Refuge where you can embark on a free two-hour guided paddle adventure along the Erie Canal and Clyde River in search of bald eagles, herons, and other wildlife. Also, take a boat tour of the Waterloo Power Plant as well as of Lock 4 with lunch at the Tiki Bar North! See more information here about these exciting activities and registration.
Explore Canal and State History in Albany (Capital-Saratoga)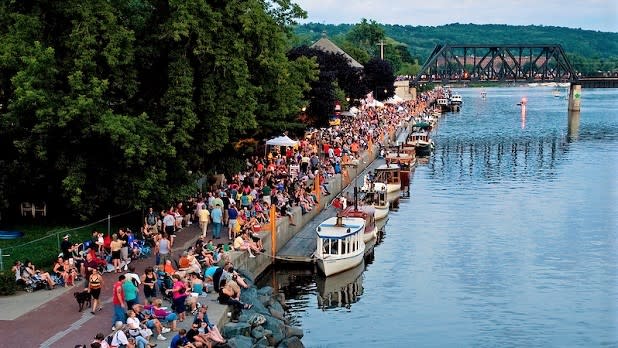 Looking to learn more about the state and canal? You'll find no shortage of historical sites dedicated to both in New York's 400-year-old capital city of Albany, the eastern point of the Erie Canal. Take in the stunning architecture of the New York State Capitol and continue on strolling across Empire State Plaza to the New York State Museum, which highlights everything from the canal to a mastodon that once walked this land. Tour the Georgian-style mansion of a Revolutionary War general and early canal supporter and learn how locks work by seeing one in action with Dutch Apple Cruises & Tours. Just 20-minutes north of Albany you'll find the canal-proud town of Waterford, host of the annual Canal Festival, Steamboat Meet (pictured), and Tugboat Roundup events. There you can find the Waterford Flight of Locks, which lifts boats 169-feet up from the Hudson River to the Mohawk River in just over a mile — a massive feat of engineering. Also, don't miss your chance to paddle and explore with Upstate Kayak Rentals. The free excursions will take you out on the Mohawk River to experience the beauty of this special area where the Erie Canal meets the Hudson River.
Don't forget to post photos of your New York adventures on Instagram and Twitter with #iSpyNY and tag us on Facebook!