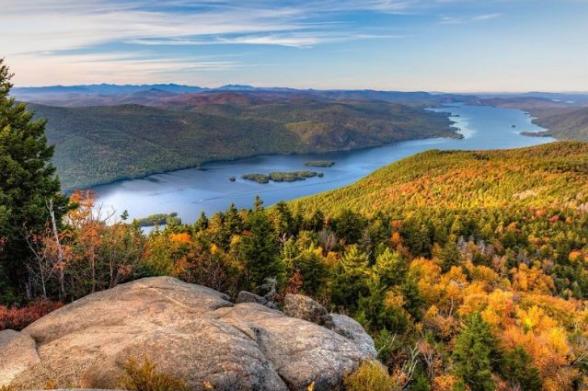 New York State is covered in beloved hiking trails that guide trekkers through its diverse natural terrains. Popular hikes are well-traveled for good reason, but don't sleep on New York's hidden gem hikes! Enjoy the peace and quiet of nature mostly to yourself with these hikes organized by easy, medium, and difficult. Be aware of weather conditions before heading out, and familiarize yourself with how to practice responsible recreation in New York State. Masks are encouraged, but optional in most settings per New York State guidelines. Individual businesses or attractions may require mask wearing. Call ahead and check websites and social media to make sure attractions and amenities are open and available. 
Updated 4/28/23
EASY

Credit: New York State Department of Environmental Conservation
A true hidden gem, Mount Loretto proves there's beautiful hiking to be found right in New York City! The Staten Island Greenbelt contains meadows, wetlands, and hiking trails on its nearly 3,000 acres of natural greenery. Who knew?! Head to the Mt. Loretto Unique Area, where you can explore the Wetlands Trail, an easy trail with eight stops where you can learn about birds, wildlife, and the local ecology. It's so beautiful and lush you'd never guess how close you are to Manhattan.
Up in the northwest corner of the Adirondack forest preserve lies the 9,856-acre White Hill Wild Forest and inside it, the 2.2-mile Clear Pond Trail. It's great for all skill levels, is dog-friendly, and will lead you to Clear Pond. Clear Pond is one of several beautiful little ponds in the forest, all of which are considered to be some of the calmest and quiet waters in Adirondack Park. The forest is fairly remote, so you're sure to find some alone time with nature.
This 2.9-mile loop trail near Montauk is open all year and has lots of interesting features. You'll pass swamp areas and forest, cross over little bridges, and catch views over bluffs and the ocean beyond. Plus, it's dog-friendly so bring your four-legged hiking buddy!
Anyone can enjoy Finger Lakes waterfalls thanks to this trail near Naples, clocking in at just 1.1 miles. Remember to wear waterproof shoes as you'll be walking along a stream. There's a second waterfall that you can continue on to, but it requires using installed ropes to reach the top, so while that part of the trail doesn't qualify for the "easy" category, it's still a good option! There's also a lovely shallow swimming hole where you can peel off your socks and shoes after your hike and dip your feet.
This beautiful little loop trail near Bemus Point is perfect for a family outing. It's just 2.3 miles and easy for all levels, and there's even a park for kiddos to enjoy after you finish the hike. Fido can come too, as long as he stays on-leash. There is a small ($7) entry fee for parking but it's worth it to gaze out over Chautauqua Lake. Pack a picnic to enjoy at the beach!
MEDIUM
Poet's Ledge is so named because it allegedly drew legendary writers like Emerson and painters like Thomas Cole seeking inspiration. It's not hard to see why. This moderately difficult 6.4-mile hike will have you pass by three waterfalls: Viola Falls, Wildcat Falls, and Buttermilk Falls. At its summit, you'll enjoy sweeping views of the lush green Catskill Mountains. The trail is remote so you're not likely to run into too many fellow hikers. Pups allowed!
The famous Adirondack High Peaks offer plenty of amazing hiking in the region—but they're not the only options! The 6.9-mile Jay Mountain Trail is lesser-known and still totally beautiful. It's a long hike, not for the novice hiker but definitely doable, and the payoff is breathtaking. At the summit, your reward is 360° views of all the surrounding mountains in New York State and even some in Vermont.
This trail is one the kids should probably sit out. You'll loop around 5.3 miles of streams and lots of dense forest, and you'll most definitely feel the workout. Beware, the elevation gains can sneak up on you but it is incredibly beautiful with several step falls and two tall waterfalls. There are smaller loop trails as well, if you want to enjoy the views and spare your thigh muscles.
This hike is short and falls on the easy side of moderate, so it's a great option for when you want to bring the kids along. On the 3.6-mile loop, you'll follow a mostly paved trail with heavy shade thanks to the surrounding trees. You'll walk alongside a gorgeous babbling creek until you reach a small but lovely waterfall and pass over two stone bridges. 
This gorgeous hike increases in difficulty as you go, so you'll basically get a warm-up before your legs are put to the true test! It's a 7.7-mile loop with everything you could want in a hike. You'll reach epic views of the Adirondacks and Lake George, diverse and interesting plant life, and the chance to go for a swim after you're done. Be sure to bring your bug spray for this one; thanks to the lake water it can get a bit buggy at the top.
DIFFICULT
This hike is just 2.2 miles long but don't let that fool you—it's challenging! In some places, you'll need to hold onto a rope as you hike a very narrow path to the side of a waterfall, so it's best to leave young ones and animals at home for this one. Your hard work will be rewarded with fantastic views.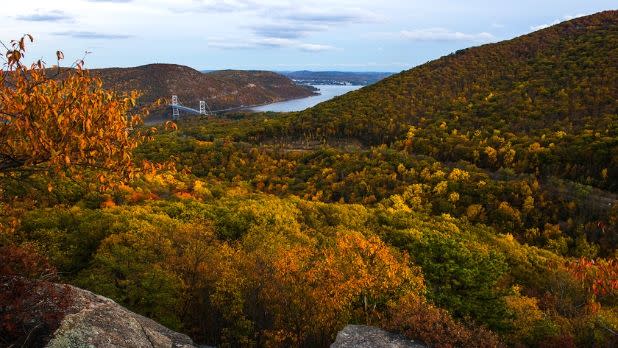 Rivers, waterfalls, and rock scrambles, oh my, this is a great hike! Most of the trail isn't actually so hard until the final stretch up to the top, where you'll probably need to use your hands to assist. At the summit, the views of the Hudson River will take your breath away; there's also a soldiers' memorial constructed from rocks and stones which can be quite moving. You'll also reach a lake that feels like heaven on a hot day post-hike.
You'll reach not one but two peaks on this 8.5-mile hike on Wittenberg and Cornell Mountains. Locals rave that the views from the Wittenberg Mountain Ledge are some of the most impressive in the state, so you might run into a few other people at the top but the trail should be relatively low trafficked. You'll need to pay $6 to park at the campground but it pays off with views worth writing home about. Expect to scramble!
We saved the hardest for last. Not only is the Tongue Mountain Range and Northwest Bay Trail a long hike, but at approximately 16 miles, you're passing over three mountain peaks. This makes it great for an overnight camping trip. You'll get lake views, a glimpse of little islands, and rock scrambles. It's hard, underrated, and rewarding!
Don't forget to post photos of your New York adventures on Instagram and Twitter with #ILoveNY and #FindWhatYouLoveNY and tag us on Facebook!