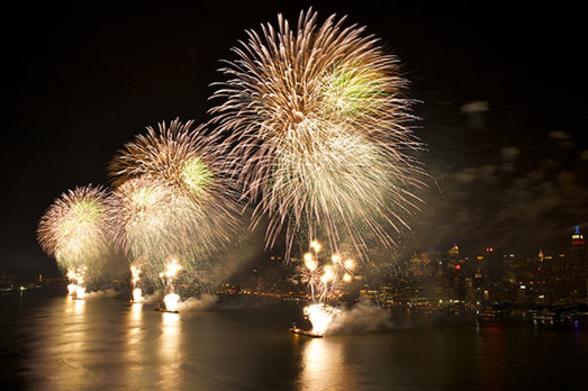 Credit: Barry Schwartz
New York State is known for iconic celebrations around the 4th of July. While this year will be different, many regions will host colorful displays for those in the local area with social distancing requirements, as well as virtual events for those who prefer to stay home. The biggest of all the shows, the Macy's 4th of July Fireworks in New York City, will go on in a different format this year, with a patriotic score and tributes to first responders. The Macy's show also offers the chance to see world-class fireworks from the comfort of your living room, as it will be broadcast on NBC stations from 8-10 pm EST on July 4. Here is a sampling of ways to celebrate the 4th locally and safely across New York State. Make sure to call ahead or check each venue's website or social media pages for availability and changes to programming​. 
West Mountain Fireworks Display (Adirondacks)
West Mountain in Queensbury will host a fireworks display from the top of the mountain for those within view. July 3, Time TBA, free
Piseco Fireworks (Adirondacks)
For those who live near Piseco Lake, the annual fireworks festival is scheduled to take place from Big Sand as usual this year. July 3, 9:30 pm, free
Virtual Event: July 4th Oration—The Struggle For Justice Continues (Capital-Saratoga)
As part of the extended virtual Path Through History Weekend, the Underground Railroad Education Center presents a special program based on the 1852 address by Frederick Douglass. The Oration examines issues of liberty, citizenship, civic engagement, and social responsibility from the historical perspective in light of contemporary injustice. This Zoom call will feature guests reading from Douglass's text, commentary, and music. Today more than ever, Frederick Douglass's address rings out from history, reminding us that we must learn from the past to create the future all Americans deserve. July 4, 11 am-12 noon, free (advanced registration required)
Browns Beach Fireworks (Capital-Saratoga)
The Town of Stillwater will host its annual Browns Beach Fireworks display with social distancing required. July 4, 9:30 pm, $5 parking fee
Fireworks and a Movie (Capital-Saratoga)
The Jericho Drive-in movie theater in Glenmont will show a to-be-announced family-friendly movie followed by a fireworks display. July 4, 7:30 pm, $40-$50
Fourth of July Cannon Salute (Capital-Saratoga)
Join the 2nd Continental Artillery Regiment for a spirited celebration of our nation's independence from the Bennington Battlefield. The men of the 2nd Continental will be firing a cannon and providing narration. Rather than gathering at the site, spectators will be able to view this event via livestream on Facebook. July 4, 11 am, free
4th of July in the Catskills (Catskills)
Fireworks, parades, family-friendly activities, and more are planned at six locations throughout the Catskills from July 3-6. Events are planned for Coxsackie, Windham, Cairo, Catskill, and Tannersville, with fireworks displays each night during the celebrations. Social distancing requirements will be in place. Please call ahead to confirm for each event. July 3-6, various times, free
Ellenville 4th of July Parade and Fireworks (Catskills)
The annual Ellenville tradition will take place with social distancing requirements of at least six feet from others who do not live with you, as well as other state guidelines. The 9.5-mile parade will start from Liberty Square at 12 pm and proceed east down Canal Street. It will then continue onto Rt 209 and head north to the hamlet of Napanoch and then onto Kerhonkson, where it will end. Fireworks will begin at 9:30 pm at Joseph Y. Resnick Airport. July 4, 12 pm (parade) and 9:30 pm (fireworks), free.
Cazenovia Independence Virtual Run/Walk (Central New York)
The July 4th foot races are a major holiday tradition in Cazenovia, going back 48 years. This year's version will offer in-person and virtual options for those who want to participate on their own time. The traditional Cazenovia 1-mile, 5K, and 10-mile courses will be marked and available for use from July 1-7. However, participants who may not be able to run on the usual course due to travel restrictions or safety precautions are welcome to complete their run on any course of their chosen distance and submit their time. July 1-7, free
Mayville July 4th Celebration (Chautauqua-Allegheny)
The village of Mayville will host its annual July 4th fireworks celebration from Lakeside Park, which will be closed, to allow better viewing opportunities for area residents. July 4, 10 pm, free
Cortland County July 3rd Fireworks Show (Finger Lakes)
The longstanding tradition of July 3rd fireworks in Cortland County will take place this year, albeit in a new location east of the city of Cortland. This move will provide an excellent opportunity to view the show from nearly every vantage point in the city. July 3, 10:15 pm, free
Genesee Country Village & Museum Independence Day Celebration (Finger Lakes)
This family-friendly daytime celebration will feature games, picnics, contests, and a swearing-in of new U.S. citizens! The Genesee Country Village & Museum will also host its grand parade and a reading of the Declaration of Independence. July 4, 10 am-4pm, advanced tickets $12 adults, $9 seniors/students, $6 ages 4-12, 3 and under free
Village of Sodus Point Fireworks Extravaganza (Finger Lakes)
This picturesque village on a point overlooking Lake Ontario will host its annual Independence Day Weekend fireworks display over the Sodus Bay Channel Pier. July 3 (rain date July 5), 9:30 pm, free. 
Dutchess County Goes Renegade on July 4th (Hudson Valley)
The home of the Hudson Valley Renegades minor league baseball team, Dutchess Stadium, and two other nearby locations will host drive-in fireworks with social distancing restrictions in place. Gates will open at 7:30 and parking will be limited to 500 vehicles at the stadium in Wappinger, 300 vehicles at Keane Stud in Armenia, and 3,000 vehicles at the Dutchess County Fairgrounds. July 4, gates open at 7:30 at each location, free
Macy's 4th of July Fireworks (NYC)
The annual fireworks extravaganza hosted by Macy's on New York City's riverfront takes a new form this year, with five-minute, unannounced versions of its signature displays between June 29-July 4. The televised finale will feature highlights from the week's fireworks shows, airing on NBC at 8 pm EST on July 4. June 29-July 4
Mount Vernon Hotel Museum & Garden Virtual Lunchtime Lecture: Celebrating the Fourth of July (NYC)
This online conversation will feature discussions about the Fourth of July celebrations in the early 19th century, especially on the 50th anniversary of the signing of the Declaration of Independence, and a big historical question: What did the American Revolution mean to the generation that followed our Founding Fathers and how did that impact the new nation? July 3, 12:30-1 pm, free with advanced reservation on Zoom
Zoo New York July 4th Welcome Back Party (Thousand Islands-Seaway)
Zoo New York in Watertown will celebrate its reopening along with the 4th of July at this daytime event featuring vendors from around the region, as well as live music and of course the animals on display. July 4, 10 am-3 pm, $10 adults, $8 seniors, $7 children