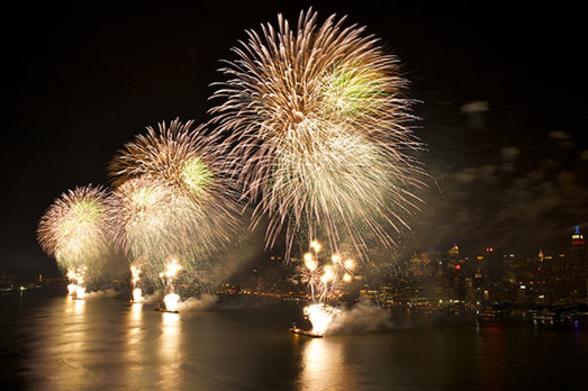 Credit: Barry Schwartz
No one celebrates the Fourth of July like New Yorkers do. For us, Independence Day means beach trips, fireworks over the water, picnics, and live music! Wear your red, white, and blue and get ready to "ooh" and "ahh" with these festive celebrations across the state. 
Masks are encouraged, but optional in most settings per New York State guidelines. Individual businesses or attractions may require mask wearing. Call ahead and check websites and social media to make sure attractions and amenities are open and available.
This iconic event is back and the stunning fireworks display is sure to delight New Yorkers of all ages. This year the fireworks will light up the sky over the East River. Marvel over the fireworks while enjoying an accompanying score of patriotic music, electrifying performances, heart-pounding pyrotechnics, and more. Expect to be dazzled with an epic fireworks show at the country's largest Fourth of July celebration—this display will be bigger than ever!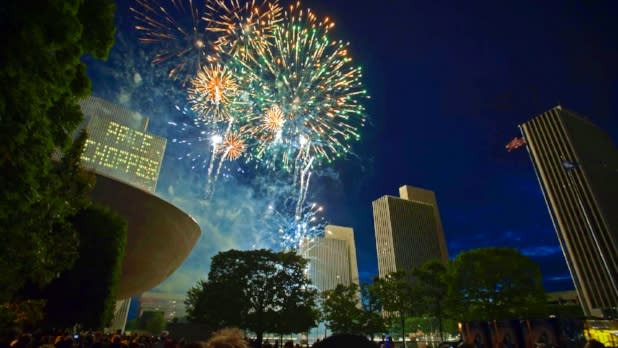 Celebrate the holiday with 20,000 other revelers at Empire State Plaza in Albany. The 4th of July Celebration takes place from 5pm-10pm and includes exciting live performances from Starship featuring Mickey Thomas and some of the region's best local artists, tasty food and beverage vendors, and of course fireworks! Watch the sky over The Egg, the New York State Capital, and Corning Tower burst with color right before your eyes. 

A trip to Jones Beach State Park is already the perfect summer day—enjoy the beach, boardwalk, surfing, fishing, miniature golf, and more. Your day will be even more special on July 4th starting at 9:30 PM, with more than 8,000 fireworks going off accompanied by patriotic songs.

Photo courtesy of LEGOLAND
A unique fireworks display will light up the sky over the Lego-themed amusement park to celebrate their five-night Bricktastic 4th of July celebration. Be sure to grab a pair of special 3D viewing glasses so you can watch the fireworks burst into LEGO bricks right before your eyes! There will be entertaining live music and the park will be open until 9PM so you can enjoy the show. Red, White & BOOM activities take place from June 30-July 4 and are covered with the cost of regular admission. 

Credit: @wanderwomanpics on Instagram
Alexandria Bay's Independence Day celebration uses the stunning backdrop of the St. Lawrence River and Boldt Castle for its fireworks display. Set up a picnic along the shoreline or better yet, rent a boat and get on the water for an even more striking view. The fireworks begin at dusk, which can be later this far north, with an estimated start time of 9:45 PM.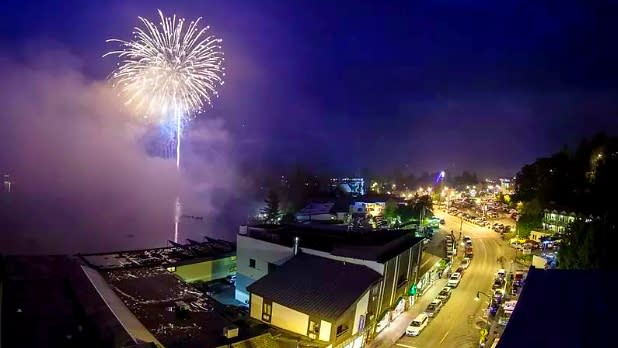 Lake Placid hosted two Winter Olympic Games, and the surrounding area is still home to athletes that represent Team USA. It's no surprise that the Olympic village is an exciting place for Independence Day. Start the day with a Lake Placid Horse Show at 8 AM for just $10 or under. Then, take your pick from a variety of activities: head to Lake Placid Public Beach and go for a swim, or just take a stroll around beautiful Mirror Lake. Browse the shops and have a nice lunch on Main Street. At 5 PM, Olympic athletes and special guests will march down Main Street, along with floats, classic cars, and more in the 4th of July gala parade. End the memorable day with a fireworks extravaganza over Mirror Lake starting at 9:30 PM.
West Mountain Concert and Fireworks (Adirondacks)
West Mountain in Queensbury will host Music on the Mountain, a day filled with live entertainment from Jukebox Rebellion, food, an outdoor beer garden, and more. A fireworks display will begin at dark. July 1, 6-10 PM, $15 (20 and over), $10 (13-19), $5 (7-12), 6 and under, free with purchase of adult ticket.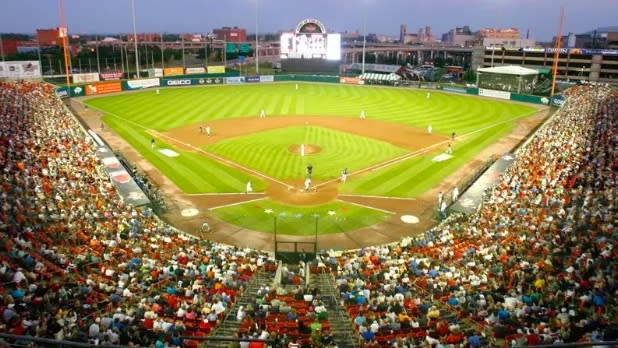 Cheer for your favorite team as the Buffalo Bisons take on the Worcester Red Sox at Sahlen Field. After the game, the Buffalo Philharmonic Orchestra with special guests The Jazz Ambassadors, the premier touring jazz orchestra of the United States Army, will entertain the crowd with patriotic songs. Stick around after the concert for the largest fireworks show of the season! Game starts at 6:05 PM. Tickets cost $26.60 each.

Walkway Over the Hudson is the perfect viewing platform for the City of Poughkeepsie's fireworks. The New York State historic park will hold a ticketed event from 6:30 to 10 PM (fireworks begin after 9 PM). Don't forget to cross the Walkway during your visit—it's one of the longest pedestrian bridges in the world! Ticket information to be announced. See website for details. 

No worries if you can't make it to Walkway Over the Hudson on the 4th because fireworks will light up the sky all over Dutchess County! Head to the home of the minor league baseball team, the Hudson Valley Renegades. Fireworks displays will take place at Dutchess Stadium for three nights in a row (July 1-3) after their games against the Brooklyn Cyclones. In the mood for a parade? Bring a chair and then sit back and enjoy the Hyde Park Independence Day Parade. For an educational perspective on the holiday, head to Clermont State Historic Site and listen to readings from Frederick Douglass' "What to the Slave is the Fourth of July?" Or listen to the annual Reading of the Declaration of Independence at Village Hall in Fishkill. Prices vary.
The July 4th foot races are a major holiday tradition in Cazenovia, going back around 50 years. Runners can register for a 10-mile course, a 5K, or a Kid's Fun Run. And once again this year, a virtual option is available for those who want to participate on their own. 10-mile begins at 8 AM, 5K begins at 8:15 AM, Kid's Fun Run begins at 8:20 AM, 10-mile: $28, 5K: $25, Virtual: $25, Kid's Fun Run: free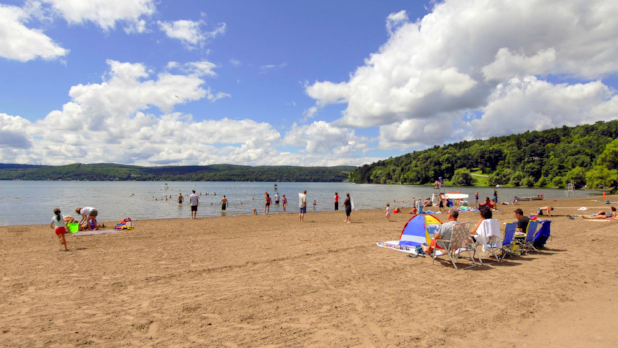 Head to Springfield, about 20 minutes north of Cooperstown, for the Annual Springfield 4th of July Parade starting at 11 AM. After the parade, stick around for live music, historical displays, and a helping of chicken barbecue. Afterwards, enjoy some classic rock at Glimmerglass State Park (pictured), as the Council Rock Band  will perform at 7:30 PM. Stick around for the fireworks display beginning at dusk after the concert!

Fireworks, parades, family-friendly activities, and more are planned at locations throughout the Catskills from June 28-July 6. Celebrate independence riverside in Coxsackie July 3 with live music starting at 4 PM and fireworks at 9:15 PM. Windham is hosting its parade throughout Main Street and a firework display at Windham Mountain Resort on July 4. Cairo will have food and craft vendors and live music starting at 5 PM followed by an exciting firework show on July 4.  Catskill has its annual firework spectacular along the banks of the Hudson River at Dutchman's Landing Park on July 5.Tannersville's parade starts at 3 PM followed by fireworks and live music at the Rip Van Winkle Lake on July 6. Various times, free
This family-friendly daytime celebration will feature games, picnics, a pie-eating contest, patriotic tunes, and a swearing-in of new U.S. citizens! The Genesee Country Village & Museum will also host its grand parade and a reading of the Declaration of Independence and Frederick Douglass' "What to the Slave is Fourth of July?" July 4, $23 for adults, $20 for senior citizens, $19 for students 13-18, free for children 12 and younger.
Cortland County will return to tradition this year with a day-long celebration at Dwyer Memorial Park in Preble. Enjoy live music from local bands, food vendors, and a beer and wine garden. The music starts at 2 PM; the fireworks display is from 9-10 PM. July 1, free, $5 parking per car
The village of Mayville is going all out this year with its annual July 4th celebration. The festivities begin with the Grand Parade, followed by a day of live music and entertainment, including a magic show, and a comedy, variety, and stunt show. The exciting day concludes with a colorful firework display. Free.
---
Don't forget to post photos of your New York adventures on Instagram and Twitter with #iSpyNY and tag us on Facebook!