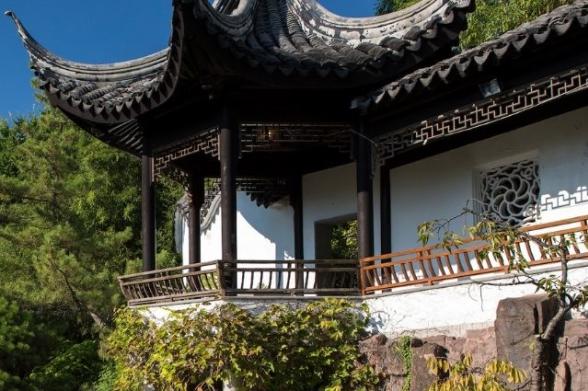 Updated: 1/27/2023
Have you been daydreaming of far-off places and yearning to pack your bags for a globetrotting experience? Look no further for unique destinations that will make you feel like you're traveling the world without leaving New York State. New York's diversity is rooted in its immigrant history, with people from many different cultures calling the state home and creating attractions to remind them of where they came from—from traditional Chinese and Japanese gardens to inviting Scottish inns to restaurants with Senegalese and Mexican flavors. Ready to get exploring? 
Masks are encouraged, but optional in most settings per New York State guidelines. Individual businesses or attractions may require mask wearing. Call ahead and check websites and social media to make sure attractions and amenities are open and available. 
Japan

Credit: Courtesy of North Shore Land Alliance
Transport yourself to Japan via the Hudson Valley to dine at Mt. Fuji Japanese Steakhouse, situated on a 45-acre private mountain in Hillburn. Experience tableside hibachi artistry performed by master chefs and enjoy authentic Japanese dishes, fresh sushi, and sake all while taking in breathtaking panoramic views and selfie-worthy torii gates that will make you feel like you are entering a traditional Japanese shrine.
On Long Island, experience the tranquility of the John P. Humes Japanese Stroll Garden (pictured), open for the season from April 30 through October 30. The North Shore Land Alliance owns this world-class Japanese garden featuring a traditional tea house, Japanese maples and Asian and native woodland wildflowers, and a charming pond, among other peaceful elements to take in as you go for a stroll.
United Kingdom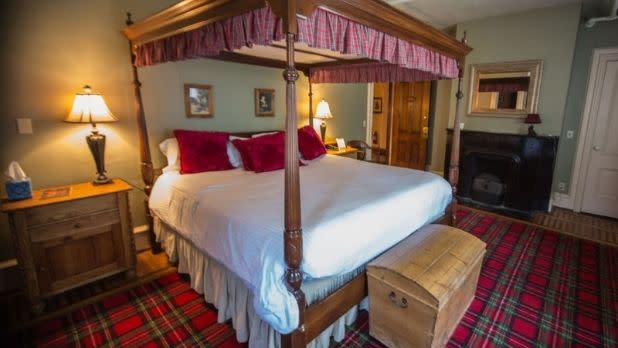 Book a charming getaway to the Brae Loch Inn (pictured) to experience the warmth and hospitality of the Scottish Highlands right in the Central New York village of Cazenovia. The charming, historic lodge is decorated with Scottish memorabilia, tartan furnishings, and delightful antiques. Be sure to enjoy Scottish-inspired fare including haggis, fish and chips, or rack of lamb in their cozy dining room.
Missing the warmth and merriment of a traditional British pub? Check out The Old Toad in Rochester for a true pub experience with a wide range of ales and classic dishes. Or grab a pint at The Olde English Pub in downtown Albany. Located in the historic Quackenbush House from the 1730s, this spot is serving up English cuisine as well as other dishes that incorporate cultural influences from India and the Caribbean. Dine inside and get cozy by their two indoor fireplaces or, during warmer months, dine outdoors in their "English garden"—where you can even snap a photo with a classic red telephone box!
India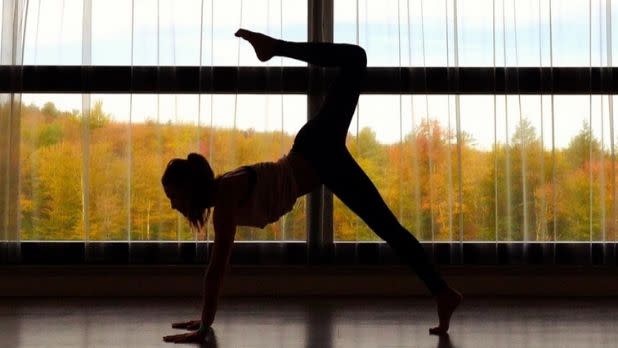 Escape to India by way of Monticello at YO1 Longevity & Health Resorts (pictured), which uses ancient Indian Ayurvedic approaches to wellness amid peaceful Catskill Mountains surroundings. Stay in a luxurious room with a scenic lakeside view and take part in yoga classes, eat organic foods designed to detoxify the body, and enjoy 1,300 acres of property to explore—all elements of the Ayurvedic approach to balancing mind, body, and spirit. 
For a more city-fueled Indian experience, head to one of the most ethnically diverse neighborhoods in the United States: Jackson Heights, Queens. At the Jackson Diner—a  "culinary hub" serving flavorful dishes for over 35 years—take your taste buds on a journey across their menu of aromatic tandooris, biryanis, curries and vegetarian items.
Senegal

Credit: Anna Pakman
Did you know that a section of central Harlem in New York City is known as Le Petit Senegal, or Little Senegal? A central gathering place for West African immigrants is Ponty Bistro—named after a popular street in the capital Dakar—which offers up unique African and French cuisine crafted by Senegalese cousins, owners, and chefs Ejhadji Cisse and Cheikh Cisse. Try it for a festive brunch or a lively dinner, featuring traditional Senegalese dishes such as poulet yassa (pictured).
Another Senegalese dining experience to try is in Brooklyn. Make your way to Crown Heights to Cafe Rue Dix. The interior is decorated with traditional West African masks on the wall and geometric designs in the style of Senegalese textiles. The French-Senegalese dishes use fresh ingredients and bold spices for a flavorful visit to Dakar via Brooklyn. Pick up Cafe Rue Dix's signature coffee and Senegalese hot sauce to enjoy at home at their shop next door, Marche Rue Dix, where you'll find a mix of home goods, clothing, imported spices, tea, and coffee.  
Italy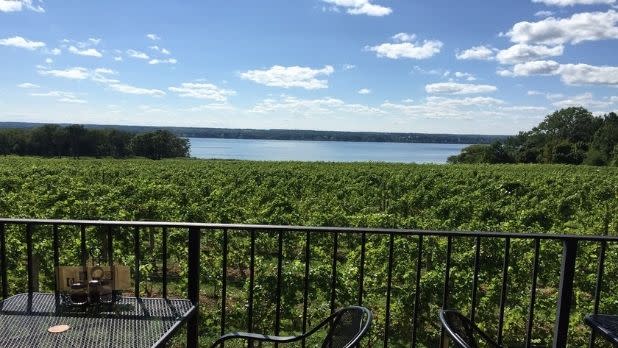 If you're longing for a taste of Tuscany, take a trip to Ventosa Vineyards (pictured) in the Finger Lakes for Mediterranean-inspired meals on-site at Cafe Toscana, beautiful views of Seneca Lake, and of course, delicious, quality wines. Specializing in dry reds, visitors can try their award-winning Cabernet Franc or popular Italian varietal Sangiovese among other estate-grown and produced reds and whites.
Of course, New York is home to Italian-American communities throughout the state. For tips on visiting the Bronx's Little Italy, check out 48 Hours in the Bronx. Want to try some of the best Italian food you'll find outside of Italy? Head to our blog post 11 of the Best Places for Pasta in New York State.
Caribbean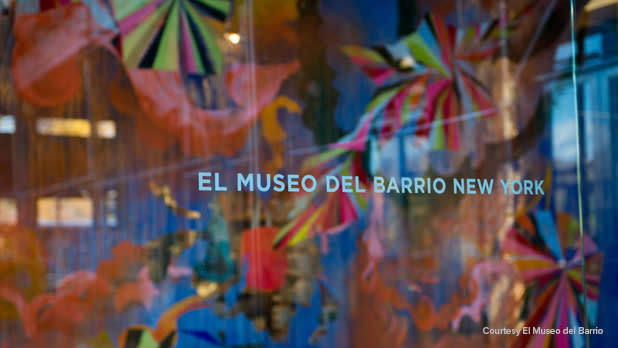 Home to "the largest and most diverse Caribbean-American-LatinX community outside of the West Indies," according to its website, Brooklyn's Little Caribbean neighborhood offers shops, restaurants, and cultural activities that can give you a taste of the West Indies. For Caribbean flavors with innovative culinary techniques, try MangoSeed+Zurilee, known for its spicy jerk chicken, braised oxtail, jerk salmon, and more. 
El Museo del Barrio (pictured) on Fifth Avenue's Museum Mile intersects Puerto Rican, Caribbean, and Latin American art. The museum, currently open Thursdays, Fridays, Saturdays, and Sundays from 11 am-5 pm, features a collection with over 8,000 objects spanning more than 800 years of art, from historic artifacts and 20th-century drawings to sculpture, painting, and other modern media.
China
Travel enthusiasts with a love of Chinese culture can visit Chinatown, one of New York City's most iconic, evocative neighborhoods for delicious restaurants and unique shops. For a more serene experience, explore the New York Chinese Scholar's Garden (pictured at top and above) at Snug Harbor Cultural Center & Botanical Garden on Staten Island. It is one of only two authentic classical outdoor Chinese gardens in the United States, featuring Ming Dynasty–style gardens and architecture crafted from materials from Suzhou, China. Wander through a bamboo forest path, relax in various pavilions, and enjoy the garden's koi pond and waterfalls.
Lebanon
Enter into Sahadi's on Atlantic Avenue in Brooklyn, take in the sights, sounds, and smells, and you'll feel transported to the Middle East. The Sahadi family, originally from Lebanon, still runs this grocery store which opened in 1948 after moving from its previous location on Washington Street in Manhattan, beloved for its bulk spices, grains, imported olives, and candies. The bulk section has a bazaar-like feel, with patrons grabbing tickets and waiting for their number to be called amid the barrels and shelves holding the coveted ingredients. In the back, Sahadi's offers takeout dishes including mouth-watering hummus and baba ganoush, as well as delicious savory pastries, sweet baked goods, and heartier fare like falafel and kabobs (pictured). A newer second location is open at Brooklyn's Industry City.
Poland
Buffalo's historic "Little Polonia" district makes up one of the largest Polish communities in the world outside of the country itself, reflected in a neighborhood full of Polish flavors, architecture, and culture. Craving pierogi, dumplings filled with potatoes, and sometimes cheese? Take a trip to K Sisters on Clinton Street, which offers classic pierogi as well as fun variations like taco, fruit, and ricotta with spinach and roasted garlic. The Little Polonia landmark is also the place to purchase premade and frozen traditional Polish dishes such as golabki (a stuffed cabbage roll), barbecued hamburgers (sauteed in fresh peppers, onions, and tomatoes), kluski (buttered noodles), or sweet and sour cabbage.
Mexico
New York City boasts acclaimed restaurants showcasing regional Mexican cuisine. Transport yourself to Oaxaca by way of Brooklyn to indulge in delicious Mexican food at Claro. The masa, cheeses, chorizo, and moles are all made by hand, as they would be in Mexico's culinary hotspot. Claro is beautifully decorated inside, with bar tiles and murals designed by Oaxacan artists. Dining outside? Take in the ambiance of the outdoor bar—and outdoor kitchen—and watch as their made-in-house tortillas are pressed while you enjoy a flight of mezcal. 
France

Credit: Anna Pakman
Head back in time to a centuries-old French Huguenot settlement in New Paltz. Visit 10 acres of preserved and restored buildings dating back as far as the 1800s, as well as a reconstructed 1717 French church. While the buildings on Historic Huguenot Street are temporarily closed for the winter season until May, a free walking tour app can turn your visit into an exciting history lesson!
Want to go back in time even further? Head to The Met Cloisters (pictured) in New York City's Fort Tryon Park to visit a museum with a main building constructed from medieval stone abbeys in France and picturesque cloister gardens reconstructed on a hill overlooking the Hudson River. The museum itself features European art, artifacts, and architecture from the Gothic and Romanesque periods, going back to the 6th century, including the famed Unicorn Tapestries. 
For a modern taste of France, visit Supermoon Bakehouse for standout croissants that, dare we say, are just as good or better than any you'll find in Paris. Hand-crafted on NYC's Lower East Side from butter imported from a farm in Normandy and grain, flour, and produce sourced from Upstate New York, these masterpieces that range from the classic variety to stuffed delicacies such as the "New York Croissant"—covered with everything bagel seasoning and stuffed with the fluffiest scallion cream cheese—are the stuff dreams are made of. Can't make it to the shop? The Bakehouse offers "Care Packs" brimming with inventive weekly specials. They go on sale every Monday at 6 pm and delivery is available to Manhattan, Brooklyn, Queens, Bronx, Staten Island, New Jersey and parts of Westchester and Long Island.
---
Don't forget to post photos of your New York adventures on Instagram and Twitter with #iSpyNY and tag us on Facebook!