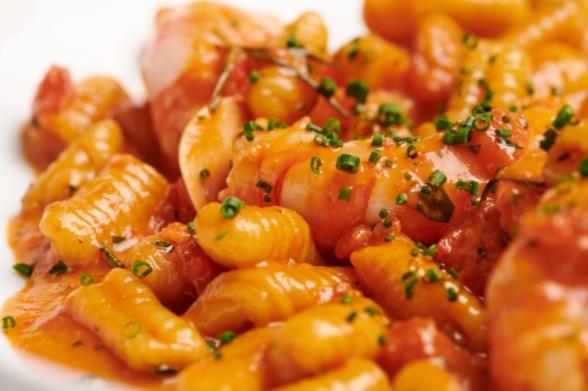 You already know that New York is the best state for pizza, but today, we're focusing on another famous carb + sauce Italian-inspired dish. You guessed it, we're talking pasta, and New York has bowls and bowls of it—including its very own regional specialty. From affordable local gems to tony hot spots, there's no better place to enjoy pasta. 
Masks are encouraged, but optional in most settings per New York State guidelines. Individual businesses or attractions may require mask wearing. Call ahead and check websites and social media to make sure attractions and amenities are open and available. 
Originally published: 9/15/22
Fortuna's, Niagara Falls (Greater Niagara)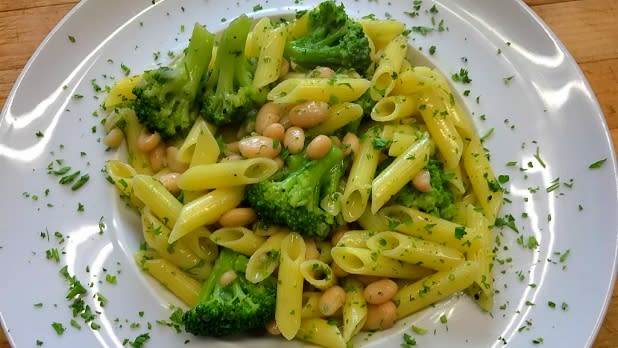 Locals and visitors alike love the homemade Italian classics along with a few originals like penne with broccoli and beans (pictured), tortellini alfredo with grilled chicken, and homemade gnocchi with your sauce of choice. Most of the pastas here are made in-house (gluten-free and vegetarian options also available). Bring the whole family because portions here are as epically massive as neighboring Niagara Falls!
Marea, New York City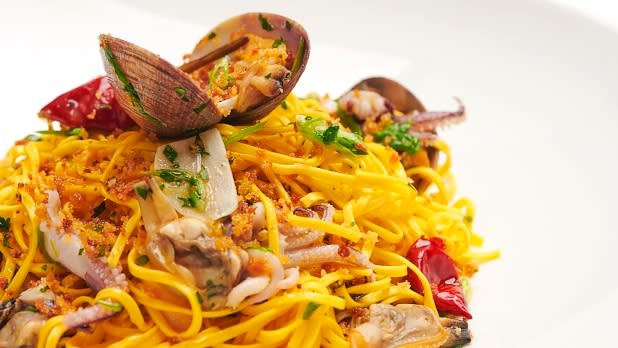 It's easy to see (and taste) why Marea is a must-reserve restaurant when you try show-stopping dishes like the fusilli with red wine braised octopus and bone marrow. Marea is the crown jewel in Italian fine dining and this food is as good as anything you'll find in "the old country." Note: This restaurant is reopening October 6th, 2023.
Ca'Mea, Hudson (Hudson Valley)

Credit: Massimilano Cenci
If you haven't yet had a chance to visit the hip town of Hudson, NY, make a meal at Ca'Mea your excuse. Diners rave about the homemade pasta specials like pappardelle with mushrooms, spinach and ricotta ravioli, and linguine con vongole at this beloved Northern Italian restaurant that holds a top restaurant rank for foodie-friendly Hudson on TripAdvisor.
Caffe Rustica, Lake Placid (Adirondacks)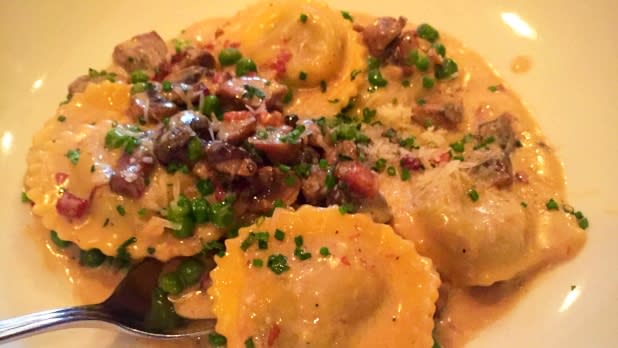 If you're going to spend your days climbing high peaks or going full throttle down an Olympic bobsled track, you'll need to load up on carbs. One of Lake Placid's best not-so-hidden gems (in the top 10 on TripAdvisor), is Caffe Rustica, which serves authentic Italian cuisine, including a particularly memorable ravioli carbonara dish, just a short drive from Main Street.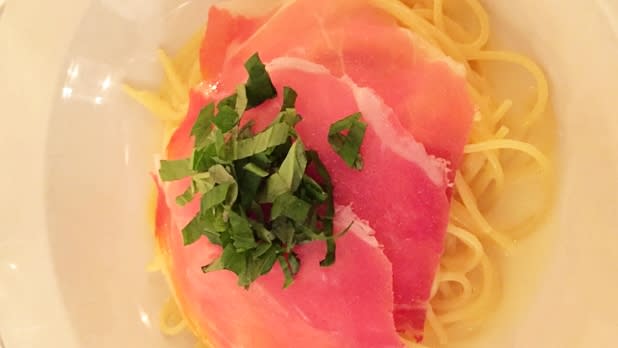 "Basta" means "that's enough" in Italian, but everything on the menu is so good at this creative Italian-Japanese fusion concept (with dishes featuring sea urchin, tobiko, and shiso) that we dare you to call it quits. Try the "Fusilli con Prosciutto e Parmigiano" and watch in awe as your server tosses fresh spaghetti in a half wheel of Parmigiano Reggiano cheese right in front of your eyes.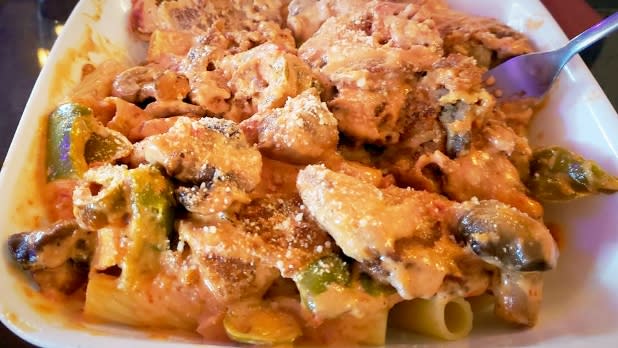 Think all of the best pasta dishes were invented in Italy? Then you've never heard of chicken riggies! Head to Chesterfield's Tavolo in Utica to taste this unique hometown dish of chicken, rigatoni, and hot and sweet peppers in a white wine spicy marinara sauce with romano cheese. While the identity of the riggies' inventor remains unknown, Chesterfield's is on the books for creating another local favorite—Utica greens (greens sauteed with hot peppers, garlic, cheese, bread crumbs, and variations of meat and prosciutto).
Villaggio, Ellicottville (Chautauqua-Allegheny)

Credit: Courtesy of Villaggio
Though the restaurant's family-friendly vibe may be casual, its pasta dishes, like the bucatini carbonara (pictured) and rigatoni bolognese, are anything but. Though parents whose kids are picky eaters will be relieved to see a kids menu section with chicken fingers and fries. Don't be surprised if you see some famous faces like Buffalo Bills legend Thurman Thomas, as we have it on good authority Villaggio is a Thomas family favorite!
An artisanal pasta purveyor by day, restaurant by night, this rustic shop serves creative pasta dishes for dinner Thursday through Sunday and lunch and dinner on weekends. The seasonal menu changes weekly, along with a rotating selection of suggested wine pairings. Major bonus: all their products are made with ingredients from local Catskills farms (including 100% NY-grown wheat!). Reservations recommended.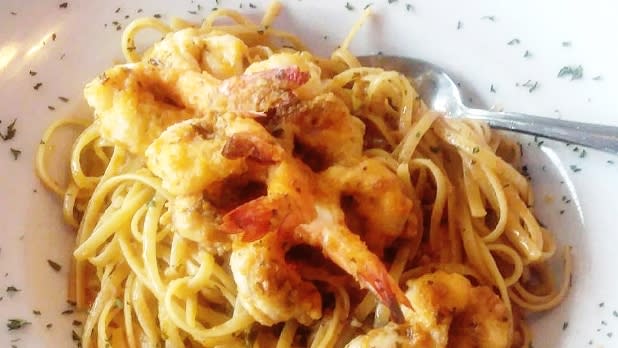 This friendly family-owned and -operated waterfront seafood shack next to the Long Island Aquarium serves up some of the best shrimp scampi this side of the Atlantic. Mollusks more your style? Try the rave-review-inducing linguine paired with clams or mussels. Their hot or cold lobster rolls have also become popular menu items along with their Peconic Bay scallops, which are available around November. While this place is super casual, don't be shocked if you see a famous face or two—Kate Upton celebrated her 21st birthday here a few years ago along with friends Cameron Diaz and Lady Gaga.
With so many mouthwatering Tuscan-style dishes like farfalle con pollo and cappa santa al prosciutto e basilico (a dish of pan-seared diver scallops with spinach, tomatoes, fresh basil, and prosciutto atop a base of angel hair pasta), you may want to order one of each and share them family-style as many patrons do. Outside, the restaurant has Tuscan-style garden seating; inside, the walls are full of autographs from famous (the Clintons and Joe Biden, for example) and not-so-famous fans in order to provide monetary donations for Coaches Vs. Cancer, in memory of the restaurant's original owner, Rosalie.
Caffe Italia, Albany (Capital-Saratoga)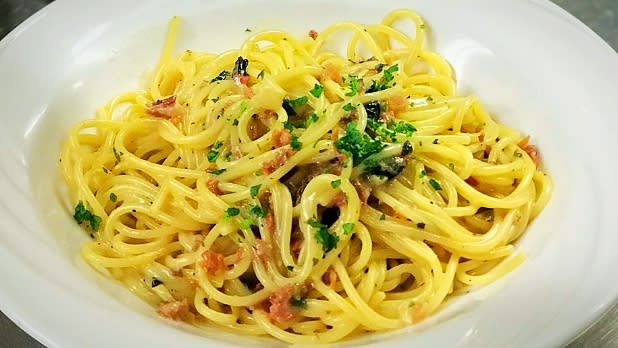 If you're looking for authentic Southern Italian cuisine, make your way to Albany's beloved Caffe Italia. This cozy restaurant has been family-owned since 1980 so it's no wonder it feels like eating in your grandmother's dining room. While all of the dishes get rave reviews, the crab and lobster ravioli, spaghetti carbonara, and any kind of "parm" dish are crowd favorites. Reservations recommended.
---
Don't forget to post photos of your New York adventures on Instagram and Twitter with #iSpyNY and #ILoveNY and tag us on Facebook!