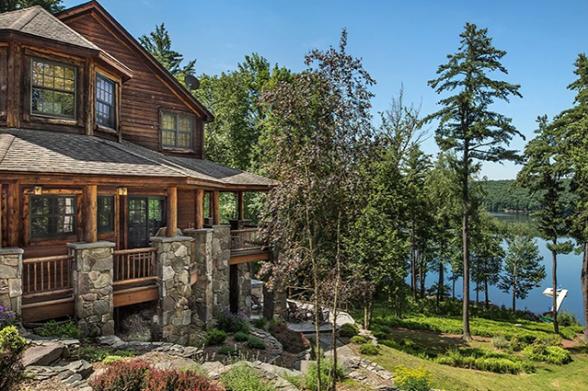 Have you ever wanted to sleep among the canopies in a magical treehouse? Stay at America's oldest inn or 'check-in' to the history of a restored 19th-century opera house? You can do all of these and more in New York State at these eight new and unique lodging options! 
Remember to social distance and wear a mask as required by state guidelines. Call ahead and check websites and social media to make sure attractions are open and available.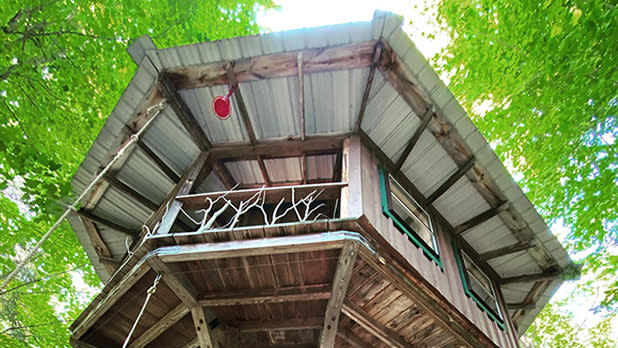 Credit: @tracystimetotri on Instagram
Immerse yourself in nature when you bunk in the magical treehouse at Adirondack Adventure Base in Paul Smiths. Boasting mountains, lakes, and trees as far as the eye can see, it's the ultimate spot for truly connecting with nature! Sleeping up in the trees, you'll enjoy the enchanting space, which is now open year-round and perfect for couples. For family-themed options, you can choose from their other themed lodges: Camp Hatteras, Overlook Lean-to, and Woodland Grove Camping.  After a day of hiking, there's no better place to relax, sit by the fire and look out at the stars. Open now and accepting reservations.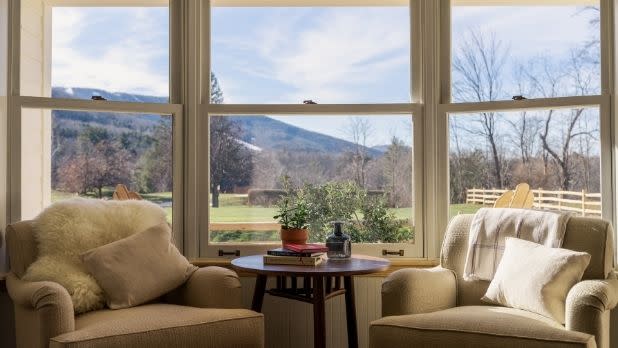 Credit: Courtesy of Wylder Windham
The town of Windham has attracted generations of people seeking natural beauty and outdoor adventures. And that's exactly what you'll find at Wylder Windham, a new 110-room, full-service resort featuring seven different lodging experiences. At the all-season resort, you'll discover endless opportunities for relaxation and fun. Tube on the river, gather with friends around the firepit, or go skiing at nearby Windham Mountain. You'll feel the nostalgic spirit of the Catskills and celebrate the timeless pleasures this storied region has to offer. Opening in phases beginning this spring with a full launch in August 2022.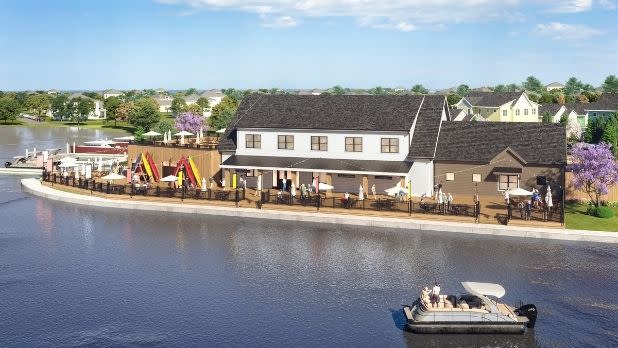 Rendering of The Cove at Sylvan Beach / Credit: Courtesy of The Cove at Sylvan Beach
Get away for a while to a lakeside state of mind at The Cove at Sylvan Beach, an all-new, contemporary cottage community with a completely unique vacation rental concept. Enjoy exclusive access to a heated pool, playground, and the best part–each cottage rental comes with the use of your own personal pontoon boat and slip during your stay! The Cove offers 70 two- and three-bedroom units, each thoughtfully appointed with quality finishes, full kitchens, an in-home washer and dryer, fire pits, gas grills, and more. Visit the nearby retro Sylvan Beach Amusement Park for classic steel rollercoasters, or try your hand at poker and catch a show at Turning Stone Resort Casino, and more. Opening in summer 2022 with reservations for weeklong rentals this summer now being accepted.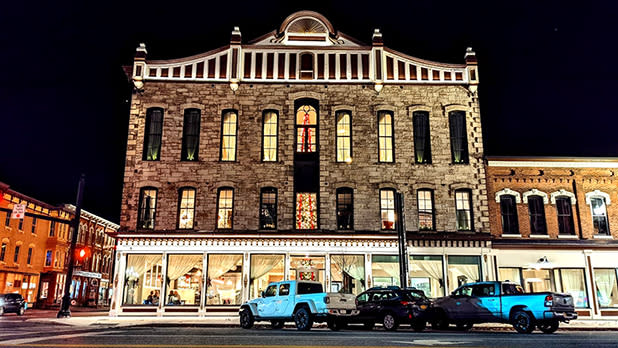 Credit: @bringerofliiight__0o0 on Instagram
Step into a time capsule of luxury, history, beauty, and culinary euphoria at the renovated Bent's Opera House in historic downtown Medina. Built in 1865 and once a prominent venue for concerts, plays, shows, and public functions, Bent's Opera House has been revived into a 10-room boutique hotel. The stunning architecture of the facility that hosted such legendary performers as P.T. Barnum and "Buffalo Bill" Cody has been preserved, while at the same time bringing guests modern elegance and comforts. The hotel also features an event center and a farm-to-table restaurant. The village of Medina has plenty to explore, from hiking to Medina Falls, an impressive 40-foot waterfall surrounded by colorful foliage in the fall, to driving under the Erie Canal at the Culvert, riding vintage locomotives at the Medina Railroad Museum, and more. Open now and accepting reservations.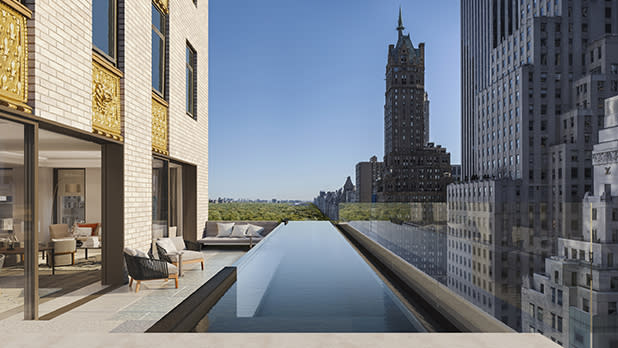 Credit: Courtesy of Aman New York
Feel like royalty underneath a literal crown rooftop at the Aman Hotel in the heart of New York City. Located in the Crown Building (once the home of the Museum of Modern Art) at the corner of Fifth Avenue and 57th Street in midtown Manhattan, the 26-story hotel's windows and terraces look down on the boutique-lined street and out across Central Park! Aman New York abounds with opulence, and boasts elegant sociable spaces for dining, drinking and relaxing. In addition to its 83 luxurious hotel rooms, Aman will also feature a garden terrace and bar with 7,000 square feet of outdoor dining space, a three-floor Aman Spa, subterranean jazz club, wine room, and two on-site restaurants: Arva, a convivial Italian restaurant, and Nama – Aman's interpretation of Japan's washoku dining tradition. Opening summer 2022.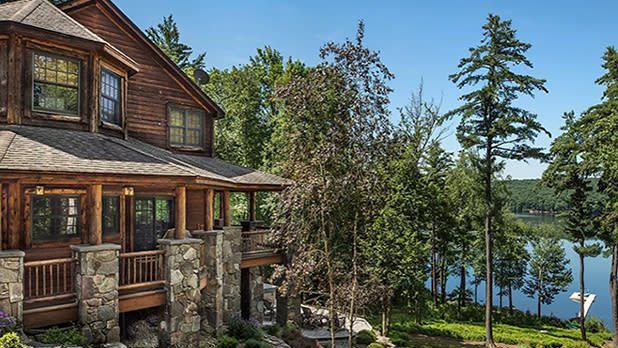 Credit: @coteacostatravel on Instagram
Enjoy a luxury Adirondack lodge experience in the Catskills at the Chatwal Lodge in Bethel! Set on the grounds of the historic Chapin Estate, this warm, thoughtfully designed lodge immerses guests in a rustic, refined ambiance from its handcrafted lighting to carved wood bed frames. Opening in April 2022 and less than two hours by car from New York City, you can choose from any of 10 suites perched at the edge of the Toronto Reservoir Lake. The lodge's restaurant–The Rustic Grill, makes the most of its proximity to Catskills farms and bakeries. From fly fishing to boating, fall foliage drives to taking in a show at the Bethel Woods Center for the Arts, the area offers countless opportunities to unwind, explore and indulge. Opening in April and accepting reservations.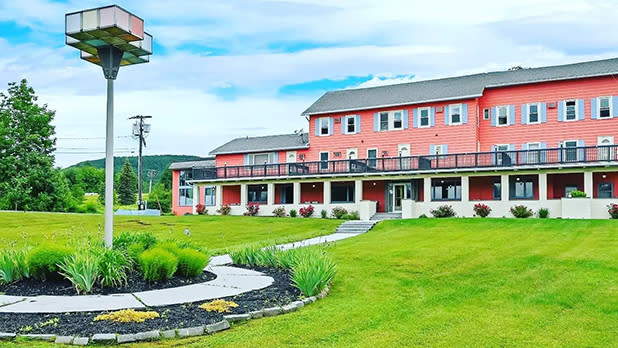 Credit: @melour_resort on Instagram
For a high-end vacation experience with all-inclusive Kosher dining and a variety of family-friendly activities to enjoy, head to Melour Resort in the charming Catskills Village of Tannersville. You'll be treated to an indoor heated pool (in addition to an outdoor pool in summer), indoor jacuzzi, saunas, a fitness center, indoor and outdoor playgrounds, a guest lounge with fireplace, and a 24-hour tea room. Best of all, you'll be just minutes away from great skiing, thrilling zipline adventures, and an amazing scenic skyride at Hunter Mountain. Open now and accepting reservations.
The oldest inn established in America will soon reopen after years of careful restoration and thoughtful, luxurious enhancements. Canoe Place, a treasured Long Island landmark founded in the 17th century, will open this summer in Long Island's East End, offering lodging on six meticulously landscaped acres with 20 guest rooms in five completely rebuilt two-and three-bedroom guest cottages. That's not all! The inn will also feature beautifully restored event spaces and grounds, a full-service spa, an outdoor pool, bar, and cabanas, wellness and cultural programming, and beach, bike, and boat excursions. See our guide for how to spend a weekend in The Hamptons. Opening summer 2022.
---
Don't forget to post photos of your New York adventures on Instagram and Twitter with #iSpyNY and tag us on Facebook!