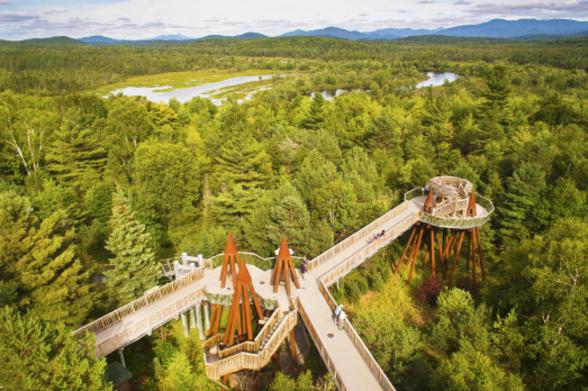 Did you know that coloring with crayons, markers, or even digitally has been known to reduce stress? Dream of a future getaway while indulging your creative side with our New York State coloring pages. Whether you want to imagine the views from an eagle's nest or the state's oldest lighthouse, color the state's capital or a 100-year-old castle, make these New York attractions come to life with pencils, crayons, and markers! Click on the illustration below to go to a downloadable version of the image and print (for mobile and tablet, click on the link at the end of each entry), or use a computer program to color the pages, then share and tag your creations on social media with #ILoveNY. Explore your creative side until it's time to visit these magnificent destinations.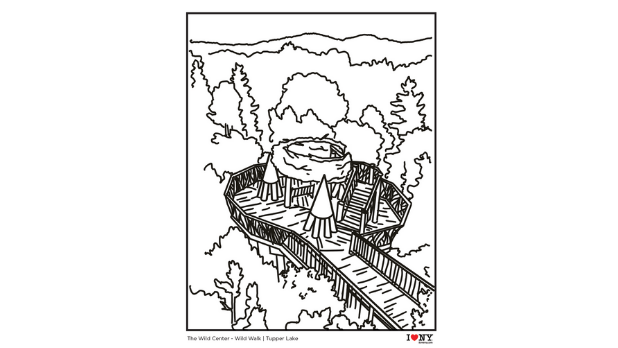 The Wild Center and Wild Walk in Tupper Lake is an indoor-outdoor immersive experience that guides visitors through the wild habitats of the Adirondacks, a publicly protected nature preserve that spans more than six million acres. Exhibits (currently accessible via virtual tour) include an indoor river with live otters, fish, and turtles. Download and color the Eagle's Nest from Wild Walk, an above-the-trees exhibit that transports you through the forest. Click here for a mobile– and tablet-friendly download. 
The Egg is an iconic landmark in the Capital Region, rising above the Albany skyline. An integral part of the Nelson A. Rockefeller Empire State Plaza Performing Arts Plaza, the Egg is known for hosting live music performances. Until you can visit yourself to watch a concert or a performance, make your own art with our Empire Plaza coloring page. Click here for a mobile– and tablet-friendly download.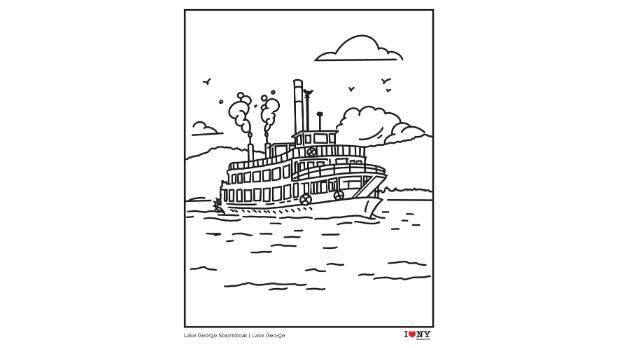 Lake George is often referred to as the "Queen of American Lakes" for its stunning scenic beauty. Boaters aboard Lake George Steamboat Company's Minnie-Ha-Ha, Mohican, or Lac du Saint Sacrement explore over 109 miles of shoreline and more than 300 islands during scenic cruises from spring through late autumn. Download and add color to your very own scenic cruise on Lake George. Click here for a mobile– and tablet-friendly download. 
Boldt Castle (Thousand Islands-Seaway)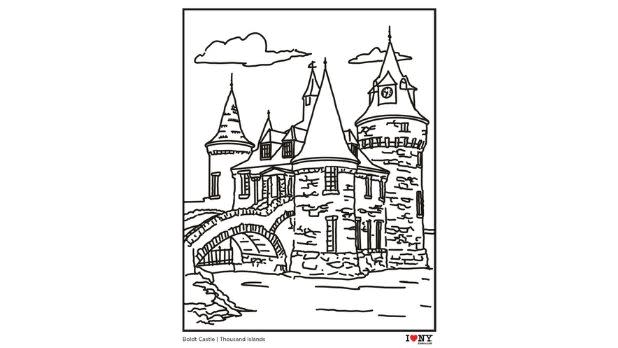 Make this coloring page of Boldt Castle a fairytale scene. The Rhineland-style castle is imbued with mystery and romance, dating back to the 1900s, when New York City businessman George Boldt commissioned the structure, which was completed in the 1970s. Use your imagination to color in this magnificent structure and surrounding landscape. Click here for a mobile– and tablet-friendly download.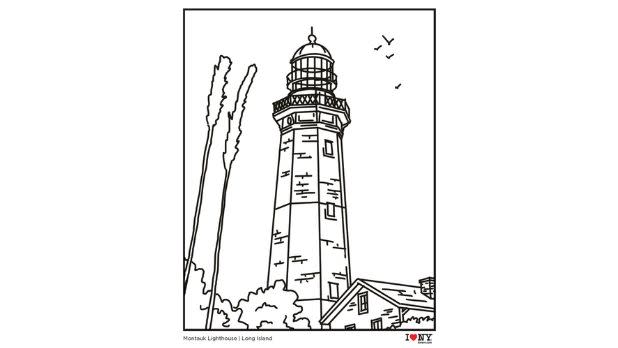 The Montauk Point Lighthouse is the fourth oldest active lighthouse in New York State. Imagine that you're climbing the tower and enjoy a 360-degree-view of Block Island Sound, and color your own version and dream of a salt breeze and gazing out to sea. Click here for a mobile– and tablet-friendly download. 
For more coloring pages featuring New York State attractions, visit our partners at Oneida County Tourism, This is Cooperstown, Visit Schoharie County, Experience Cortland, Tour Cayuga, Visit Buffalo Niagara, and the Finger Lakes.