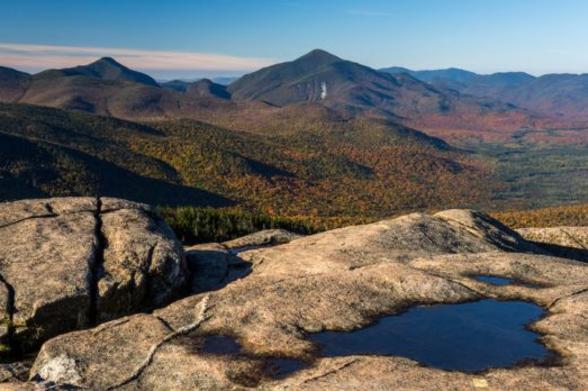 The mountainous "forever wild" Adirondacks are a nature lover's paradise. Established in 1892 by the State of New York to protect water and timber resources, the Adirondacks are currently one of the only two constitutionally protected landscapes in the world. With over six million acres of pristine wilderness, the park is the largest in the contiguous United States. From the soaring summits of 46 high peaks, to cool blue lakes, to historic Olympic landmarks, extraordinary adventures can be found everywhere- and at an affordable price! Get inspired with this list of ideas and embark on an affordable Adirondack adventure.
1. Hit the trails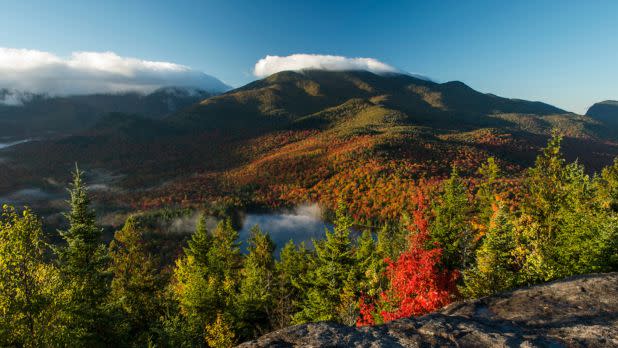 The best things in life are free, and the breathtaking beauty of the Adirondack mountains is proof of that. Lace up your hiking boots and soar to the summits of Cascade Mountain, Mount Jo, Prospect Mountain, Coney Mountain, Indian Head, or the legendary Whiteface Mountain, to name a few. For those seeking an extra challenge (and a cool, exclusive patch and bragging rights), set your sights on the Lake George 12ster hiking challenge, the Tupper Lake Triad, or for the most experienced hikers, the Adirondack 46ers, where each peak is over 4,000 feet in elevation, offering unparalleled panoramic views of the entire Adirondack region and beyond. 
2. Visit the visitors centers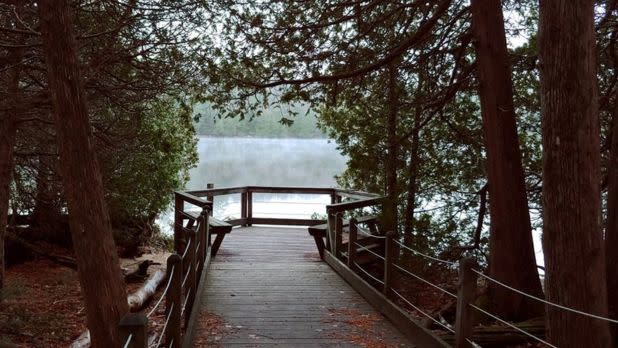 Learning meets nature at the Adirondack Visitors Interpretive Center and Paul Smith's VIC. The Adirondack Interpretive Center (AIC) is part of the SUNY College of Environmental Science and Forestry and it offers programs, events, speaker series, courses and other activities throughout the year to the public for free. Some of AIC's featured events include bird walks, salamander Saturdays, and fly fishing workshops. Paul Smith's Visitor Interpretive Center showcases 25 miles of trails, including 6 miles of interpretive trails, and endless opportunities to view, hear, and photograph nature, all for free. Enjoy free and low-cost ($7.50-$25) programs including: wild edible walks, concerts on the marsh, guided bird and plant walks, guided canoe paddling, and so much more! If you're on the road, you'll likely pass the Adirondacks Welcome Center, a comfortable and modern gateway to the Adirondacks region which features I LOVE NY interactive kiosks, Taste NY items for sale, an outdoor children's play area with a zip line, pet comfort area, free Wi-Fi, cell phone charging stations, picnic tables and Adirondack chairs.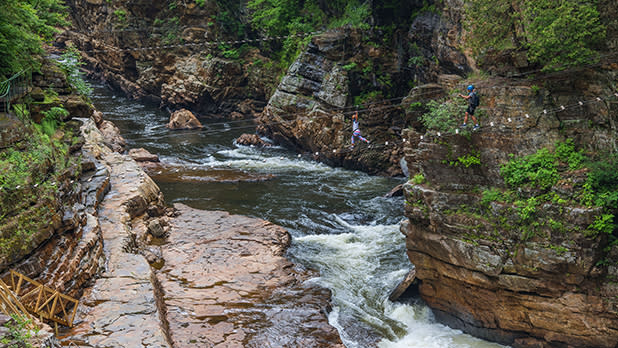 Visit a geological marvel often referred to as the "Grand Canyon of the Adirondacks" for under $20. Traverse rugged trails, gaze upon towering cliffs, and witness the power of the roaring Ausable River. For an additional fee of $10-$30 (depending on age) you can immerse yourself in a guided raft tour of the chasm's intricate rock formations, which have been sculpted over millions of years. Whether you're a thrill-seeker, a nature lover, or a history buff, a visit to Ausable Chasm promises an exhilarating experience.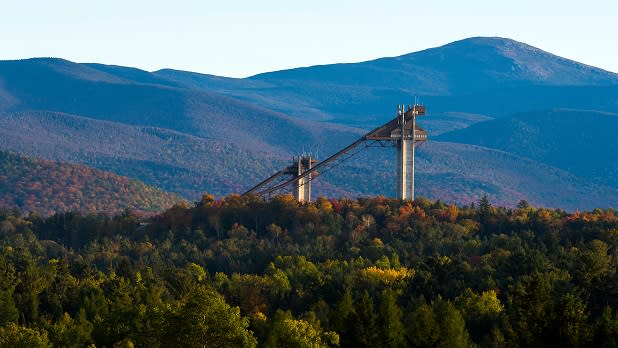 Experience Olympic legacy in Lake Placid, home to the 1932 and 1980 Olympic Winter Games. The venues used for the Games are collectively known as the Lake Placid Legacy Sites, and include: Olympic Center, Olympic Jumping Complex, Mt Van Hoevenberg, and Whiteface Mountain. Access to the Olympic Center Museum is only $15 for adults and $12 for military, youth, seniors, and students. While there, you'll be immersed into the Olympic movement and Lake Placid's rich winter sports history. Sharpen your skates and glide into a surreal skating session (for a nominal fee) on the two indoor Olympic rinks and the legendary outdoor oval (during the winter season). Work on your slapshot at Stick n Puck hockey sessions for an affordable fee. For $20 or less, you can enjoy a skyride gondola at the Olympic Jumping Complex. The state-of-the-art gondola brings you to a glass-enclosed elevator ending at the observation deck of the HS-128 meter ski jump. At Mt Van Hoevenberg you can try a range of thrilling activities including the cliffside coaster, bobsled experience, or climbing center (fees vary based on activity), but walking the grounds is totally free! Whiteface Mountain features the Cloudsplitter Gondola Ride, where $25 gets you a fifteen-minute ride gliding through the air in the awe-inspiring natural beauty of the Adirondack Mountain range. At the peak itself, you can look around and find yourself surrounded by Lake Placid and Lake Placid Village, Lake Champlain and some of the most massive peaks in all of New York State. For those with Olympic levels of adventure, you can also hike to the top of Whiteface Mountain for free!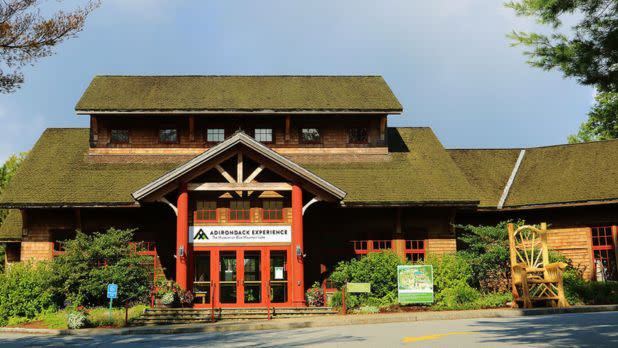 With more than 20 buildings nestled across 120 acres overlooking Blue Mountain Lake, the open-air campus at the Adirondack Experience Museum on Blue Mountain Lake offers something for everyone! Browse the museum, row an authentic guideboat, break up a logjam, climb a classic ADK fire tower, or enjoy a family-friendly hike to Minnow Pond. And be sure to check out the opening of a new exhibition: Artist & Inspiration in the Wild! Prices range from $12-$20 depending on age, and active military members are free.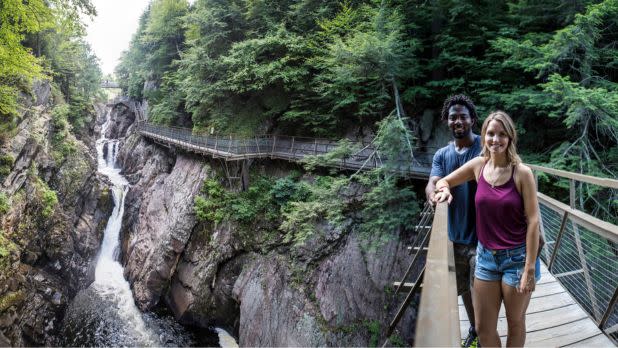 Stroll in amazement through High Falls Gorge, a 22-acre privately owned nature park that has been around since the 1890's. For an entry fee of $12.95-$15.95 you can explore the grounds via sturdy steel bridges, walkways, and groomed walking trails. Venture into the Climax Forest: A protected forest area of established American hemlock trees that are hundreds of years old. Witness history at "The Ancient Valley of Foaming Water": A mesmerizing, deep crevice carved by the AuSable River a billion years ago, filled with a natural foam that develops within the Gorge. Touch one of the oldest rocks in the world: The Anorthosite boulder is over 1.5 billion years old. Anorthosite is the base rock for the Adirondacks. It is similar to the rock that was found on the moon. Get your adrenaline going by standing on two glass platforms that suspend you over the mighty waters of the AuSable River. Enjoy the riverside Woodlands Picnic Area for some respite or refreshment while nature's beauty surrounds you.
7. Go fish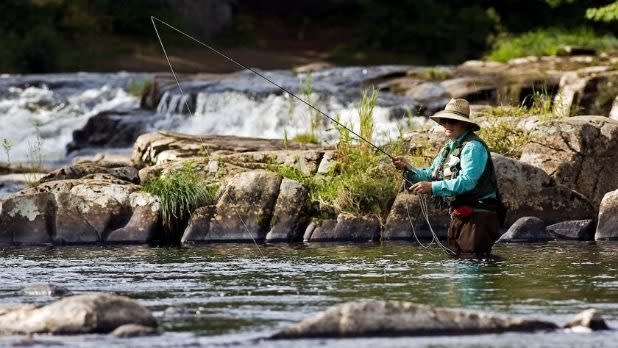 Cast your line into sparkling waters teeming with an abundance of fish species including: trout, bass, walleye, pike, muskies, catfish, and salmon! Whether you prefer fly fishing in crystal-clear streams or casting your bait into serene lakes, the Adirondacks region offers reel variety for every fishing enthusiast. Fishing licenses can be obtained for a nominal fee, but New York State also offers several free fishing days each year; this year's dates are June 24-25, September 23, and November 11.
8. Live the lake life at Lake George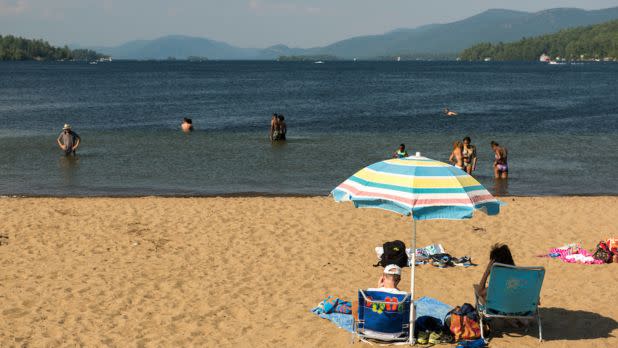 The "Queen of American Lakes" beckons you to enjoy its free public beaches, parks, picnic spots, and scenic views along the pristine shoreline. Take a refreshing dip at the renowned Million Dollar Beach (where entry is free) and pack lunch, enjoy beachside food concessions, or sit on the balconies of various restaurants overlooking the lake. Dive into your next Lake George adventure when you step aboard the Lake George Steamboat Cruises! Wave goodbye to the shore as your voyage begins on the Minnie-Ha-Ha or the Mohican—two of America's last remaining steam paddle wheel ships and oldest continuously operated tour boats. As you cruise along the 32-mile long lake, dotted with islands and sweeping views of the Adirondack mountains, you'll quickly see why Lake George was voted one of the most beautiful lakes in the country. Experience it all and more for just $20-$25 depending on cruise.
Get ready for a sky-high experience at the Adirondack Balloon Festival! Celebrating its 50th anniversary this September, this free event draws hot air balloonists and enthusiasts from around the world to gather in the Lake George area for an epic spectacle that will have you floating on cloud 9, even from the ground. The 3-day festival features up to 75 hot air balloons of all shapes, colors, and sizes that take to the skies at sunrise and sunset. The fun continues on the ground with food vendors, children's activities, live music and more. Balloon flights can also be purchased at this festival.
10. Venture into the great outdoors at the Wild Center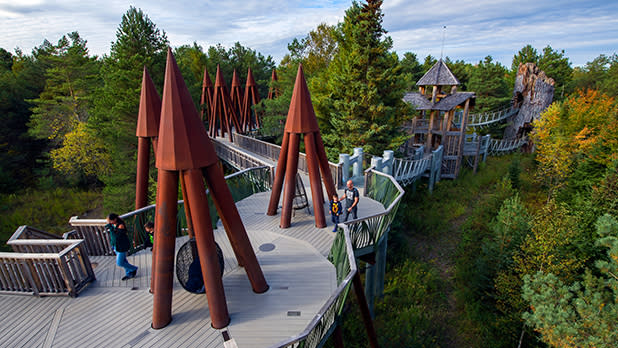 Untamed adventure awaits you at The Wild Center, where admission to a world of wonder only costs $13-$24! Propel your senses on the "Wild Walk," a mesmerizing elevated trail that sweeps you through the treetops, revealing whimsical treasures like a human-sized bird nest and an expansive hammock-like spider web. Find new ways to connect with nature through additional engaging experiences like Climate Solutions, Forest Music, Patrick Dougherty's Stickwork, and get to know some of the Adirondack animal ambassadors that call The Wild Center home.
11. Lose yourself in the music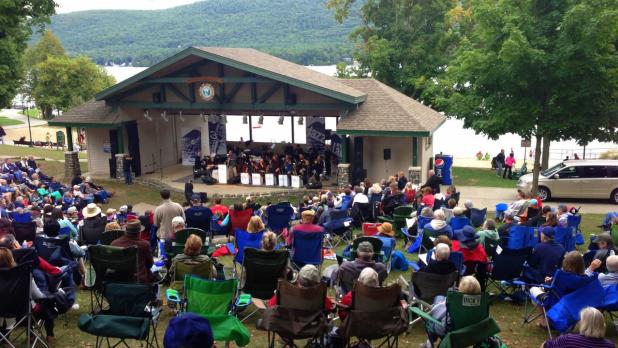 What's better than live music accompanied by a stunning view? Enjoying it for free! The Lake George Summer Concert Series and Songs at Mirror Lake Concert Series return this summer with electrifying performances that will have you singing and dancing the night away. Head to Shepard Park in Lake George on Wednesday nights in July and August for good tunes and good times. Stick around through Thursday and keep the spark alive with free fireworks, every Thursday evening beginning July 4th. Meanwhile, on Tuesday nights in the enchanting setting of Mid's Park in Lake Placid, enjoy the melodies of the Songs at Mirror Lake Concert Series. Both series are offered free of charge, ensuring everyone can enjoy the magic of live music under the summer sky.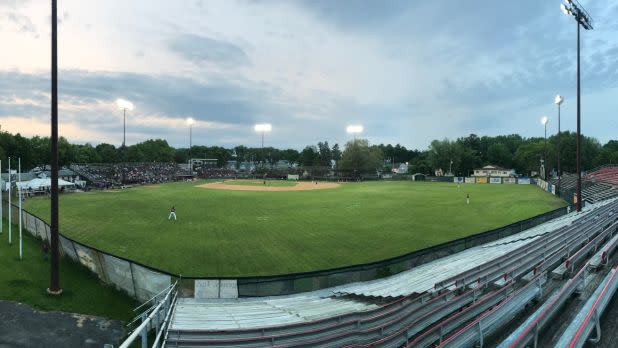 Batter up! Catch a minor league baseball game at East Field with the Glens Falls Dragons. For just $3-$5 you can root for the home team, and enjoy peanuts and crackerjacks all night long. In the winter (October-March), hit the ice with the Adirondack Thunder, a proud ECHL affiliate of the New Jersey Devils. For as little as $11 you can skate your way to victory with the team!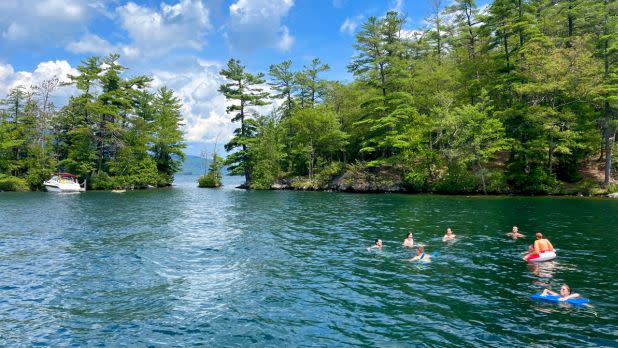 Camp beneath the twinkling stars on a secluded island nestled within the majestic Lake George. Indulge in the affordable luxury of renting a camping spot for just $28 a night, offering access to a choice of 387 shoreline campsites spread across 44 captivating state-owned islands. Each campsite boasts a dock for your boat (island campsites are accessible only by boat), a fireplace, a picnic table, and convenient toilet facilities. Island camping can also be found at Indian Lake, where beautiful, wild, forested islands offer wilderness camping and some of the best recreational boating in the Adirondacks! Indian Lake Islands Campground is located on the southern shore of 4,365-acre Indian Lake.
---
Share New York State adventures with us on TikTok, Instagram and Twitter with #ILoveNY and #iSpyNY, and tag us on Facebook!