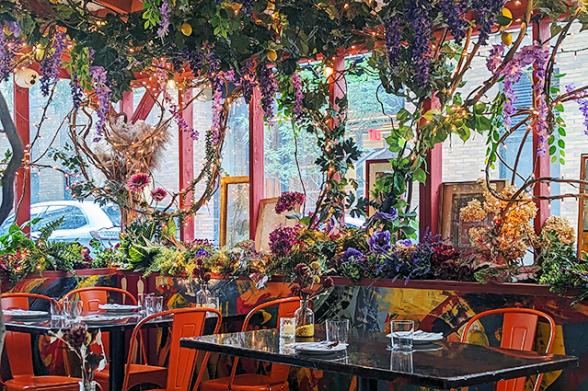 Photo credit: Anna Pakman
From a center dedicated to showcasing Deaf artists to a restaurant that's raising the bar on inclusivity to an accessible camping experience, these New York destinations are creating welcoming experiences for all. In honor of Disability Pride Month, which is celebrated every July to commemorate the enactment of the Americans with Disabilities Act of 1990, check out these great places run by amazing leaders with disabilities. 
Call ahead and check websites and social media to make sure attractions and amenities are open and available. Masks are encouraged, but optional in most settings per New York State guidelines. Individual businesses or attractions may require mask wearing.
Yannick Benjamin and George Gallego, co-founders, Contento (New York City)
As its name implies, Contento (pictured at top) is all about making people happy. With its cozy space, elevated Peruvian-inspired cuisine, exceptional wine list, and mission of providing accessibility to all, this East Harlem eatery has lived up to its name. Co-founded by noted sommelier Yannick Benjamin and accomplished paratriathlete George Gallego, both of whom are wheelchair users, Contento was designed with an accessibility-first approach. "What most people say that have experienced Contento is that they feel totally welcomed," said Gallego. "It doesn't matter where you're from, what you look like, what you're able and not able to do. Everyone is embraced within that space." The restaurant is free of steps, its entrance wider than your average door to accommodate power chairs, and table tops are slightly higher and the bar lower making it comfortable for wheelchair users. Adaptive flatware is available upon request and menus are available via QR code and in Braille.
"What we've been able to do is put the conversation in the forefront that accessibility matters," Benjamin said. "We have people with disabilities who specifically come out of their way to come to Contento because they know they're going to be treated with a certain amount of respect and dignity that they can't find in other places." While the restaurant has generated plenty of buzz and racked up numerous accolades, most recently being named among the top 100 restaurants in New York City by the New York Times, it's the experiences that they create for their customers that fill them with the most pride. "A woman who uses a power chair and ordinarily uses her feet to feed herself, to groom herself, to dress herself said to me that normally when she goes out to dine, she has a personal aid with her that feeds her," Gallego said. "She said this was the first time ever that she's been out to a restaurant where she felt comfortable enough to eat the same way that she eats when she's at home. I cried because I felt like that experience was a testimony to what we have been trying to achieve."
Fran C. Flaherty, director, Dyer Arts Center (Finger Lakes)

Photo courtesy of the Dyer Arts Center
Amid Rochester's thriving arts and culture scene, the Dyer Arts Center is bringing Deaf culture to the forefront. Located in the National Technical Institute for the Deaf, the center is dedicated to exhibiting and archiving artwork made by deaf artists from across the globe. "Our goal is to be a museum that is not only relevant in the 21st century, but to be a museum whose foundation is to preserve and present the authentic lived experience of deafness in all cultures," said director Fran Flaherty, a Deaf artist and curator with over 20 years' experience highlighting works by artists with disabilities. The center distinguishes itself as a leader in Deaf and disabled arts showcasing works by students, alumni, and artists who are Deaf, hard of hearing, and/or allies of the Deaf community in the 5,000-square foot, three-story tall Williams Gallery, the Glass Room, and the Ohringer Gallery. All of its programs are also Deaf and Deaf-Blind friendly, both levels are wheelchair accessible, and the center can accommodate other accessibility requests including sensory-sensitive visits.

Credit: Matthew Sluka
In the fall, visitors can look forward to an exhibit on the Anthropology of Motherhood as well as a new multi-level immersive installation by California artist Laurie Shapiro, whose psychedelic public art installations have appeared at festivals including NYC's Governors Ball. "I hope that we break stereotypes about deafness and disabilities," said Flaherty. "This position touches me very deeply as a deaf person and as an artist. I have always felt like an outsider, in my art practice and my deafness. This position was reassurance that someone like me is relevant. That my ideas and existence warrants attention not in spite of, but because of my differences."

Photo courtesy of Jason Thurston
International Paper-John Dillon Park, which is owned by International Paper and operated by Paul Smith's College, provides a true "backwoods" camping experience in the "forever wild" Adirondacks that is specifically designed to be accessible. "The details of the amenities and services make it possible for a person with a disability to be as independent as possible whether by themselves or with their friends or family," said outreach coordinator Jason Thurston. The main campground is a one-mile loop with a six-foot wide trail of level, hard packed stone. All nine lean-tos have ramps, portable power banks let guests charge up their power wheelchairs and can be used to operate a CPAP machine, alternating pressure mattress and other medical devices, fire pits are designed to be accessible, and firewood is delivered every day. Viewing platforms provide spectacular sunset views and there is also accessible fishing and tours of the lake on an accessible pontoon boat.

Photo courtesy of Jason Thurston
Thurston, a C6 quadriplegic since a 2004 swimming pool accident, never thought it would be possible for him to spend a night camping until he discovered International Paper-John Dillon Park. "After having to depend on people for almost everything after my accident, independence has always been the goal and to camp by myself is the ultimate level of independence," he said. Thurston embarked on several camping trips to the park before being hired as its outreach coordinator. Now, he is dedicated to helping others realize their independence and creating more accessible outdoor spaces in the Adirondacks. "I hope that people come away with a sense of rejuvenation and increased possibilities. A peace of mind, and a deeper appreciation for the natural world," Thurston said. "The feeling of being grounded and unplugged can do amazing things for the mind, body, and spirit."

Photo courtesy of Kristina Parker
New York State is known for its maple syrup and the Parker family has been delivering this sweet taste of the Empire State since 1889. In the spring, visitors get the full hands-on maple experience at the Parker Family Maple Farm, seeing the tapping process first hand and enjoying the sweet taste of fresh maple syrup during pancake breakfasts. The sugarhouse and gift shop stocked with maple goodies can be visited year round. "Walking the grounds in the summer and fall offer visitors beautiful views of forests and fields of the rural Adirondack Coast," said Kristina M. Parker, who wears many hats at the family farm. "The fall colors of the sugarbush are amazing. Visitors can feed our resident mallard ducks, while walking a rustic bridge over a spring-fed pond."

Pictured: Kristina Parker, right, with her son and niece
Being born with spastic diplegia cerebral palsy, Parker, who uses a walker to ambulate, imagined her future would involve a less physically demanding career away from the farm and life in a warmer climate. That all changed in 1998 after a fateful ice storm threatened the family farm. "As the heavy ice precipitation fell and stuck to the trees of the Adirondack forests, my family watched in horror," she said. "In those tense hours and days watching my parents decide how to move forward, I discovered that the Adirondacks are a part of me forever." Now, she carries on her family's legacy, carving her own unique path at the Parker Family Maple Farm, which is owned and operated by her brother. You'll often find her assisting customers in the gift shop and giving tours to groups and school children about the history of maple syrup in the Adirondacks. When she's not on the farm, Parker can be found exploring New York through her love of adaptive sports. "I love handcycling through the Adirondacks, adaptive ice skating with Gliding Stars near Niagara Falls, kayaking on Lake Champlain, Nordic sit skiing in Lake Placid, and taking in the rich history of baseball, art, and agriculture found in Cooperstown." Parker also published a children's book "You're Mine, Walker and All" about her disability and motherhood.
Khadija Bari, managing partner, Meat + Bread (New York City)
When Khadija Bari's husband and brother-in-law decided to open a restaurant in their childhood neighborhood on the Lower East Side she was all in. The brothers handle the cooking while Bari works behind the scenes handling everything from accounting to marketing. From the decor to the food, Meat + Bread is an homage to the community where the brothers were raised after immigrating to the U.S. from Bangladesh. "We have a fusion of flavors that are representative of the influence that they grew up eating," said Bari. "Customers will come across a unique combination of flavors that they haven't experienced anywhere else in New York City before." There's no microwave or freezer on site meaning all of the food is fresh and made from scratch from their bestselling hot honey fried chicken sandwich to their chicken korma tostadas. The cozy spot on Allen Street features an open kitchen concept meaning you can grab a seat at the bar counter and strike up a conversation with the chef while admiring the restaurant's gorgeous mural created by a local artist that pays tribute to the Lower East Side. 
For Bari, who is blind and works full time at the nonprofit Vision Services for the Blind and Visually Impaired, it was important that the restaurant provide its customers an inclusive experience. Staff are trained on how to serve customers of varying abilities and the space is wheelchair accessible with an accessible bathroom, accessible outdoor seating and digital menus that can be accessed by people who are blind or have low vision. "I think people sometimes get scared of accessibility, like it's something that's hard to do, but it's not," said Bari (pictured above, right). "It just takes a few minor tweaks." She hopes her role in the restaurant will also encourage more people with disabilities to enter the industry. "I hope that others knowing that there is a person with a disability who is actively involved in the running of a restaurant  would inspire other people with disabilities to consider this as a potential industry," she said.
---
Share New York State adventures with us on TikTok, Instagram and Twitter with #ILoveNY and #iSpyNY, and tag us on Facebook!