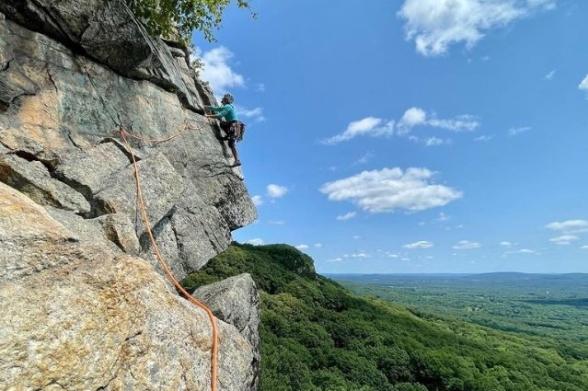 Credit: @mountain_duck_ on Instagram
 
Calling all outdoor adventure enthusiasts! Looking to take your summer getaways to the next level? New York State has you covered. Whether you're looking to dip your toes in more adventurous waters this summer or a seasoned enthusiast, read on to find the best adrenaline-pumping experiences available this summer in New York State!
Masks are encouraged, but optional in most settings per New York State guidelines. Individual businesses or attractions may require mask wearing. Call ahead and check websites and social media to make sure attractions and amenities are open and available.
Updated 04/26/2023
Climb, Rapel & Hike Ausable Chasm, the Grand Canyon of the Adirondacks! (Adirondacks) 

The oldest and largest natural attraction in the Adirondacks, Ausable Chasm is a popular site for outdoor enthusiasts, full of scenic vistas, nature trails, and waterfalls. For a unique chasm experience, seasoned climbers can scale the sandstone wall over the river on guided 1.5 or 3-hour rock climbing packages, available for climbers of all abilities. Looking for a way to climb down? Try a guided rappel tour finishing 130 feet above the Ausable River. While rappelling is available for beginners and experienced outdoor adventurists, the 150-foot tyrolean rappel requires upper body strength to pull yourself along the cable, so physical fitness is recommended. Bringing along a friend or family member who also wants to see the sights, but not from those heights? Well, they've come to the right place. Ausable Chasm's recreational activities have been operating for over 150 years, offering an outdoor experience everyone can enjoy. Visitors can take a scenic walk along the family-friendly Adventure Trail, a harnessed walk along the cliffside, and bridges over the raging river through the chasm. Riverwalk, raft float, and tours are also available.
Get Your Need For Speed at Lake Placid's Olympic Sports Center (Adirondacks)
While Mt. Van Hoevenberg is well-known for being the 2x host of the Winter Olympics and a popular skiing destination, it's arguably a venerable summer destination for sports enthusiasts and adrenaline junkies as well. At the Olympic Sports Complex, you'll find a variety of high-speed experiences available during the summer months. Take a ride on the Cliffside Coaster, the longest mountain coaster in North America that provides a bobsled-like experience through the forests and scenic views across the Adirondack Mountains. Or ride an actual bobsled and reach speeds of 50 miles per hour down a half-mile bobsled track! When cross-country ski trails close, it's time for cross-country mountain biking's time to shine. Head to the secluded forest with miles of trails for riders of all abilities. Take on the sport of luge, where professional and Olympian instructors train you to take on multiple runs of its paved summer track!
Take a Low-Flying Scenic Helicopter Ride (Adirondacks)

Credit: @lakegeorgeboating on Instagram
Fly low over mountains and lakes on a scenic helicopter tour with North Country Heli-Flite this summer. Hop aboard a fully-equipped Robinson R-44 and stare out the window across the Adirondack and Green Mountains and Lake George area, with "Doors Off Summer Flying" encouraged. Scenic flight prices are $295 for 30 minutes or $550 for one hour (up to three adults included) with flights taking off and returning from Harris Airport in Ft. Ann.
Learn to Fly a Sailplane (Capital-Saratoga)
Ever wanted to learn how to fly a sailplane? Well, the Adirondack Soaring Association has you covered. The art and science of flying sailplanes, or "soaring", is a motorless flight on a glider using ascending currents of air to soar through the sky. At Adirondack Soaring Club, those looking to try out soaring can experience an introductory flight for up to 45 minutes, depending on weather conditions. The cost of an introductory lesson is $175, which also includes a 1-day membership to the Adirondack Soaring Association.
 
Rock Climb "The 'Gunks" (Catskills)

Credit: @mountain_duck_ on Instagram
Fun fact: Philippe Petit, the French high wire artist who famously (albeit, illegally) tightrope walked across the twin towers of the World Trade Center in 1974 now lives in the Catskills and is an artist-in-residence at St. John Divine. So we can only imagine the Catskills' rock climbing scene has his unofficial tick of approval. Here you'll find an abundance of epic climbing opportunities in the Shawangunks, colloquially called "the Gunks", a wide-spread region of cliffs and a popular playground for rock climbing enthusiasts and those looking to learn the ropes.
Pick Your Mountain Biking Trail (Catskills)

Credit: @windhammountain on Instagram
Take your off-road biking experience to the next level at Kingston Point BMX offering a course with multiple jumps and berms on its 1000-foot BMX track, and great for introducing beginners to mountain biking. For experienced cyclists, Windham Mountain Bike Park (pictured) is home to one of the most rugged, adrenaline-packed single-track trails in the Northeast.
Hang Glide at the Home of Baseball (Central New York)

Credit: @k_linds_ on Instagram
Head to Susquehanna Flight Park and learn the sport of flying with introductory classes (and a beginner certification program) from a master pilot and USHPA instructor. Lessons are available every day from April through October (pending weather conditions and excluding holidays), with 5 training hills and a mountain launch. Turn your hang gliding experience into a vacation and take advantage of the 40-acre park's hiking and mountain biking trails.
Peek'n Peak Mountain Adventures (Chautauqua-Allegheny)

Credit: @pknpkresort on Instagram
Get ready to challenge your strength, balance and agility at Peek'n Peak's Mountain Adventures, an aerial adventure course with 69 obstacles across eight separate courses. Wind your way through the treetops across rope bridges, tight ropes, and more, finishing with a thrilling glide down the mountainside on giant dual ziplines (pictured). Obstacles range in difficulty, with family-friendly courses available. Leather-palmed gloves are available for purchase upon arrival, or you can feel free to bring your own.
Ellicottville Epic Loop Mountain Biking (Chautauqua-Allegheny)
Thirty-one miles of single-track epic mountain biking await at the aptly named Ellicottville Epic. The IMBA-certified trail, just an hour south of Buffalo, is a bike trail for bikers designed by bikers. Easily accessed from Holiday Valley Resort, the steep and rocky trail is recommended for advanced mountain bikers only. Holiday Valley's own mountain bike trail map also offers options for easy to moderate trails, with mountain bike rentals available on site.
Drive the Watkins Glen International Race Track (Finger Lakes)
Ever wondered how it feels to be a NASCAR driver? Take your wheels out on the race track at Watkins Glen International! All throughout summer, the historic racing track welcomes visitors to drive the 3.45-mile Grand Prix circuit through their Drive the Glen experience that takes you onto the track (pictured) and follows a pace car at high speed around the circuit. And the best part? It's only $30.
Take a Jet Boat Tour at Niagara Falls (Greater Niagara)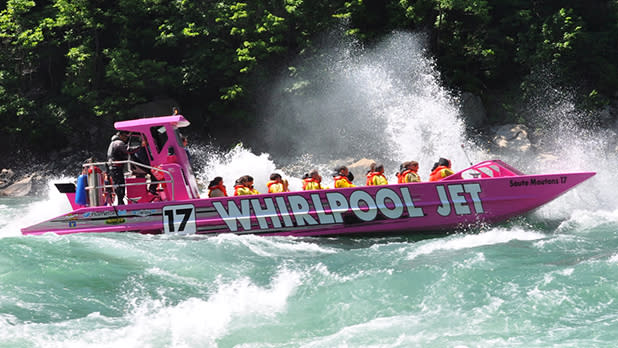 Experience the thrill of a lifetime on the water and look up in awe at Niagara Falls on a jet boat tour! Book a package to get super soaked or stay dry at Whirlpool Jet Boat Tours taking you on a 45-minute high-speed ride along the Niagara River past the Devil's Hole Rapids and into the Niagara Gorge. Tickets are available for $64.95 (+ fuel surcharge) for adults and $39.95 (+fuel surcharge) for children aged 6-12.
Sour through the Berkshires and the Hudson Valley at 55mph (Hudson Valley)

Credit: @alyssamariex33 on Instagram
Zoom down one of the longest zipline spans in the US on a Catamount Zip Tour! This two-hour outdoor experience features three dual-zipline spans and a chairlift ride up the mountain. Control your speed with Catamount's unique breaking system and go as fast or as slow as you desire. Be prepared for the last leg of the tour dubbed the "Cata-monster." It's sure to get your heart racing! Tours cost $99 and last two hours.  
Fly 4,000 Feet High on a Tandem Hang Gliding Experience (Hudson Valley)
Take a tandem hang gliding flight of up to 4,000 feet with Hangar 3, a team of certified hang gliding instructors that have been providing adventure to thrill-seekers and families in the Hudson Valley for over 20 years. Four options of elevation from 2,000-4,000 feet are available, taking you across the idyllic hills of Middletown, New York. Prices range from $229.99 for a 2,000-foot flight to $329.99 for a 4,000-foot flight.
Long Island Skydiving (Long Island)

Credit: @sherrydavis8 on Instagram
Soar above the Long Island Sound at Long Island Skydiving Center, a company with a long-standing reputation for having the best skydiving views in New York State. Offering views of Twin Forks, Westhampton Beach, the Atlantic Ocean, Fire Island National Seashore and on clear days, NYC and Montauk, the tandem skydiving experience is an adrenaline rush like no other. As part of the experience, Long Island Skydiving Center also offers three video edits of your skydive, from a short Instagram video to the freefall experience, to the full footage of the entire dive. The drop-off zone is easily accessible by train from NYC, with tandem pricing beginning at $239.
Go Cage Diving With Sharks at Long Island Aquarium (Long Island)

Credit: @livealstonli on Instagram
With just a cage between you and circling sharks, see the ocean's top predators like never before at the Long Island Aquarium's Shark Dive experience! The ultimate underwater adrenaline adventure takes place inside the aquarium's Lost City of Atlantis Shark Exhibit, a ghostly 120,000-gallon environment inhabited by sand tiger sharks, bottom-dwelling nurse sharks, a moray eel, and other fish. No diving certification is necessary to dive into the Lost City of Atlantis Shark Exhibit (pictured), however, participants must be accompanied by a Shark Dive Instructor. Those aged 12-17 must be accompanied by a parent/guardian.
Scale and Hang From a Skyscraper (New York City)

Credit: Courtesy of Edge
First, scale the outside of Edge more than 1,200 feet above the ground. Second, lean out and look down from the highest outdoor platform in New York City. Sounds easy, right? The City Climb (pictured) is the highest open-air building ascent in the world offering a heart-pounding climb up its 45-degree angled staircase, ending with the opportunity to lean out over the edge of the tower and over the city below. Going with a not-so-hot-on-heights friend or family member? They can cheer you on from the viewing balcony of Edge while you climb with a Spectator Ticket.
Trapeze Above the Hudson River (New York City)

Credit: @lalagri on Instagram
Ever wanted to learn how to trapeze? From April through October, Trapeze School New York (pictured) runs flying trapeze and trampoline classes for all levels of ability from Pier 40 in Manhattan so you can soar through the skies with spectacular views of skyscrapers, and the Hudson River at the same time. First-time students can learn how to knee-hand and try a catch. Classes cost $95 for a 2-hour long session and run daily; no prior experience is necessary.
Whitewater Rafting (Thousand Islands-Seaway)

Credit: @aro_adventures on Instagram
There's no greater way to experience the Thousand Islands than from the water. And you're spoiled for choice when it comes to epic whitewater rafting experiences that range from a joyful paddle to a rapid-fueled thrill ride. Take a guided tour down the Hudson River Gorge and take on Class V rapids with Adirondack River Outfitters (pictured) and B.O.B. Rafting in Watertown. Or take on Class III-IV rapids along the Black River with Whitewater Challengers. Guided tours of varying levels are available with all professional outfitters, with more challenging rapids generally available earlier in the season.
---
Don't forget to post photos of your New York adventures on Instagram and Twitter with #iSpyNY and tag us on Facebook!