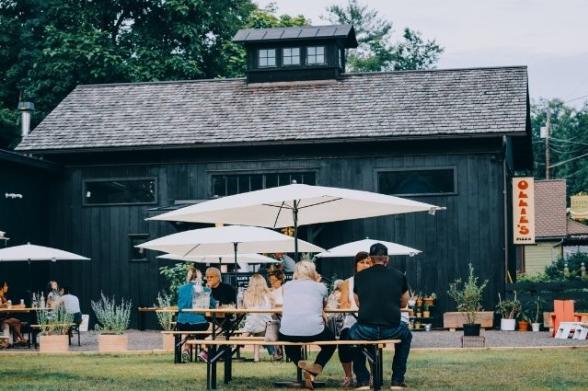 New York State is renowned for fine dining, contemporary cuisine, seafood shacks, and cozy gastropubs. One of the most exciting developments for food enthusiasts is the continued rise of farm-to-table restaurants in New York. This is a state with over 30,000 farms, according to the United States Department of Agriculture, and an increasing number of breweries, cideries, restaurants, and other establishments that place farm-fresh ingredients at the top of their dining menu. Read on for 11 of the best farm-to-table dining experiences in New York. Remember to social distance and wear a mask as required by state guidelines. Call ahead and check websites and social media to make sure attractions are open and available.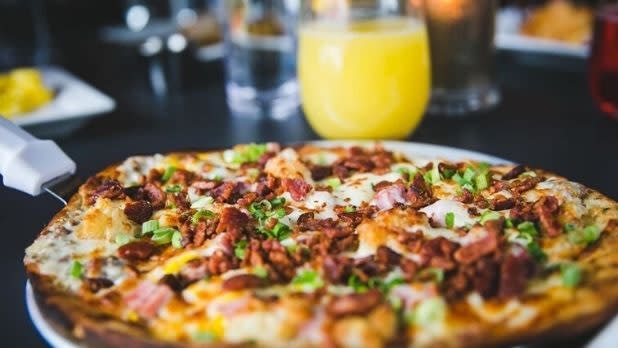 Big Slide in Lake Placid is one of those rare places that wins awards for its beer and its food! The brewery, which crafts its beer within a glass enclosure right in the middle of the dining room, is known for barrel-aged ales, flavorful IPAs, and more—there are always 10 house beers on tap. The kitchen is known for making some of the most elevated gastropub fare you'll ever find, with Adirondacks cheeses, brick-oven pizzas, steak dishes made with locally sourced beef, and more. The outdoor patio is dog-friendly in case your party includes four-legged friends!
Malcolm's (Capital-Saratoga)
Restaurateur Nate Germain opened this farm-to-table eatery on lower Union St. in Schenectady in 2019 to universal acclaim. The Syracuse grad and Culinary Institute of America alum spent eight years working in New York City before returning to his home Capital region to create a place to spotlight seasonal, locally sourced dishes. Many farms from within 30 miles of the restaurant get name-checked on the menu, from Highland Hollow beef to Buckley Farm chicken, and chefs from Malcolm's shop the Schenectady farmer's market to pick up whatever's fresh. The approach works—critics and diners alike credit Malcolm's for helping make Schenectady a dining destination.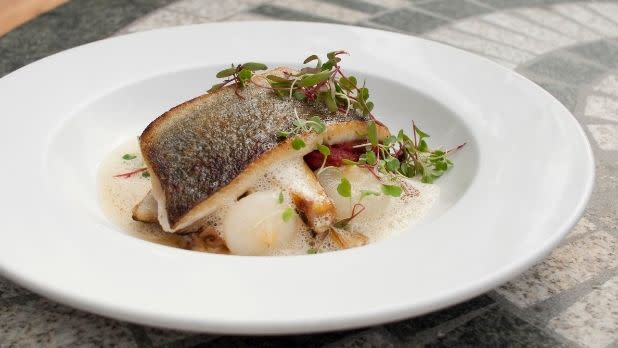 There are many newer restaurants throughout the Catskills that follow the seasonal and local philosophy of farm-to-table dining, and one of the originators, Peekamoose Restaurant, is still going strong. A couple with experience at some of New York City's best fine dining restaurants left Manhattan in the mid-aughts to restore the farmhouse that became the Peekamoose. Drawing from Catskills farms, the rustic restaurant with indoor and outdoor seating serves steaks, seafood, pasta, and lots of seasonal vegetables. The drinks menu goes deep too, with creative cocktails (including non-alcoholic options), a lengthy wine list, and many local and regional beers and ciders.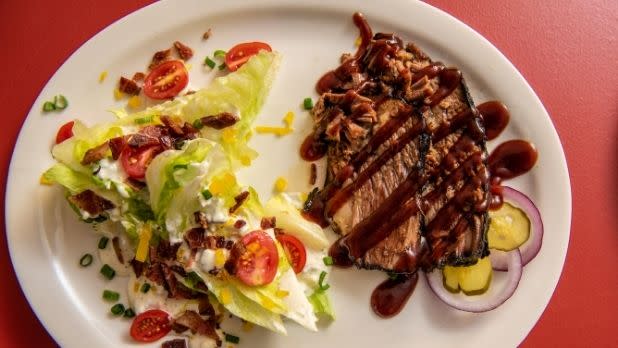 Roughly halfway between Utica and Syracuse in the town of Wampville is this gem of a restaurant that draws from Central New York's many farms for seasonal vegetables and a considerable amount of beef! Madison Bistro features steaks, burgers, pot roast, and smoked brisket, as well as a range of crowd-pleasing options for lunch and dinner. The commitment to local runs to the drinks menu here too, with Saranac sodas and New York ciders, craft beers, and wines available. 
Husband-wife team Bruce and Laurie Stanton are hospitality veterans who both worked at local landmark Chautauqua Institution before striking out on their own with this casual fine-dining eatery. Avid travelers, they channel their love of American cuisine into the menu, with dishes made from farm-fresh ingredients and featuring local products like New York blue cheese. The quaint spot in the village of Lakewood also offers a popular Friday night fish fry, with beer-battered fish and chips! 
Agava (Finger Lakes)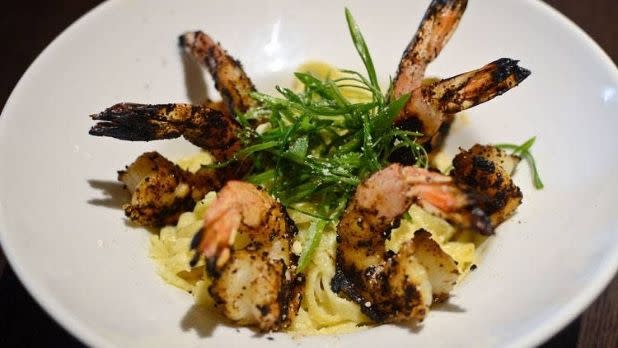 Housed in a former Ithaca train station, with a patio for outdoor dining, Agava serves Southwestern cuisine with ingredients from Finger Lakes farms and purveyors. It's a crowd-pleasing menu of seasonal vegetables, steaks, pastas, and healthier items like greens and grains bowls. The restaurant lists its suppliers right on its website and appeals to families with specials such as 50 percent off for kids from 4-5:30 pm. Agava's cuisine may skew Southwestern, but the restaurant is rooted in the Finger Lakes community, hosting "Tapas and Tasting Tuesdays" that feature small-plate pairings with local wineries, breweries, and cideries. 
One of the most acclaimed Mexican chefs in all of New York State, Victor Parra Gonzalez, runs this beloved upscale Buffalo restaurant, where the emphasis is on fresh flavors but also on building community. Las Puertas draws from local farms and purveyors to create seasonal dishes; for fall, expect items like duck in pumpkin pipián and potatoes with poblano peppers. The ever-evolving menu offers inventive spins on Mexican cuisine, and the cocktail, beer, and wine selections change in tune with the dishes. 
Ollie's (Hudson Valley) 
Farm to table pizza? Yes! This is one of our favorite New York trends, with ovens popping up in fields and on farms across New York State. One of the new standouts is in the lovely hamlet of High Falls, where experienced New York City pizza restaurateurs and friends have teamed up to create a barn-like dining room and an outdoor dining area, serving pizzas and salads featuring ingredients sourced from local farms and butcher shops. The wood-fired and Roman-style (or grandma) pizzas are delicious, and there's a cocktail menu, natural wines, and non-alcoholic drinks available as well. Try the ice cream sandwiches from local Boice's Dairy for dessert!
One of New York State's best-known farm-to-table restaurants, the North Fork Table is an institution that is now under the helm of Michelin-starred chef John Fraser. Considered one of New York City's foremost vegetable-centric chefs, Fraser is putting the Long Island farm bounty to good use at this fine dining establishment (there's also a farm-to-table food truck in the parking lot for more casual meals on the go). The menu changes based on seasonality and availability, though the restaurant's influential Peconic fluke crudo dish and meat-centric entrees like Long Island Duck and filet mignon are usually on offer, alongside the latest vegetables to be pulled from the rich North Fork soil.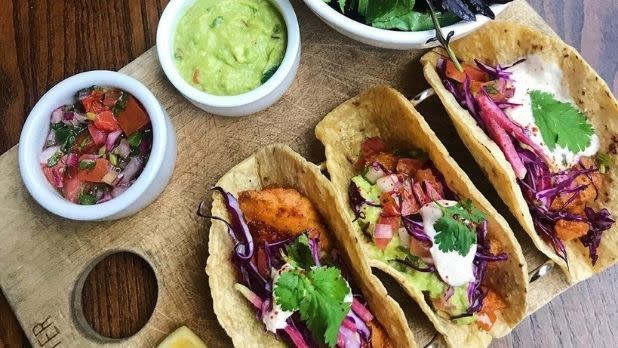 Credit: @foragersnyc on Instagram
As its name would suggest, Foragers features ingredients found in nature throughout its menu. While it might be located in Manhattan's buzzy Chelsea neighborhood, eating here can feel similar to dining at more rural farm-to-table spots on this list. There's a market attached to the restaurant, so when you order a burger or roasted chicken entree, chances are the meat came from a farm right to the butcher's counter before heading to the kitchen. Besides the hearty dinner menu, Foragers shines at brunch, with items like the spicy Farmhouse Shakshuka and a farm-to-table bacon, egg, and cheese sandwich served on a brioche bun.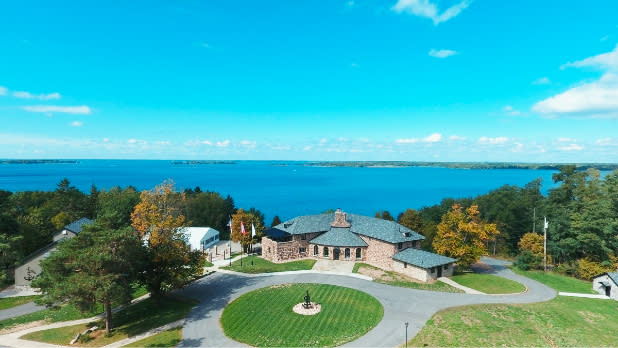 A 1938 stone chateau with majestic views of the river, this family-owned and -operated farm-based distillery produces small-batch craft spirits on site, including vodka, gin, moonshine, absinthe, whiskey, and bourbon. They also use fresh ingredients from the many farms in the area to make dishes with clever names like "Praise the Lard," which features bacon and sausage by local purveyors, plus cheese from cheddar specialist River Rat in Clayton. This is farm-to-table with a serious view—the outdoor patio looks out at the St. Lawrence River!