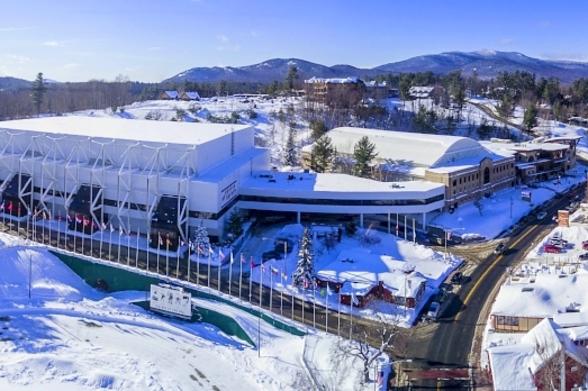 Lake Placid is truly one of New York's great escapes. From world-class skiing in winter to epic paddling in summer to incredible fall foliage, this postcard-perfect village is an ideal year-round destination. It also happens to be a two-time host to the Winter Olympic Games. Experience the thrill of bobsledding or skiing at the original 1980 Olympic venues, and so much more! Check out our weekend guide for Lake Placid. 

Masks are encouraged, but optional in most settings per New York State guidelines. Individual businesses or attractions may require mask wearing. Call ahead and check websites and social media to make sure attractions and amenities are open and available. 
Updated 2/1/23
FRIDAY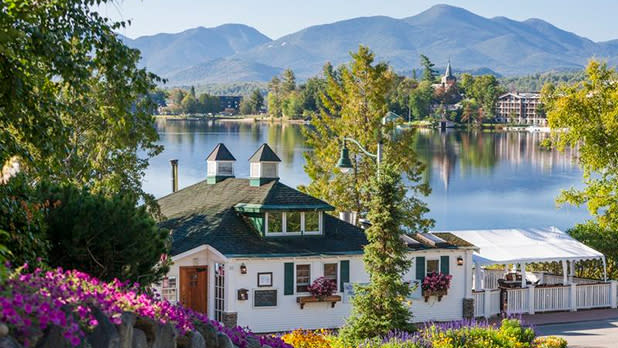 4 pm: Check Into Your Hotel 
Lake Placid is a historic vacation destination that welcomed travelers to its sprawling, lakeside mountain resorts long before the invention of the car. In fact, the village's first travelers made their way into the mountains via stagecoach. So if there's one thing Lake Placid does right, it's hospitality. After your drive through scenic mountain passes, and along lakes reflecting the sky, check in to your home-away-from-home for the next 48 hours. High Peaks Resort on Main Street is actually three different hotel experiences, all located within a few steps of each other. Stay on the water, bunk up in the resort, or relax in a Lake House made for cozy escapes. This pet-friendly retreat is ideal for anyone who can't bear to leave their pup behind. Just down the street, the Mirror Lake Inn offers a luxurious twist on lakeside living. Enjoy a family-style room with two bedrooms, a kitchen, and a sitting area, all within a few steps of downtown Lake Placid.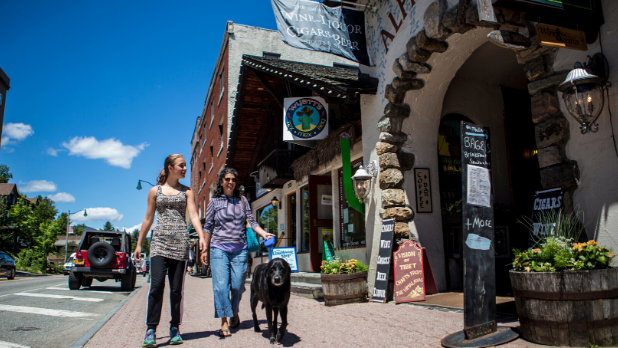 5 pm: Main Street Shopping 
In any season, Main Street in Lake Placid is everything a postcard-perfect alpine village should be. In winter, snow-covered rooftops, holiday decorations, and warm, welcoming scents waft from restaurants and shops. In summer, visitors stroll the dog-friendly main street and shop for unique gifts, clothes, and enjoy free weekly concerts at the little park mid-way down Main Street. 
6 pm: Pre-Dinner Flight at a Brewery 
There's more to Lake Placid than Main Street. Drive five minutes to Big Slide Brewery for a view of the Olympic Ski Jumps and great craft beer. The brewery's farm-to-table menu includes wood-fired pizzas, salads made with market-fresh ingredients, and 10 brews on tap. The beer selection changes every month, and restaurant guests can watch the brewing process unfold from every table since the brewery is located inside the restaurant. 
7:30 pm: Savor Southern-style at Smoke Signals
For dinner, head to Smoke Signals on Main Street, a favorite of locals and visitors alike for its Southern-style barbecue. In summer, sit outside on the restaurant's deck, which overlooks Mirror Lake, so named for its still waters, and the distant peak of Whiteface Mountain. In winter, the cozy atmosphere is perfect for families and couples alike. Top of the Park offers small plates and craft cocktails, making it an ideal place to stop and fuel up for further explorations. 
SATURDAY

Credit: @hungrytroutfly on Instagram
8 am: Nature is Calling
In winter, make sure to go for a cross-country skiing or snowshoeing adventure. Explore 31 miles of impeccably groomed trails for all levels at Lake Placid's Olympic Sports Complex at Mt Van Hoevenberg, one of the premier venues of North America.
If you're visiting during the warmer months and are up for a bumpy ride, head to Craig Wood Trails for some of the best mountain biking in the area. Twisting singletrack trails wrap through dense forest, providing great beginning and intermediate terrain. There are two bike shops in town that rent out bikes and gear, so don't worry if you don't have your own. Mountain biking trail networks crisscross Lake Placid and the surrounding towns, making it a popular destination for knobby tire enthusiasts. 
For an only-found-here experience, head out of Lake Placid for a guided fly fishing trip on the West Branch of the Ausable River. This world-famous stretch of fly fishing waters is highly oxygenated, and anglers have been known to land trout up to 20 inches long. Find a local guide at Wiley's Flies Fly Shop in Ray Brook, or the Hungry Trout in Wilmington, home to famous pro fly fishing guide, Rachel Finn. 
2 pm: Explore Museums and Olympic Memorabilia 
It wouldn't be a trip to Lake Placid without dipping your toes in the village's epic sports history. Visit the Olympic Center on Main Street to learn about competitions past including the famous "Miracle on Ice," then head to the Olympic Sports complex and take a 26-story elevator to the top of the 120k tower at the Olympic Jumping Complex. The views are spectacular.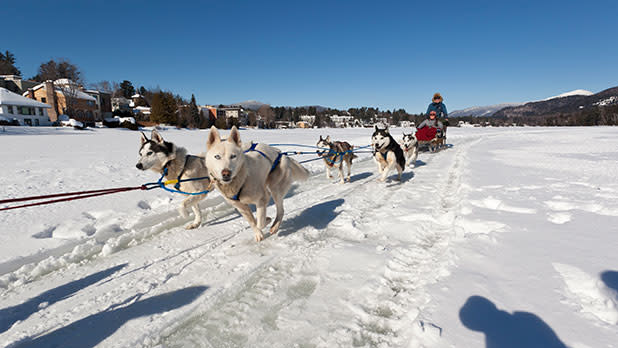 3 pm: Mirror Lake Adventures
In winter, the frozen surface of Mirror Lake comes alive with ice skaters, cross-country skiers, pond hockey tournaments, and dog sledding teams. For a low price, take a thrilling dog sled ride across Mirror Lake. Two teams offer a unique perspective on the surrounding landscape, Thunder Mountain Dog Sled Tours and Mike Arnold Dog Sled Rides.
If you're visiting during the summer or fall, hop on a captain-narrated scenic cruise at the Lake Placid Marina and explore the lake that named the town. Lake Placid's stories, including a ghostly tale of an unsolved crime, come to life as you travel around the lake and between the two islands. 
7 pm: Dinner and Dessert on Main Street
A local favorite for its fresh Mediterranean dishes and wood-fired pizzas, Caffe Rustica is the perfect spot for an after-adventure dinner. There's nothing better than a sweet treat at the end of a meal. If you're still hungry, hit up Emma's Lake Placid Creamery on Main Street. This Lake Placid landmark may have a line out the door during the summer months, but one taste of their maple soft serve makes it worth it. 
SUNDAY
8 am:  Breakfast at Bluesberry Bakery
After a stroll around scenic Mirror Lake walking path, stop by Bluesberry Bakery for a made-from-scratch apple strudel or cinnamon bun.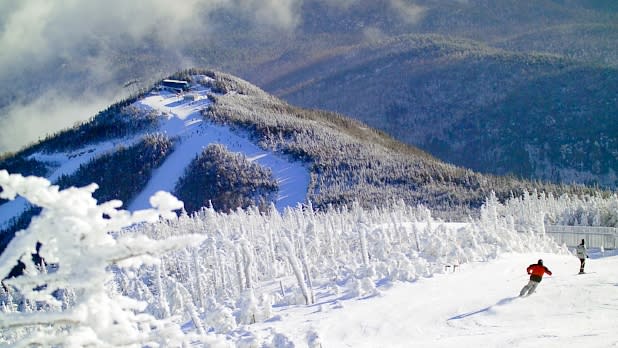 9 am: Head to Highest Peak in New York
No trip to Lake Placid is complete without a visit to Whiteface Mountain. If you're visiting in winter or early spring and are up for a day on the slopes, skiing or snowboarding and take a break to enjoy the delicious snacks on offer at the Taste of NY Cafe in the base lodge. For anyone new to the sport, the Bear Den Lodge offers learn-to-ski programs for all ages. If you're visiting during the summer or fall, go to the summit of Little Whiteface, where a scenic viewing platform offers a new perspective on Lake Placid. While in the area, stop at the North Pole, open year-round. Take a trip down nostalgia lane at Santa's Workshop, a Christmas-themed favorite for generations that offers the chance to see Santa's reindeer, go shopping, and have a visit with Kris Kringle himself.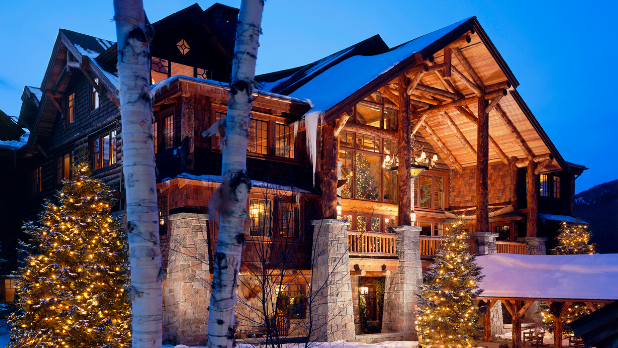 1 pm: Lunch at The Lodge
Wrap up your visit with a meal at Peak 47 at the Whiteface Lodge. This family-friendly Adirondack lodge offers casual dining in a rustic-chic Adirondack setting. It's a great place to toast your adventures in Lake Placid!
GETTING THERE
By plane: Adirondacks Regional Airport, 96 Airport Road, Saranac Lake, NY 12983: 40 minutes to Lake Placid from airport 
By train: Amtrak to Westport Station: 45 minutes to Lake Placid (by shuttle, taxi or rental car)
By bus: Trailways or Greyhound to Lake Placid
By car:
From Albany: 2.5 hours
From Montreal: 2.5 hours
From Boston: 5 hours
From NYC: 5 hours

---

 
Share New York State adventures with us on Instagram and Twitter with #ILoveNY and #iSpyNY, and tag us on Facebook!