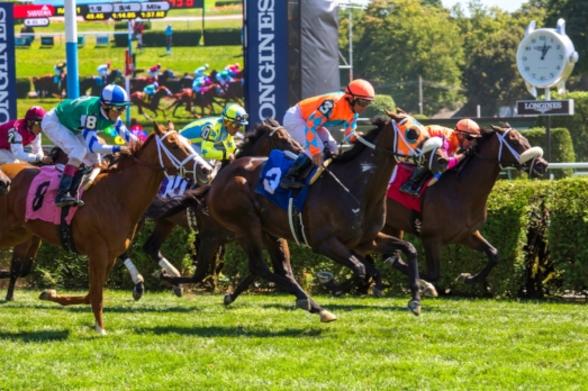 Get ready for an eventful month – August in New York State is jam-packed with an abundance of varied and exciting activities, including celebrations of music, food, art, comedy, and more. You'll enjoy free movies under the stars in New York City, bluegrass, bagels, and sunflowers in the Catskills, Spiedies in Central New York, classic boats in the Thousand Islands, and a whole lot more!
August 2-6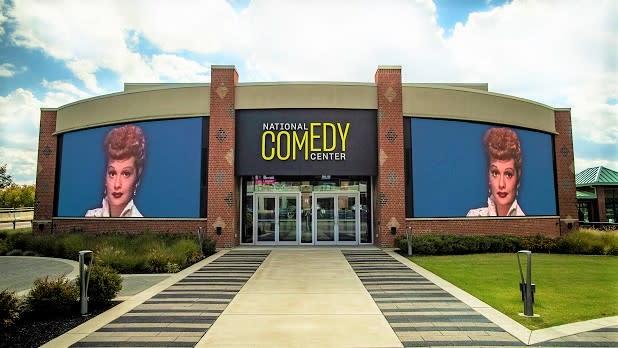 A laughter-filled festival is coming to Lucille Ball's hometown of Jamestown – the annual Lucille Ball Comedy Festival! Each year, the festival brings together over 15,000 comedy fans from nearly every state in the country to share laughter at dozens of venues throughout the city, including the National Comedy Center and the Lucille Ball Desi Arnaz Museum. This year's festival, headlined by comics Gabriel "Fluffy" Iglesias and Taylor Tomlinson, also features more than 50 live events and artists, including Nels Ross' Variety And Family Friendly Comedy Show; an early birthday celebration for the Queen of Comedy, Lucille Ball; a 2-hour cruise aboard the historic Chautauqua Belle steamboat which includes a lunch inspired by the I Love Lucy "Lucy's Italian Movie"; and comics from around the nation whose credits include Conan, Letterman, Leno, Last Comic Standing, and more! Various locations and prices; please visit the website for more details.
Aug. 2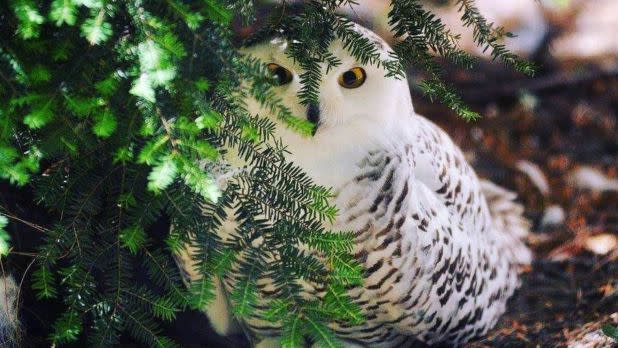 Credit: @marybovephotography on Instagram
Get set for a roaring good time as you tour the Binghamton Zoo like never before. At Feast for the Beasts you'll taste local cuisine, wines, and brews while dining with your favorite animals and showing your support for the zoo. Your ticket purchase includes a cocktail hour, catered dinner, live entertainment, and more. In addition to the many food and drink samples, there will be live music by VooDoo Highway, animal spotlights, and the annual silent auction and basket raffle! Cap off your evening with an exclusive, self-paced walk through the Illumination for Conservation Lantern Festival, which showcases more than 40 nature-inspired lantern sculptures, transforming the zoo into a beautiful, illuminated landscape at night. Tickets are available online, at the zoo's ticket booth, and at the night of the event – but hurry – tickets are limited! All proceeds from this event directly support the Binghamton Zoo. Binghamton; $70 Binghamton Zoo members, $75 nonmembers, $400 Table of 6 (save $50).
Movies Under the Stars (New York City)
Movies With A View August 3, 10, 17, 24
The beloved outdoor summer film series Movies With A View is back for its 23rd season every Thursday evening, and you're invited to immerse yourself in the enchanting world of cinema under the starry sky at Brooklyn Bridge Park. The lawn opens at 6 pm on a first come, first serve basis, and the movie begins at sunset. Ahead of the film, you'll enjoy a special guest DJ courtesy of Brooklyn Radio, film shorts curated by BAM Film, and of course a gorgeous sunset overlooking the river! This year's festival theme of "We Are Family" brings together a wide range of films celebrating family and relationships in all of their diverse forms. August's films include GoodFellas; Despicable Me; Everything Everywhere All At Once; and a public choice with the following options: 90's favorite The Addams Family, Greta Gerwig's Little Women, or Romeo + Juliet (1996, PG-13). Voting will open online in early August on the festival's event page. Brooklyn; free admission.
Movie Nights at Bryant Park August 7, 14, 21
Grab a blanket and a friend, head to Bryant Park, and get your spot on the lawn to watch a feature film on the big screen under the New York City skyline! Paramount+ Movie Nights is back for its 30th season with a stellar lineup of films, fun, and food! This month's lineup features 48 Hrs., Zoolander, and Good Burger, with food and drink curated by Hester Street Fair for sale on the Fountain Terrace, and beer and wine available for purchase on the eastern end of the lawn. Manhattan; free admission.
Aug. 4-6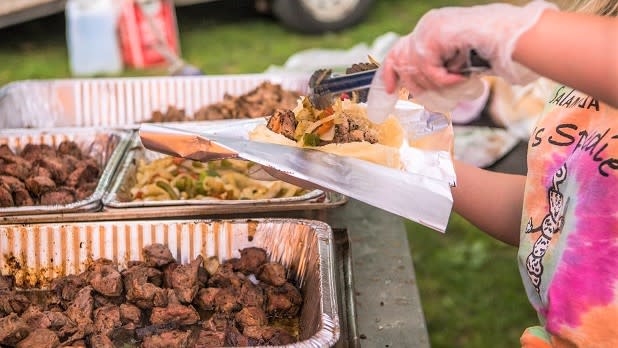 The beloved Spiedie is made of up small pieces of marinated meat (lamb, chicken, pork, or beef) that are skewered and then grilled. In 1983, a few families got together and argued over who had the best Spiedie recipe in Binghamton. To put an end to their friendly rivalry, they held the first Spiedie Fest Cooking Contests in 1983 and 1984. After the 1984 contest, a small committee formed and decided to create the first SpiedieFest and Balloon Rally. This festival took place at Otsiningo Park with about five hot air balloons, some local music, and a small children's area. Today, the event has grown from its initial 4,000 attendees to over 100,000 admissions each year. This year's festival features entertainment from John Waite (Friday); Tommy DeCarlo, lead singer of the band Boston (Friday); county music star Scotty McCreery (Saturday); and singer-songwriter Gavin DeGraw (Sunday). You'll also enjoy special meet and greets with former WWE superstars Kurt Angle (Friday) and Matt Cardona (Saturday); plus entertainment from The Little Mermen, the ultimate Disney tribute concert (Saturday); an Antique, Classic, Cool Car and Truck Show; the Kelly LaBare 5K (Sunday); hot air balloons over Otsiningo Park; the 1st Annual Cornhole Tournament Weekend; lots of delicious food; and much more! Binghamton; $60 Weekend 3 Day Package, $10 One Day Festival Pass, $20 One Day Festival & Concert Pass, $20 Meet & Greet With Kurt Angle (a special ticket that includes admission to the festival for Friday and the meet & greet). Click here for more ticketing details and to order.
Aug. 4-6
Ahoy boat lovers! Celebrate the design, craftsmanship, engineering, and beauty of antique, historic, and classic boats and engines of all makes and models at the 59th Annual Antique Boat Show and Auction. This is the longest running boat show in North America and it's all taking place at the Antique Boat Museum in Clayton. The event features boats from across the United States and Canada, and this year highlights small craft with a celebration of Herreshoff and Old Town. On August 4th, the museum presents the annual Antique Boat Museum Auction, featuring a variety of boats and boating objects from fiberglass to wood, turnkey to projects. Clayton; museum members free admission, 1-day adult $15, 1-day youth $10, children and military (active and retired) free, military spouse $10, military youth $5, Saturday reception $25, Sunday brunch $20, 3-day and 2-day passes are available.
Aug. 4-6 and 10-13
The Bard Music Festival returns for its 33rd season to the Richard B. Fisher Center for the Performing Arts. Explore the life and work of Ralph Vaughan Williams (1872–1958), one of the greatest symphonists of the 20th century, whose oeuvre ranges from songs and hymns to opera, film music, and full-scale orchestral and choral works. Each year, the festival spotlights a single composer, with the goal of promoting new ways of understanding and presenting the history of music to contemporary audiences. Through a series of themed concerts, lectures and panel discussions, the festival explores the composer's biography, influences and consequences of the composer's achievements, and all aspects of the musical culture surrounding the time and place of the composer's life. Annandale-on-Hudson; tickets starting at $25, please visit website for details.
Aug. 4
Country music fans can flock to the second annual Buffalo Country Music Festival, returning for two days this summer and headlined by national recording artist, Rodney Atkins. Concertgoers will also enjoy music from Claudia Hoyser, ZBTB (Zac Brown Tribute Band), and more! To add to the fun, some of the region's best food trucks and local vendors will be on-site. Akron; $15-$28.50; free parking.
Aug. 5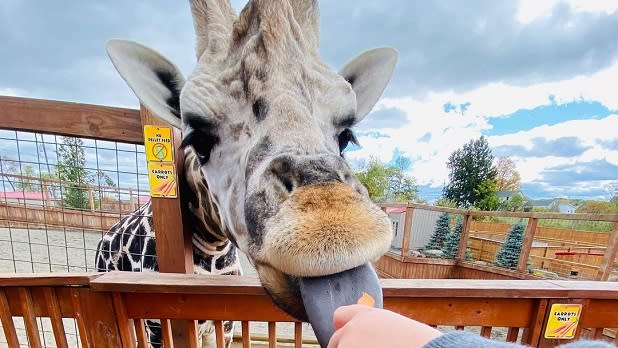 Credit: @slevels07ec on Instagram
Animal Adventure Park's Low Sensory Mornings are a special time for individuals with sensory sensitivities and other needs to visit and explore the park without the hustle and bustle of crowds. These morning events still provide access to all aspects of the park, including animal feedings, a keeper talk, concessions, and attractions, with the park opening at 8:30 am for participants and opening to the public at 10:00 am. Though these mornings are especially appropriate for children and adults with autism and/or Sensory Processing Disorder, they're open to anyone with any type of special need and their families. Harpursville; Adult: $17.99 adults, $14.99 children, $15.99 seniors, children under 3 free.
Aug. 9-13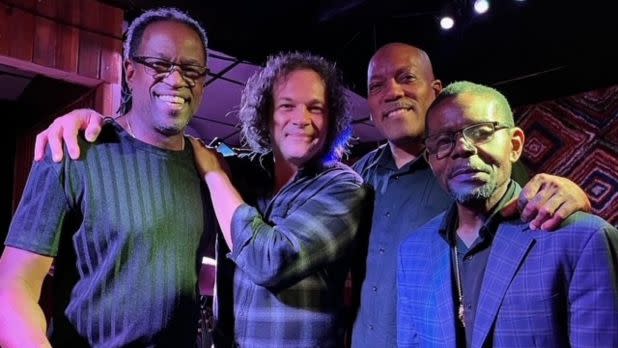 Time to get jazzed about the 14th season of the Hudson Valley Jazz Festival! This 5-day event highlights local talent deserving of wider recognition and features over 20 performances throughout several towns and venues from Port Jervis to Woodstock, Kingston, Greenwood Lake, Warwick, Marlboro, and beyond. You'll enjoy guest appearances by drumming legends Adam Nussbaum and Eliot Zigmund and featured performers include saxophonist Jerry Vivino, new to Orange County after 22 years on the Conan O'Brian show. On deck for opening night at The Cove in Greenwood Lake is a star lineup featuring Eric Person and vibraphonist Bill Ware, along with Robert Kopec and Taru Alexander. The Hudson Valley is rich with jazz artists who've worked with the top names in the genre, but these regional players stand on the strength of their own work and performances in New York State. Various locations, admission prices set by each venue; visit www.hudsonvalleyjazzfest for the full schedule and additional details. 
Aug. 10-12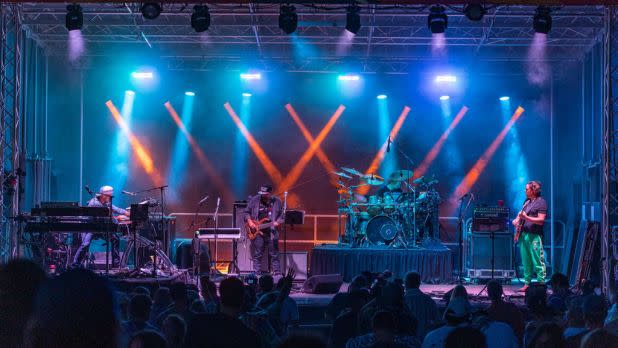 Over 25 musical acts whose styles range from hip-hop to rock & roll, bluegrass and funk are getting ready to take the stage at Blackthorne Resort for the 3rd Annual Catskill Mountain Jubilee. You'll see amazing performances from The Disco Biscuits, Twiddle, Legion of Melvin featuring Karl Denson, Mihali (Solo), Melvin Seals & JBG, Dogs in a Pile, Sophistafunk, Desert Dwellers, Bluestar Radiation featuring members of Moe & Lotus, Ben Silver (Orchard Lounge) & Allen Aucoin, Eastbound Jesus, The Englishtown Project, The Frank White Experience, Space Bacon, Gratefully Yours, and many more. East Durham; $100 3-day kids' general admission - camping; $269 3-day general admission – camping; $200 RV spot – no hookups; $275 RV electric hookup only; $333 RV wet hookup/electric.
August 10-20
Harlem is a state of mind, and whether you're physically there, or anywhere around the world, you can experience its magic at this year's Harlem Week festival. The festival celebrates the best of Harlem, including its rich African-American, African, Caribbean, Hispanic, and European history, as well as its arts, culture, religion, business, entertainment, and sports. Over the past 49 years, Harlem Week has grown from a one-day event to a month-long festival and now a 10-day live and virtual event. This year's theme is "Inspiration. Impact. Legacy." New York City; free admission. 
Aug. 12
Gear up to enjoy a challenging weekend of cycling in the heart of the Catskill Mountains. Over 250 racers from around the world are heading to Tannersville to take part in one of America's premier cycling events, and you're invited to join!  This exciting event perfectly captures the essence of the history, culture, and scenery of the mountains and surrounding region. The addition of the famed 'Devil's Kitchen Climb' in 2012 established the event as one of America's toughest cycling events for amateurs and professionals alike. Tannersville; $55, 27-mile ride; $65, 52-mile ride; $95 74-mile ride; please visit the website for additional event and registration information.
Aug. 12-13

Credit: @tiffany.lauer on Instagram
There's something for every palate when it comes to Ellicottville's culinary scene. If you're a true foodie, you'll want to be there to sample from the local culinary talent of more than 20 eateries in this enchanting and walkable 4-block village. Once you've filled up, stick around as the village's hotspots come to life with music, and consider staying over at one of the area's beautiful accommodations. Ellicottville; tickets are $1 each, with food items starting at $2.
August 12-13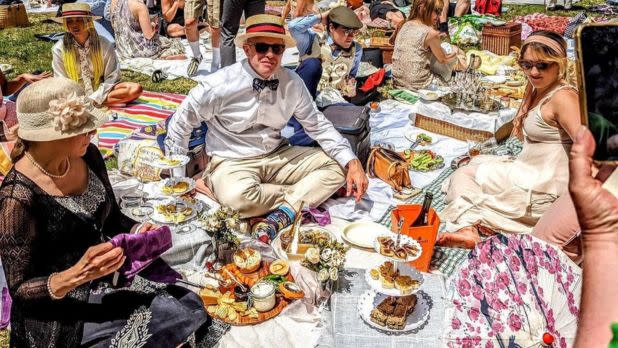 Credit: @mkito41 on Instagram
Travel back to the Jazz Age of the Roaring 1920s at the world's most authentic Prohibition-era-inspired gathering. This unique event, which began in 2005 with a small gathering on Governors Island, has been consistently selected by the New York Times as one of the year's most memorable events. Every year it attracts thousands of time travelers who come together to discover the music and zeitgeist of the era. Founded and hosted by Michael Arenella & His Dreamland Orchestra, it offers a unique, interactive opportunity to relive one of the most colorful and formative epochs in American history. Governors Island; $50 general admission.
August 12-13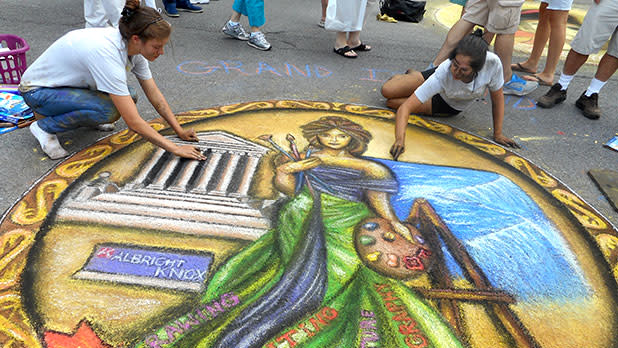 Photo courtesy of Lewiston Council of the Arts
Since 1966, this iconic two-day art festival has attracted local, state, and international visitors and art lovers to the picturesque and historic Village of Lewiston. Featuring more than 150 exceptional artists and fine crafters, this festival allows attendees to meet the artists and discuss their work one-on-one. With over 20,000 original artworks in painting, graphic arts, mixed media, photography, ceramics, jewelry, fiber/metal/wood, you're sure to find something you love! The festival features an Indigenous Market, celebrating traditional and contemporary Native American art and crafts; "College Alley" spotlighting student work; an ArtZone with hands-on activities for kids of all ages; Chalkwalk, a friendly team competition for ages 6 to 60+; live entertainment; and food and drink vendors. Lewiston; free admission.
August 13
While New York City and Montreal may be leading bagel destinations, on August 13th there is only one place in North America where you can walk down a street named Bagel Boulevard. At The Bagel Festival you'll have the chance to view the original prototype of a 1968 U.S. patent-holding bagel-making machine, and even win a prize for rolling, throwing, and stacking bagels better than anyone else. Taking place in the Village of Monticello, which is officially "The Bagel Capital" of New York State, this year's festival features live music and entertainment; over 100 local artisans, crafters and food vendors lining Bagel Blvd; and plenty of fun and games for the kids. New this year is live mural painting on Broadway, where a select few talented artists will be painting murals throughout the week leading up to the festival, culminating in their live art creations throughout festival day. Monticello; free admission.
August 13
Prepare your appetite for one of the most delicious days of the year, a celebration of the foods of Lockport! This food fest features local restaurants, food producers, wineries, distilleries, beer producers, specialty food producers, and farms. Restaurants will be offering 1-2 tasting portions of their specialty dishes and you'll also enjoy a marketspace with a collection of Lockport Community Farmers Market vendors as well as additional specialty food businesses. Live music will accompany the festival and you can enjoy it all from a large dining tent or the family area which will have games, art, activities, and resting areas for those with young children. Lockport; free admission, cash-only for food samples.
August 18-20
Set your phasers to fun and beam down to the Star Trek: The Original Set Tour in Ticonderoga for this annual fan-favorite event. If you're a Star Trek and science fiction aficionado, you'll enjoy a fun, relaxed atmosphere, where you can take a tour of the most accurate recreation of the sets from the original series, attend celebrity guest talks, and more. Panels and presentations will cover a wide range of pop-culture topics and the weekend also includes a scale-model contest, trivia panels, and cosplay contest. Special appearances will be made by Star Trek: The Next Generation stars Jonathan Frakes, Brent Spiner, John DeLancie, and new 'Picard' star Ed Speleers, where they'll be appearing in a live on-stage presentation and will be available for autographs, photo ops, set tours and bridge chats. Ticonderoga; various prices and packages beginning at $30 ($70 and up admissions include live-on-stage event). Please visit www.startrektour.com/product-category/2023-trekonderoga/ to see all ticket prices and special packages.
Aug. 18-20
Want to pick your perfect blooms? Head to Meadowbrook Farm Catskills' Sunflower & Sangria Festival and have your pick of over 125,000 Sunflowers! You'll enjoy the beauty of the sunflower field with thousands in bloom showcasing over 20 varieties and colors. Take Instaworthy photos as you walk through and pick your own, and try a flight of Sangria, or a local craft beer on this beautiful 120-acre farm. Friday night's kickoff includes music from Guilty Pleasure, and Saturday's event features Shake, Rattle & Roll Dueling Pianos, New York City's longest running all request rock and roll party. Your festival ticket includes a hayride to the sunflower field where you can pick two of your favorite blooms, with additional blooms available for purchase. You can even bring your (well behaved and leashed) dog! Leeds; $15.
Aug. 19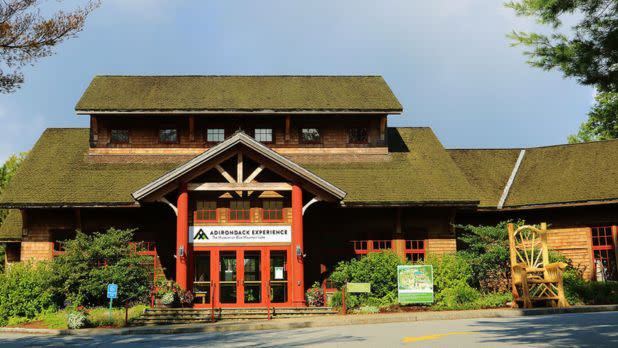 Fun-gi fact: Mushrooms are genetically closer to humans than plants. Not only that, some even glow in the dark! Learn all about mushrooms and more at the Adirondack Experience: The Museum on Blue Mountain Lake this summer for a fun-filled, family-friendly festival all about fungi! You'll delight in activities, workshops, presentations, and scenic trail walks. Blue Mountain Lake; Online discounts: adults (18-64) $20, seniors (65+) $18, youth (5-17) $12, students (with ID) $12, children (0-4) and active military, and members of the museum and their guests free admission, veterans $18. Please visit www.theadkx.org/visit/tickets/purchase-timed-tickets/ to see all ticket prices.
Aug. 19
If you're a classical music enthusiast or just someone who appreciates musical excellence, you don't want to miss the Vivaldi Festival at Planting Fields Arboretum State Historic Park. During this two-part performance set amidst the beauty of planting fields, esteemed musicians of Chamber Players International will perform a reprise of world-renowned composer, Antonio Vivaldi's iconic piece, The Four Seasons. After a short intermission, part two returns to showcase Vivaldi's Legacy, which includes classical pieces from the likes of Bach, Handel, Tchaikovsky and more. Bring a blanket and chair, relax on the arboretum's West Lawn, and enjoy the wonderful music! Oyster Bay; free, with paid vehicle use fee or Empire Pass; registration required.
Aug. 19
Tune in under the sun and stars for an amazing music festival at the Lake Placid Center for the Arts. Your eyes and ears will delight in incredible headliners on the mainstage and local favorites on The North Country Stage at this outdoor day of fun. Enjoy bluegrass, rock, pop, and blues, along with delicious food (you can even bring a picnic from home or from one of the neighboring restaurants). The festival features 9 acts playing throughout the day, all on the lawn behind the Center's theatre building. Headlining artists include Grammy-winner Terrance Simien and the Zydeco Experience, the Gibson Brothers, Dailey & Vincent, and The Legendary Ingramettes. This year's shows have been packed into one spectacular Saturday, so you can see anything and everything you want with the purchase of a festival pass. Lake Placid; festival passes $75.
Aug. 23 – Sept. 4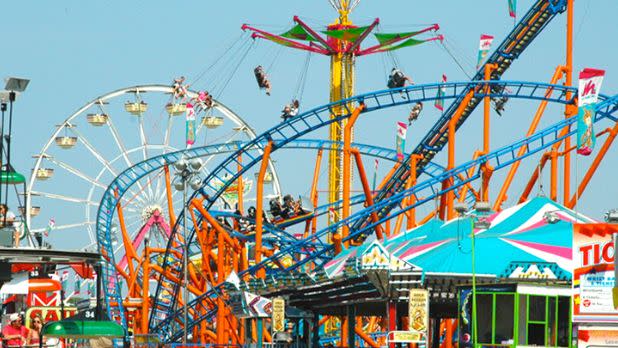 The Great New York State Fair fills 13 days with fun and affordable celebrations of delicious food, eye-opening exhibits, captivating entertainment, and great fun. The fair boasts more than 375 acres of animals, exhibits and displays, games of skill and midway rides. You'll enjoy performances from some of the biggest names in entertainment and virtually every music genre, including Nelly, Salt-N-Pepa, Dierks Bentley, Quiet Riot, Chubby Checker, and Skid Row. Syracuse; admission tickets are $6 for adults, and free for those 65 and older, and 12 years and younger. Before buying tickets, please see the Special Fair Days page; $10 parking.
Aug. 26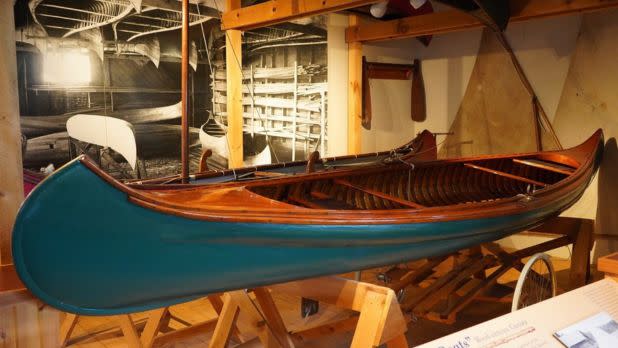 Credit: @theadkx on Instagram
The Mohawk Nation at Akwesasne is a territory that straddles the border of the United States and Canada on both banks of the St. Lawrence River. The community was founded in the mid-18th century by Mohawk families from Kahnawake (also known as Caughnawaga), a Catholic Mohawk village that developed south of Montreal along the river. Despite being divided by an international border, the residents consider themselves to be one community. This August, The Adirondack Experience: The Museum on Blue Mountain Lake invites you to meet a variety of Akwesasne Mohawk artists and artisans—from painters to storytellers, basket makers to bead workers — and learn more about their creative expression and cultural traditions. Blue Mountain Lake; admission to the festival included with museum admission: adults $22, $14 youth (5-17) & students with valid ID, seniors (65 & over) and veterans $20, children 4 & under, museum members, and active military free.
Giddy Up at Thrilled Horse Races (Capital-Saratoga and Long Island)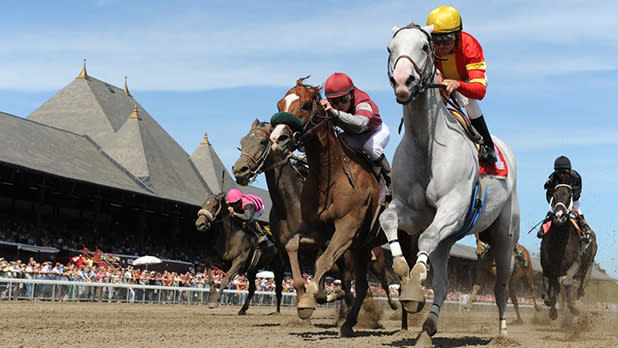 Travers Stakes at Saratoga Race Course Aug. 26
Head to Saratoga Springs for Saratoga Race Course's most prestigious event – the legendary Grade 1, $1 million Travers Stakes! Also known as the "Mid-Summer Derby," the Travers is one of the oldest stakes races for 3-year-olds in the United States, dating back to 1864, and is the traditional centerpiece of the Saratoga meeting. Come and see who takes home this year's The Travers Trophy, also known as the Man O' War Cup, which was designed by Tiffany & Co. and named for Samuel Riddle's American Champion Thoroughbred racehorse, who is widely regarded as the greatest racehorse of all time. Saratoga Springs; various prices, please click here to check on availability.
 Hampton Classic Horse Show Aug. 27-Sept. 3
One of the biggest social bashes on the Hamptons scene is returning to Bridgehampton over Labor Day Weekend: the 48th annual Hampton Classic Horse Show! Each year approximately 50,000 people – including many A-list celebrities – come to the show to watch the nation's best equestrian athletes compete. Rated USEF 'Premier-6' for hunters and jumpers with designated FEI 2* and 5* classes, the Hampton Classic features more than 200 competitions in six spectacular show rings, the Agneta Currey Boutique Garden with more than 70 vendors, and a wide selection of dining options, all on its world-class 60-acre show grounds. Bridgehampton; $20 daily admission per carload, cash only, paid at entrance; free general admission on Monday, no regular competition, plenty of shopping; free admission for seniors, veterans and current members of the military, Tuesday-Thursday.
---
Share New York State adventures with us on TikTok, Instagram and Twitter with #ILoveNY and #iSpyNY, and tag us on Facebook!