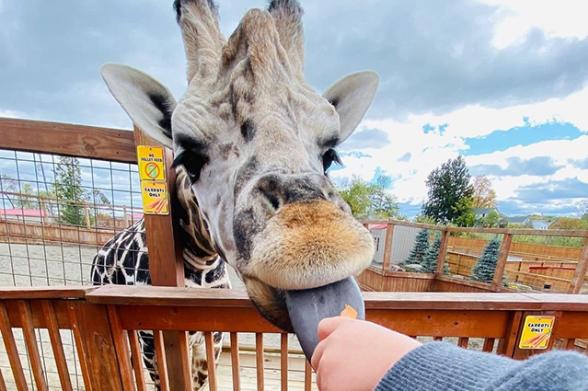 In New York State, cute critters are more than internet clickbait; they can be part of a great getaway for every member of the family. Your choices aren't limited to zoos and aquariums, though New York has a world-class collection of those across the state. There are also farm experiences, animal sanctuaries, nature preserves, and even online animal encounters, all providing unique animal experiences and chances to interact with wildlife. No two visits are ever the same, not only because living creatures are unpredictable, but because these destinations are constantly adding new exhibits, experiences, and even residents! Here's what's unique when it comes to meeting irresistible furry, feathered, and finned friends across New York State.
Remember to social distance and wear a mask as required by state guidelines. Call ahead and check websites and social media to make sure attractions are open and available. 
Anybody can walk a dog, but at Buck Brook Alpaca Farm in Roscoe, you can take a walk with your own alpaca. Learn the basics of harnessing and showing, then see the Catskills with your new friend on a guided walk around the farm. There are also farm tours and workshops, like crafting with alpaca fleece. 

Credit: Anna Pakman
The Bronx Zoo is a national treasure. Travel the world without ever leaving the city with more than 6,000 animals of 700 different species in indoor and outdoor exhibits on 264 sprawling acres. Wild Asia, opening again in May, is the only place in New York State to go on safari via monorail to get a look at elephants, rhinos, red pandas, and more. 
The only facility accredited by the Association of Zoos and Aquariums that is operated by a high school, Trevor Zoo at Millbrook School is home to 80 different species, including eight that are endangered. The zoo recently welcomed a new one-year-old otter who arrived last October, in addition to creatures being born on site this spring from baby turtles to wallaby joeys. 
Via Aquarium in Schenectady now allows you to travel back in time thanks to the arrival of the Via Dino Discovery in the adjoining Via Port Mall. In the aquarium, home to 37 exhibits and more than 2,000 creatures, you can watch sharks swim overhead and feed stingrays by hand. Then head next door to see animatronic replicas and interactive displays starring Stegosaurus, Triceratops, and Tyrannosaurus rex.

Credit: @k81365 on Instagram
The only thing that could top quality time with cute critters is to compliment it with yummy eats. Nettle Meadow Farm and Artisan Cheese in Warrensburg has both. In fact, they encourage you to walk their animal sanctuary and meet the creatures behind the labels: the goats and sheep who help produce their award-winning cheeses. The barnyard friends include pigs, horses, and more. The new retail store features the cheese and other locally made goodies like honey, syrup, and yogurt in a rustic log-cabin style Adirondack landmark known to locals as the Old Hitching Post.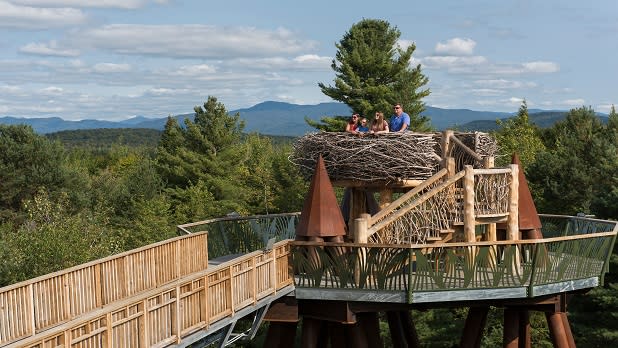 The Wild Center is a one-of-a-kind nature museum located in Tupper Lake in the heart of the Adirondacks. The Wild Walk is a boardwalk over the treetops that lets you feel what it is like to be an animal in the woods, whether it's a squirrel in a four-story tree, a spider on a trampoline web, or an eagle in a giant nest. Throughout the day, you'll also get to meet some animal ambassadors up close, like a turtle, porcupine or owl, with a naturalist on hand to answer questions. The indoors section of the Wild Center remains temporarily closed.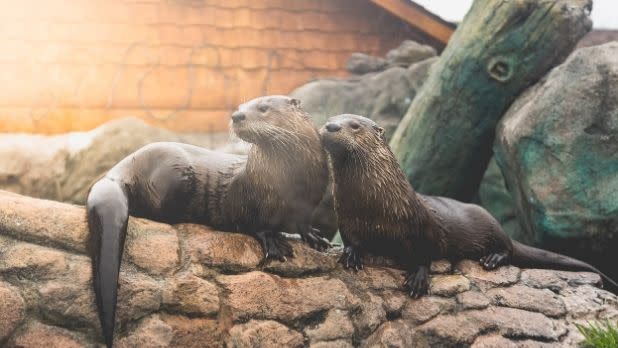 Zoo New York in Watertown keeps it local by showcasing animals native to New York State. Formerly the New York State Zoo, it celebrated its recent 100th birthday by premiering a new name and logo featuring a wolf and an eagle. You can see those plus bears, lynx, a wolverine, otters, and more. There's also a butterfly house and trails through rural landscapes designed to point out notable bird and plant species. For a truly unique animal interaction, plan your visit for May, when Zoo New York's elk feeding experience starts up for the season!

Don't be fooled by its name: the Long Island Aquarium in Riverhead is home to birds, butterflies, otters, and marmosets in addition to sharks, jellyfish, eels, and piranha. There are few places where you can see so many ecosystems in one location, from a rainforest to a 20,000 gallon tank with one of the largest living coral displays in the western hemisphere to Ray Bay, featuring stingrays and other sea creatures. Selfies with sea lions and penguins are available, as are private tours for you and your family.
Not every animal park can brag that it was the home of a bona fide animal celebrity. Animal Adventure Park in Harpursville is where April the giraffe became an internet sensation through her pregnancy and when she gave birth to her calf live on camera. The park continues to present captivating creatures including camels, sloths, and kangaroos, including Cosmo, a very rare white kangaroo born at the park in late 2020.

Credit: Cassie Guerra
Want a unique baby animal experience? If you haven't been to the Rosamond Gifford Zoo at Burnet Park in Syracuse lately, you've haven't seen their arkful of new arrivals! There's 3-year-old Zeya the tiger; Tellaro the Giant Pacific Octopus; the first baby patas monkey in North America to be hand-reared; a Humboldt penguin chick and snow leopard both born in May; and four Turkmenian markhor females known as the Golden Girls. 
Among the classic toys and play areas of the Strong Museum of Play in Rochester is an enchanted forest of free-roaming butterflies. The Dancing Wings Butterfly Garden is the only year-round indoor butterfly garden in upstate New York. A paved path leads through a lush tropical rainforest, where you shouldn't be surprised if one of the hundreds of brilliantly colored butterflies lands on you to steal a ride. Be on the lookout for some other animal friends like birds and a chameleon, and be sure to stop by and welcome the newly emerging  butterfly arrivals in the chrysalis case.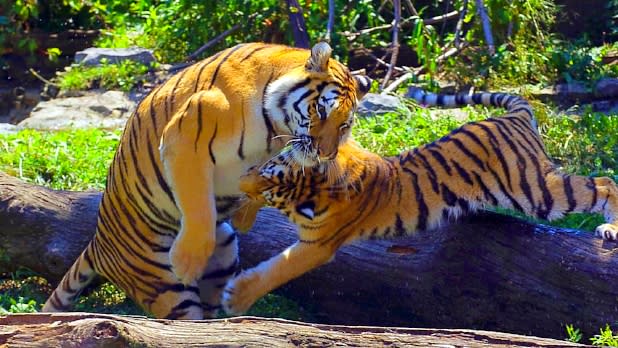 The nation's third oldest zoo, the Buffalo Zoo is also the largest tourism attraction in Western New York after Niagara Falls. Guests can wander through a fully enclosed South American rainforest to see squirrel monkeys, toucans, and vampire bats, or visit the Delta Sonic Heritage Farm, a children's zoo with a genuine 19th century barn recreating what life was like on the Erie Canal in the 1800s, with pigs, sheep, turkeys, and a mule. There is also the opportunity to go behind the scenes at the giraffe or rhino exhibits and learn about these unique animals from the keepers who work with them every day.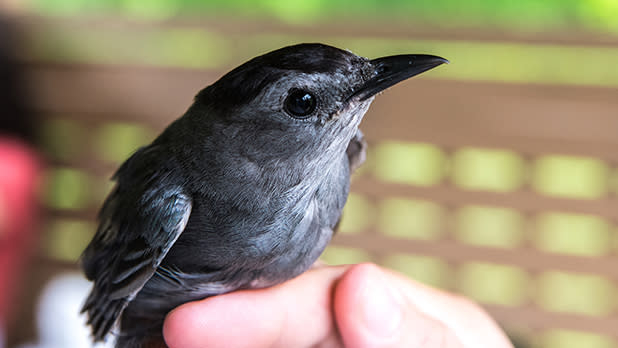 The Roger Tory Peterson Institute of Natural History in Jamestown is expected to be back open this spring. In the meantime, its outdoor trails remain open so you can follow in the footsteps of Roger Tory Peterson through the woods that inspired his future career as international ambassador for nature. There are guided bird walks as well as online birding discussions at this unique institute celebrating the life and work of one of America's great naturalists.