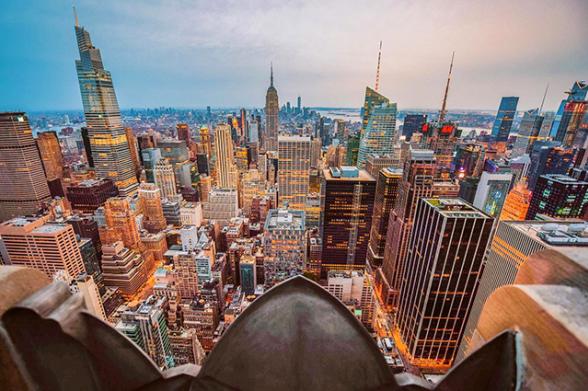 Updated: 03/24/2022
Who says New York City has to be expensive? We rounded up great finds to help you plan your city getaway, no matter if you're on a budget or looking to treat yourself to a luxury experience. Let this be your guide to everything from the free (or nearly free) to the most extravagant ways to experience skyscrapers, the world's best culture scene, epic eats, and so much more.
Remember to social distance and wear a mask as required by state guidelines. Call ahead and check websites and social media to make sure attractions are open and available.
Our Price Guide
Budget: Free or almost free
Moderate: You'll pay a few bucks, but it won't break the bank
Luxury: Worth the splurge
Take a Tour!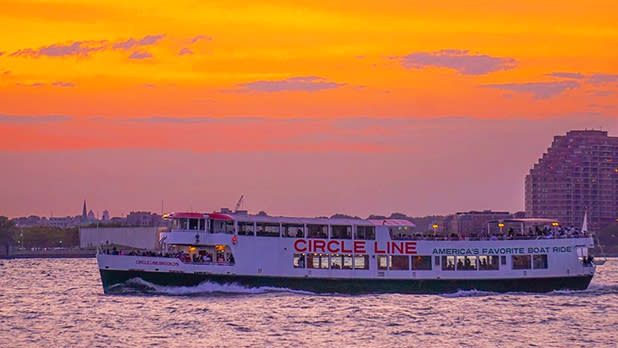 Credit @themikexpression on Instagram
Budget: Take a Free Guided or Self-Guided Walking Tour of Brooklyn
In New York City, your feet will get you just about anywhere for free! If you like walking, Free Tours by Foot offers pay-what-you-wish New York walking tours, including food, but also bike, audio, and free self-guided walks. Their three-hour tour of Brooklyn begins with a walk over the Brooklyn Bridge and travels through Brooklyn Heights, one of Brooklyn's finest residential neighborhoods, before reaching popular DUMBO (Down Under the Manhattan Bridge Overpass), once a manufacturing and industrial district, now home to trendy cafes and chic boutiques. Pay-what-you-wish
Moderate: See the City from the Water on a Circle Line Cruise
Discover Manhattan the same way Henry Hudson did—by boat! The Circle Line is dedicated to sightseeing in New York Harbor with boats designed to let you see as much as possible, rain or shine, all year long. You can choose from the 2.5 hours Best of NYC Cruise around Manhattan, the 1.5-hour Landmarks Cruise, or a two-hour Twilight Harbor Lights Cruise. They also have seasonal cruises on Christmas Eve, New Year's Eve, and the Fourth of July, plus a live music series and a fall Oktoberfest Cruise up to Bear Mountain. Food and a full bar are available onboard! Various prices from $24
Luxury: Get Eye Level with the Skyscrapers on a Private Helicopter Tour
See New York City like never before in comfort and style on a HeliNY 25-30 minute Deluxe Tour. Their longest tour provides you with an aerial view of Manhattan and the surrounding area. You'll soar by the Verrazano Bridge and be able to spot Coney Island in the distance before turning around for a spectacular view of Manhattan across New York Harbor! Marvel at the Statue of Liberty and the splendid architecture of the Chrysler Building, the Empire State Building, and more as you get the best views of midtown, before flying all the way north to the very top of New York City's most famous borough, passing over the George Washington Bridge, and then taking in the view of all five boroughs as you travel south down the Hudson River past Yankee Stadium, Central Park, the Intrepid Sea, Air & Space Museum, and One World Trade Center. Flights are now available for $299 per seat, plus $35 flight fees per seat
Family Fun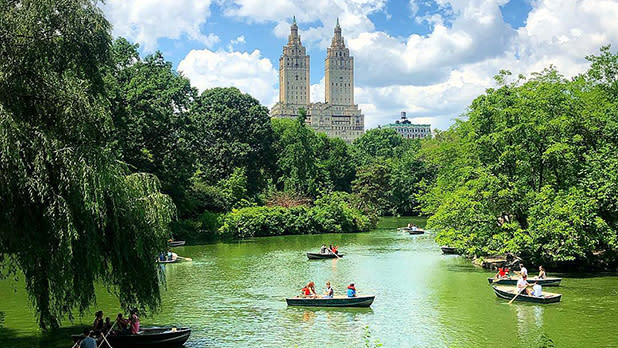 Credit @nyc_pics_and_tips on Instagram
Budget: So Many Ways to Have Fun in Central Park (pictured)
Budget-minded families will find great inexpensive fun any season at the iconic 834-acre Central Park. New York City's most famous and largest green space, it's a great location to enjoy unstructured fun with your kids, like taking a nature walk, climbing the rocks, and checking out the various playgrounds. Your family will also enjoy the Tisch Childrens' Zoo, an amusement park with rides that becomes a skating rink in the winter, and rowboats your family can take on the lake. Entry to Central Park is free. Boat rentals $20 per hour, cash only, $5 each additional minute, $20 cash deposit. Zoo admission is $19.95 adults (13 & over); $14.95, children (ages 3 - 12), $16.95 seniors (65 & over), and children 2 and under are free; all zoo visitors must request a date-specific ticket in advance
Moderate: Get a Great View of the City from One World Observatory
Elevate your senses and take a tour of New York City from above at One World Observatory. You'll climb 102 stories in 47 seconds in a SkyPod to the top of the tallest building in the Western Hemisphere and experience the Observatory's See Forever Theater, a heart-pumping audiovisual experience set to the rhythms of the city, which ends with your first breathtaking glimpse of the amazing, sweeping, and unparalleled views of Manhattan's skyline and far beyond! Ticket packages $43 - $73
Luxury: Book a Mini Manhattan Family Getaway
Create a fun NYC family experience by booking a Mini Manhattan Family Getaway at Forbes Travel Guide Five-Star Mandarin Oriental, New York. Your children will be welcomed with a special surprise tailored to their ages, and the package includes two complimentary $50 gift cards to use around the property, a one-hour Carriage Ride through Central Park, a $100 daily food credit to the hotel, as well as plenty of kid-friendly amenities like childproof fixtures so you can put your mind at ease. Also, the signature Four-Star restaurant, Asiate, offers a great children's menu. From $1,625 per night.
Experience Art in a Unique Way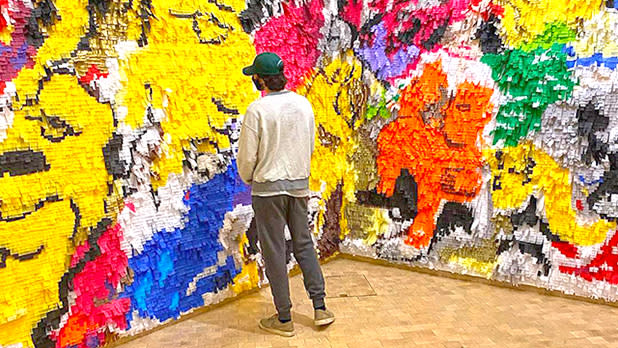 Credit @artmuseny on Instagram
Budget: Enjoy Art at El Museo (pictured)
El Museo del Barrio, founded by a coalition of Puerto Rican educators, artists, and activists, is the nation's leading Latino and Latin American cultural institution and welcomes visitors of all backgrounds to discover the artistic landscape of Latino, Caribbean, and Latin American cultures, through wide-ranging collections and exhibitions, complemented by film, literary, visual and performing arts series, cultural celebrations, and educational programs. Pay-what-you-wish, otherwise $9 adults, $5 students and seniors, and free for members and children under 12
Moderate: Take a Guided Street Art Walking Tour in the Bronx 
View some of the latest and most amazing outdoor murals in the Bronx by taking a guided Street Art Tour with Bronx Historical Tours. You'll get an insider's view of the sites and details of the artists, and will discover the history, culture, community, and businesses that serve as a backdrop for this unique art form. Your tour supports the Bronx local art scene, a street gallery of artists from around the world. In addition to street art in the Bronx, public art can be discovered and enjoyed throughout the city in a variety of settings. Street Art Tour Group Tour tickets are  $25 per person for a two-hour tour, 10 am - noon 
Luxury: Take a Private Tour of Chelsea Art Galleries
New York Art Tours offers a variety of contemporary art gallery tours in New York City, including a private tour of Chelsea art galleries. Merrily Kerr, an art critic, college instructor, and professional art tour guide, will put together an itinerary to take you to the most talked-about art exhibitions of the moment. The cost for a private group of one to five people is $280. ART SMART offers private and guided art gallery tours that can help you discover which shows have the art world buzzing, where to see up-and-coming artists first, and which galleries are best suited to your preferences and budget. In addition to Chelsea, the tour also visits galleries in the Meatpacking District and Highline Park, Brooklyn's Williamsburg and Bushwick, the Lower East Side and Soho, the Upper East Side, and Midtown. A private group tour is $225 per hour.
Set Out on an Urban Adventure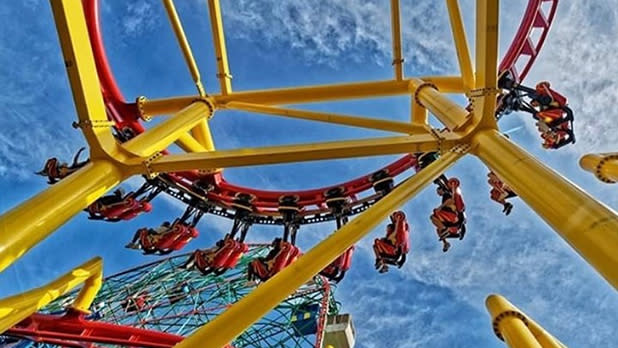 Credit @coneyislandfun on Instagram
Budget: Try out the New Roller Coaster at Coney Island
Get set for thrills aplenty—the Phoenix (pictured), a thrill-packed roller coaster, made its debut in 2021 at Dino's Wonder Wheel at Coney Island! At 68 feet tall with loops, dips, and turns, this coaster is a great family adventure. While you're at Coney Island, be sure to check out its oldest and most famous ride, the Cyclone, a roller coaster built in 1927, in Luna Park. Phoenix price is 10 credits, and $40 will get you 50 credits; Cyclone rides are 10 credits
Moderate: Fly High with Trapeze School New York at Chelsea Piers
If you're a thrill-seeker, consider signing up for trapeze lessons at the Trapeze School New York. This unique, exhilarating activity can offer a renewed sense of possibility, and forever transform your outlook on life. Begin your adventure into the world of aerial fitness and flying trapeze by booking a session now at the school's Chelsea Piers location. Prices range from $65-$85 depending on skill level
Luxury: Take a Private Surfing Lesson at Rockaway Beach
Have you ever said to yourself that this is the year you're going to learn how to surf? Well, you can make that dream come true at Rockaway Beach in Queens, about 70 minutes from midtown Manhattan by cab (or limo, if you're feeling fancy), to experience one of New York's best-kept secrets for yourself. New York Surf School offers private lessons with surfboard and wetsuit included. Surf's up! Lessons $175 per person for a one-person two-hour private lesson and $115 per person for a two-hour, two-person private lesson 
Take in a World-Class Performance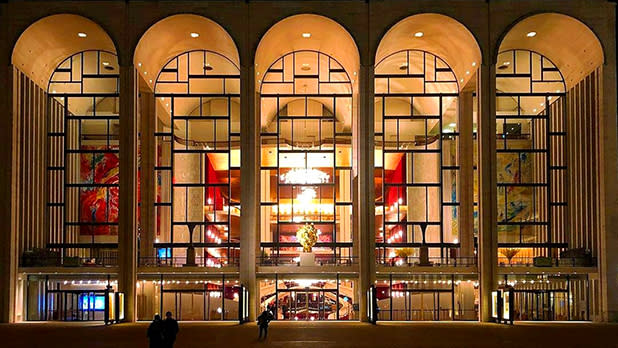 Budget: See a Television Show Taping
One of the best free things to do in New York City is to get an up-close look at your favorite television shows by being an audience member at a taping. Not only will you get to see major stars right before your eyes, but you and your friends might get to see you on your own home screens!
Many television shows, including The Late Show with Stephen Colbert and The Tonight Show with Jimmy Fallon, are produced in the city before vaccinated live audiences and free tickets are available, including standby tickets. Free. Be sure to check if your favorite show has resumed shooting with audiences.
Moderate: Get Discount Broadway Tickets
Theater lovers looking to experience Broadway on a budget needn't look any further. For more than 40 years, the TKTS booth in Times Square (47th Street and Broadway) has been selling same-day discounted tickets. It opens at 3 pm most days (in the late morning on matinee days), and the discounts range from 20 to 50% on Broadway and Off-Broadway shows. There are also TKTS locations in Lower Manhattan (next to South Street Seaport) and at Lincoln Center (in the David Rubenstein Atrium) - which are expected to open in April, or after mask mandates have been lifted in the city. Want to score discounted tickets from the comfort of your couch? The Today TiX app has a seat for everyone. Like surprises? With Broadway Roulette, just pick a day and the number of tickets you desire (for as soon as the next day or up to four months in advance), set your preferences for the type of show you want to see, and eliminate the ones you don't, and then see an amazing Broadway show for $49-$59 per person! Various prices depending on performance and seating; most discounted tickets are under $100.
Luxury: Spend a Night at the Opera
If you love beautiful music, vocal artistry at its highest level, and Oscar-worthy drama and laugh-out-loud comedy, the world-famous Metropolitan Opera (pictured) is for you. Each season, the Met stages more than 200 opera performances in New York, and their 2022-23 season is packed with opera's most talented stars, a wide range of repertoire, and a handful of new productions from some of their most gifted state directors. Make even more of your experience on a backstage tour to get a  behind-the-scenes look at the scenic and carpentry shops, rehearsal rooms, dressing rooms, and stage area. Various prices depending on performance and seating; backstage tour tickets are $35 for the general public, $30 for Metropolitan Opera Guild members, and $25 for students & groups of 10 or more
Explore New York City's Food Scene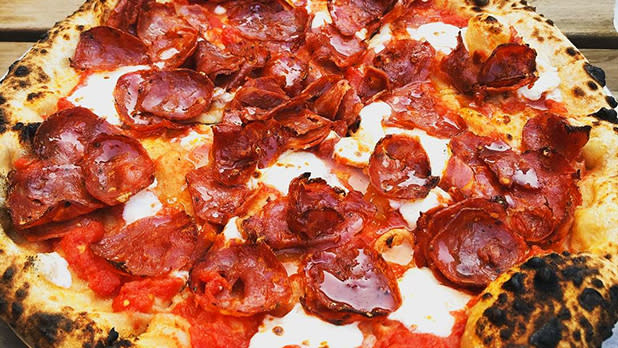 Credit @mariemerica on Instagram
Budget: Bite into a Delicious New York City Bagel
Any visit to New York City should include trying out one of the city's chewy, delicious bagels. Russ & Daughters, founded in the early 1900s by Eastern European immigrant Joel Russ, serves what many consider the best bagel and lox sandwiches in the city at their two locations in Manhattan and Brooklyn. Ess-a-Bagel, established in 1976, is renowned for their amazing bagels, varieties of cream cheese, choice meats, and more. From nine-grain to sesame and everything bagels, they have all of your favorites at their 3rd Avenue location in Manhattan. Bagel Hole in Park Slope, Brooklyn serves up classic boiled bagels, small and chewy yet crunchy, and always served warm and fresh.
Moderate: Enjoy Some Pizza
Another NYC staple is pizza, and there's a wide range of styles and pricing for great pies, from classic slice shops like John's of Bleecker Street and Joe's Pizza to artisanal pizza shops like Paulie Gees (pictured) in Greenpoint, Leo, and Roberta's in Bushwick.
Luxury: Eat at One of NYC's 3-Michelin-Starred Restaurants
Restaurants awarded the Michelin Star are recognized for succeeding at the highest level, and if a restaurant gets three stars, people know that the restaurant is a destination worth visiting. New York City has the most Michelin-starred restaurants in the United States, and you can make your Michelin Star dreams come true at one of the city's three-Michelin-starred restaurants: Masa, Per Se, Le Bernardin, and Chef's Table at Brooklyn Fare. 
Shop, Shop, Shop!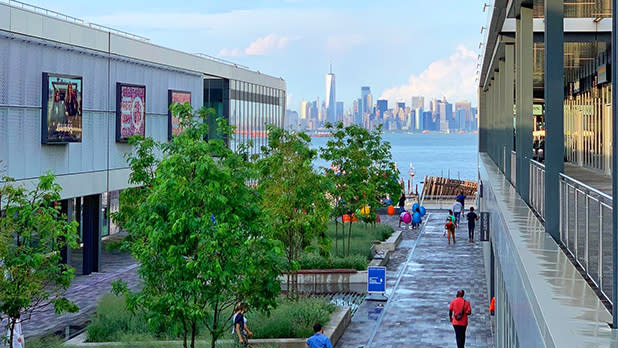 Credit @dicasnovayork on Instagram
Budget: Grab Some Souvenirs
From Empire State Building snow globes to I LOVE NY T-shirts, souvenirs abound in New York City, including great finds of mementos in the city's many museum stores, like the Transit Museum Store, which boasts a wide variety of clothing and merch featuring the iconic New York City Subway map and much more, and the MoMA Design Store for NYC-themed books that will remind you of your trip to the city, along with gifts inspired by current and past exhibitions. Try the neighborhoods of Chinatown and St. Marks Place for traditional, kitschy mementos like t-shirts, funny posters, cool inexpensive jewelry, NYC-themed shot glasses, and much more. Also, be sure to check out the Artists & Fleas markets for everything from hand-printed t-shirts to steampunk jewelry to whimsical postcards.
Moderate: Spend the Day at Empire Outlets
For great bargains on brand-name items, check out Empire Outlets (pictured), New York City's only outlet shopping destination, located steps from the Staten Island Ferry on Staten Island. Enjoy picture-perfect views of lower Manhattan, and a lush landscaped plaza with tranquil fountains as you hunt for great deals on merchandise from manufacturers including Aerie, American Eagle Outfitters, Banana Republic Factory Store, GAP Factory Store, H&M, Old Navy Outlet, and more.
Luxury: Shopping on 5th Avenue
Head to one of the most luxurious stretches of retail shopping in the country, Fifth Avenue, the main artery of New York City's shopping scene, which has drawn fashion mavens for over 100 years. Today, shoppers continue to flock to this section of Midtown (between 49th and 60th streets) to shop for it all. With mass brands like Victoria's Secret and H&M, upscale department stores such as Bergdorf Goodman, and multinational retailers like Zara and Uniqlo, there's something for everyone. Best of all, the shops here sell more than just apparel: Fifth Avenue is also home to the 24-hour flagship Apple Store and the city's first jeweler, Tiffany & Co.
---
Don't forget to post photos of your New York adventures on Instagram and Twitter with #ILoveNY and #ISpyNY and tag us on Facebook!