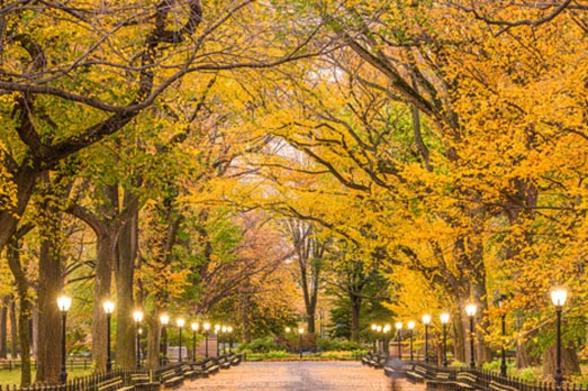 The Empire City offers a world of opportunity throughout its five boroughs covering more than 300-square-miles. Endless free and affordable experiences await locals and visitors from around the world at every corner. From alluring parks to iconic bites and historical sites to star-studded summer performances, we've curated a list of 18 ideas to keep you wide awake in the city that never sleeps, all at low cost or no cost!
1. Pick your Park

Credit: @wavehill on Instagram
Explore the city's enchanting parks, each offering a unique experience and adventure – with free and low-cost activities. 
2. Museum Marveling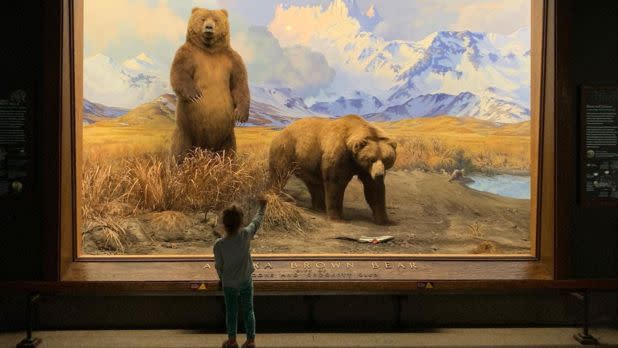 Credit: @chrissinderson on Instagram
Nearly 100 diverse and renowned museums are scattered throughout the boroughs of New York City, and quite a few of them offer free or low-cost admission.
Pay-what-you-wish or free:
Mondays:
Thursdays:
Fridays:
Saturdays:
3. Taste the City's Iconic Foods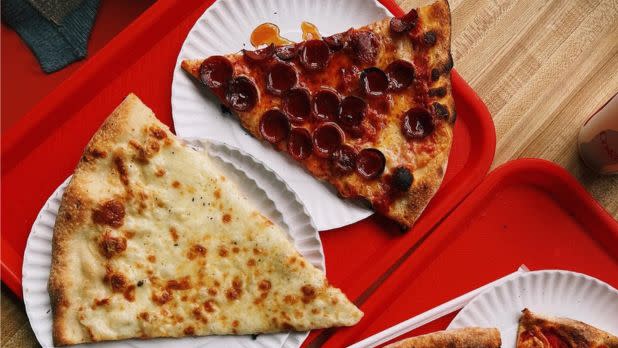 NYC's signature delicacies have captured the hearts and taste buds of locals and visitors alike, and you can try them all without breaking the bank. Nothing says New York like a slice of pizza! Stop by Mama's TOO!, Joe's, Scarr's, or Paulie Gee's (pictured) for a hot, fresh slice. Continue the carb craving with irresistibly chewy bagels at Ess-a-Bagel, Zuckers, or H&H. July 4th isn't the only time to celebrate Coney Island hot dogs, grab one any time at Nathan's, stop by the popular Crif Dogs, or enjoy one from any of the food carts throughout Central Park. No matter where you're walking in the city, you can find carts serving up on-the-go warm pretzels, shish kabobs, and of course the beloved Halal Guys and Nuts4Nuts carts.
4. Free Summer Concert and Movie Series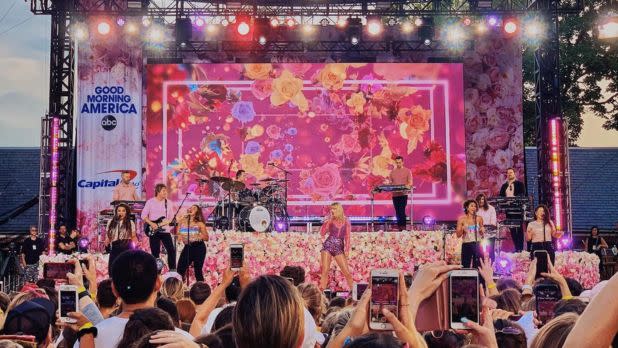 Credit: @melwithaview on Instagram
Summer is for songs and stars in the city, and you can enjoy it all for free with star-studded outdoor concert series and movie screenings against magnificent skyline views. Good tunes and good times are always abound at the GMA Summer Concert Series (pictured) in Central Park, where recent performers have included: Tim McGraw, Busta Rhymes, and BTS. For jubilant jams throughout all five boroughs, check out SummerStage, an outdoor performing arts festival that presents nearly 80 free and benefit performances that represent the cultural fabric of New York City, ranging from jazz, hip hop, Latin, global, indie, and contemporary dance. Washington Square Music Festival has been providing free evening concerts in Washington Square Park since 1956 and has been a corner-stone of Greenwich Village life ever since. Lincoln Center presents the Out of Doors Festival where artists from around the world perform at music, dance and spoken-word events over the course of several weeks, as well as Summer for the City, a three month long festival featuring hundreds of free events, thousands of artists, and food from across the city. BRIC Celebrate Brooklyn! brings the entertainment to Prospect Park all summer long, with free performances from talent across the globe. The New York Philharmonic Concerts in the Parks have become an iconic summer experience, transforming parks throughout the city into a patchwork of picnickers enjoying friends, family, and music under the stars. And every genre is celebrated in every borough with NYC summer concert series.
Grab a blanket and some popcorn and enjoy free Movie Nights under the stars and skyline in beloved Bryant Park. Brooklyn Bridge Park hosts its own Movies With A View series each summer at Pier 1 Harbor View Lawn, totally free!
5. Paddle in Paradise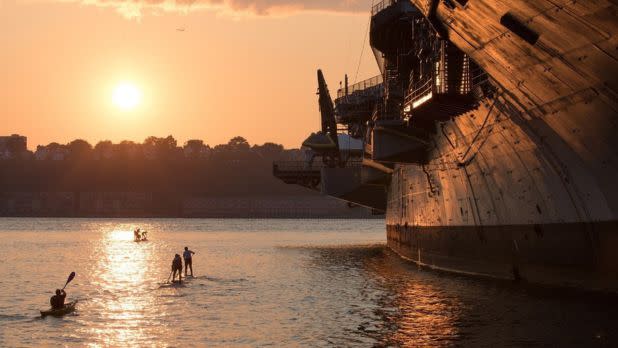 Credit: @hudsonriverpark on Instagram

Picturesque paddling is promised at Brooklyn Bridge Park, where you can kayak for free on Wednesdays and Thursdays from 5-7pm, Saturdays 10am-3pm, and Sundays from 12-2:30pm, with amazing views of lower Manhattan and the NYC harbor! The city also proudly presents the world's largest free kayaking program with the Downtown Boathouse; row your way over to Pier 26 for free kayaking on weekends and holidays in May-October from 10am-4:30pm, and Tuesdays and Thursdays from 5:30-7pm.
6. Elevate your Walk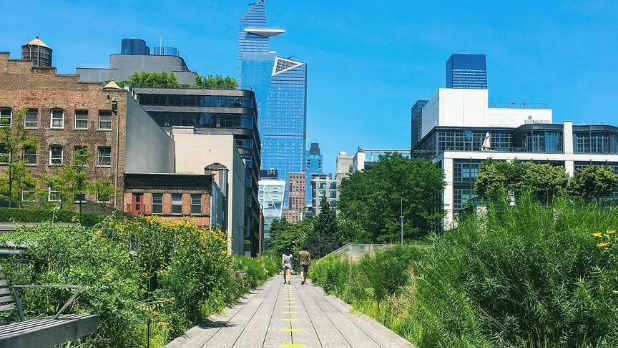 Credit: @adventuring_millennial on Instagram
Roam the iconic Brooklyn Bridge via the 1.1-mile pedestrian pathway that connects Lower Manhattan and Brooklyn Heights. As you walk, run, or bike along the bridge you'll enjoy sweeping views and exclusive photo ops of the Manhattan skyline. Soar to new heights at Manhattan's High Line, a 1.45-mile park built on an old elevated rail line running from Gansevoort St. to 34th St. Walk through gardens, view art, enjoy performances, and savor delicious food, all while enjoying a unique perspective of the city. Recently, the High Line added the Moynihan Train Hall Connector (pictured), a pair of interconnecting 600-foot-long bridges allowing pedestrians to walk all the way from the Meatpacking District straight to Penn Station. 140-feet above ground is New York's oldest standing bridge, the legendary High Bridge. Established in 1848, this bridge is the famed centerpiece of the Old Croton Aqueduct, and a short .3-mile walk connects Manhattan and the Bronx.
7. Savor the Flavors from Food Markets and Halls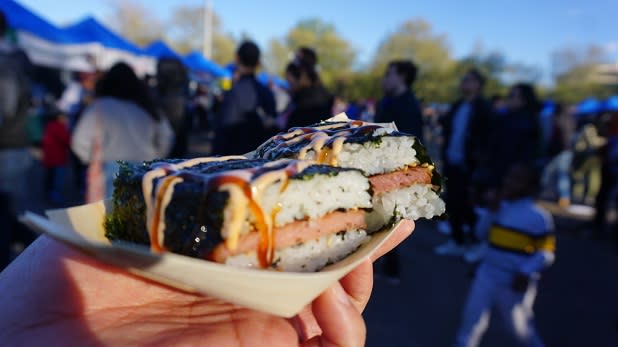 Credit: Sharon Medina/Queens Night Market
New York City's vibrant food halls and bustling markets offer a wide variety of global flavors and artisanal delights. Check out the Queens Night Market (pictured), a large and family-friendly open-air market, featuring up to 100 independent vendors where all bites are capped at just $6. Head to either the Williamsburg or WTC (Oculus) location for Smorgasburg, the largest weekly open-air food market in America, dubbed "The Woodstock of Eating."  The world-famous Union Square Greenmarket features up to 140 regional farmers, fishers, and bakers selling their products to a dedicated following of city dwellers and visitors. Take a trip to Tokyo without the jetlag! The expansive Japan Village includes Sunrise Mart, a bustling marketplace where you can find fresh ingredients and unique goods from Japan and an adjacent food hall that serves authentic Japanese cuisine. At the historic Pier 57 you'll find fantastic foods and rooftop views at Market 57, curated under the guidance of The James Beard Foundation. The aptly named Ninth Avenue Food Festival takes place annually along Manhattan's Ninth Avenue and features a weekend full of the city's famously diverse foods, from snacks to meals to desserts, spanning every flavor you can imagine.
8. Ferry around NYC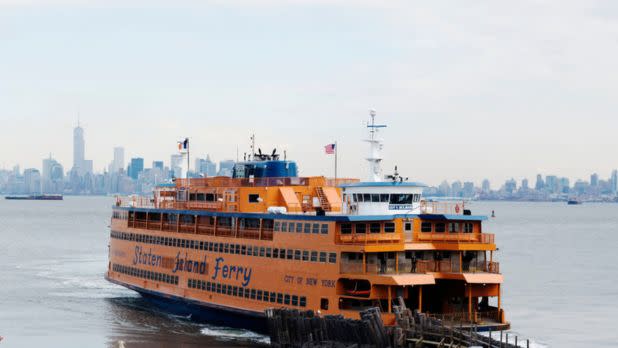 Cruise the waterways of NYC for free on the Staten Island Ferry. Passengers can take the ferry between Manhattan and Staten Island and revel in remarkable vantage points of the stunning skyline, the Statue of Liberty, and the harbor. When you reach Staten Island you can explore nearby Snug Harbor Cultural Center & Botanical Garden, for just $5/adults and free for kids! All aboard the NYC Ferry, where $4 will allow you to travel between waterfront communities including DUMBO, Williamsburg, Astoria, and Battery Park City throughout the city via six routes spanning over 60 nautical miles.
9. Browse Beaches and Boardwalks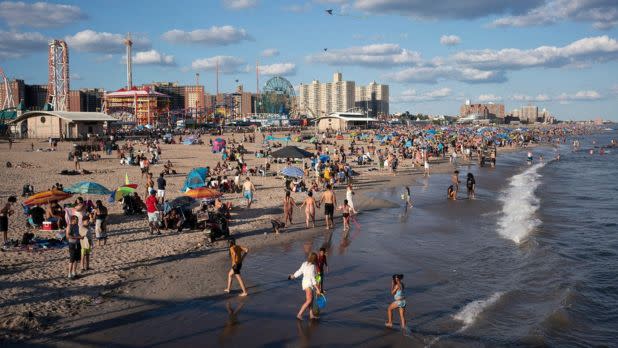 10. Get into the Holiday Spirit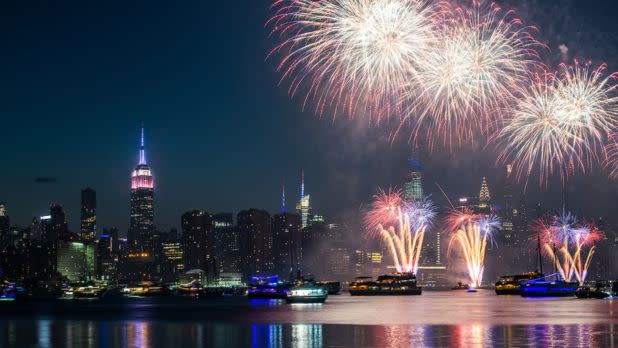 Seasonal splendor is found year-round in New York City, without spending a cent! Ring in the New Year with the world-famous Times Square ball drop and A-list entertainment. Get your green on for the St. Patrick's Day Parade, a lively procession of culture and community. Marvel at the giant character balloons and performances of the Macy's Thanksgiving Day Parade, a beloved annual tradition that fills the air with joy and wonder. On the 4th of July, join the cheerful crowd along the East River in Manhattan, Queens, and Brooklyn to witness the fantastic fireworks display. Walk into a winter wonderland along Manhattan's 5th Ave to see the legendary window displays, holiday markets in Bryant Park, Rockefeller Center tree lighting, and venture over to Brooklyn's Dyker Heights to see breathtaking light displays.
11. Go Island Hopping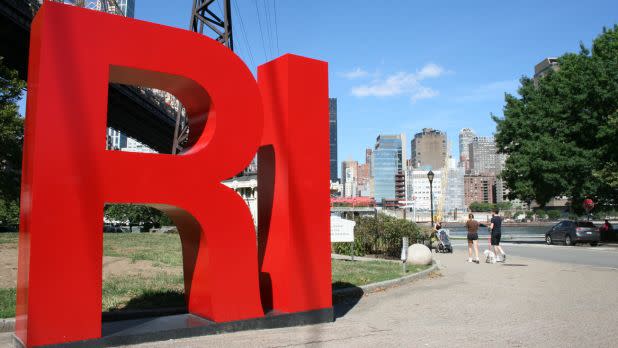 Credit: Marta Zielinska
12. Take on Times Square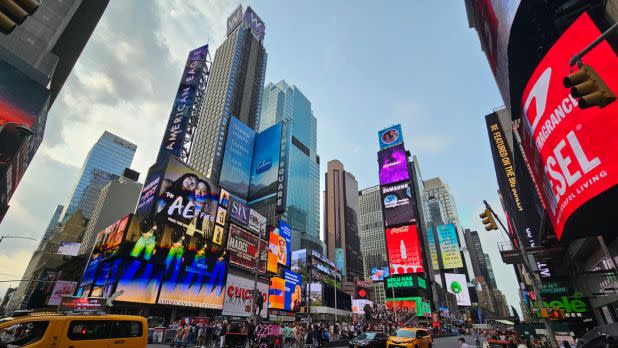 The city that never sleeps is at its liveliest in the world-famous Times Square. Neon lights, billboards, architectural gems, and permeating palpable energy make the intersection between Broadway and 7th Ave a must-visit. Take in a unique view from atop the famous red staircase at the TKTS booth, gather 'round the talented street performers, people-watch from every corner, and marvel at the magic of Manhattan.
13. Stand tall at The Statue of Liberty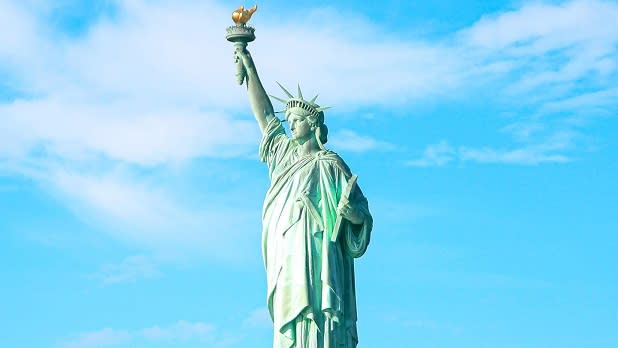 Explore one of the world's most recognizable, inspiring, and historic landmarks– The Statue of Liberty! Take the ferry over to Liberty Island where you'll find the Statue of Liberty Museum, Ellis Island National Museum of Immigration, and the monument itself. Reserve tickets in advance and climb the 10 stories to the top of the Pedestal or take on the double-helix spiraling staircase up to the Crown for a truly breathtaking view. General Admission to Liberty Island is $24.50 for adults, $12 for children 4-12, and $18 for seniors 62+.
14. Affordable Broadway Tickets and Free Outdoor Theater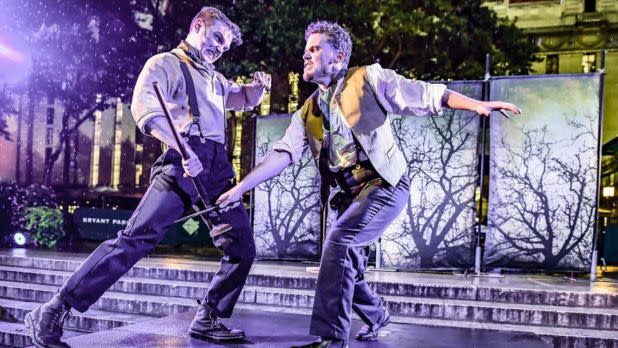 Credit: @bryanyparknyc on Instagram

Enjoy budget-friendly Broadway brilliance with affordable ticket options. Visit the TKTS booth in Times Square or Lincoln Center where you can score discounted tickets (up to 50% off) for same-day Broadway shows. Certain shows have standing room tickets, where you stand in designated areas and see the show for a discounted cost. Students and youth can take advantage of discounted tickets using TodayTix. For fully free outdoor theater, check out Shakespeare in the Park, where you can watch Tony Award-winning actors perform in productions like Hamlet in Central Park. Head to Harlem to enjoy professional Shakespeare-inspired theater presented by The Classical Theatre of Harlem at Marcus Garvey Park.
15. Global Bites and Sites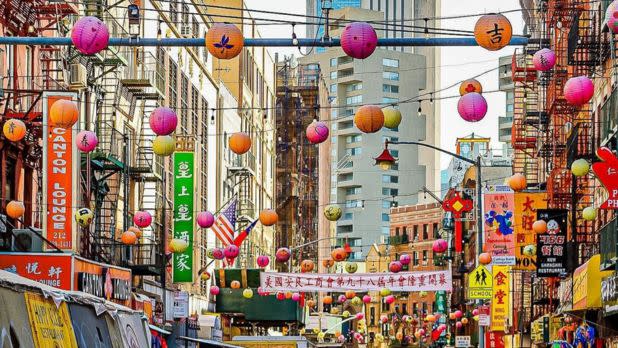 Credit: @heather_noelle82 on Instagram
Often regarded as a food capital of the world, New York City is a melting pot of global cuisines. Check out Chinatown (pictured) and go on a self-guided food crawl where you can enjoy various dumplings, and sweet and savory baked goods for under $5, or take your tastebuds on a tour of Queens' Koreatown and Chinatown. Jackson Heights is the go-to spot for Indian food, while Brooklyn boasts itself as home to the largest and most diverse Caribbean community outside of the West Indies. Arthur Ave comprises 12 blocks in the Bronx and serves up some of the city's most authentic and impressive Italian cuisine.
 16. Appreciate Architectural Gems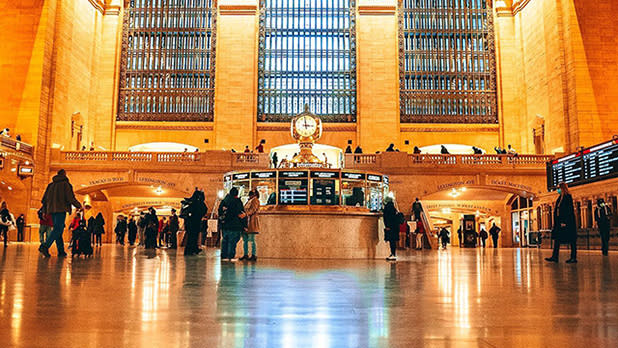 Free-to-explore treasures not only showcase New York's rich history and architectural prowess, but also offer moments of stillness amidst the city's bustling energy. Wander the hallowed halls of the famed New York Public Library, where 53 million items decorate the second largest public library in America. Stand in awe under the celestial ceiling of Grand Central Terminal (pictured), a testament to Beaux-Arts magnificence that envelopes visitors in a blend of art and engineering. Delight in the beauty of St. Patrick's Cathedral, a neo-Gothic masterpiece adorned by soaring spires and intricate carvings.
17. Explore Children's Museums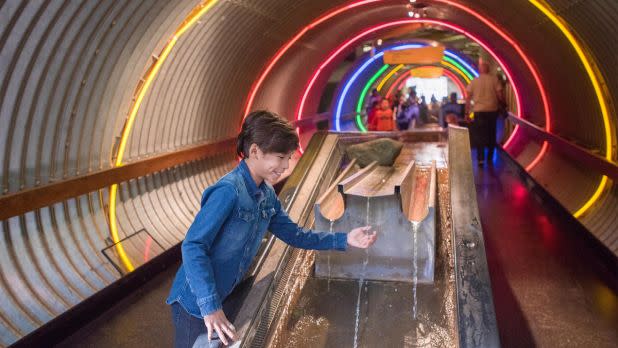 Ignite your child's imagination through captivating museums where learning and play meet. The Sugar Hill Museum in Harlem is free for children up to 8 years old, $4 for ages 9-17, and $7 for adults. The museum provides a place where kids can not only see art and talk about art, but share their own stories and create art from them. Kids' curiosity runs free at the Bronx Children's Museum (pictured), where admission is pay-what-you-wish for a special opening period. Outside of that period, admission is $8/person. At the Brooklyn Children's Museum you'll find three floors of interactive exhibits, hands-on cultural and science programs for kids up to 10 years old. On Thursdays you can visit for free between 2pm-5pm, and regular general admission is $13/person.
18. Animal Adventure Awaits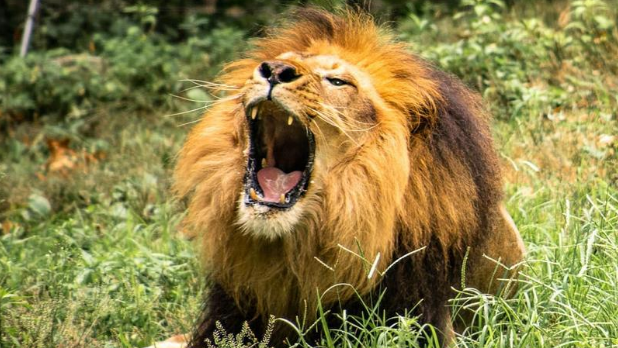 Discover your wild side alongside furry friends. The Bronx Zoo is home to more than 6,000 species ranging from tiny toads to big cats, and on Wednesdays you can go all day for free with advanced tickets required. The New York Aquarium is the oldest continually operating aquarium in the United States. Check out a sea lion show at the Aquatheater, chill out while zebra sharks swim overhead, or get to know some of the ocean's oddest named residents. On Wednesdays after 3pm you can enjoy these aquatic adventures for free with advanced tickets required. The Staten Island Zoo is roaring with fun, where more than 800 species and an extensive collection of rattlesnakes reside. Unleash your adventure on Wednesdays after 2pm where admission is free! Another legendary zoo resides in Central Park, and while it's not free, admission is under $20 and includes the main zoo, Tisch Children's Zoo, and a visit to the 4-D Theater.
---
Share New York State adventures with us on TikTok, Instagram and Twitter with #ILoveNY and #iSpyNY, and tag us on Facebook!