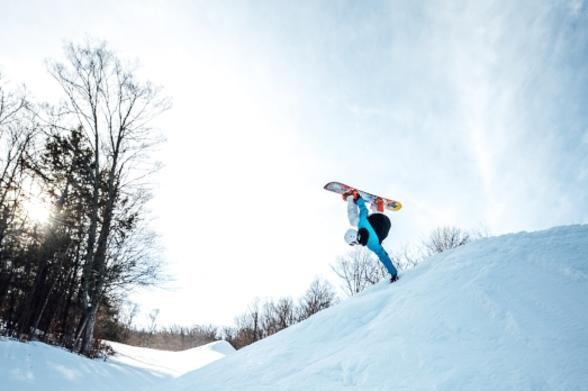 Originally published 12/1/19. Updated 12/22/22.
Whether you're a certified ski bunny or just down to get cozy, New York State's Catskill Mountains have what you need to après-ski. If you're not familiar with the French term, it translates to "after ski" and describes all the fun social activities that take place after hitting the slopes. From refueling at a farm-to-table restaurant to celebrating the number of runs you crushed that day at a local pub to  unwinding with a soothing massage, there's no wrong way to après-ski. 
Jump to: Breweries & Pubs | Wineries & Cocktail Bars | Dining | Spas | For Families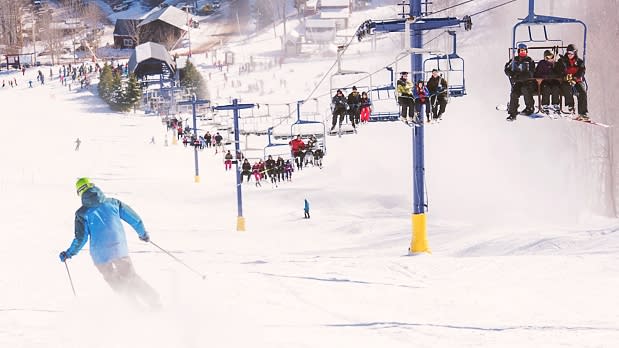 For the Beer Lover: Breweries & Pubs
With daily specials, live music, karaoke, and an eclectic menu of gastro-pub and Japanese cuisine, it's no surprise that Taphouse Grille has become a hotspot amongst millennial shredders. New York-style ales, stouts, and seasonal brews are on tap, and there's a full bar as well as gastropub-style food on offer. One of the Taphouse's main attractions is something of a secret:, knock on the bookcase located in the bar and you'll find yourself in a Gatsby-style speakeasy lounge. The leather sofas and relaxing atmosphere pair perfectly with that well-deserved nightcap. Taphouse Grille is just a few minutes away from Windham Mountain and Hunter Mountain.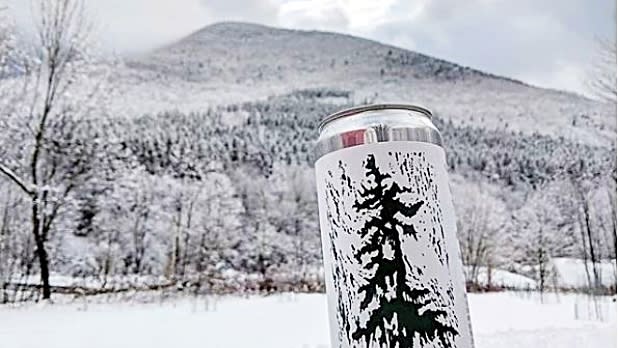 Sip a crispy beverage brewed in the heart of the Catskills while catching killer mountain views at West Kill Brewing, just 30 minutes from Hunter, Windham, and Belleayre. This cozy taproom is known for its funky ales, lagers, and hoppy IPAs made with locally grown and foraged ingredients. The clever brewers incorporate freshly tapped maple sap, honey harvested from local hives, and pristine mountain water. There are plenty of games and puzzles to keep the little ones busy, while food trucks and a mobile pizza oven are on hand for low-frills bites.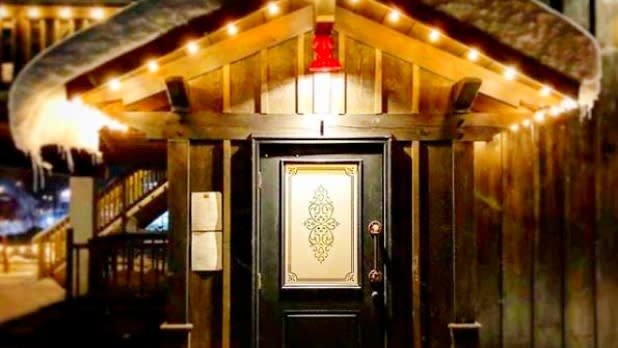 Head to Jägerberg Beer Hall & Alpine Tavern at the base of Hunter Mountain to feel transported to a European ski chalet nestled in the Alps—it doesn't get much more après than that! Indulge in a variety of authentic German schnitzel, or enjoy lighter fare like soft baked pretzels and a local charcuterie board with a rotation of German-style beers made in New York State.
For the Wine & Spirits Enthusiast: Wineries & Cocktail Bars
 

Credit: Jordan Layton
Positioned in the quant hillside of Windham, you'll find the East Wind Hotel & Bar, a luxurious boutique hotel offering gorgeous views, mid-century modern decor, glamping, hiking trails, board games, and a top-notch bar. The bar and lounge area not only serves up delicious craft cocktails but it's also a great place to meet other hotel guests and locals looking to unwind.
If you're torn between a glass of fine wine or a well crafted cocktail, head to Ze Windham Wine Bar located on Main Street in Windham, for all the options matched with delicious tapas. With an in-house sommelier and culinary aficionado, you won't be disappointed. The wine bar hosts weekly classes to learn the fermentation process, wine storage, wine etiquette, and wine and food pairings. Weather permitting, head outside and enjoy wine, cocktails, or beer in their unique Swedish-German Biergarten. Nothing beats a glass of your favorite beverage with a side of crisp mountain air. As a plus, pups are welcome!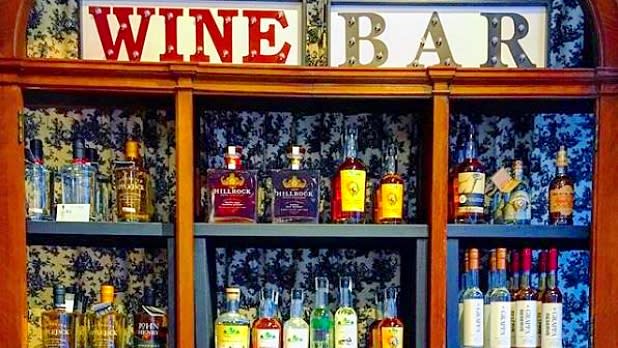 Taste the local flavors of the Catskills at Hudson-Chatham Winery, a quaint wine bar located in Tannersville with award-winning wines and delicious tapas. A member of the Catskills Beverage Trail, Hudson-Chatham's wines are produced using New York State grapes from area vineyards. You'll also find local farm-fresh cheeses, homemade maple syrups, hot sauce, and BBQ sauce available for purchase.
For the Food-Obsessed: Dining in the Mountains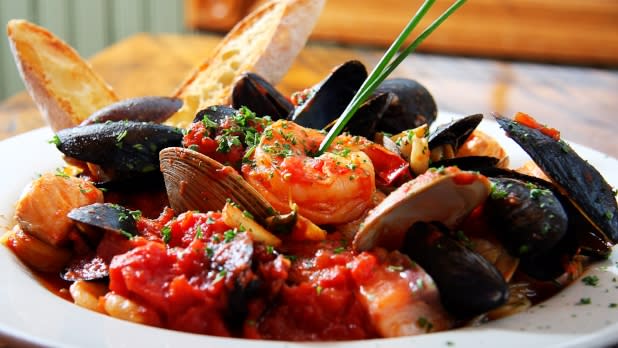 Millrock Restaurant, located on Main Street in Windham has quickly become a go-to for the après-ski crowd. Hearty pastas, fresh seafood, savory meats, and locally sourced ingredients are on the menu. The brick-oven fire and open-air kitchen allow you to witness the art of cooking, though you may be distracted by the striking mountain views just outside the window. Whether you're having a romantic date night, a family celebration, or refueling with your ski pals, you can't go wrong with Millrock.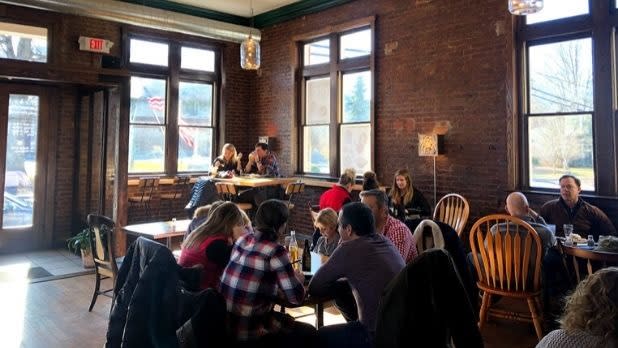 The Windham Local brings a community-oriented cafe, restaurant, and bar to the heart of downtown Windham. Located in a former bank, the rustic space embodies the vibes of the Catskill Mountains, welcoming ski bums, weekenders from NYC, and locals. The cafe's culinary team prides itself on using ingredients from nearby farms. Open for breakfast and lunch on Monday and Wednesday-Sunday, and dinner on Friday and Saturday, the Windham Local serves some of the best breakfast sandwiches in town and offers a variety of crowd-pleasing dinner options like soup dumplings, seared salmon, and beef short ribs. All of the wines, beers, and ciders are local too. As befits a Public House, there's live music every Friday and Saturday evening!

Credit: Nicole Frazen
The restaurant in this thoughtfully renovated lodge stands at the forefront of the upsurging Catskills-chic dining scene, which includes standouts such as The DeBruce and Brushland Eating House, which require a more dedicated culinary road trip. Prospect at Scribner's features a dining room with floor-to-ceiling picture windows, sleek wood-hued design and a fire pit on the adjoining cedar deck for cozy winter nightcaps. The menu includes hearty yet creative dishes with locally sourced ingredients from vegetables to chicken, pork and beef. Prospect at Scribner's is just a few minutes from Hunter Mountain, 15 minutes from Windham Mountain, and 30 minutes from Belleayre Mountain.
If you're in the mood for a nearby hearty meal after working out on the slopes at Hunter Mountain or Windham Mountain, head to Vesuvio Restaurant, an authentic family-owned Italian restaurant nestled in the heart of the Catskills. Known for the romantic ambiance, delicious cocktails, and homemade pasta dishes, you'll leave with a full belly and happy heart. Make sure to try the clams casino and the rigatoni with Vesuvio's special Sunday gravy.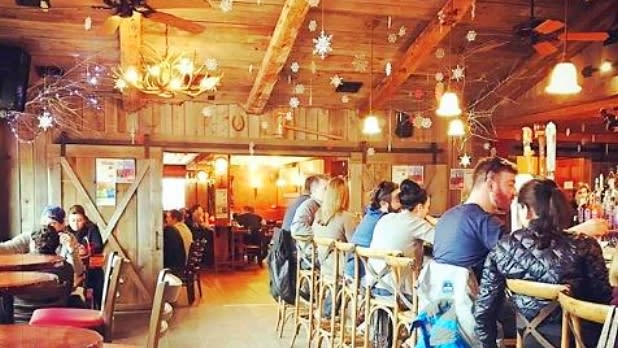 For homemade comfort food served in a rustic log cabin restaurant, head to Chicken Run in Windham. Cozy up by the fire while sipping a craft cocktail or one of your favorite beers on tap, all while taking in the views of Ski Windham. As its name suggests, Chicken Run serves mouth-watering fried chicken, and for those who prefer a beefier option, try the meatloaf. There's live music on most evenings for a more festive après-ski experience.

Credit: Andrea Cabane
Mama's Boys Burgers is a casual burger joint less than 20 minutes from both Windham and Hunter. The burgers are made from grass-fed beef that's just about as local as you can get, from a farm 1.5 miles down the road. If you're already chilly from the slopes, you may as well lean into it with some ice cream, custard, yogurt, or a sundae—they have 26 (!) flavors.
For the Spa Seeker:
 
Alpine Spa at Windham Mountain allows you to go from the slopes to the massage table in no time. And speaking of time, you won't have to miss out on many runs if you select an express spa treatment, such as a 30-minute massage or facial. There's also a sauna, steam room, and yoga classes.

Credit: Devin Ross of Ross Aerials
Sometimes you need a break from all that skiing and snowboarding--not to mention eating and drinking! To unwind and soothe those ski legs, head to Windham Spa in the shadow of Windham Mountain. It offers an array of services to help revive your body and your spirit.
For Families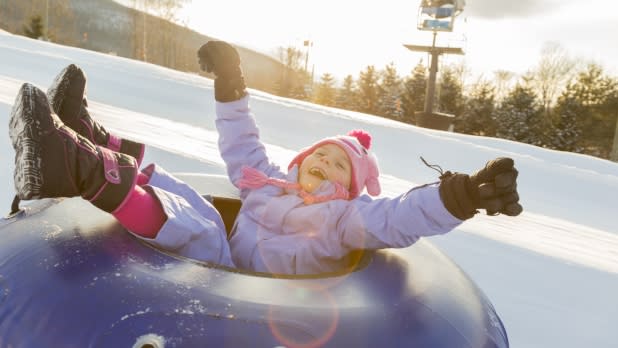 If your crew is finished skiing but wants to stay in the fresh mountain air, there are plenty of options to continue the winter fun right at the ski resorts you're visiting. At its Adventure Park, Windham has snowtubing (open 11am-8pm on Saturdays and 11am-7pm on Sundays), and a kids snowmobile experience where they can drive their own vehicle around an oval track.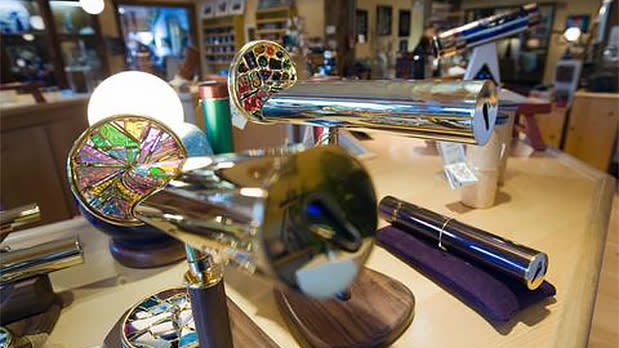 Experience the World's Largest Kaleidoscope with the Kaleidoshow. The Kaleidoshow is a visual and sound experience for all ages within the silo and viewed from the bottom up. Through tapered mirrors, the Kaleidoshow images are transformed into fractal figures and the storytelling begins. To view the show you can lie on the floor or lean against the wall. Grab a bite just a few minutes down the road at one of the state's most beloved restaurants, the Phoenicia Diner, about 20 minutes from Hunter. Everything on the kids menu is $7, from grilled cheese to waffles + a scrambled egg.
Share photos of your New York adventures on Instagram and Twitter with #ILoveNY and #iSpyNY and tag us on Facebook!