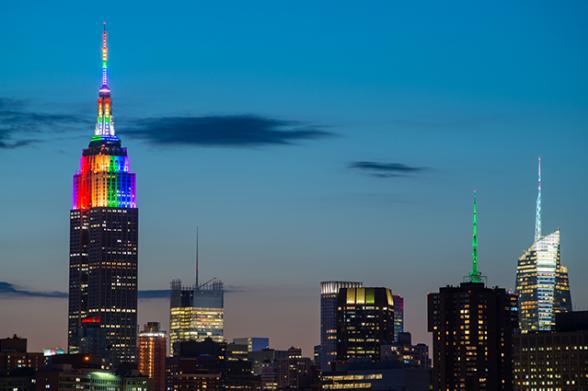 Pride is always an exciting time in New York, and this year's events bring with it an extra sense of hope. A touch of normalcy has returned and communities are gathering together in-person once again to celebrate Pride safely. 2022 highlights include the return of the NYC Pride March, the illumination of Niagara Falls in Pride colors, and Long Island Pride's newest location. At these and other Pride events in New York, LGBTQ New Yorkers and visitors will come together again in the birthplace of the modern movement to show love for each other, for the community, and for New York! 
Remember to social distance and wear a mask as required by state guidelines. Call ahead and check websites and social media to make sure attractions are open and available. 

Credit: Justin Boykin/PrideFest 2017
The NYC Pride March is back for its 53rd year and it'll be hosted by a slew of celebrity Grand Marshals including Saturday Night Live's Punkie Johnson. The parade kicks off at noon at 25th Street and 5th Avenue. And NYC PrideFest, the LGBTQ street fair, is back and not to be missed! Stop by 4th Avenue between 13th and 9th Streets in Manhattan for musical performances, entertainers, food, activities, and Pride gear from unique vendors. Lots of NYC Pride events are taking place in the days leading up to and following the Pride March and PrideFest. Events range from a circuit party to a symposium to a Broadway Sings concert honoring Taylor Swift. Be sure to check out all that's going on and start planning your NYC Pride adventures now! Sunday, June 26, PrideFest at 11 AM, Parade at noon, free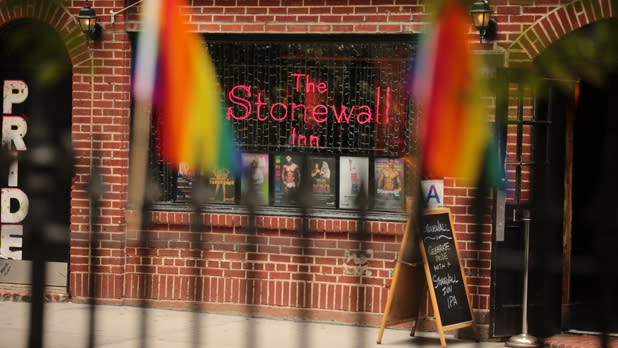 In the heart of Greenwich Village in Christopher Park, visitors can find the Stonewall National Monument, commemorating the events of the Stonewall Uprising of June 28, 1969 and the birth of the modern day LGBTQ civil rights movement that stemmed from there. Make sure to stop for a drink at the Stonewall Inn, the still-operating LGBTQ bar right across the street from the monument.
Buffalo Pride Week (Greater Niagara)
Buffalo Pride Week features a series of events to celebrate Pride both in-person and virtually across Buffalo and Western New York. On May 31, join Front Runners in Delaware Park for a 1.8-mile walk/run to show your Pride in the Greater Niagara region! Throughout the month of June, take part in WNY Pride 5K, a virtual run/walk that can be completed no matter where you are. Niagara Falls will be lit up with Pride colors on the night of June 1. Earlier that day, flag-raising ceremonies will be held at Artpark (9 AM), Niagara Falls State Park (10:30 AM), Niagara Falls City Hall (12 PM), and Lockport City Hall (2 PM). The week of celebration culminates on June 5 with the Pride Parade on Elmwood Avenue and Pride Festival at Canalside Buffalo. Main event, Sunday, June 5, 11 AM-7PM, festival $10, parade: free
Binghamton Pride (Central New York)
Pride Month 2022 in Binghamton begins with a ceremonial flag raising by Mayor Jared Kraham on Saturday, June 4 at noon. Pride Palooza this year will be held in Otsiningo Park. Bring your own picnic blankets or lawn chairs, and a to-go lunch from home or a nearby restaurant to enjoy while listening to live entertainment. Local food vendors will also be at the venue. Don't miss the drag show and The Binghamton Pride Idol Contest. Saturday, June 11, 12-6 PM, free
Westchester Pride is back for 2022! Your host for the day is Olivia Lux, former contestant on RuPaul's Drag Race. The day-long celebration will happen in downtown White Plains, kicking off with a flag raising in Renaissance Plaza. Later, don't miss the pet parade when fur babies and their adoring owners dress to impress and take to the runway. There will be a Family Zone with special games and treats  and Broadway Sings for Pride returns with Broadway stars and local performers belting out showtunes. Attend an afternoon panel discussion, "Ballroom: Beyond the Binary," followed by the annual Homecoming Queer walk-off. Speakers throughout the day will discuss challenges the LGBTQIA+ community continues to face. Sunday, June 5, 11:30 AM-5 PM, free

Celebrate Rockland Pride with a day of music, dancing, and fun for the whole family. Downtown Nyack will close its streets to traffic to allow for strolling, shopping, and dining. For the kids, there'll be face painting, bounce houses, and a picnic area with arts and crafts. Live performances by Frankie D and The Boys and other special guests will provide your live soundtrack. Don't miss the crowning of Mx. Rockland County Pride! Youth Pride Extravaganza, for middle- and high-school-age students, will take place at the Pride Center at noon. Sunday, June 12,12-5 PM, free
Come celebrate Brooklyn Pride with a week of exciting events, including Comedy Night at Branded Saloon and Pride Night with the Brooklyn Cyclones at Maimonides Park. Brooklyn Pride Day is on Saturday, June 11 with a street festival and entertainment stage, and the twilight Brooklyn Pride Parade starting at 7:30 PM. Bring the kids out on Sunday for Brooklyn Pride's first-ever Youth Pride. Main event Saturday, June 11, 11 AM-5 PM, free.
Black & Latin@ Gay Pride (Capital-Saratoga)

Credit: Getty Images
Join In Our Own Voices at their 16th Annual Say It Loud! Black & Latino Gay Pride Celebration. Black & Latin@ Gay Pride is an opportunity to celebrate the vibrance and contributions of Lesbian, Gay, Bisexual, Transgender, Queer + People of Color in the Capital Region. The main celebration is at Washington Park in Albany. The event will feature performances from London Jae Precise, Aja, Jewel the Gem, and many more. Main event, Saturday, June 11, 12-5 PM, free
Capital Pride 2022 (Capital-Saratoga)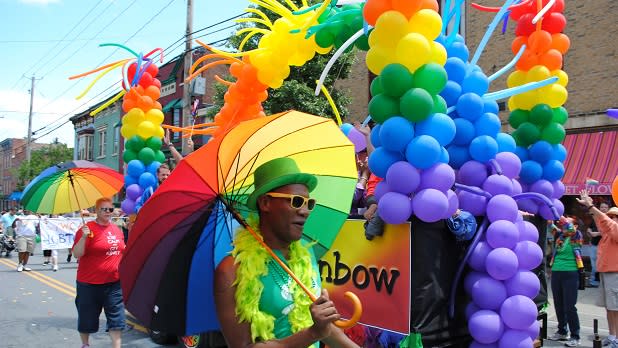 A signature Capital Region event returns for 2022 with the Capital Pride Parade & Festival, one of the largest Pride celebrations in the Northeast. The parade kicks off on State Street at noon, followed by a festival in historic Washington Park featuring live music, theatrical performances, and Albany's Annual Drag Revue. Capital Pride events are happening throughout the month of June, starting with a flag raising ceremony on June 1 at Albany City Hall and a Pride Kick-Off Block Party next to Waterworks Pub and Rocks. Main event, Sunday, June 12, 12-5 PM, free
Long Island Pride (Long Island)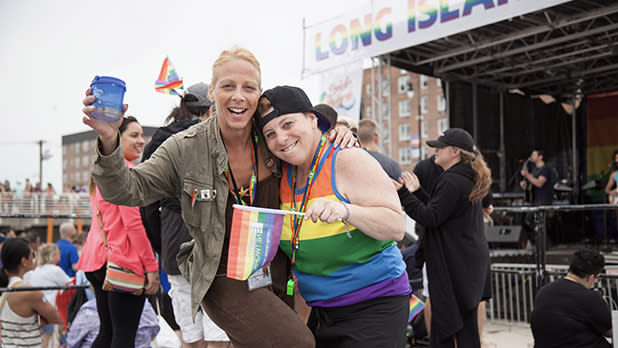 Long Island Pride is back and happening in a brand new location! For the first time ever, the event will be held in the Village of Farmingdale, and thousands of revelers are expected to fill Main Street, where the festivities will take place. The day-long celebration will include concerts and a festival with vendors, dancing, live performances, and plenty of food and drinks. The 32nd annual Pride Parade is back in full swing and fully in person for the first time since 2019. Sunday, June 12, 12-6 PM, free

Credit: The Corning Museum of Glass
Pride festivities begin in Centerway Square with Drag Queen Story Hour at 11 AM. At noon, radio personality Ally Payne will host activities, live trivia, and giveaways. When she signs off, a DJ will take over and spin tunes until 4 PM. Be on the lookout for the Pride Car Parade. It begins in Elmira at noon and the caravan of cars and trucks, adorned in Pride-themed regalia, should be making its way down Market Street around 12:45 PM. Corning businesses are celebrating Pride, too! Shops, restaurants, and cafes on Market Street will hold sales and special events like karaoke. The Corning Museum of Glass and The Rockwell Museum are offering free admission (June 4-12) to everyone who attends the Car Parade. Saturday, June 4, 11 AM-4 PM, free
All of Callicoon is coming together for Catskills Pride 2022. Entertainment will take place at several venues and local businesses will offer special food, drinks, and activities. Look for Callicoon Wine Merchant's Prosecco bar, and charcuterie boxes from Spruce Home Goods. Then party like it's prom night at The Callicoon Marketplace, whose merchants are coming together to provide 1970s dresses and tuxedos, and photo booths to capture you in those stylish threads. Callicoon Theater will feature LGBTQIA+ films and programming all day long. There'll also be an event to honor the 20th anniversary of the Day to be Gay Foundation, a non-profit founded locally to support LGBTQIA+ youth. 
The entire hamlet will be visually transformed by a professional event designer who is curating it with a Pride aesthetic. The focal point of events is Celebration Station, connecting Upper Main to Lower Main Street activities. This is where attendees can regroup and grab some shade, water, and snacks. The Catskills Pride afterparty will take place at the Delaware Youth Center from 8-11:30 PM. Tickets are $10 in advance and $12 at the door. All ages are welcome. Main event, Saturday, June 18, 1-6 PM, free

Courtesy of Cari Grace Knight
Celebrate Pride in the Thousand Islands all weekend long and beyond! Events kick off Friday at the historic Paddock Arcade, with The Paddock Club supplying food and drink specials. Then check out drag show performances at Savory Downtown. Get an early start on Saturday with a flag raising at City Hall. The event begins at 9 AM but arrive early–this draws a crowd. Coffee and donuts will be on hand, compliments of Dunkin'. At noon, head to Thompson Park for a 5k Color Run and Festival. That evening, the entertainment comes to you when a traveling drag show travels from bar to bar, gracing each one with a 20-minute performance. Saturday's events conclude with Pride Night Fireworks at Duffy Fairgrounds. On Sunday, wrap up Watertown Pride weekend with a Tea Dance at Garland City Beer Works, a local LGBTQIA+-owned brewery. 
Still in the mood to celebrate Pride in the Thousand Islands? Stick around for River Pride the following weekend, with celebrations taking place all along the St. Lawrence River in communities like Cape Vincent, Clayton, and Alexandria Bay. Main event, Saturday, June 18, 9 AM-3PM, free
After a two-year absence, the Rochester Pride Parade is back, thanks to the efforts of the ROC Pride Collective. Spectators should plan to watch beginning at 1 PM on Park Avenue. The parade ends at Cobb Hill Park, where the celebration of Pride and community continues with Pride Fest. There'll be food trucks, wine and beer for sale, vendor tables, games and activities, and a designated play area for kids. Expect live music all day long, complete with surprise performances. 2022 marks the return of Rochester Pride after a two-year absence. It's also the 50-year anniversary of Rochester's first organized Pride events. Saturday, July 16, parade 1 PM, free, festival 2-8 PM, general admission: $5. VIP: $50
Celebrate Pride in the historic neighborhood of Harlem in New York City. Festival-goers will be entertained all day long with live performances, celebrity hosts, and DJs to get everyone up and dancing. This is an event for the whole family. Food and retail vendors will be on hand and there'll be face painting and a Drag Queen Story Hour. While it's a day of celebration, Harlem Pride will also be providing practical resources for the community; attendees will find referrals for health, legal, and financial services. Medical testing and health screenings will also be available. Saturday, June 25, 12-6 PM, free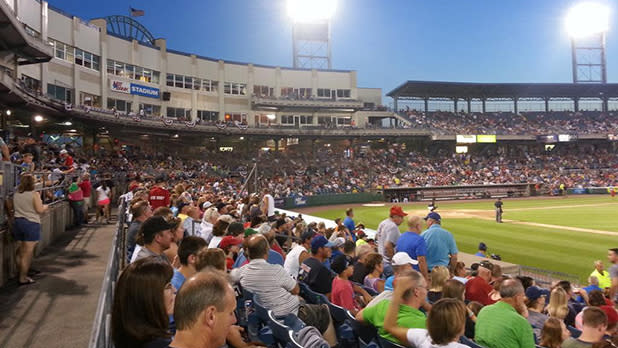 The Syracuse Mets will show their Pride at their annual Pride Night at NBT Bank Stadium. The first 500 fans to arrive at the game (against Scranton) will receive a Syracuse Mets Pride Jersey; a Pride flag goes to the first 1,000. Everyone at the ballpark is invited to take advantage of Dollar Thursday. Hofmann hot dogs, fountain beverages, and souvenirs will cost $1, and draft beers like Saranac and Labatt, as well as 1911 Hard Cider, will cost $2. A portion of the proceeds of tickets purchased from this link will go to CNY Pride. Fans can take their seventh-inning stretch at the 315 Bullpen Bar, where DJ Joe Driscoll will be spinning tunes. Thursday, June 9, 6:35 PM, ticket prices: $14-$18