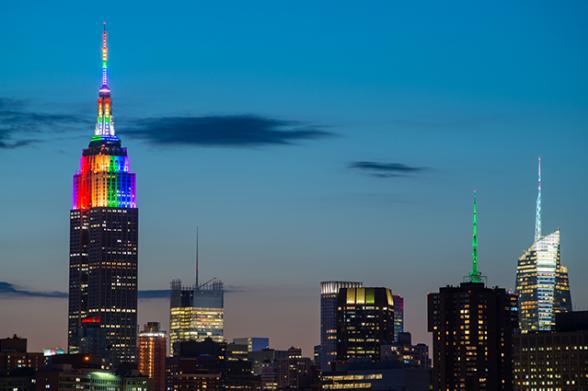 Credit: Getty Images
Pride is always an exciting time in New York, and 2023 is bringing a jam-packed lineup of fun and meaningful events all across the state. Highlights include the iconic NYC Pride March, illumination of Niagara Falls in Pride colors, and Pride Night with the Syracuse Mets. At these and other Pride events in New York, LGBTQ New Yorkers and visitors will come together again in the birthplace of the modern movement to show love for each other, for the community, and for New York! 
Masks are encouraged, but optional in most settings per New York State guidelines. Individual businesses or attractions may require mask wearing. Call ahead and check websites and social media to make sure attractions and amenities are open and available.

Credit: Justin Boykin/PrideFest 2017
NYC Pride March is back for its 54th year with the theme "Strength in Solidarity." The parade kicks off at noon at 25th Street and 5th Avenue. NYC PrideFest, the LGBTQ street fair, is back and not to be missed! Stop by 4th Avenue between 13th and 9th Streets in Manhattan for musical performances, entertainers, food, activities, and Pride gear from unique vendors. Pride Island takes over Brooklyn Army Terminal with headliner Christina Aguilera. Lots of NYC Pride events are taking place in the days leading up to and following the Pride March and PrideFest, including Youth Pride, a brunch featuring a curation of Juneteenth food stories and bites from amazing Black LGBTQIA+ chefs, and more. Be sure to check out all that's going on and start planning your NYC Pride adventures now! Sunday, June 25, PrideFest at 11 AM, Parade at noon, free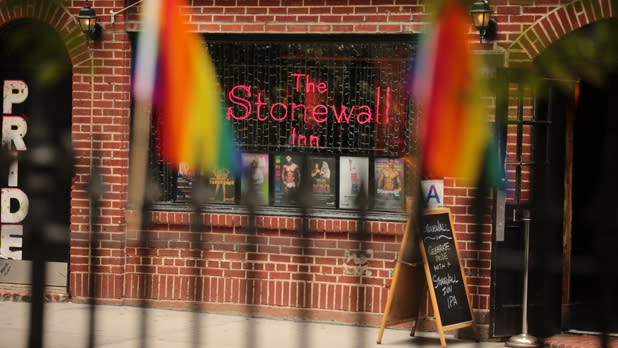 In the heart of Greenwich Village in Christopher Park, visitors can find the Stonewall National Monument, commemorating the events of the Stonewall Uprising of June 28, 1969 and the birth of the modern day LGBTQ civil rights movement that stemmed from there. Make sure to stop for a drink at the Stonewall Inn, the still-operating LGBTQ bar right across the street from the monument.
Binghamton is going all out for Pride Month, kicking things off with a Friday night dance party on June 2 followed by a ceremonial flag raising at City Hall at noon on June 3. Pride Palooza will be held in Otsiningo Park on June 10. Bring your own picnic blankets or lawn chairs, and a to-go lunch from home or a nearby restaurant to enjoy while listening to live entertainment. Local food vendors will also be at the venue. Fireworks will cap off the day's events in Downtown Binghamton with a Pride After Party to follow at the Lost Dog Cafe. Don't miss an adults only Pride Picnic at Greenwood Park and Pride Day at Ross Park Zoo also happening in June. Dates and prices vary
The charming small town of Skaneateles is going all out for their Pride celebration with a weekend of events that will allow residents and visitors to come together to celebrate, support, and learn about the LGBTQIA+ community. Join a drag brunch benefiting Upstate Golisano Children's Hospital, set sail on a Mid-Lakes Drag Cocktail Cruise, enjoy a magical story tale reading and tea party for families hosted by a glamorous drag queen, take a yoga class benefiting the Marsha P. Johnson Institute and The Trevor Project, strut down the village sidewalks to show off you and your pet's pride spirit at the Pride Pet Paw-rade & Sidewalk Sashay, and more! Even the governor will make an appearance at Clift Park to read a Pride month proclamation. June 3-4, prices vary by event.
Westchester Pride is back for 2023! The day-long celebration will happen in downtown White Plains, starting with a flag raising in Renaissance Plaza. Later, don't miss the pet parade when fur babies and their adoring owners dress to impress and take to the runway. There will also be a Family Zone with special games and treats, a concert stage, and a can't-miss after party! Sunday, June 4, 12PM-5 PM, free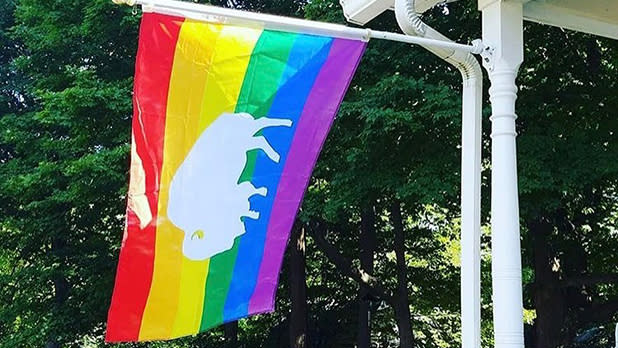 Buffalo Pride Week features a wide series of events to celebrate Pride across Buffalo and Western New York. On May 30, join the Buffalo Front Runners and Front Walkers in Delaware Park for a 1.8-mile walk/run to show your Pride in the Greater Niagara region! Niagara Falls will be lit up with Pride colors on the night of June 1. Earlier that day, flag-raising ceremonies will be held at Artpark (9:30 AM), Niagara Falls State Park (10:30 AM), Niagara Falls City Hall (11:30 AM), and Lockport City Hall (3:30 PM). The week of celebration culminates on June 4 with the Pride Parade on Elmwood Avenue and Pride Festival at Canalside Buffalo. Main event, Sunday, June 4, 11 AM-7PM, parade: free, festival talent and ticket information coming soon
Ithaca will celebrate and honor the LGBTQIA+ community with a special week of events that all starts with the Ithaca Pride Parade on Friday, June 9. The fun continues Saturday with the Ithaca Pride Block Party from noon-6pm in downtown Ithaca with even more events being planned through June 18.

Come celebrate your Pride the Brooklyn way! Kick off your day with a morning 5K LGBTQIA+ fun run through scenic and historic Prospect Park. Then it's time to head over to Park Slope's 5th Avenue for the Brooklyn Pride Festival and Main Stage featuring local, national, and international talent, plus a family fun zone complete with music, face painting, storytime and more! End the day with NYC's only twilight parade in a celebration of Pride and heritage. Bring the kids out on Sunday, June 17 for Youth Pride. Main event Saturday, June 10, 11 AM-5 PM, free.

Credit: The Corning Museum of Glass
Southern Finger Lakes Pride is getting ready to take over Market Street with a joyous celebration that promises to be bigger and better than ever. The colorful event will feature art everywhere from window painting to live art demonstrations, live performances, a walking history tour in honor of this year's theme which is LGBTQ+ History, and a 21+ tent with wine and beer tastings. Other events include an unforgettable drag and dance party at the Corning Museum of Glass and a youth night, both happening Friday, June 9. Saturday, June 10, 12-4 PM, free
Potsdam Pride (Thousand Islands-Seaway)
Potsdam is celebrating Pride with a weekend full of events honoring diversity, equality, and the LGBTQ community. There will be a student art exhibit, drag show featuring the legend Miss Amber Skyy, yoga in the park, a free community Pride festival with music, art, vendors, community resources, kids' activities, and more at Ives Park, and a special all-ages Pride Prom. June 8-10, prices vary per event.

Credit: Getty Images
All are welcome at Washington Park in Albany on June 10 as In Our Own Voices hosts Say It Loud! BI POC Pride. The event recognizes the contributions, resilience, and struggles of LGBTQIA+ Black, Indigenous, and People of Color in the Capital Region through music, food, entertainment, and more. Head over to Waterworks Pub for the official after party featuring Widow Von'Du of RuPaul's Drag Race fame. In Our Own Voices is celebrating Pride all throughout June with a series of events including a community barbecue, block party, and Renaissance House Ball paying homage to Beyonce. Main event, Saturday, June 10, 12-5:30 PM, free

Credit: Mike Groll/Office of Governor Kathy Hochul
A signature Capital Region event returns for 2023 with the Capital Pride Parade & Festival, one of the largest Pride celebrations in the Northeast. The parade kicks off on State Street at noon, followed by a festival in historic Washington Park featuring live music, theatrical performances, and Albany's Annual Drag Revue. Capital Pride events are happening throughout the month of June, starting with a flag raising ceremony on June 1 at Albany City Hall. Main event, Sunday, June 11, 12-5 PM, free
Celebrate Rockland Pride with a day of music, dancing, and fun for the whole family. Downtown Nyack will close its streets to traffic to allow for strolling, shopping, and dining. For the kids, there'll be face painting, bounce houses, and a picnic area with arts and crafts. Live performances by David Budway and other special guests will provide your live soundtrack. Don't miss the crowning of Mx. Rockland County Pride! Youth Pride Celebration, for middle- and high-school-age students, will take place at the Pride Center at noon. Sunday, June 11,11AM-5 PM, free
The 22nd Annual Long Island Pride Parade and Festival is heading to Huntington. The festivities will kick off at 12:30 on Main Street with the all-new High Heel Race (bring your own or borrow a pair on site). The parade steps off at 1PM on New York Ave and proceeds down Main Street to Heckscher Park where the fun continues with PrideFest featuring an all-star entertainment line-up including Frenchie Davis, La Bouche, Reina, Lucas Prade, Veronica plus local performers and live DJs. Sunday, June 11, 12-5 PM, free
Catskills Pride is kicking things off early on Sunday, May 28 with the Countdown to Pride Dance Party at Catskill Provisions in Callicoon. On June 17, make your way to the Forestburgh Playhouse for the Pride BBQ featuring live music and entertainment plus a classic menu of hot dogs and hamburgers (vegan and vegetarian options will be available). The fun doesn't stop with Pride Month. Don a vest and grab a paddle to join the Divas Down the Delaware rafting event (July 29) that wraps up with a fun barbecue after a day out on the water. Dates and prices vary


Courtesy of Cari Grace Knight
Celebrate Pride in the Thousand Islands all weekend long and beyond! Events kick off Friday, June 16 at the historic Paddock Arcade, with The Paddock Club supplying food and drink specials, followed by drag show performances. Get an early start on Saturday with a flag raising at City Hall. The event begins at 9 AM but arrive early–this draws a crowd. At noon, head to Thompson Park for a 5k Color Run and Festival. That evening, the entertainment comes to you when a traveling drag show travels from bar to bar, gracing each one with a 20-minute performance. Saturday's events conclude with Pride Night Fireworks at Duffy Fairgrounds. On Sunday, wrap up Watertown Pride weekend with a Tea Dance at Garland City Beer Works, a local LGBTQIA+-owned brewery. Still in the mood to celebrate Pride in the Thousand Islands? Stick around for River Pride the following weekend, with celebrations taking place all along the St. Lawrence River in communities like Cape Vincent, Clayton, and Alexandria Bay. Main event, Saturday, June 17, 9 AM-3PM, free
Celebrate Pride in the historic neighborhood of Harlem in New York City. Festival-goers will be entertained all day long with live performances, celebrity hosts, and DJs to get everyone up and dancing. This is an event for the whole family. Food and retail vendors will be on hand and there'll be face painting and a Drag Queen Story Hour. While it's a day of celebration, Harlem Pride will also be providing practical resources for the community; attendees will find referrals for health, legal, and financial services. Medical testing and health screenings will also be available. Saturday, June 24, 12-6 PM, free
Rainbow City Pride (The Official Pride of Niagara Falls) will take over Old Falls Street for a grand celebration featuring unicorn-drawn carriage ride, superheroes from the Justice League of WNY, performances by DivasWho! and The Buffalo Gay Men's Chorus, and loads of local vendors and food trucks selling plenty of goodies. June 24, 12-5PM, free
The Adirondacks will come alive with Pride in Saranac Lake's beautiful Riverside Park. All are invited to this family-friendly event to stand together side by side to promote diversity in all its aspects, love, acceptance, respect and unity. The festivities kick off with a parade up Broadway to the park where the celebration continues with vendors and exhibits from across the Tri-Lakes, raffles, guest speakers, and music. Sunday, June 25, 2023, 12:00 pm - 4:00 pm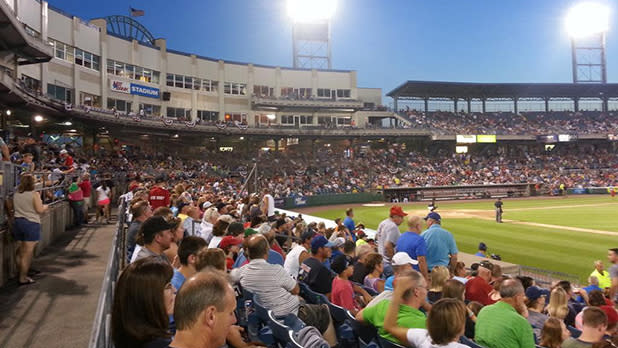 The Syracuse Mets will show their Pride at their annual Pride Night at NBT Bank Stadium. The first 1,000 fans to arrive at the game (against Scranton) will receive a Syracuse Mets Pride Jersey and Pride flag. Everyone at the ballpark is invited to take advantage of Dollar Thursday. Fountain drinks and a featured souvenir will cost $1, Hofmann hot dogs and Coneys will be going for $2, draft beers like Saranac and Labatt, as well as 1911 Hard Cider, will cost $3. Thursday, June 29, 6:35 PM, ticket prices: $14-$18.
Celebrate the accomplishments and history of the LGBTQ+ community at one of New York State's largest Pride festivals north of New York City. The Rochester Pride Parade steps off at 1PM on Park Avenue and the fun continues at Cobb Hill Park with ROC Pride Fest. There'll be food trucks, wine and beer for sale, vendor tables, games and activities, and a designated play area for kids. Expect live music all day long, complete with surprise performances. Find even more chances to celebrate with events happening throughout June and July at Seneca Park Zoo, Seabreeze Amusement Park, and other exciting venues. Saturday, July 15, parade 1 PM, festival 1-8 PM.
---
Want to be featured on our social? Tag us on Facebook, Twitter, Instagram and TikTok with #NYLovesSummer and #ISpyNY!