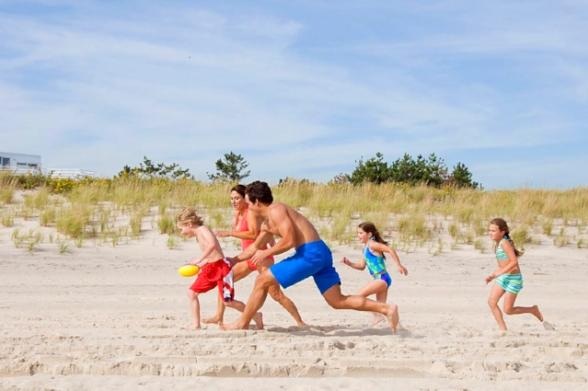 Credit: NPA Photo/  J.Peters
Long Island is world-famous for its stunningly scenic beaches. From the rockier shores and calmer waters of North Shore to the white sands and perfectly surfable waves of South Shore, there are so many options it's hard to choose where to start! That's why we've created your summer guide to Long Island beaching featuring where to go and what to do. Check out these eight destinations which make up a perfect sampling of the country's best beaches to visit before the summer ends. Now get ready to soak up some sun!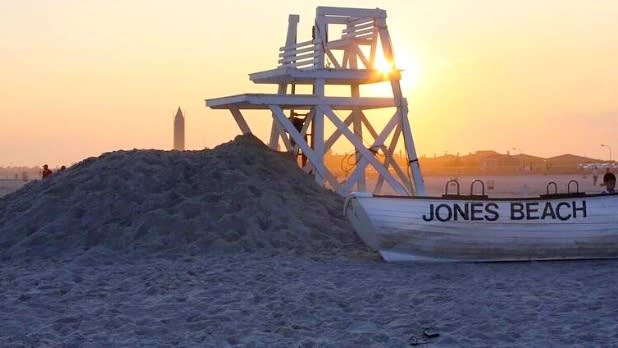 With six and a half miles of shoreline, Jones Beach State Park has something for everyone, making it a favorite spot of the millions of visitors who come each year. The Park is split into different parking fields, each with its own bathroom and changing area. You only need to buy one $10 parking pass and you're free to move between the fields. From Fields 3, 4, and 5, you can walk to the shore via tunnels under the Ocean Parkway. Fields 2 and 6 have parking close to the beach, as well as mobility mats, making them an easier option if you're traveling with strollers or just a ton of beach gear. Families can splash around in the designated lifeguarded areas, while surfers can hang ten on the choppy Atlantic waves farther out from shore.
When you're ready for a break from the water, head over to the boardwalk to stroll, bike, or blade. For something a little different, visit the East Games Area where the adult section has shuffleboard courts, concrete table tennis, a bocce ball court, bean bag toss, teak lounges, and seating with umbrellas. Kids can enjoy the children's section with a splash pad adventure course. Fishing without a permit is allowed until sunset at the designated pier in Field 10, where you'll find a bait and tackle shop.
Head to the Central Mall, East and West Bathhouses, and Fields 1, 2, and 6 for concession stand classics like curly fries and soft serve, but also rice bowls, grass-fed burgers, and made-to-order thin-crust pizza. The Central Mall's Boardwalk Café offers 7,700 square feet of food and beverage options in a Market Hall environment and additional outdoor seating with a view. For a nice sit-down meal with locally sourced products and NYS beers and wines, visit the Landing at Jones Beach, where they also do special events.
Before heading to Jones Beach, check the summer concert schedule to see who's coming to play Northwell Health at Jones Beach Theater, a 15,000-seat outdoor amphitheater right on the beach. One last tip: The beaches can get especially busy on weekends, so arrive as early as you can!
Getting there: The non-stop n88 bus departs from Freeport LIRR station every 60 minutes on weekdays, and every 30 minutes on weekends to the Jones Beach State Park's two Bathhouses and the Central Mall from 8:30 am to 8:30 pm. The last bus heading back to Freeport leaves at 8:55 pm daily. You can also take a 10-minute cab ride from the Freeport station
Accessibility: Free beach wheelchairs available on a first-come, first-served basis. Wheelchair accessible ramps are located on the west side of the Field 6 parking lot.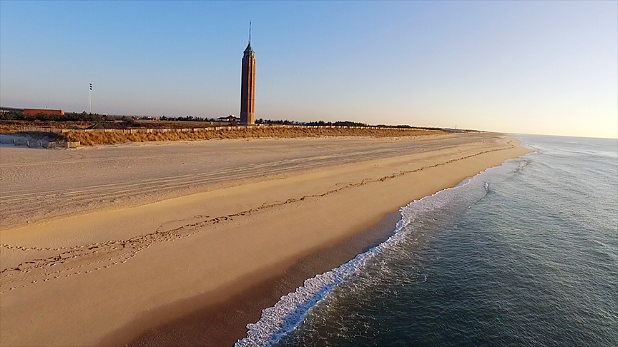 You can find the quintessential laid-back beach experience at scenic Robert Moses State Park, easily accessed from the Robert Moses Causeway. Like Jones Beach, the five miles of shoreline are divided into five parking fields with a parking fee of $10/car. Four of the five are staffed with lifeguards and perfect for swimming and boogie-boarding. Each field has its own concessions, bathrooms, outdoor showers, and shops. Hit up Fields 2, 3, and 4 for picnic benches and grills, and—get this—Fields 2 through 5 have free wifi! When you're done splashing around, check out the 18-hole pitch-and-putt golf course by Field 2, or the fantastic views of the park's water tower from Field 3. Finally, families cannot miss a stop at Field 5, which offers a large playground, boardwalk, and a nature trail leading to the Fire Island Lighthouse, which has its own exhibits and educational programs.
Getting there: Take the LIRR train to Babylon Station and walk downstairs for the S-47 Suffolk Bus to Field 3 (the last bus departs Robert Moses at 6:30 pm daily), or take a 17-minute cab ride.
Accessibility: All beachfronts are wheelchair-accessible (you can use a free beach wheelchair on a first-come, first-served basis from a first aid office in any of the fields), and Fields 2, 3, and 5 have mobility mats.

Speaking of Fire Island, the 32-mile-long barrier island has been designated a National Seashore and is only accessible by passenger ferry—so you can enjoy the sights without a car horn in earshot. The island is a famous LGBTQ-friendly haven, given that two of the 17 communities, Cherry Grove and Fire Island Pines, were the first places in the country to embrace all sexualities. Thanks to its no-car-policy, the most common modes of transportation include bikes, water taxis, golf carts, and feet, granting the island a laid-back, neighborly atmosphere where folks will happily greet one another as they cross paths.
The Fire Island National Seashore includes the lighthouse, as well as the historic William Floyd Estate (actually on the mainland of Long Island). Take a tour of the house of William Floyd, a signer of the Declaration of Independence, or sign up for a free guided hike of the island's gorgeous Sunken Forest, a maritime holly forest. Families will also love the largest community on Fire Island, Ocean Beach, as it contains much of its downtown. The beachfront is lifeguarded, equipped with bathrooms, and access is totally free. Plus, the village is packed with shops and fresh seafood restaurants, all within walking distance from the beach. One thing to note—Ocean Beach does have a few strict rules, such as no eating on the beach or even on streets outside of the downtown, and no biking from Friday 7 pm to Sunday 7 pm.
Getting there: Use the Fire Island Ferries from Bay Shore and the Davis Park Ferry from Patchogue. You can also use the Sayville Ferry Service from Sayville. Get to Sayville by taking the LIRR to the Sayville train station, and then take a taxi to the Sayville Ferry Service terminal.
Accessibility: Only certain sections of trails are wheelchair accessible in each area of the Fire Island National Seashore, so it's best to call the specific site you plan to visit for particulars. There is a free beach wheelchair available on a first-come, first-served basis at the visitor center. At the William Floyd Estate and the Fire Island Lighthouse, only the first floor is accessible to wheelchairs but exhibits are concentrated on the first floors. To get to Ocean Beach, there is a wheelchair ramp that extends to the beach on Bungalow Walk, and a beach wheelchair is available on a first-come, first-served basis. The local police station has volunteer-run senior golf cart rides you can arrange by calling the station at (631) 583-5866.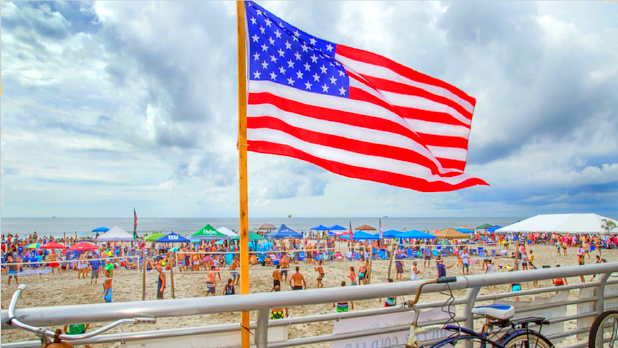 Long Beach is home to the famous 2.2-mile boardwalk, rebuilt and redesigned just one year after Hurricane Sandy destroyed it in 2012. The beach is only about an hour from Penn Station and is easily accessible by the LIRR, so it does tend to draw crowds. Beach access is $15 per day for non-residents (children ages 12 and under are free), but it's well worth the cost. Between the volleyball nets nestled in the sand, ideal surfing water, kayaking, swimming, and brand new umbrella and Beach Comfort chair rentals, this beach does a great job of being user-friendly.
Be sure to grab a bite at Shoregasboard, the aptly named food truck park, or at one of the incredible restaurants along the strip, with options including Korean BBQ, Peruvian cuisine, deep-dish Chicago pizza, and more. Families should swing by the large shipwreck-themed Magnolia Boulevard playground just off the beach. If you're looking for an overnight beach getaway, Allegria Hotel, the only luxury oceanfront hotel in the area—right on the boardwalk, is a fun and easy option.
Getting there: Take the LIRR to Long Beach Station, then walk to the beach.
Accessibility: $15 Access Passes good for the whole season are available for people with disabilities at the season pass trailer. All-terrain beach wheelchairs are available upon request at all beaches. Patrons can arrange for a beach wheelchair at a specific time and location ahead of time by calling Lifeguard Headquarters at (516) 431-1810 or asking a gate attendant.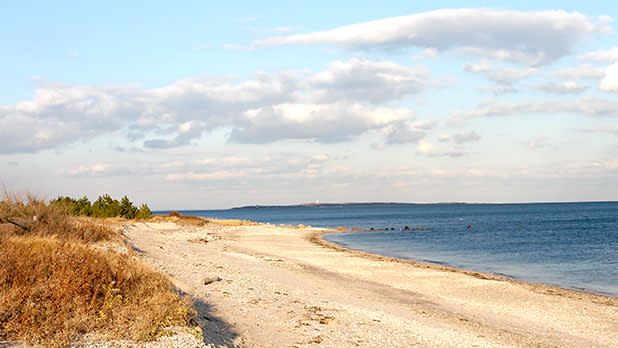 Like Long Island's other North Shore beaches, the Orient Beach facing Gardiner's Bay is more rocky than it is white-sandy (great for starting/continuing your beach rock collection!), but it's a nature lover's paradise. A two-mile paved road will bring you from Route 25 to the beach, park, and playground for a $10/car day-rate. The bay waters are relatively calm, making them perfect for swimming, especially with little ones. The area is lifeguarded between 10 am and 5:30 pm and restrooms and concessions are close by. Orient Beach is now a United States Lighthouse Society Passport Stamp Location. Kids will be delighted when their passports get stamped at the Orient Point Lighthouse!
What makes Orient Beach so special is its rare, maritime forest full of red cedar, oak trees, and prickly pear cacti, a designated National Natural Landmark! The park also includes a saltwater marsh and plentiful wildlife. In fact, it's been recognized as an Audubon Important Bird Area, so if you're curious to see great blue herons, egrets, and osprey, don't forget to bring along the binoculars! Get deeper into the wild on the park's nature trails and bike paths, and enjoy lunch on one of the many picnic tables or grills. Kids will love the two sandy ocean-themed playgrounds, one for ages 2 to 5 and the other for ages 5 to 12.
Getting there: Take the LIRR to Greenport station then take a 12-minute cab ride to the beach.
Accessibility: Two beach wheelchairs are available on a first-come, first-served basis at the lifeguard station.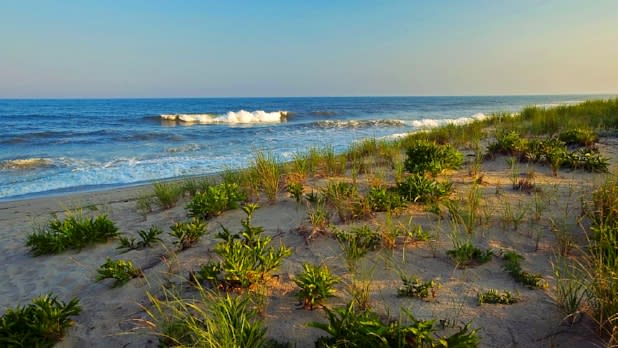 Get your summer fun in at "The End" of Long Island, aka Montauk in East Hampton. The area has a number of beaches, but Hither Hills State Park is one of two which don't require a resident permit to enter. All you need to pay is the $10 car fee, or take the train from Penn Station, get off at the Montauk stop, and bike or cab the short stretch to the beach. North of Hither Hills, find a sandy beach with the famous "walking dunes" of Napeague Harbor, mounds of sand up to 80 feet tall that actually morph and move over time. You can take the less-than-a-mile-long loop trail from the beach up to a dune ridge, and pass a cranberry bog and the "Phantom Forest," a forest of dead trees, on the way back.
Back at the beach, you'll easily find bathrooms, changing areas, picnic tables, and even a campground that overlooks the beach (camping permits can sell out months in advance, so take note for next year!). You don't need a permit to fish during the day, and birdwatchers will be delighted to explore the Napeague Bird Conservation Area. The park has a small playground for kids, and better yet, weekly sandcastle-building contests every Thursday through the end of August. Think you've got what it takes to win?
Getting there: Take the LIRR to East Hampton train station and take a 22-minute cab ride.
Accessibility: The main beach entrance and general store are both wheelchair accessible and they have two beach wheelchairs free to use on a first-come, first-served basis.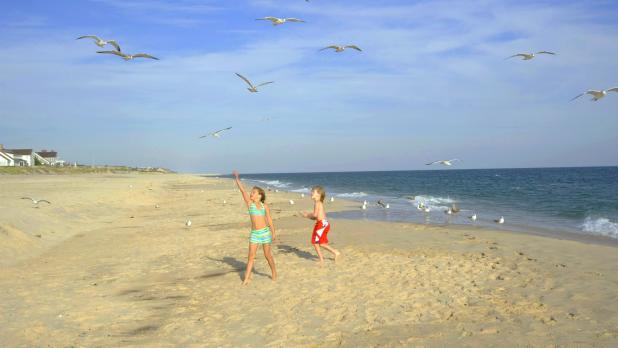 We'll get this out of the way: yes, Cooper's Beach is the most expensive beach on this list, coming in with a $50 parking fee. However, it's also been rated as one of the top beaches in the nation by esteemed expert, "Dr. Beach," thanks to its soft, white-sand beaches, sweeping dunes, and views of gorgeous Gatsby-esque mansions. Hot tip: park on Halsey Neck Lane across from the beach and walk 5 to 10 minutes (be cautious of other streets, most don't allow parking). Cooper's is the only Southampton beach with an on-duty lifeguard, plus you'll find showers, umbrellas and chairs for rent, and a concession stand.
Getting there: Take the LIRR to the Southampton stop and take a 10-minute cab ride or bike.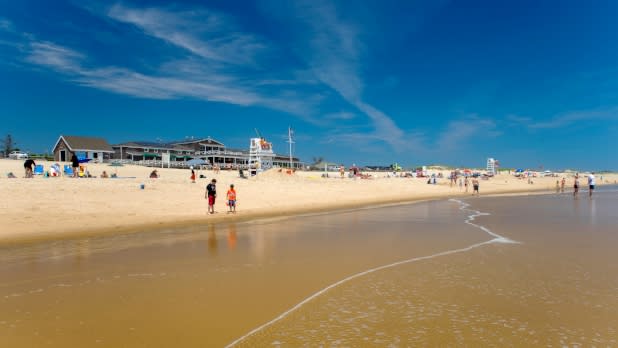 If you have a vision in your mind of an idyllic Atlantic beach, it probably looks something like Long Island's clean and quiet Main Beach in East Hampton, another favorite of Dr. Beach. Though not as steep as Cooper's Beach, there is a $25 parking fee. You can also park at the Long Term Lot next to the YMCA at no cost and hop on the Free Ride, a free electric car service (from 9 am to 6 pm). You'll get a nice scenic drive through East Hampton as a bonus! You'll find a pavilion with bathrooms (but note that they close at 5 pm, the same time as when the lifeguard is off duty), outdoor showers, a cash-only snack counter where you can order chicken tenders and burgers, and a covered outdoor picnic area to chow down after you're finished swimming.
Getting there: Take the LIRR to East Hampton then take a seven-minute cab to the beach.
Accessibility: There are wheelchair-accessible ramps to the beach.
Don't forget to share your summer vacation with us! Share New York State pictures on Instagram and Twitter with #FindWhatYouLoveNY and tag us on Facebook!