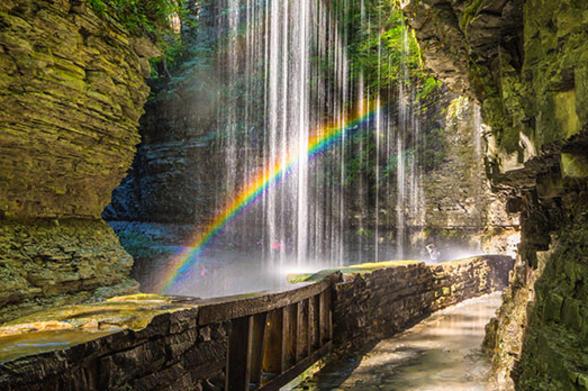 Watkins Glen in the Finger Lakes is a wonderful example of a small town in upstate New York with a big story (other good examples are Seneca Falls and Cooperstown). While there may be fewer than 2,000 year-round residents, Watkins Glen is also home to world-class attractions like gorge-ous Watkins Glen State Park and Watkins Glen International, the only place to watch NASCAR in the state. Don't worry about the planning, we've done it all for you.
Masks are encouraged, but optional in most settings per New York State guidelines. Individual businesses or attractions may require mask wearing. Call ahead and check websites and social media to make sure attractions and amenities are open and available.
Updated: 6/6/2023
FRIDAY
6PM: Set Sail on Seneca Lake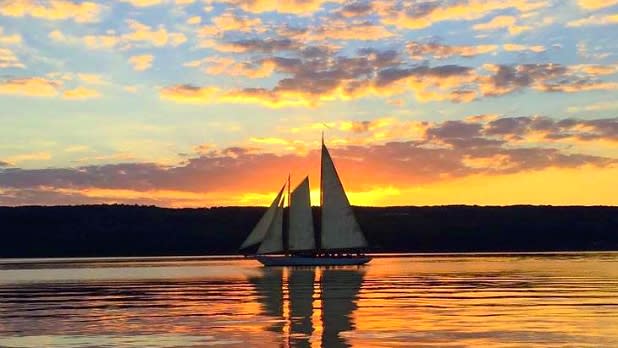 Start off your weekend chasing the sunset during a peaceful sail on Seneca Lake with Schooner Excursions. Even if you're not familiar with the 1956 movie High Society, in which the Schooner sailing vessel named "True Love" guest stars along with Grace Kelly and Frank Sinatra, you'll fall truly in love with this area and be assured right away how great your weekend is going to be. Friday evening sunset sails sell out quick, so be sure to reserve ahead of time.
8 pm: Dig in at Nickel's Pit BBQ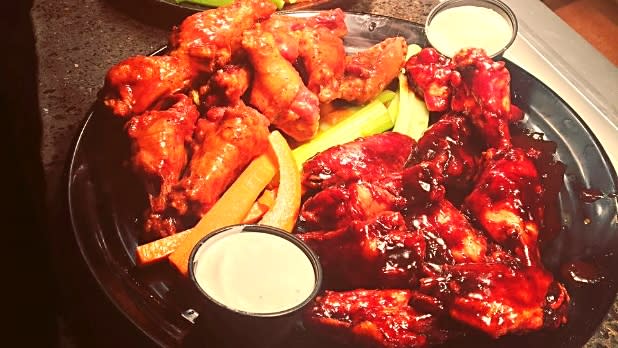 Nickel's Pit BBQ has some of the best barbecue in the area—from classics like brisket and chicken to fried ribs (aka "pig wings") and fried jalapenos…can't decide? Try Nickel's Split BBQ (pulled pork, brisket, kielbasa, smoked turkey, ¼ chicken, ¼ rack, 5 wings, 3 pig wings, 2 sides, and cornbread) or choose between the pulled pork, brisket, kielbasa, or turkey with the Choose 3 combo.
SATURDAY
9 am: Breakfast at Glen Mountain Market Bakery & Deli
Grab delicious fresh pastries (like breads, cinnamon rolls, and croissants) and a cup of locally brewed coffee and walk two blocks north to Seneca Lake to enjoy the morning calm before your busy day. If you'd like something more hearty, peruse Glen Mountain Market's menu of breakfast sandwiches like "The Boss" (a farm fresh egg, bacon, pepper-jack cheese, onion, banana peppers, tomato, and hoagie sauce in a wrap) or "The Freak" (a farm fresh egg, turkey, gouda, and chipotle hot sauce on a bagel).
10 am: Visit the International Motor Racing Research Center

Credit: Anthony Bristol Images
Watkins Glen has a great history of car-racing under its belt. The first American road race after WWII was held here and was known as "the Day the Trains Stopped" because rail service was suspended so racers could drive over the train tracks on the course before Watkins Glen International was built. Before experiencing the famous track yourself, learn more about this history at the International Motor Racing Research Center. With free admission for all, visitors can peruse the extensive collection which includes historic photographs, film, oral histories, memorabilia, racing artifacts, and records of famous drivers.
12 pm: Get Your Motor Running at Watkins Glen International

Credit: ISC/Getty Images
Check the schedule at Watkins Glen International to see what events you'll encounter during your visit. During summer months, catch racing events such as Sahlen's Six Hours of The Glen in June and Go Bowling at The Glen in August (the only NASCAR race in NYS). September brings the Hilliard United States Vintage Grand Prix. On non-racing weekends, you might find a special event like Finger Lakes Wine Festival in July, featuring the best of over 60 wineries in New York State. You can also drive around the racetrack yourself as part of the "Drive The Glen" program. Buy tickets ahead of time.
4 pm: Sip Your Way Along the Seneca Lake Wine Trail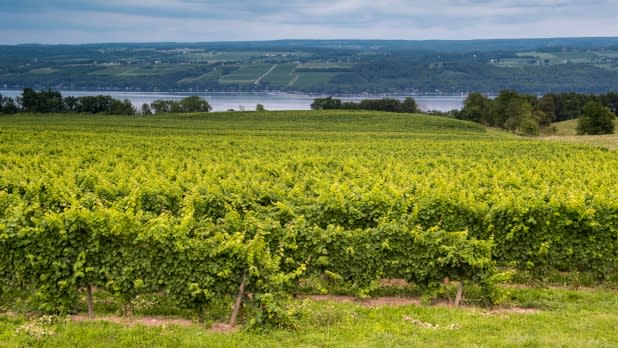 After all that action, you'll want to relax, and what better way to do so than with a glass of the Finger Lakes' famous wine in hand? You'll find 27 wineries up and down the shores of Seneca Lake, many with tasting rooms offering up spectacular views. Try the sparkling wines and Rieslings of Glenora Wine Cellars, the inspired-by-nature wines of Chateau LaFayette Reneau, or the selections at the family-run (& family-friendly) Lakewood Vineyards.
7 pm: Dinner at Stonecat Cafe

Credit: Erin Faherty
The menu at Stonecat Cafe has changed frequently over the last 20 years, as Chef (and owner) Scott Signori uses local ingredients, delivered daily from area farms. To whet your whistle, previously featured dishes have included chicken under a brick, scallops, cornmeal-crusted catfish sandwiches, and duck confit. The chef recommends a paired beverage (including local Finger Lakes wines) for each item and lists out which farm each ingredient comes from so there are no surprises—aside from how delicious everything is. Open seasonally, April-November,, reservations are highly recommended.
SUNDAY
9 am: Breakfast at Blue Pointe Grille

Credit: Photo Courtesy of Watkins Glen Harbor Hotel
An upscale dining experience with views of Seneca Lake, Blue Pointe Grille serves up classic and affordable American cuisine for the whole family every day of the week. Located within the Watkins Glen Harbor Hotel (pictured), try breakfast favorites like buttermilk pancakes and Belgian waffles, the Harbor Breakfast, or three styles of omelets. Grab some muffins to reward yourself at the end of the day after your final activity.
11 am: Explore Watkins Glen State Park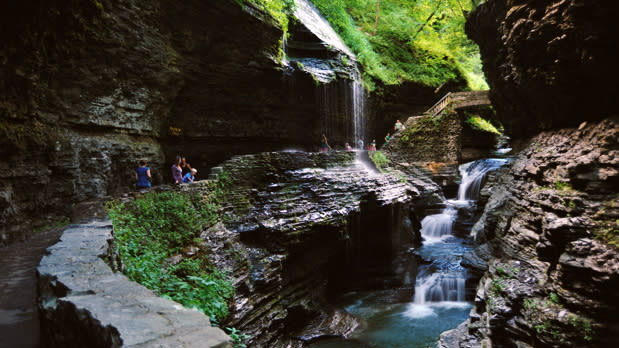 Before heading back home, get a few more glimpses of the beautiful nature in this area at Watkins Glen State Park, one of the top state parks in the country, according to readers of USA Today. Climb up and down and in between rocks that are more than 300 million years old on the easy stone pathways of the 2.4-mile-long Gorge Trail, passing 19 (!) waterfalls along the way, including some you can walk behind or under—like the famous Rainbow Falls. If it's a hot one, we wouldn't judge you for hanging out by the waterfalls, but you should also know the park has an Olympic-sized pool.
HOTEL RECOMMENDATIONS
Luxury: Watkins Glen Harbor Hotel
Mid-Range: Longhouse Lodge
Budget: The Hotel Laurel at Seneca
GETTING THERE
By car:
From Albany: 3 hours, 30 minutes
From Buffalo: 2 hours, 30 minutes
From NYC: 4 hours, 30 minutes
Closest Airports:
Elmira/Corning Regional Airport: 30 minutes
Ithaca Tompkins Regional Airport: 40 minutes
Greater Binghamton Airport: 1 hour, 30 minutes
Syracuse Hancock International Airport: 1 hour, 40 minutes
Frederick Douglass–Greater Rochester International Airport: 1 hour, 40 minutes
By train:
Amtrak to Syracuse or Rochester
By bus:
Greyhound to Ithaca or Geneva
---
Don't forget to post photos of your New York adventures on Instagram and Twitter with #iSpyNY and tag us on Facebook!