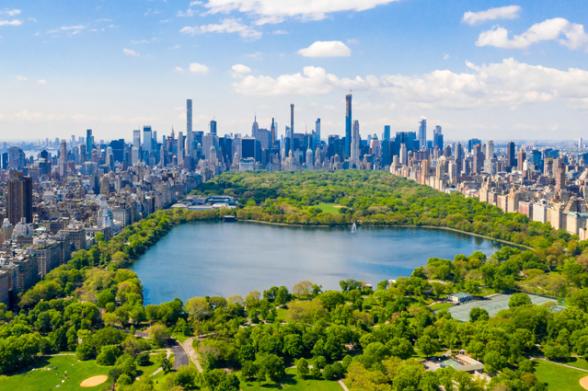 Updated: June 30, 2023
New York City is full of accessible attractions that are ready to welcome visitors of all abilities, from world-class museums to hidden gems that you've got to see to believe they're in New York. From navigating public transportation to picking an accessible place to eat, let this be your guide to a New York that is welcoming to all. As a wheelchair user and almost life-long New Yorker, these are some of my favorite things to do and tips and tricks to navigating the city on wheels.
Jump To: Midtown | Uptown | Chelsea | Downtown | Bronx | Where to Stay | How to Get Around | Tips
Masks are encouraged, but optional in most settings per New York State guidelines. Individual businesses or attractions may require mask wearing. A group of local residents developed a handy guide to local attractions and shops that are choosing to require masks. As the situation and policies may change, call ahead and check websites and social media to make sure attractions and amenities are open and available during your visit. 
WHAT TO DO
DAY 1: Be in the Heart of It All in Midtown
Start your day in Times Square! While the area is often extremely crowded, going in the morning will help you avoid the masses, making rolling around and finding the perfect selfie spot all the easier. Unless you're grabbing a hot dog or some steaming hot candied nuts from a street vendor, you'll be better served to do your eating in Hell's Kitchen. A stroll down Ninth Avenue or 10th Avenue between 42nd and 54th streets will reveal a foodie haven filled with authentic cuisine choices spanning Afghanistan, Thailand, Italy, Peru, and so much more.  
From Times Square, you'll be in walking or rolling distance from all the Broadway theaters. Stop by the box office to secure your accessible seats. Each Broadway show reserves several seats in the orchestra for wheelchair users and up to three companions, as most theaters have no elevator access to the mezzanine. All theaters, except for the Shubert, have accessible restrooms (Shubert patrons can use the restroom at Sardi's across the street from the theater).
If you're looking to see a popular show, you can also call the box office when planning your trip to secure accessible seating in advance. Broadway shows are mask-optional, but if you are looking for a more COVID-safe option, some off-Broadway theaters require masks or require masks for certain performances. 
If you're traveling with kids, or just want to get in touch with your inner 007, a visit to Spyscape, a museum dedicated to the history, art, and science of espionage is a must. Here you can uncover your superpowers and discover what type of spy you'd be through a series of interactive exhibits. 

Credit: @bigjerbearr on Instagram
Make your way to Rockefeller Center and head up to the Top of the Rock (pictured) for a bird's eye view of the city. Many popular NBC shows are taped at 30 Rockefeller Center. You can learn how to reserve tickets to be a part of the studio audience during tapings of SNL, Fallon, and more at NBC.com. If you're an early riser, you can join the crowd outside the Today Show studio to see all your morning faves in person. Every Friday during late spring and summer months, the Today Show hosts free concerts with top music acts that have ranged from Celine Dion to Harry Styles and Lizzo. There is a separate ADA section and guests with disabilities are instructed to go to the front of the check-in line, and inform the TODAY Plaza staff or security of their accessibility needs. 

Credit: Anna Pakman
The Rockefeller Center area is also great for shopping. You'll find everything from major brands like Kate Spade New York (be sure to check out the I LOVE NY collection!) (pictured) to the iconic FAO Schwarz toy store to La Maison du Chocolat, where you'll find some of the world's most delicious chocolate concoctions. Whether you're just window shopping or looking to add a bit of couture to your wardrobe, you'll find runway-worthy looks at the luxury boutiques lining Fifth Avenue.

Credit: Phoebe Baker 
Head down to Bryant Park (pictured) to relax in the shadow of the Beaux-Arts main building of the New York Public Library, whose very Instagram-able Rose Main Reading Room is worth a visit in its own right. Make a very New York picnic of it by grabbing a slice or two from Joe's Pizza, located on Broadway between 40th and 41st streets, or baked goods from the Breads Bakery kiosk right in the park, as well as a slice of mille crepes cake from Lady M Cake Boutique. During the warmer months, you can play a round of chess or take in a free movie screening. In the winter, the park turns into a veritable wonderland with a full ice rink and holiday shopping village featuring goods from local artisans.

Credit: Marta Zielinska
If the Empire State Building (pictured) is on your must-see list, be sure to also stop by East 32nd Street between Broadway and Madison Avenue for a visit to nearby Koreatown. Restaurants, karaoke bars, food courts, and stores are stacked in buildings, often identified only by a placard near the entrance, much like in Seoul. Sit down for an authentic Korean BBQ experience where you can grill your own meat (pretty much all of the restaurants on this street are good, Baekjeong NYC is a personal favorite for its covered outdoor space, although meats are cooked indoors and brought out to customers on the patio), then reserve a private karaoke room and sing the night away at 5 Bar Karaoke. If puzzles are more your style, put your skills to the test at Escape Room Madness, where all games are private (rooms are generally accessible but some items may be hard to reach from a seated position). 

Credit: Anna Pakman
If you're going back to see a show on Broadway, book a table and take advantage of the pre-theater prix fixe deal at La Grande Boucherie (pictured), which offers one of the city's most beautiful indoor-outdoor dining rooms that will have you feeling like you've traveled back in time to Belle Epoque Paris while you dine on mouthwatering French delicacies (order one of everything, but especially the steak frites) and sip creative cocktails.
DAY 2: Head Uptown for the best of Central Park and the Arts 
If there's one thing that most locals can agree on it's that Central Park (pictured) is the city's crown jewel. Designed by Frederick Law Olmsted and Calvert Vaux, the park is an 843-acre oasis that serves as a common meeting point and favored picnic spot for New Yorkers. Most areas of the park are quite accessible and consulting the Central Park Conservancy's Access Map is the best way to see which paths to take to iconic locations like the Bethesda Terrace, Bow Bridge, Central Park Zoo, or Harlem Meer. 
Take it all in over a leisurely meal at Tavern on the Green, a historic restaurant inside the park that has been a part of more than a few movies over the years. 

Credit: Anna Pakman
If you're visiting during the summer, the Delacorte Theater (pictured), an open-air amphitheater nestled in the park, offers performances of Free Shakespeare in the Park (pictured) with a wide range of accessibility accommodations including step-free seating, wheelchair accessible seats, low-vision seating, and ASL interpreters. To score a ticket, enter the lottery on the TodayTix app or visit the Delacorte box office the morning of the day you want to attend a show. You'll be able to register and wait on a separate ADA line until tickets are handed out at 12pm.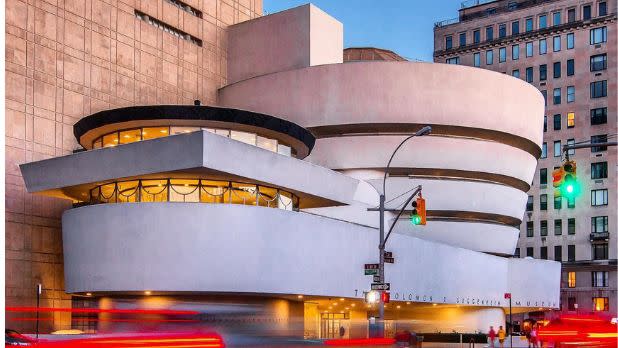 Credit: @nyclovesnyc on Instagram
Central Park also happens to be bordered by some of the city's best museums. Head on an art crawl with a visit to the iconic Metropolitan Museum of Art (AKA the Met). The Met offers a broad slate of programs for visitors with a range of disabilities (some require advanced reservations) in addition to a collection of over 490,000 paintings, objects, and sculptures from around the globe. While there is no disability discount, caregivers of visitors with disabilities are admitted for free and can pick up a ticket at a Museum ticket counter. The neighboring Frank Lloyd Wright-designed Guggenheim Museum is an architectural marvel as the default access for all visitors is via a quarter-mile-long spiral ramp (elevators are available between levels if you get tired of pushing or while the ramp is temporarily closed). Visitors with disabilities get discounted admission for themselves and free admission for a "carepartner."
If you're traveling with little ones, you may want to stop by the Matthew P. Sapolin Playground, which offers an inclusive space with accessibility features like accessible bridges and adjustable basketball backstops that can be lowered for a game of wheelchair basketball. 

Credit: Anna Pakman
Finish your day with a memorable dinner at Contento (pictured), a Peruvian fusion restaurant in East Harlem that is owned and operated by people with disabilities. Whether you choose to sit at the wheelchair-height bar, opt for a table in the restaurant's intimate dining room, or pull up to the beautifully decorated covered patio outdoors (heated in colder months), you'll appreciate the attention to accessibility and the availability of adaptive utensils and braille menus for those who need them. If you imbibe, enjoy a glass of responsibly-produced wine off the restaurant's extensive wine menu, hand selected by owner Yannick Benjamin, one of the only wheelchair-using working sommeliers in the world. Toast to disability pride as you dig into inventive dishes like quinoa biscuits, ceviche, and duck fried rice that are truly out of this world. 
DAY 3: Food Meets Fun in Chelsea & the Hudson River Waterfront  
Beat the crowds to Chelsea Market (pictured), a food hall boasting a diverse array of stalls and restaurants serving everything from Jamaican jerk chicken to whole boiled lobster trays and one of the best brownies you'll ever try (you may recognize Fat Witch Bakery from Sex & the City reboot And Just Like That). Specialty stores like Chelsea Market Basket, Pearl River Mart, and Imports from Marrakesh are great for souvenir shopping with an international flair. As you pass mouthwatering temptations, you can learn about the building's history as a Nabisco factory, including its Oreo cookie assembly line, from photo exhibits lining the market's walls. Access to the market's main concourse is via a ramp around the corner from the coffee bar. 

Credit: @andra_wonderer on Instagram
Take your goodies to a covered outdoor terrace, or walk/roll a couple of blocks to Little Island Park (pictured), where you'll find a seating area with tables. The recently-opened Little Island was built on 132 tulip-shaped piers over the Hudson River. In addition to a casual food court area, the island offers gorgeous views of the river and Lower Manhattan from a hill that can be accessed via a gently sloping ramp. During the summer, you can find free performances throughout the island, as well as a series of ticketed events in the open air amphitheater, aptly named "The Amph," which offers several wheelchair accessible seating locations in the back row, as well as additional wheelchair seating in the front row with advanced notice.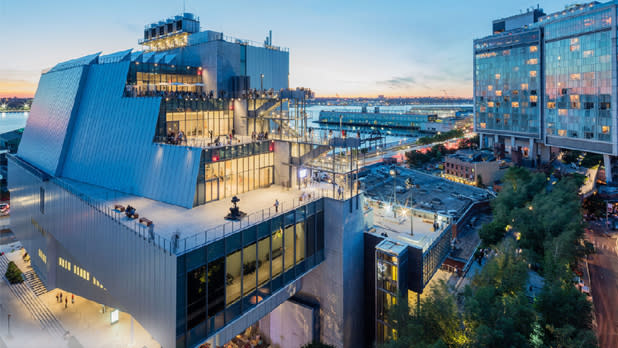 Modern art lovers will enjoy a visit to the Whitney Museum of American Art (pictured). Visitors with disabilities can take advantage of discounted admission and a free ticket for one care partner. Braille materials and other accommodations like ASL interpreters, CC, and verbal description are available for public programs with a request to accessfeedback@whitney.org or (646) 666-5574 (voice) in advance. The Whitney's Access Programs team puts on ASL and touch tours, as well as family-friendly programs for those with autism.
Not only is Chelsea home to world-class museum collections, but it's also full of unique independent galleries featuring some of today's most exciting work. Pure Vision Arts hosts incredible artists with a wide range of disabilities. Not only can you take a look at their creations, but you can also go home with an original piece of art to add to your collection for as little as $15 for a set of greeting cards or $150 for a painting: a bargain in the gallery world.   
Take a stroll along the High Line (pictured), a former railway turned elevated greenway with stunning views of the Hudson River and a changing set of contemporary art exhibits to explore. The park is wheelchair accessible thanks to elevators at Gansevoort Street, 14th Street, 23rd Street, and 30th Street. At the northern end of the High Line, you'll find an entrance to the Hudson Yards complex. Hudson Yards is New York's newest neighborhood, and its eponymous retail center offers luxury shopping coupled with exciting new restaurants. For foodies, Mercado Little Spain is a destination in and of itself – don't miss the liquid olives that you can order at any of the bars, all of which offer a lowered section for wheelchair users!

Credit: @usa.fotos on Instagram
Head over to Intrepid Sea, Air & Space Museum (pictured) to learn about American military and maritime history aboard a real WWII aircraft carrier. Even though the Intrepid is a National Historic Landmark, most areas of the Museum have been made wheelchair accessible, including the core exhibits, flight deck, hangar deck, and mess deck. The museum also offers a series of programs for individuals with disabilities and their families including early morning openings, sensory-friendly evenings, verbal description tours, and maker camps for kids with developmental disabilities. 
After your museum visit, unwind at the swanky Press Lounge rooftop bar, bite into a burger made with fine American wagyu at Kings of Kobe, or grab one of the best square slices in NYC at Corner Slice in the Gotham West Market.
DAY 4: Downtown History and a Governors Island Excursion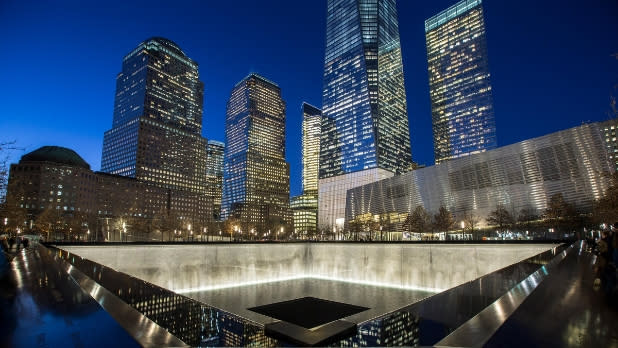 Pay your respects to the heroes who risked their lives to save others and learn more about the tragic event that deeply impacted New Yorkers from all walks of life at the 9/11 Memorial & Museum (pictured). The museum is fully accessible and the memorial was designed in such a way that a person who is seated or of short stature has the same view of the inner Memorial voids as those who are looking at it from a higher vantage point.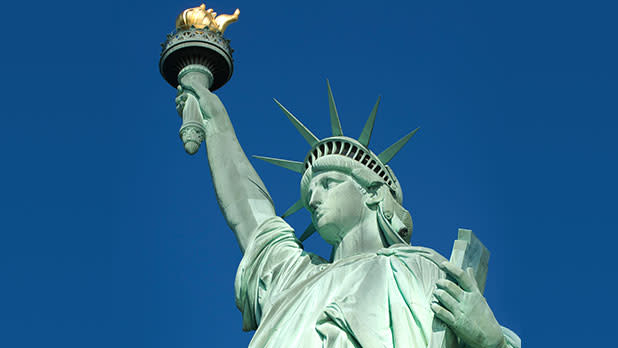 Next, head over to Statue Cruises to board a ferry to visit the Statue of Liberty (pictured) and/or Ellis Island (advance booking recommended). While the interior of Lady Liberty's pedestal is accessible, getting up to her crown involves going up multiple staircases. The National Park Service website does an amazing job of laying out the accessibility of various aspects of the Statue of Liberty and Ellis Island visitor experience. If a full visit isn't in the cards but you still want a close-up of the Statue, hop on the nearby and totally free Staten Island Ferry for a leisurely cruise on the water.
When you're back on the Manhattan side, stroll through The Battery and go for a spin on the wheelchair accessible nautical-themed SeaGlass Carousel (pictured). Then hop on another ferry for a 5-10 minute ride to Governors Island. Originally a fertile foraging and hunting ground for Native Lenape, the island went on to play a strategic role in the Revolutionary War and eventually became a base for Army and later Coast Guard operations.

Today, the island is a recreational paradise with sweeping views of New York Harbor, the Lower Manhattan skyline, and Lady Liberty herself. On weekends, the island hosts a variety of events, in addition to art exhibits spread across its 172-acre expanse, rotating food trucks, New York City's only lavender farm (pictured), a luxurious Italian-style spa, glamping resort, a Mexican beach club, and more. During the summer months, ferries back to Manhattan depart as late as 10pm, leaving plenty of time to take in a stunning sunset with a tropical beverage in hand at the island's tropical waterfront bar, Island Oyster.
DAY 5: Boogie Down in The Bronx
While you may have read about the hippest of the hip hot spots in Brooklyn in most visitor guides (and you should totally go!), The Bronx remains one of New York's best kept secrets and you can easily get there by taking the Metro-North Railroad to the Botanical Garden stop. Start off with a visit to the 250-acre New York Botanical Garden (pictured), the largest in any city in the United States. There you can see seasonal exhibits and blooms, take a ramp-equipped tram tour, and more. Seasonal exhibits include giant pumpkins and gourds, a holiday-themed train show, and an orchid extravaganza. One personal care assistant is eligible for free admission when accompanying a visitor with a disability.
Next to the garden, you'll find the Bronx Zoo (pictured), one of the largest zoos in the world and home to over 10,000 animals. One of the best ways to see the zoo is by taking a narrated ride on the Wild Asia Monorail, which offers one car that is accessible to most types of wheelchairs. Visitors using some larger chairs that won't fit on the monorail have the option of transferring to a zoo-provided manual wheelchair for the ride. The zoo also offers a ramp-equipped shuttle to help conserve wheeling energy. 

Credit: Anna Pakman
Make your way to nearby Arthur Avenue (a 15-minute roll/walk), for a visit to Bronx's Little Italy. Check out the Arthur Avenue Retail Market (pictured) to shop for delicacies from the old country. Stop by the Mike's Deli counter for the best mozz you'll ever taste. Want a sit-down meal? Get a pizza at Zero Otto Nove or try the most excellent meatballs and penne a la vodka at Enzo's.

Credit: Anna Pakman
If there's still time left in the day, head to Wave Hill (pictured), an idyllic public garden with views of the Palisades or head to City Island for New England fishing villages vibes and fresh seafood. 
WHERE TO STAY

Credit: @pobz_iv on Instagram
New Yorkers' favorite way to get around is walking, or rolling, so you'll be well-served by staying in either Midtown or Downtown Manhattan, depending on which attractions you are most interested in visiting.
While lodging can be less expensive outside of Manhattan, it's best to weigh the cost of lodging against the cost and availability of accessible transportation. If you do decide to stay in the boroughs, look for lodging near a NYC Ferry stop as that will be the most accessible and cost-effective way to reach Manhattan using public transportation. Wheelchair-accessible taxis and ride shares are plentiful in Manhattan and surrounding neighborhoods, but can quickly add up if cost is a consideration. Avoid short-term apartment rentals as the stock of legal vacation rentals in the city is very small due to local regulations that limit their availability, and accessible rentals are extremely rare. 
A few options to consider:
Midtown
Downtown Manhattan
HOW TO GET AROUND

Credit: @jonathankamensky on Instagram
---
Don't forget to post photos of your New York adventures on Instagram and Twitter with #iSpyNY and tag us on Facebook!