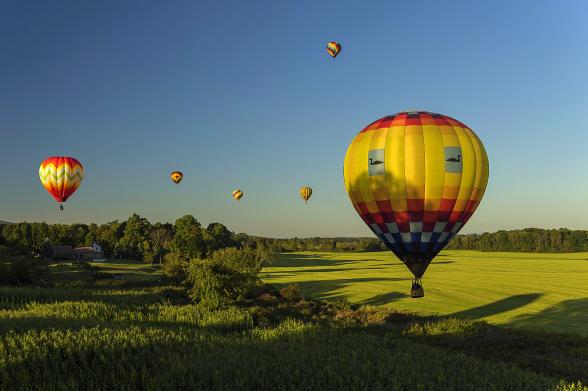 Credit: Jim Vallee
Calling all New York State adventure seekers! For those of you who accidentally spent your summers working and daydreaming about lounging at swimming holes in the Adirondacks or ziplining over the treetops in the Catskills, now is the time to plan an adventure in New York State. Whether you're interested in diving to sunken shipwrecks or riding on horseback through the mountains, adventure calls across New York State. Remember to recreate responsibly! Remember to social distance and wear a mask as required by state guidelines. Call ahead and check websites and social media to make sure attractions are open and available. 
Updated 7/13/21
Fly through the treetops on a zipline (Catskills)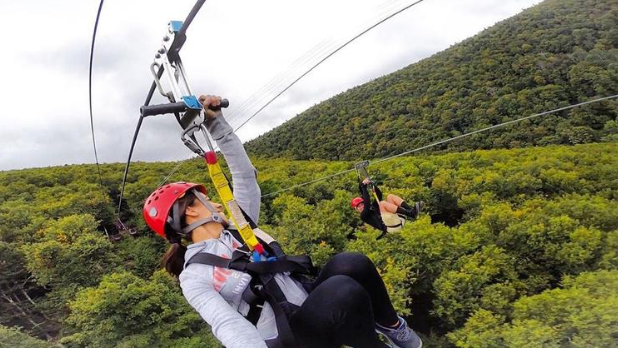 New York Zipline Canopy Tours at Hunter Mountain offers three unique adventure experiences, but the pinnacle is the Skyrider Tour. This three-hour, expert-led adventure takes you on the longest and highest zipline canopy tour in North America. From the summit of Hunter, you'll fly over the treetops on five ziplines as you descend the mountain, sometimes reaching speeds of up to 50 mph. It is thrilling! Open Fridays through Sundays throughout the fall and winter, this is one New York State adventure guaranteed to get your adrenaline pumping! Up the ante with a nighttime ride that traverses six ziplines and four suspension bridges. Travel across nine illuminated tree platforms under the light of the moon and stars!
Dive to sunken shipwrecks in the St. Lawrence River (Thousand Islands-Seaway)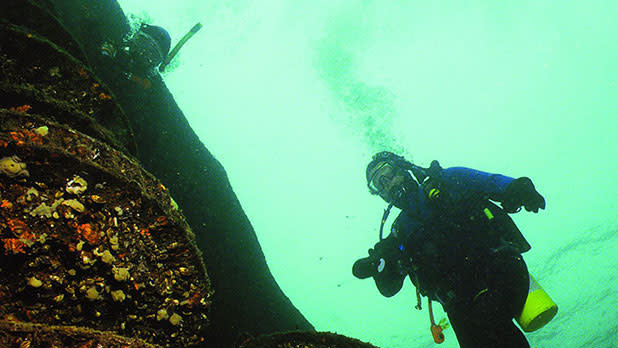 Forget traveling to tropical destinations to go scuba diving, you can do it right here in New York State! Head to the St. Lawrence Seaway to dive to sunken shipwrecks that lie on the river bottom. The one caveat to this adventurous undertaking is that scuba certification is highly suggested. However, even if you aren't certified, a boat ride down the St. Lawrence River will allow you to glimpse the shipwrecks through the crystal clear waters of the river.
Soar into the skies and learn about glider history (Finger Lakes)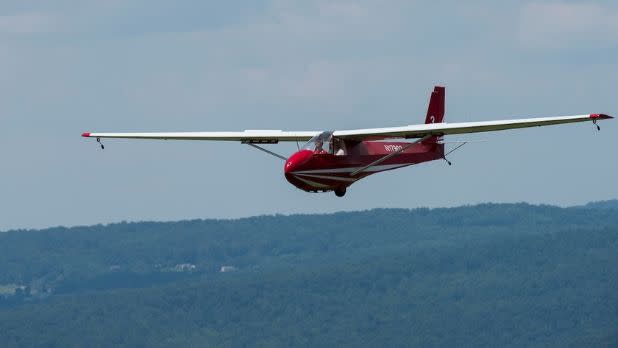 Elmira, New York is the "Soaring Capital of America," and one of the best places to take a piloted glider ride. Head to the National Soaring Museum to learn about the history of gliders in America, then take a ride on a high-performance sailplane ride with an experienced pilot. Offered on weekends from April through October, these piloted flights offer a new perspective on the landscape below. Call ahead to book as glider flights are weather dependent.
Canoe or Kayak in Chautauqua-Allegheny (Chautauqua-Allegheny)

Credit: Chautauqua County Visitors Bureau
Chautauqua-Allegheny's five lakes stand out as scenic and accessible waterways. Canoe, kayak, and stand-up paddleboard rentals are available at marinas on the lakes, including Chautauqua Lake (pictured). For a fun, adventurous experience, paddle along Lake Erie's shoreline and stop at harbor communities that offer waterfront dining, walkable downtowns, historic lighthouses, and museums. Sunset Bay Beach is an ideal place to stop after spending time on the water for a post-paddle beverage. Don't miss Dunkirk, the only city situated right on the lake. Head to Boardwalk Market for treats and shopping, then to Dunkirk Lighthouse and Veteran's Museum for a tour of the historic (and reportedly haunted) lighthouse and a chance to see the stunning view of Lake Erie from the 60-foot tower. 
Choose your own Adventure Course (Adirondacks)

Credit: VisitLakeGeorge.com
As one of New York State's Forever Wild destinations, the Adirondack Region is synonymous with adventure⁠—especially mountain excursions. This fall, instead of hiking mountains, fly through them at Adirondack Extreme Adventure Course in Bolton Landing at the northern tip of Lake George. This tree-top obstacle course will have you feeling like Tarzan in no time. Traverse the course on ziplines, tackle obstacles, swing on ropes, navigate rope bridges like Indiana Jones, and get ready to feel like a ninja on the climbing net. Open Monday-Sunday. Open to all group sizes. Reservations required. 
Climb to new heights in the Shawangunks (Hudson Valley)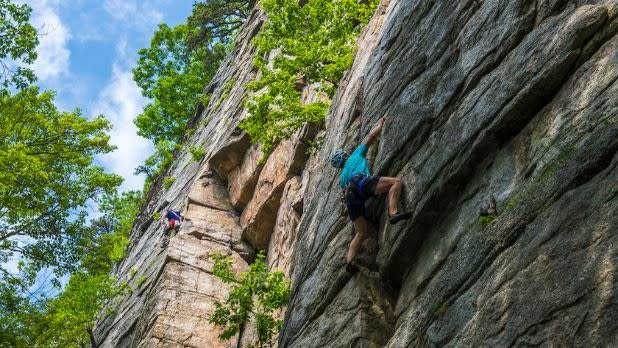 Rock climbing is one of those sports that offers adventure for all abilities. You might not be free-soloing anything anytime soon, but with the right instructor, you can learn to climb a seemingly flawless rock wall. In the Hudson Valley's Shawangunk Mountains, the rock-climbing community offers a well-established and welcoming introduction to the sport. Mohonk Preserve boasts more than 1,000 routes for all abilities, as well as acres of bouldering for beginners and experts. If you're a gym climber or have always wanted to indulge your inner Spiderman, sign up for HighXposure Adventures' "Introduction to Outdoor Climbing" course. It's designed for beginners and covers the basics such as fundamental climbing skills, movement, and belaying techniques. Alpine Endeavors offers professional rock climbing courses in the 'Gunks as well.
Unleash your inner child at Coney Island (NYC)

Credit: Julienne Schaer
Who doesn't have a soft spot for the nostalgic experience of Luna Park in Coney Island? It's the place where amusement parks began and today Coney Island offers non-stop fun for all ages. Head to Luna Park to take a ride on the "Mother of American roller coaster culture," the Cyclone (pictured), experience the wonders of the boardwalk, and don't miss the sword swallowers, fire eaters, and contortionists of the Sideshows by the Seashore.
See the falls from above on a helicopter tour (Greater Niagara) 

Credit: Destination Niagara USA
While there are many ways to experience the mighty, thundering majesty of Niagara Falls, from Maid of the Mist boat tours to Cave of the Winds' Hurricane Deck, one of the most adventurous and breathtaking experiences has to be a helicopter ride over the falls. Rainbow Air offers a 10-minute aerial tour that includes all the highlights, such as Horseshoe Falls, Bridal Veil Falls, and more. Open daily May - October, then weekends only from November - April.
Go subterranean or up to the skies (Central NY)

Credit: Beautiful Destinations
After an aerial tour of some of New York's top attractions, why not head underground at Howe Caverns? Howe's Signature Rock Discovery Tour is a 2.5-hour spelunking cave excursion that promises to "reveal the mysteries" of sections of the caverns that haven't been open to the public for more than a century. Is spelunking not your thing? Take the Traditional Tour, a 90-minute walk and boat trek that will have you winding through limestone corridors, cavernous galleries, and a subterranean riverbed that took millennia to carve. Add a little extra fun to your visit with a stop at the Adventure Park's aerial ropes course and zipline! 
Float amongst the clouds (Multiple Regions) 

Take a once-in-a-lifetime hot air balloon ride over New York State this year for a next-level adventure. This bucket list experience is available with Southern Tier Balloon Tours, offering hot air balloon tours from Otsiningo Park in Binghamton, or with Balloons Over Letchworth (pictured), with tours above Letchworth State Park. Experience the spectacular foliage or the wintry landscape from above. Be sure to check out the annual Adirondack Balloon Festival, held in September. Watch dozens of balloons take off and land, take a hot air balloon ride yourself, see a nighttime flight during "Moonglow" and enjoy vendors and more during this multi-day festival.
Saddle up for a family ride (Multiple Regions) 
You don't have to head out west to enjoy a horseback ride through the mountains. This fall, explore New York State's dude ranches and horseback riding tours to get in touch with your inner cowboys and cowgirls. 1000 Acres Ranch in the Adirondacks is an authentic dude ranch that offers all-inclusive accommodations, an indoor movie cinema, kayaking on the Hudson River, bonfires, wagon rides, and guided horseback rides! Pine Ridge Dude Ranch (pictured) in the Catskills offers beginner-to-advanced horseback riding experiences, as well as an all-inclusive stay that includes organized activities such as wall climbing, archery, tractor rides, scavenger hunts and arts and crafts.
Bike along the historic and diverse Erie Canal (Capital-Saratoga)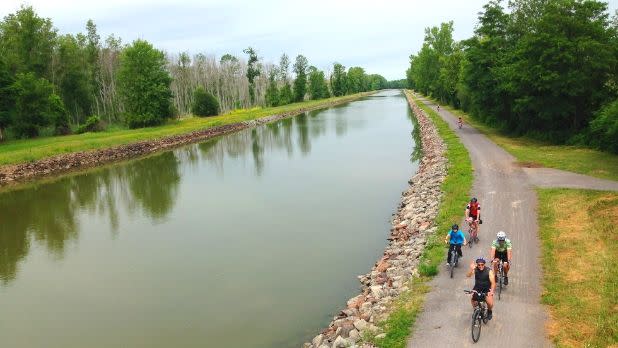 Check your tires, grab your water bottle, and head to the Erie Canalway Trail to explore the 400-mile cycling trail that travels past Niagara Falls and through Finger Lakes wine country. Discover Revolutionary War sites and experience the beauty of New York State's most unique cycling route. Erie Canal Bike Tours (pictured) offers shuttle service for cyclists, as well as fully supported cycle-and-stay packages that include gear and luggage transport, lodging, parties, and more. Plan your own trip or sign up for a guided experience.
Hang Ten on the Atlantic (Long Island) 

Credit: Eric Schwab
Long Island's 118-mile ocean-facing coastline offers challenging and beginner-friendly surfing on secluded coves and at popular locations such as Long Beach and Montauk. Wetsuits are recommended. Whether you're trying the sport for the first time or looking to perfect your technique, surfing lessons are available at locations up and down the coast. Endless summer? How about endless adventure! 
Don't forget to post photos of your New York adventures on Instagram and Twitter with #NYLovesFall and #ILoveNY and tag us on Facebook!