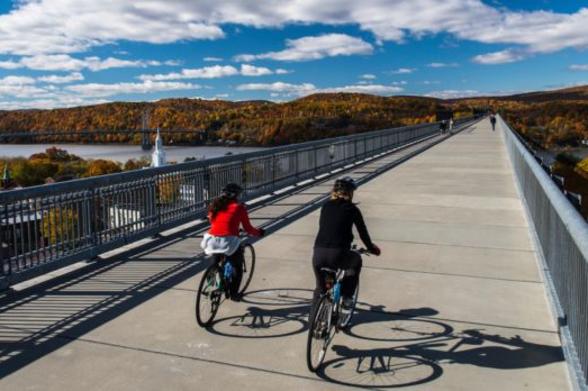 Grab your two-wheeler! The weather is just right for some al fresco cycling in New York State. Whether you're looking for serious thrills or tricycle-friendly rolls, you'll find the perfect pathway in New York State. Here are some of the best spots to get started on your next bike adventure. (And don't forget your helmet.) 
Masks are encouraged, but optional in most settings per New York State guidelines. Individual businesses or attractions may require mask wearing. Call ahead and check websites and social media to make sure attractions and amenities are open and available.
Originally published 5/17/2019
Updated 4/3/2023
Fun for the whole family:
This bikeway connects Albany and Schenectady Counties, and is part of the gorgeous Erie Canalway Trail. The paved trail makes for a smooth ride, so you can bring your little ones. Spanning over 30 miles in length from downtown Albany to Rotterdam, this trail boasts spectacular views of native New York waters and greenery including Peebles Island State Park, the Corning Preserve, and Mohawk River.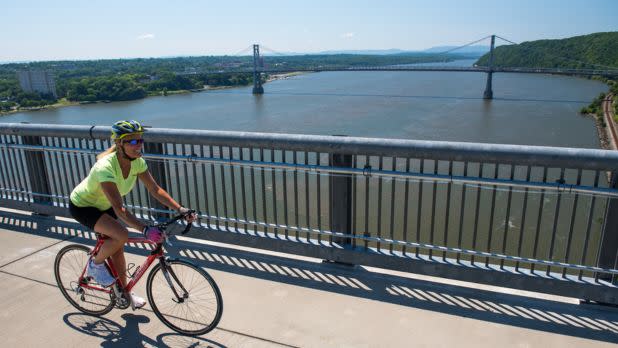 Standing 212 feet above the Hudson River's surface, the 1.28-mile bridge is the longest elevated pedestrian bridge in the world. Freshly paved and suspended over stunning greenery and water below, the Walkway is an ideal spot to bring the whole family to take a casual ride, regardless of age.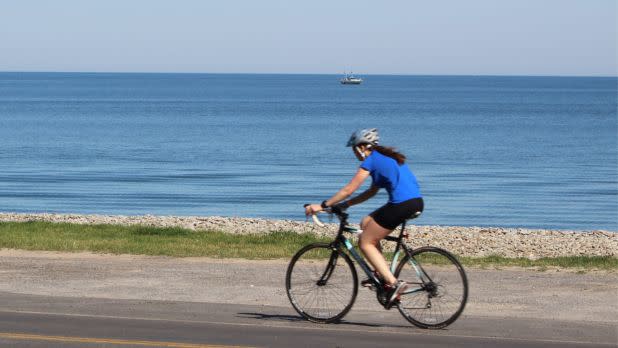 The Great Lakes Seaway Trail runs 454 miles across New York State, connecting Niagara Falls and the Thousand Islands region. Known for its unique landscape, scenic freshwater coastline, and historic significance, this bike trail will consistently take your breath away. The best part: The trail is paved, making it accessible to any level of bicyclist.
The 9-mile Glens Falls Feeder Canal Trail begins in Glens Falls and follows the scenic Hudson River to the Champlain Canal, then heads south at Fort Edwards. This beautiful bike trail is part of the 71-mile Champlain Canalway Trail. The paved route is perfect for a family ride, with views of the water.
For mid-level cyclists:

Plattekill Mountain is a ski destination by winter and a mountain biking paradise the rest of the year. Located northwest of Catskill Park in Roxbury, the park features a vertical drop of 1,100 feet with trails varying in difficulty, ranging from mid-level to expert, so you'll want to have some solid experience before heading here. And don't worry: You don't have to pedal up the mountain. The bike lift will carry you up for a fun gravity-driven ride down. 
Located just west of Kingston in the Hudson Valley is Bluestone Wild Forest, a 3,000-acre bicycling heaven with lakes, ponds, old quarries, and hemlock and oak forests on gently rolling hills—and an occasional cliff—making it ideal for biking expeditions. Mountain biking is permitted on all the main trails. Since the terrain is rugged, it is recommended that people who visit have some mountain biking experience. 
One of the largest parks in Queens, Cunningham Park has bike trails suited for beginner riders to cross-country experts. The trails are tight, twisty and technical with log-overs and rocks to make things interesting. Most trails are fast intermediate trails, and the elevation difference in the park is only 40 feet, making it perfect for single-speed bikes.
The 1,538-acre Blue Mountain Reservation in Peekskill hosts multiple trails for various riding abilities. Beginners follow the yellow trails, intermediate riders follow the orange, and advanced riders go red. All of these trails wind through many diverse habitats, where you can check out rock outcroppings and freshwater ponds.
For experts only:

Located just an hour south of Buffalo, the Ellicottville Epic was named one of the 20 most scenic mountain bike trails in the Eastern US. The Epic was built by mountain bikers, so the climbs are long, steep, and plentiful while the descents are rocky, rooty, and wild. Some of the area trails are used for various mountain biking races. The trails run around 31 miles.
Daniels Road State Forest is full of over 500 acres of versatile mountain biking trails that are among the most dynamic in the state. The bike trails run 14 miles in distance and skew relatively advanced. The forest offers night riding for the true thrill-seekers. 
Ninham Mountain State Forest in Carmel boasts technical and challenging trails that will have you exploring with your mountain bike for a full day, so pack snacks. There is no map that covers all the various trails, so it's easy to lose your way—which is a draw to many extreme cyclists. The trails run 15 miles.
Pack a lunch and head to Harriet Hollister State Park in Rochester for a day packed with trails of every variety. Some bike trails run downhills, some are technical, some are steep uphill climbs. Whichever trail you take, you're sure to have Mother Nature as eye candy; the park overlooks beautiful Honeoye Lake.
---
Don't forget to post photos of your New York adventures on Instagram and Twitter with #ILoveNY and #iSpyNY and tag us on Facebook!