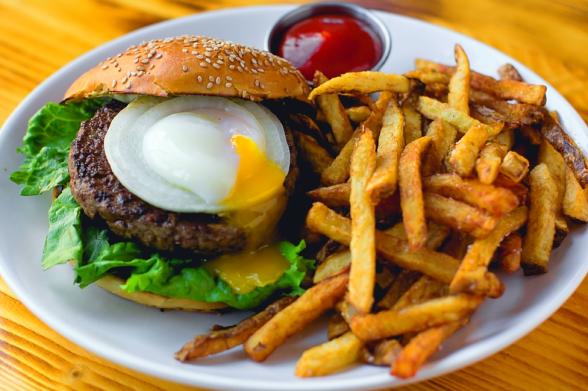 There's nothing like biting into a juicy, perfectly grilled burger with just the right combination of toppings. We rounded up some of the best places across New York State to get your fix of this national treasure. Warning: reading this blog post will definitely make you crave a burger. Masks are still mandatory on all public transportation per New York State guidelines and in any business or attraction that requires mask wearing. Call ahead and check websites and social media to make sure attractions are open and available.
Updated 8/1/22

Credit: Ashleigh Cerrato
Housed in an Albany warehouse dating back to 1901, Druthers offers not two, not three, but five burger options ranging from the classic "Druthers Burger" to the "Peanut Butter Burger", a mouthwatering creation that features bacon and house-made peanut butter. The burgers and beer have fueled Druthers' expansion to Saratoga and Schenectady, where the brewpub features an outdoor beer garden overlooking the Mohawk Harbor waterfront. 
Marble + Rye, Buffalo (Greater Niagara)

Credit: Courtesy of Marble + Rye
What do you get when you combine fresh, locally-sourced ingredients with inventive flavor combinations and hip vibes? Well, the "Double Cheese Burger" at the trendy Marble + Rye in downtown Buffalo, for starters. Featuring two grass-fed beef patties, American cheese, red onions, mayo, mustard, and a side pickle, the "Double Cheese" is sure to satisfy. With an emphasis on fresh, local, and seasonal ingredients, Marble + Rye has an ever-changing seasonal menu, so it's a good excuse to plan multiple visits to the "Queen City," where there are plenty of things to do and see to keep your crew busy.

Credit: Courtesy of Livingood's Restaurant & Brewery 
Livingood's burgers are sinfully good. Be sure to try the LG BBQ Burger for a perfect patty topped with sharp cheddar, fried onion petals, bacon, and LG's BBQ sauce served on a shapely brioche bun. This kid-friendly restaurant is near activities that the whole family is sure to love, like tubing, climbing, and biking at the Ausable Chasm (AKA the Grand Canyon of the Adirondacks) and berry-picking at Rulf's Orchard.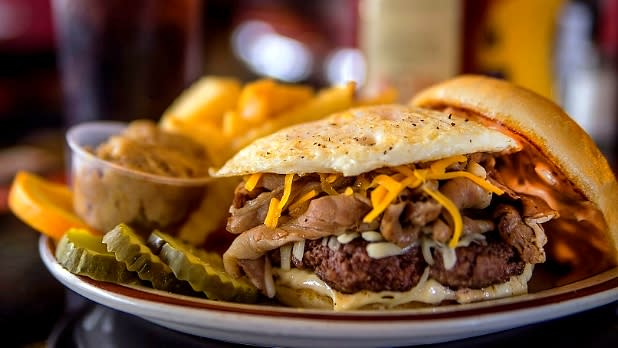 Your kids (and inner kid) may giggle at the concept of a burger called the "Loose Caboose" at a place called Crazy Otto's, but this burger is no joke. Grab a booth at this family-oriented 1950's style greasy spoon and ask for an extra napkin or two because things could get messy. Honored as the best burger in the region, the "Loose Caboose" is topped with thinly sliced prime rib, cheddar and jack cheese, a fried egg, 1000 Island dressing, and mayo. Whether you're in town digging for treasure at Herkimer Diamond Mines or just passing through (the diner is three minutes off the NYS Thruway), this is an experience you simply cannot miss.
Blazer Pub, Purdys (Hudson Valley)

Credit: Courtesy of Blazer Pub
The Blazer's extra thick, juicy burgers have topping combos like bacon and cheese that bring it back to the basics—good, simple food cooked well. Run by the same family since 1971, this old-school family-friendly pub features throwbacks like Yankees memorabilia, arcade games, and a jukebox. Tip: bring cash as credit cards are not accepted.

Credit: Courtesy of Mirbeau Inn & Spa
Featuring a patty made from ½ pound of prime black Angus and topped with gruyere cheese, blue oyster mushrooms, caramelized onions, and bordelaise sauce on a house-made bun and paired with hand-cut truffle fries, the "Mirbeau Burger" is one fancy burger in one fancy location. The Mirbeau Inn & Spa is one of New York's most lovely resorts, so treat yourself to a night or two and a spa day while you're at it.

Credit: Courtesy of Ale 'n' Angus Pub
"The Power Play Burger" at the Ale 'n' Angus Pub in Downtown Syracuse is a meaty crowd-pleaser that features a juicy 8-ounce Angus patty topped with strips of slow-cooked prime rib, American cheese, lettuce, and tomato served on a grilled kaiser roll. Diners praise the family-friendly pub's cozy, casual vibe, and excellent service.

Credit: Anna Pakman
You don't have to go to Japan to get excellent wagyu (Japanese beef)! Well worth the trip to the west end of 42nd Street, Kings of Kobe serves up creative burgers made from perfectly marbled American wagyu. Try a house special like the Duke of Lux (pictured), which piles on smoked gouda, caramelized onions, applewood smoked bacon, and chipotle mayo for a burst of flavor, or get creative and build your own burger with your choice of cheese, sauces, and toppings.