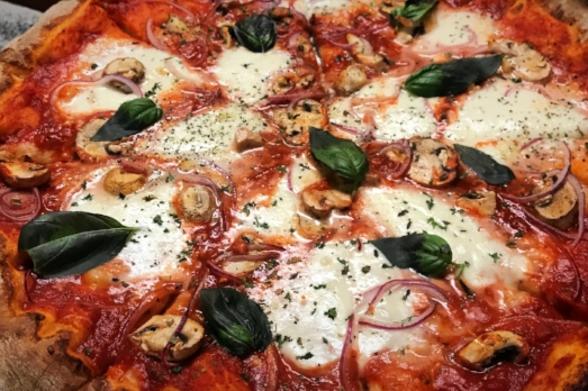 The only activity that's more quintessentially New York than eating pizza is hunting down the best pies. We've got the crunchiest, cheesiest, freshest options from all over the state, from beloved slices from Brooklyn to cup-and-char pepperoni in Buffalo.
Masks are encouraged, but optional in most settings per New York State guidelines. Individual businesses or attractions may require mask wearing. Call ahead and check websites and social media to make sure attractions and amenities are open and available.
Originally published 11/14/2022

Credit: @pauliegee on Instagram
Pizza maker Paul Giannone opened the smartly designed Paulie Gee's in Greenpoint, Brooklyn in 2010, starting a new era for New York's favorite food. Outfitted with a massive custom-designed pizza oven, the restaurant helped elevate New York pizza from a by-the-slice proposition to the centerpiece of a thoughtfully prepared meal accompanied by great wine (or craft beer) and farm-to-table salads and side dishes. Paulie Gee's became a success, expanding to other cities and turning Giannone into a celebrity pizza chef. The original in Greenpoint remains and an offshoot slice shop a few blocks away offers whole pies or a quick bite. Either way, you'll love the chewy, charred crust, tangy sauce, and high-quality cheese that signify a Paulie Gee pizza! Brooklyn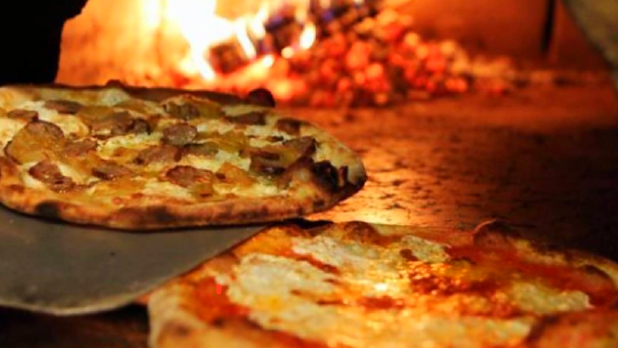 The family that owns Pizzeria Posto cooks their pizza in a wood-fired oven that was delivered from Italy and reassembled in-shop. Maybe that's why it's so common to hear knowledgeable diners liken their pies to the ones made back in the Boot. Pizzas come with only a few toppings each, but a great deal of attention goes into composing unique flavor combinations, such as the Morandi, which comes with pistachios(!), or their Mama-Mia with smoked mozzarella, wood-roasted onions, and fennel sausage. Rhinebeck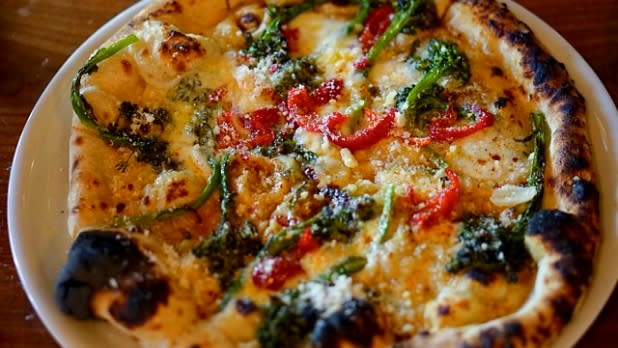 Apizza Regionale is a true New York pizza, not just because of the style but because almost all the ingredients are sourced from New York. The dough is made from stone-ground wheat from Trumansburg. The Calabrian pie is topped with chili-infused local honey, and they even cure their own olives. Gourmet toppings are kept light and don't overload the crust. If you think the idea of potatoes on a pizza sounds too heavy, their Patata pie with Yukon golds, caramelized onion, aged gouda, and fresh rosemary will convince you otherwise. Syracuse
Andriaccio's has been a staple for the pizza-lovers of Chautauqua County since the early '80s. If you're lucky enough to visit on a warm day, there is ample outdoor seating, which gets pretty cozy at night thanks to the glow of string lights. The most popular item on their menu is their Neapolitan Pizza with spinach, mushrooms, sweet peppers, and three kinds of cheese. If you want to mix things up, we'll set aside the rivalry just this once and admit their Chicago-style is seriously delicious too. Mayville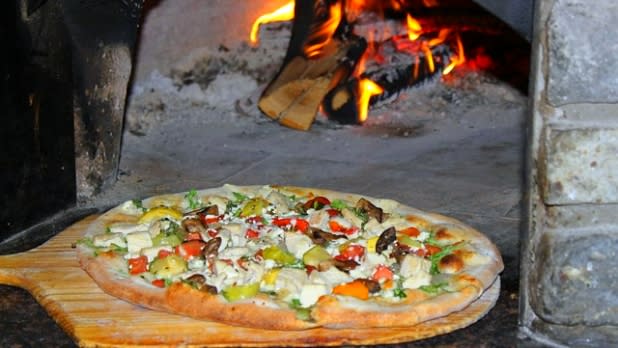 The next time you visit Lake Placid, do yourself a favor and head to a strip mall about a mile west of Main Street where you'll find a hidden gem called Caffé Rustica. The menu has plenty of delicious high-end Italian dishes, but the star of the show is the pizza, with a perfectly crispy crust made in the wood-fired oven. If you're a meat-eater—the sausage and meatball toppings are made fresh in-house. Lake Placid
Defazio's (Capital-Saratoga)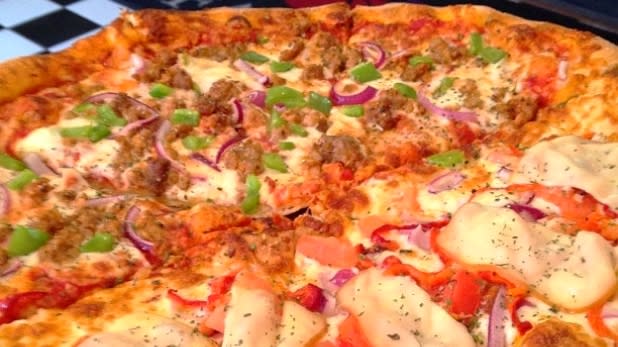 There are so many reasons why this little Troy eatery is a favorite of pizza fanatics, starting with the crust. Or rather, the crusts—you can choose from one of six dough options, including one that's made with locally-sourced brown ale. Add that to the plentiful topping combinations and high-quality cheeses and you'll understand why Defazio's is regarded as one of New York's best. Troy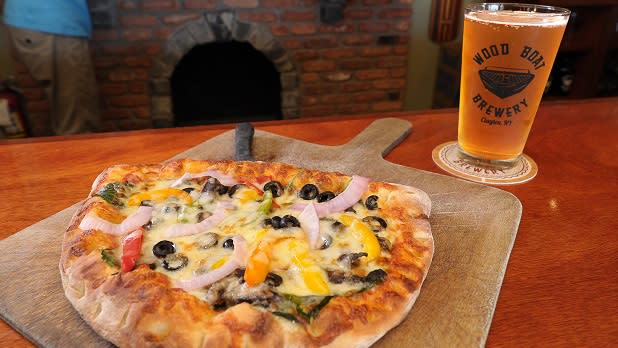 Overlooking the beautiful St. Lawrence River in Clayton you can find an excellent selection of craft beer to pair perfectly with the wood-fired pizza at the Wood Boat Brewery. The more adventurous should try one of the unusual specialty pies, such as the BLT Pizza or the Reuben Pizza, which comes with Thousand Island dressing, swiss and mozzarella cheese, corned beef, and sauerkraut. Plus, it's across the street from the Antique Boat Museum (open seasonally), a great place to explore before or after pizza-time. Clayton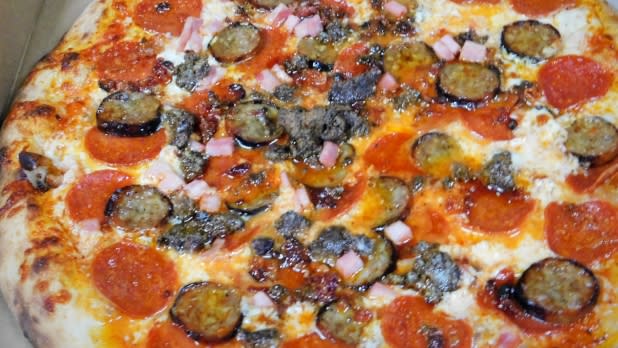 When you're out in the mountains, there is nothing as satisfying as eating food that's been cooked over an open fire. That's exactly what you get at Oakley's Place in the Catskills. The enormous wood-fired oven adds a subtle smokiness to the homemade tomato sauce and the 23 topping options. Plus, the outdoor seating is the perfect place to sit and enjoy nature while you eat—if you're not too distracted by the glorious pizza. Arkville
Topping the charts in Newsday Long Island's Top 10 Best Pizza list in 2019, 2021, and 2022. Donatina has swiftly made a name for itself since its debut in Patchogue, Long Island. John Peragine's pizzeria has delivered on a mission to do it all, from its wall of deck ovens serving up traditional New York and Detroit-style pies with crunchy crusts and thick toppings of mozzarella, Cheddar and Wisconsin cheeses, to a wood-burning oven for fresh and flavorful Neapolitan pies and open-faced calzones. Patchogue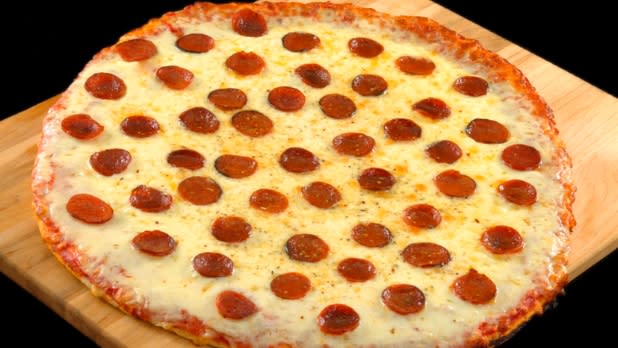 We have Buffalo to thank for its signature style of "cup-and-char" pepperoni, that's specially made to curl into a little cup that holds all the delicious juices on top of the pizza. And if you want the best example, head straight to Bocce Club Pizza in Amherst. The dough is fluffy, the tomato sauce is just the right amount of sweet, the mozzarella is made in-house, and the pepperoni is cuppy, charry perfection. Amherst
Credit: @tapasfor2 on Instagram
Meet the oldest pizza shop in New York—and second oldest in the country—O'Scugnizzo Pizzeria in Utica, which opened its doors in 1914. If 100+ years of business doesn't convince you to try it, consider the pizza that made it famous: the tomato pie. For those who are unfamiliar, tomato pie, sometimes called "upside-down pizza," is made by placing the toppings directly on the uncooked crust followed by a layer of mozzarella. After it's baked, the pie is then smothered in a layer of delicious tomato sauce and dusted with freshly grated parmesan cheese. It might sound strange until you try it, but the Uticans are definitely on to something. Utica
Share your New York State adventures with us on Instagram and Twitter with #iSpyNY and tag us on Facebook!