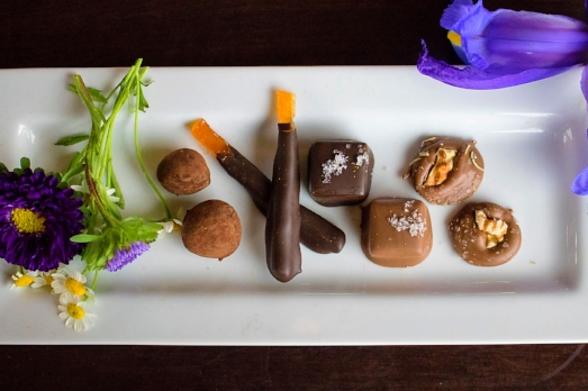 You know about the M&Ms store in Times Square, we've told you where to get some of the best chocolate-covered donuts in the state, and we've even spilled the (chocolate) beans on where to find world-winning chocolate in the Catskills, but there's even more to New York's chocolate scene than what we've already shared. You can have some pretty unique chocolate adventures in New York State, and we've rounded up some of our favorites! 
Masks are encouraged, but optional in most settings per New York State guidelines. Individual businesses or attractions may require mask wearing. Call ahead and check websites and social media to make sure attractions and amenities are open and available. 
Updated: 09/23/22

Photo Credit: Corning & Southern Finger Lakes
A whole trail dedicated to where you can find chocolate in Corning proves that there's more to the town than just glass (though the glass is pretty cool). More than 30 restaurants participate in the self-guided trail. You can find some exciting offerings from the chocolate pâté at Three Birds Restaurant to the Steuben Bar Chocolate Martini at the Radisson Hotel Corning and homemade Ghirardelli sweets at Dimitri's Confectionary Treats.
Chocolate Works, in the charming walkable village of Stony Brook on Long Island, offers more than your typical chocolate shop. Upcoming seasonal workshops include: chocolate dipped Oreos or pretzels, creating your own chocolate bars, making Stony Brook Munch, an irresistible combination of pretzels, caramel, and popcorn, and Halloween-themed treats like decorating a chocolate skull.
Stressed out? Just imagine how it would feel to be covered in chocolate in a relaxing spa room in one of the prettiest towns in the state. Don't just imagine it, book your "Chocolate Indulgence" package at Saratoga Botanicals in Saratoga Springs. The package includes a facial with a chocolate banana mask and a chocolate indulgence body treatment. You'll also get to take home more of the chocolate banana mask—though you may be tempted to eat it, it's so you can continue your skincare routine at home!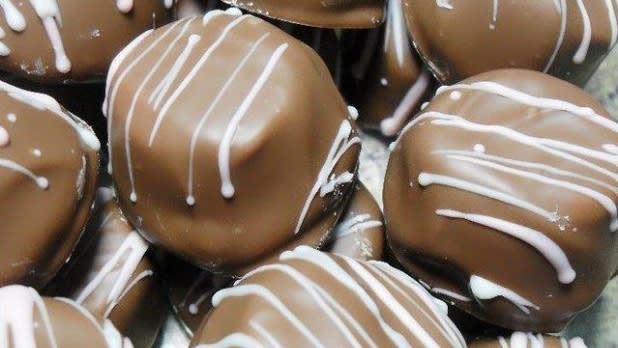 This region of the state is famous for its sponge candy (a light crunchy toffee coated in chocolate), and Platter's Chocolate Factory is one of the most classic places to try it. They have also specialized in orange chocolate since opening in 1938, so try both! See almost all of the factory's chocolate-making processes on a tour of the facility and of course, enjoy hot chocolate or an ice cream sundae along the way. The factory is most busy making treats from September to April but you can learn about the equipment, process, and history (and sample the goods!) year round.

Photo Credit: Deb Morris, Barkeater Chocolates
Not only does Barkeater Chocolates in the Adirondacks have gourmet, all-natural, non-GMO sweets—the building is also rumored to be haunted by a ghost that employees have named Miranda. Footsteps, banging, and voices have been heard by employees, visitors, and construction crews and the thermostat kept moving up to 85 degrees until employees taped the dial still. If we were ghosts, we'd haunt the shop for its "Cherrylicious Bark" (milk chocolate, dried cherries, and almonds); its "Grown-Up Peanut Butter Cups" (all-natural crunchy peanut butter in either dark or milk chocolate with sea salt); and its "Citrus Surprise" dark chocolate bars. Chocolate-making experiences are offered for kids and adults with reservations made in advance.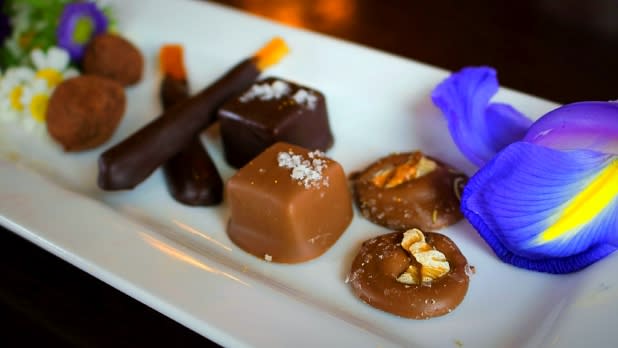 New York Kitchen is a not-for-profit organization that aims to "educate, engage, and excite visitors about the incredible agricultural, craft beverage, and culinary industries in New York State." Located in Canandaigua, New York Kitchen offers 30 to 40 events each month ranging from "Sushi Rolling" to "Gluten-Free Baking." Keep an eye on their calendar for chocolate classes. For their next one, they'll partner with Laughing Gull Chocolates, a company owned by women who create delectable organic confections with a focus on global consciousness.

Credit: @chocolatepizzacompany on Instagram
New York State is known for a lot in the foodie world, but perhaps most notably for its pizza and Buffalo wings. At the Chocolate Pizza Company in Marcellus, 25 minutes outside of Syracuse, they sell pizza and wings with a chocolate twist! Chocolate Pizza® is chocolate in the ingredients and pizza in the shape. Milk or dark chocolate mixed with homemade English toffee is poured into pizza pans and served in pizza-shaped boxes with various toppings like candy, pretzels, and nuts. Peanut Butter Wings®, are not chicken, but potato chips topped with peanut butter and dipped in either milk or dark chocolate.
---
Don't forget to share your summer vacation with us! Share New York State pictures on Instagram and Twitter with #ILoveNY and #iSpyNY and tag us on Facebook!