Whether you prefer your donuts filled or ring-shaped, glazed or powdered, for breakfast or as a dessert, or even whether you spell them "donuts" or "doughnuts," one thing everyone can agree on is that these masterpieces of sweet fried dough are a delicious treat. We've rounded up some of New York State's finest doughy delights in honor of not one but two National Donut Days on June 2 and November 5. 
Originally published: 6/7/19

Photo Credit: Discover Albany
Cider Belly's motto "Doughnuts for the people and by the people!" means that every donut you buy will be freshly made, warm, and soft—and you don't have to worry about what season you're in to bite into a delicious cider donut. A common fixture on "best of" lists, Cider Belly serves up these fall favorites year-round and tops them with a variety of flavors including cinnamon spice buttercream, German chocolate, and butter rum glaze. Albany

Photo Credit: South Dayton Supermarket
South Dayton Supermarket has been serving up donuts so good that it won WIVB's "Buffalo's Best Donut" contest despite being an hour-long drive south of the city. The store is famous for their apple fritter—a huge, chewy masterpiece of deep-fried dough that's crunchy on the outside and full of apple cinnamon flavor. South Dayton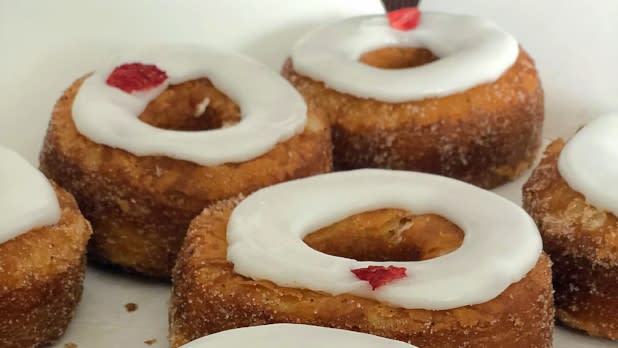 It feels like just yesterday when a French pastry chef working in an unassuming kitchen in Soho layered laminated dough with chilled butter to create a sugary deep-fried treat that marries the flavor of a donut with the flakiness of a croissant and is filled with homemade jams and decadent ganache. The food world went crazy for the cronut and nearly a decade since its debut it's a New York institution. The unique flavors, like raspberry jam and pistachio ganache, are swapped out monthly and cronuts tend to sell out quickly each morning, so place a pre-order to ensure you get your pick. Manhattan

Photo Credit: Traci Suppa
Dia:Beacon isn't the only place in town to find works of art. Glazed Over Donuts, selected as having the "Best Donuts in the Hudson Valley" by the readers of Hudson Valley Magazine, offers custom fresh-made donuts that make you the artiste. Fill out the "decision menu" and choose from eight types of glaze, more than a dozen toppings (including options like bacon, Fruity Pebbles cereal, mini marshmallows, and peanut butter cups), and nine types of drizzles. If choosing gets too overwhelming, just go with the "donut of the day" carefully curated by the shop's friendly staff. Their newest menu item — the Donut Ice Cream Sandwich, is guaranteed to delight the senses. Beacon

Photo Credit: Roost/TupperLake.com
Shop, donut...laundry? One of the best donut shops in the Adirondacks happens to share its space with a laundromat and a Native American gift and craft store. Donuts are made fresh every morning and smothered in your choice of glaze and toppings (maple and bacon on everything, please!). Loyal customers have been known to drive as far as 2.5 hours just to bring a dozen back to their Adirondack camps. Tupper Lake

Photo Credit: Cassandra Harrington 
You don't have to be a baseball lover to love Cooperstown (though the National Baseball Hall of Fame & Museum is the biggest game in town), and the vanilla-cream-filled donut at Schneider's Bakery will give you just one more reason. Serving up fresh baked goods to locals and visitors alike since 1887, Schneider's has the distinction of being one of the state's oldest purveyors of all things dough-y. Cooperstown

Photo Credit: Glazed and Confused
Glazed & Confused offers small-batch artisanal donuts in a variety of funky flavors. Flavors of the day are posted on the shop's Instagram account and include fan favorites like the Lemon Drop and Raspberry Pop donut. With vegan and gluten-free options available, this is one spot that can satisfy any sweet tooth. Syracuse

Photo Credit: Burrville Cider Mill
They say the best things in life are worth waiting for, and apple cider donut season is one of those things. Burrville Cider Mill is only open from Labor Day through mid-November, but when it is, its donuts are literal traffic stoppers. After you've had your fill of donuts, stick around for a self-guided tour of the cider press process (check the Mill's site for times) and don't forget your camera—there's a waterfall view from the Mill's deck and a hand-carved statue of Johnny Appleseed just waiting for a selfie. Watertown
Don't forget to post photos of your New York adventures on Instagram and Twitter with #iSpyNY and tag us on Facebook!