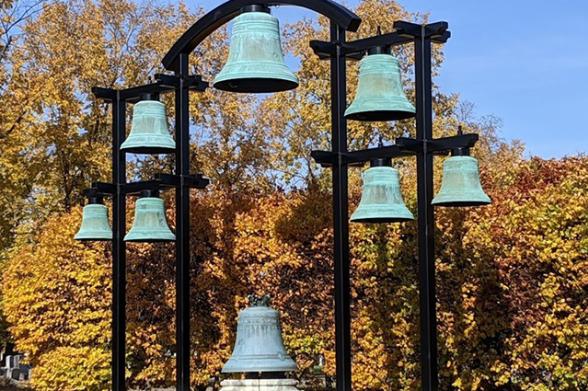 New York's cemeteries are the final resting place for a number of famous figures in history. Many of their burial plots are also objects of beauty, with exquisite mausoleums, memorials, and other forms of funerary art. These well-known cemeteries across New York State offer various tours or events to the general public.
Masks are encouraged, but optional in most settings per New York State guidelines. Individual businesses or attractions may require mask wearing. Call ahead and check websites and social media to make sure attractions and amenities are open and available.
Updated: 8/8/23
Hudson Valley
Sleepy Hollow Cemetery, Sleepy Hollow
This 90-acre cemetery is the epitome of everything relating to the "Legend of Sleepy Hollow," whose author Washington Irving is laid to rest here. Guided tours focusing on Irving are held daily in October and on weekends through the end of November. Additional themed tours include the "Evening Lantern Tour," which explores the cemetery by kerosene lantern light and focuses on  steel titan Andrew Carnegie and industrialist William Rockefeller, among many others who are also interred here. "Murder & Mayhem'' nighttime lantern-light tours are also available for advanced purchase. This tour runs Saturdays in October and November plus one tour on October 31st.
NYC
Woodlawn Cemetery, The Bronx
The National Parks Service has referred to Woodlawn Cemetery as a "popular resting place for the famous and powerful." That description rings true as this circa 1863 cemetery is where more than 310,000 individuals have been buried for eternity. Notable residents comprise a "Who's Who" of politics, civil rights, visual and performing arts and other fields. They include Herman Melville, "Queen of Salsa" Celia Cruz, Dorothy Parker, Duke Ellington, Miles Davis, Irving Berlin, Elizabeth Cady Stanton, and New York City Mayor Fiorello LaGuardia. Learn more about them and others buried here on a variety of tours, including ones on trolleys and of illuminated mausoleums.  
Green-Wood Cemetery, Brooklyn 

Credit: Tagger Yancey IV
By the early 1860s, this cemetery's landscape attracted so many visitors that it became second only to Niagara Falls as the nation's greatest tourist attraction. It's also a Revolutionary War historic site (the Battle of Long Island was fought in 1776 across what is now its grounds). These days, Green-Wood Cemetery is open for themed walking and trolley tours, art installations, birdwatching sessions, and other special seasonal happenings. Visit the graves of its lengthy A-list of residents, including Leonard Bernstein, Jean-Michel Basquiat, Frederick August Otto Schwarz — founder of the iconic NYC toy store FAO Schwarz, and Louis Comfort Tiffany. Henry Chadwick, an English-born sportswriter who cultivated public interest in baseball to transform the sport into "America's pastime" is also buried here.
Trinity Churchyard, Lower Manhattan and Trinity Church Cemetery and Mausoleum, Hamilton Heights
While on opposite sides of Manhattan, these burial places both belong to Trinity Church Wall Street. On the church's grounds, Trinity Churchyard is largely known as the final resting place for Alexander Hamilton. His wife, Eliza Hamilton, and sister-in-law, Angelica Schuyler Church, are buried there too. Also belonging to the church, St. Paul's Chapel and Graveyard (Lower Manhattan) is the burial place of George Eacker, who fatally wounded Alexander Hamilton's son, Philip, in a duel. 
Heading uptown, the Trinity Church Cemetery and Mausoleum is where New Yorkers including John James Audubon, Jerry Orbach, John Jacob Astor, and Mayor Ed Koch are buried. It is still an active mausoleum and has plantings of rare heritage roses. Use this walking guide as you tour the grounds.
General Grant National Memorial, Morningside Heights

Credit: @sagol79 on Instagram
The age-old question of "who's buried in Grant's Tomb," can be answered at this mausoleum, which is the largest of its kind in North America. Both the Civil War General and 18th U.S. President and his wife, Julia, are interned there. The memorial is a National Park Service location and onsite park rangers can answer related questions.
Long Island
Old Burying Ground, Huntington 
Managed by the Huntington Historical Society, the Old Burying Ground sits atop a hill behind the Soldiers and Sailors Memorial Building south of Huntington's Main Street. Its earliest remaining marker dates from 1712. In the present day, the society has scheduled cemetery tours on Saturdays through November 4 (advanced tickets required; no walk up sales).
Pinelawn Memorial Park and Arboretum, Farmingdale
This cemetery and a level-two arboretum holds events open to the public including Yoga Under the Stars, on September 29, and a Fall Festival from October 7-9. Pinelawn is known as "The Park of Many Gardens" due to its various individual gardens carefully placed throughout over 500 acres; an on-site honeybee program cares for five hives.
Greater Niagara
Forest Lawn Cemetery, Buffalo
Listed on the State and National Registries of Historic Places, this 269-acre cemetery has a topography of lakes, valleys, hills, and streams, along with sculptural masterpieces including Frank Lloyd Wright's famous Blue Sky Mausoleum. Famous residents include U.S. Congresswoman Shirley Chisholm, President Millard Fillmore, and singer and songwriter Rick James. Various walking, lawn, and trolley tours are available.
Capital-Saratoga
Oakwood Cemetery, Troy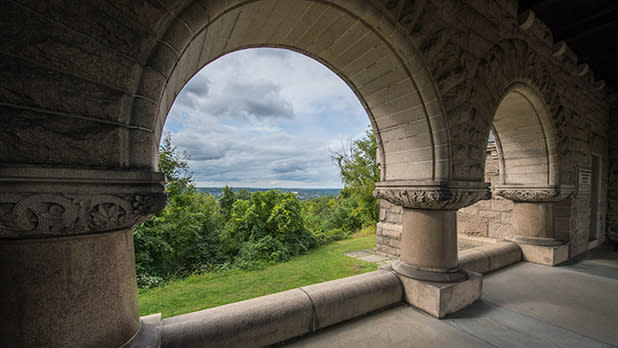 Designed by architect John C. Sidney, this 282-acre cemetery dates back to the 1840s and is graced with views of the Hudson River Valley. Ten to 12 miles of roadways wind through the cemetery's foliage and rolling lawns that are used year-round for history education, recreation, and other purposes. Called the "Jewel of Oakland," the Gardner Earl Memorial Chapel and Crematorium is named for the son of a Troy collar maker who had died tragically young. A National Historic Landmark, the Romanesque chapel is today used by the cemetery for hosting weddings and other events. Twenty-four mausolea and burial vaults hold many of the area's founding families, industrialists, and politicians. Samuel Wilson — better known as "Uncle Sam" — is also buried here. A group of volunteers regularly conducts tours and hosts events such as a holiday concert within the Earl Chapel (December 9).  
Albany Rural Cemetery, Albany
What makes this rural cemetery unique is that many U.S. elected officials are buried here. A wreath laying ceremony named after U.S. President Chester Arthur, who is buried here, happens every October 5th. Other noted graves range from Presidential Cabinet members, to five governors, five ambassadors, and three members of the Continental Congress. The Friends of the Albany Rural Cemetery puts on events (you can find listings on their Facebook page).
Historic St. Agnes Cemetery, Albany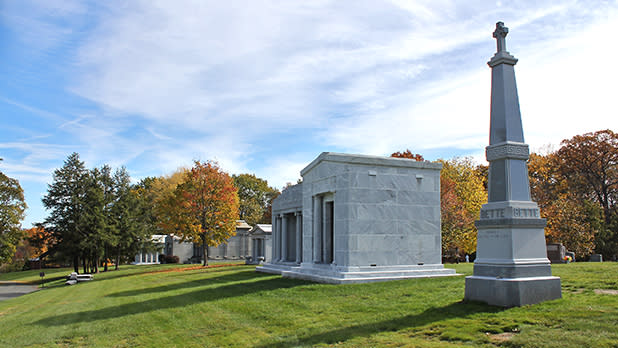 The 114-acre Historic St. Agnes Cemetery, founded in 1867 just outside of Albany, is full of 19th and 20th century monuments, shrines, and private mausoleums memorializing the area's earliest citizens, from the very wealthy and prominent to poor immigrants and people once enslaved. There is a Visitors Center and The Living Room Art Gallery features works by local artists. The cemetery has a full-time staff historian who offers guided tours by appointment. Materials for self-guided tours are available as well and the historic tour stops are marked with signs. A variety of events including painting and fine clay art, history lectures, community discussions, and gravestone restoration workshops also take place here.
Finger Lakes
Fort Hill Cemetery, Auburn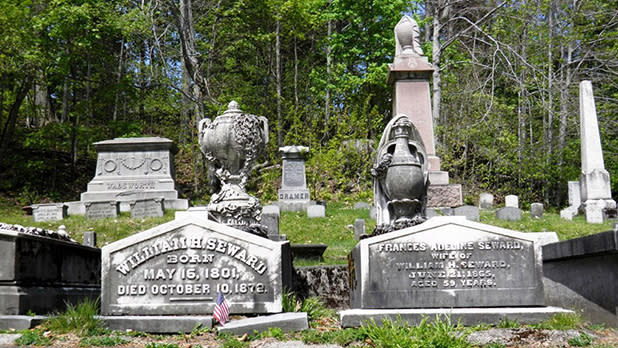 Both a historic site and an active cemetery, this 170-year plus place of burial is home to the graves of notable New Yorkers like Harriet Tubman and William H. Seward (President Lincoln's Secretary of State). A 56-foot obelisk was erected in 1852 in memory of Logan, or Tah-gah-jute, the celebrated Chief of the Cayugas, a tribe of the Six Nations. On the north side of this memorial a marble slab bears the inscription, "Who is there to mourn for Logan." The cemetery has a handy online map.
Mount Hope Cemetery, Rochester
Since its dedication in 1838, a third of a million people are said to have taken up permanent residence in this 196-acre site. Frederick Douglass and Susan B. Anthony, who both lived in Rochester, are among those who are buried here. Mount Hope is also known as America's first municipal Victorian cemetery, where countless examples of Victorian funerary art can be seen while visiting. Several walking tours cover subjects such as architecture, mourning rituals, and its residents such as some mischievous ones. ASL interpretation is provided on request (need 14 days advance notice). Note: Most paths are unpaved and some may be challenging for visitors using wheelchairs and other mobility devices. The webpage for their tours indicates degrees of walking difficulty with ratings on a scale of 1-5.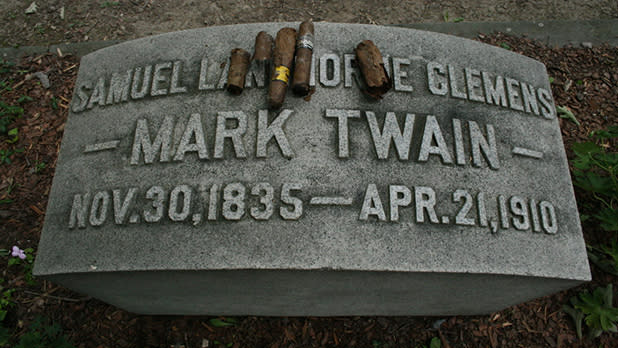 Chartered in 1858, Woodlawn Cemetery is part of the "rural cemetery" concept which created park-like cemeteries in the U.S. Famous residents include Mark Twain, Ernie Davis, first Black recipient of the Heisman Trophy, and Hal Roach, an early filmmaker who worked with "The Little Rascals" and "Laurel & Hardy." The cemetery also recognizes Elmira's ties to the Underground Railroad through an interactive map about the abolitionists who aided this cause. Special events, like a Halloween season Ghost Walk are available.
Chautauqua-Allegheny 
Lake View Cemetery, Jamestown

Credit: @vieveiv on Instagram
Developed after citizens learned Jamestown's burial ground had outgrown the village's needs, this circa 1859 cemetery has more than 45,000 burials in the cemetery, to date. Perhaps the most famous tenant is Lucille Ball. The beloved comedian was a Jamestown native. The curious and mysterious "Lady in Glass" also attracts many visitors and is often highlighted by the Fenton History Center on their tours of the cemetery.
Central New York
Sunset Hill Cemetery, Clinton 
The rolling hills and majestic shade trees of Sunset Hill Cemetery provide a peaceful tranquility along with The Path, a recently-installed meditative outdoor environment designed in part to provide comfort to visitors who are experiencing life changes. The Path features a labyrinth with an adjacent shelter with its floor made of purchased bricks that are engraved with the names of loved ones.
---
Share New York State adventures with us on TikTok, Instagram and Twitter with #ILoveNY and #iSpyNY, and tag us on Facebook!