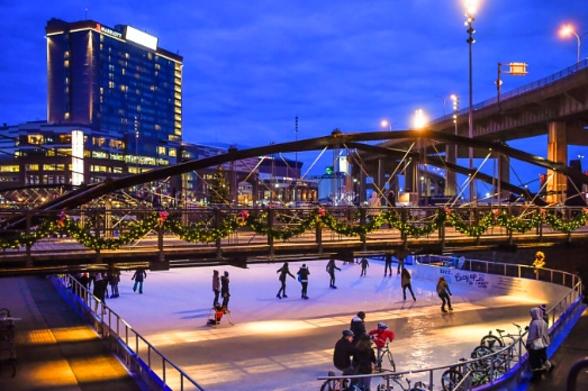 Strap on those skates! New Yorkers love winter sports, especially ice skating, so don't be surprised to find amazing indoor and outdoor ice skating rinks all over the state. Whether you're focusing on improving your form, learning from scratch, or looking for an entertaining activity for a winter's day—you can find the right rink for you. We've gathered up a list of spots that offer not just an amazing skating experience, but plenty of other nearby activities so you can make a day or even a weekend of it.
Calling all serious skaters, and non-serious skaters who just love the sport: YOU can skate like a pro by tracing the steps (glides?) of world-class athletes. The Olympic Speed Skating Oval at Whiteface Mountain in Lake Placid hosted the 1932 and 1980 Olympics, the latter seeing American speed skater Eric Heiden take the gold. The Oval offers a rare chance to skate for long, unobstructed stretches surrounded by the beautiful Adirondack Mountains. Open December 7–February 28
What's nearby: There are plenty of other activities to delight the winter sports enthusiast. Ski on the many mountain trails, including the longest single intermediate run and highest vertical of any lift-serviced mountain in the Northeast. Explore the many cross-country skiing trails, take a stunningly scenic gondola ride, and visit the fascinating Olympic Museum, where you can learn all about the history of the games. You can even try bobsledding on the Olympic track! Adult and Teen Oval Skating: $10; Junior and Senior Oval Skating: $8; 6 and under Oval Skating: free; Adult and Teen Indoor Skating: $8; Junior and Senior Indoor Skating: $6; Skate Rentals: $6.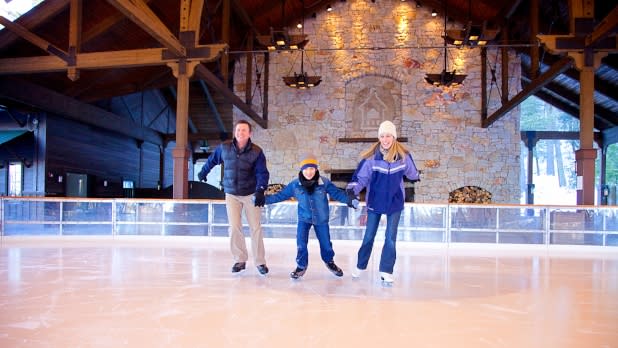 A stay at Mohonk Mountain House, a luxurious castle-like resort and spa in the Gunks (the Shawangunk Mountains), is an enchanting experience, and one of its many amenities is the beautiful covered ice-skating pavilion. The outdoor section provides a view of the surrounding trees and mountains, but large stone pillars support a high rustic timber-arched roof. Head to the fireplace at one end of the pavilion to warm up. Ice skating is free of charge for overnight guests but if you don't want to stay over, the rink is open to day guests as well, and skating lessons are available for all. $17; weekends and holidays: $27; skating lessons: $36 per person per half hour. Open Thanksgiving Weekend–Late March
What's nearby: While at Mohonk Mountain House, day guests are welcome to explore the snowshoe and cross-country ski trails. Dine on gourmet meals made with locally sourced ingredients in one of several dining facilities, and cap it off with a rest in the sauna or heated mineral pool and a massage in the renowned world-class spa.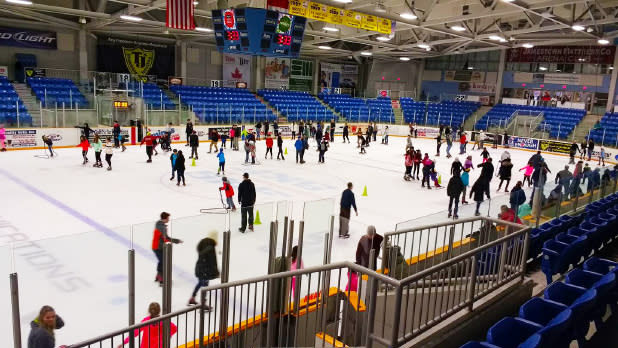 Jamestown's state-of-the-art Northwest Arena has two ice rinks with NHL-sized dimensions and well-maintained ice. Any novices in the family are welcome to sign up for affordable ice-skating lessons that include a skate rental. Every Friday and Saturday night through March 2 (2019), the arena hosts "DJ Skates" nights, two hours of skating set to beats! And for a couple hours each Friday, Saturday, and Sunday you can hop into ice bumper cars and bounce off walls (and other drivers!).  Public skate admission: $7; skate rentals: $2. Open all year
What's nearby: If you can drag yourself away from the ice, check out some of Jamestown's funniest attractions, like the new National Comedy Center. More than 50 exhibits take you through the history and various genres of comedy. Take a quiz to determine your humor profile before starting, which caters the experience to exactly what you'll find funny. Best of all, a bunch of the exhibits are interactive, so after you feel inspired, see how well you do performing the routines of famous comics or drawing your own cartoons. Continue the laughs at the Lucille Ball Desi Arnaz Museum. Show your little ones the sets, costumes, and even the Tropicana nightclub from the show you loved when you were their age.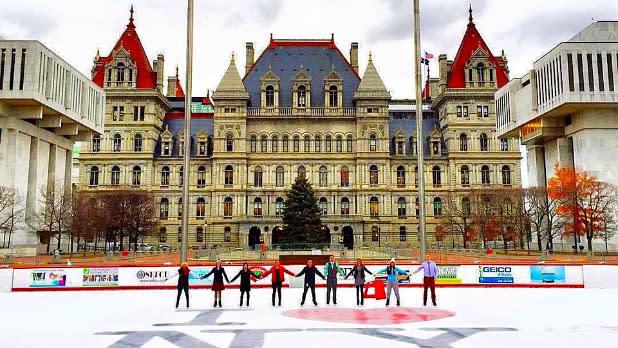 The enormous rink at Empire State Plaza surrounds you with the city's most unusual and beautiful buildings, such as "The Egg," a performing arts center shaped like its name! You'll see a majestic-looking historic building—the State Capitol, where you can walk in for a free tour on weekdays or reserve a spot for tours on Saturdays. And the rink is fantastic, big enough to accommodate the crowds and with plastic skating aids for the little ones (or the timid novice skater).  Admission: free; skate rentals: $4 for adults, $3 for children 12 and under. Every Saturday is Hannaford Free Skate Rental Saturday. Open December–March
What's nearby: At the opposite end of the rink lies the New York State Museum, a must-stop for families. Kids can ride the museum's vintage carousel and pore over the wildlife dioramas. Mark your calendar; on February 2 and March 2 (2019), the Hudson Mohawk Figure Skating Club will offer free Learn-to-Skate Clinics for beginner, intermediate, and advanced levels. Register ahead of time. If you're not traveling with children, consider exploring the Capital Craft Beverage Trail, a guide to all the region's breweries, wineries, distilleries, and cideries.
Kiwanis is a clean and well-maintained rink, beloved by the community and an excellent spot to hone your skills. Every Saturday through February 23, it holds affordable drop-in classes ($25 includes admission, one class, and one public session; packages are available as well). Skill-training clinics are held every Monday off the ice. Anyone who's not interested in skating can watch the action from the bleachers over a cup of hot cocoa sold in the arena. Adults admission: $7; kids: $5; kids ages 5 and under: free; skate rentals: $3. Open all year
What's nearby: Just a half hour drive away is Hunter Mountain, with its 240 acres of snowy slopes for skiers and snowboarders as well as a separate snow tubing park with its very own carpet lift. Hunter is also home to North America's longest and highest zipline, 4.2 miles long and open all year. Also nearby is the historic 1869 Saugerties Lighthouse, with an accessible half-mile nature trail and incredible views of the Hudson River. The lighthouse happens to be a fully functioning B&B if you want an unusual stay on the water.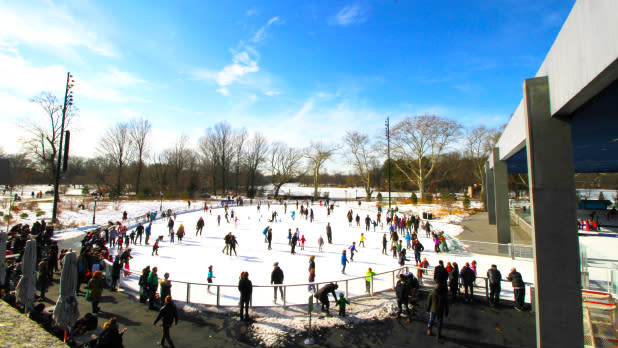 Rockefeller Center ice skating is classic, and NYC residents flock to Bryant Park, but these rinks aren't the only ice skating in NYC! Head into Brooklyn to enjoy the massive rink in Prospect Park. Half is indoors and half is outdoors so you can enjoy the fresh air and then warm up a bit—all without getting off the ice. With the indoor rink's enormous windows, both sides offer views of the lake and the winter wonderland that is the park. The Center offers a skate school for all levels as well as curling class! Refuel at the Bluestone Café with hot food, sandwiches, desserts, and beer. Weekday admission: $7.25; weekend and holiday admission: $10; skate rentals: $7. Open November 5–March 24
What's nearby: While you're in the park, swing by the zoo to see a sea lion training session and learn all about the animals who love the cold weather. Had enough of the cold? Step into balmy temperatures in the various ecosystems of the Brooklyn Botanic Garden, and right next door is the fantastic Brooklyn Museum, where you can get your art and culture fix (you can even buy discounted passes if you're planning to visit both the museum and botanic garden!). 
The Cantiague Park Ice Rink has an enormous domed ceiling that feels as majestic as one would expect of the New York Islanders' former home. Even gold medalists like Nancy Kerrigan have performed here. Admission for non-residents: $15 for kids, $22 for adults; skate rentals: $5. Open September–June
What's nearby: You're a 20-minute drive from Hempstead, where you'll find a number of fun activities. Bring the kids to warm up and play at the airplane hangar-turned Long Island Children's Museum, filled with things to climb, touch, and create. Or visit some winter-loving cuties: harbor seals! Harbor seal-watching is on during the winter, and the nearby Captain Lou Fleet in Freeport offers guided boat tours to find them. Thankfully, the boat has a heated cabin so you can take breaks from the cold and thaw out. If you drive a half hour out to Centerport, you can tour the summer mansion of William K. Vanderbilt II, one of the world's richest men in his time. He was so fond of exploring and collecting that his home, besides being an architectural beauty, is a museum of souvenirs from his world travels—including a mummy! There's also a state-of-the-art domed planetarium where you can learn about the stars.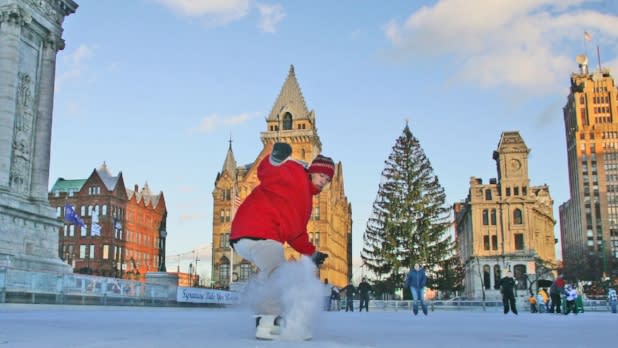 Syracuse is a city that sees serious snow, so the locals are experts at arranging winter fun. The Clinton Square Ice Rink lies in the heart of downtown, surrounded by some of the city's oldest and most beautiful buildings. The rink has lockers, a snack counter, nearby parking lots, and affordable rentals. Admission $3 for adults; children ages 12 and under: $2; skate rentals: $3. Open from the last week of November and until March 13
What's nearby: Warm up afterward with a hearty meal of fall-off-the-bone ribs, tender brisket, creamy mac n' cheese, and homemade sauces at the flagship Dinosaur BBQ. Then, stay warm by wandering the indoor world of Destiny USA, a massive mall with more than 250 shops and outlets, as well as a full-size indoor go-karting track, the world's largest indoor suspended ropes course, a comedy club, and more. Finally, get the most out of your trip with a visit to MoST, the Museum of Science and Technology filled with interactive exhibits about earth science, vintage medicine, and dinosaurs. See the Guinness World Record-holding sculpture made of toothpicks, test your strength on the rock climbing wall, and settle in for a show in the fantastic domed IMAX theater. 
The Nasser Civic Center Ice Rink in Corning just reopened in November 2018 after a $1.2-million upgrade. The rink is outdoors, covered by a large roof, so you can see the trees, and farther back, mountains, while you skate. Public skating and lessons are available seven days a week. Admission for adults: $4; youth: $3.25; children: $1.50; skate rentals: $2.75. Open December–March
What's nearby: The rink is only a ten-minute walk from Corning's Gaffer District, the downtown area filled with restaurants that Bon Appetit magazine has recognized as a food destination along the Appalachian Trail. It's also home to Corning's self-guided chocolate trail. We repeat, self-guided chocolate trail. Visit the Gaffer District website to find a list of chocolates, cakes, pies, cookies, and even a chocolate martini at various locations around town. And finally, you can't leave Corning without a visit to the Corning Museum of Glass. You'll be wowed by the artistic expression represented in glass, as well as glass art from the last 35 centuries. You can watch live glass-blowing demonstrations and even sign up for the family-friendly "Make Your Own Glass" experiences, where you can craft glass beads, frames, flowers, and more.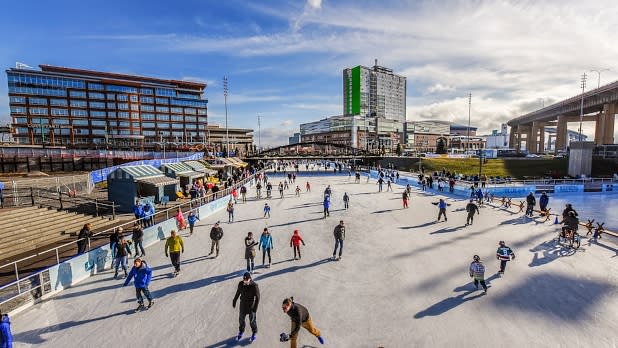 Canalside Buffalo, the city's revitalized 21-acre waterfront has a rink with so much space to skate that they also offer several other amazing on-ice activities. Take a ride of the one-of-a-kind ice bikes—each bike has two platforms on either side to stand on for stability. Try ice bumper cars, available to rent on a first-come, first-served basis, or discover a hidden talent for curling. Canalside has two designated curling lanes and for just $10 per person per hour you get all the equipment you need and the guidance of an instructor. Kids ages 13 and up: $6; ages 6–12: $4; ages 5 and under: free; skate rentals: $4. Open November–March
What's nearby: You'll find plenty of restaurants, food trucks, and vendors just a stone's throw away, but since you're in Buffalo, you've got to try the city's namesake food: Buffalo wings! Follow a special itinerary of the city's tastiest, spiciest, and most inventive wings along the Buffalo Wing Trail. You're only about half an hour drive from Niagara Falls, which are equally as beautiful as their summertime state, but with half the crowds. Take a snowy stroll around Goat Island, which sits right between Bridal Veil Falls and the Horseshoe Falls. Warm up in The World Changed Here Pavilion while you learn about the history of the world wonder. 

Credit: City of Watertown Parks & Recreation 
The Thousand Islands-Seaway region of New York is full-on hockey country, one reason why communities like Watertown love their ice skating rinks. The Watertown Municipal Arena offers affordable skate rentals, skate sharpening, lesson programs, Family Skate nights, Rock'n Skate for teens, and DJ'ed, colorfully lit dance skate parties on select Friday and Saturday nights. Admission for non-residents: $4, for special evenings: $5-$6; skate rentals: $4; skate sharpening: $6. Open September–April
What's nearby: After skating, take the kids to the New York State Zoo at Thompson Park, where you can actually follow a loop trail encircling the zoo on snowshoe, or just enter and visit the animals. Ice fishers can send their lines down into the icy Lake of the Isles on Wellesley Island, a shallow embayment of the St. Lawrence River. So many folks fish for bluegills, sunfish, and crappies that you'll often find pre-drilled holes, saving you the hard work! And if you're looking for slopes just head to Watertown's Dry Hill Ski Area for skiing, snowboarding, and snow tubing! 
Share your New York State adventures with us on Instagram and Twitter with #iSpyNY and tag us on Facebook!