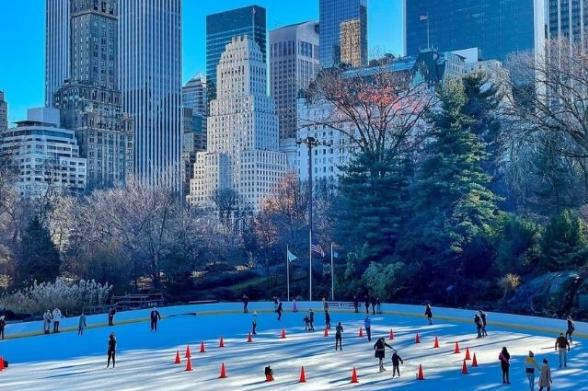 Credit: @iamanar92 on Instagram
Strap on those skates! New Yorkers love winter sports, especially ice skating, so don't be surprised to find amazing indoor and outdoor ice skating rinks all over the state. Whether you're focusing on improving your form, learning from scratch, or looking for an entertaining activity for a winter's day—you can find the right rink for you with this list of spots offering amazing skating experiences.
Remember to social distance and wear a mask as required by state guidelines. Call ahead and check websites and social media to make sure attractions are open and available. 
Updated 4/29/21
Calling all serious skaters, and non-serious skaters who just love the sport: YOU can skate like a pro by tracing the steps (glides?) of world-class athletes. The Olympic Speed Skating Oval at Whiteface Mountain in Lake Placid hosted the 1932 and 1980 Olympics, the latter seeing American speed skater Eric Heiden take the gold. The Oval offers a rare chance to skate for long, unobstructed stretches surrounded by the beautiful Adirondack Mountains. Adult and Teen Oval Skating: $15; Junior and Senior Oval Skating: $12; 6 and under Oval Skating: free; Adult and Teen Indoor Skating: $15; Junior and Senior Indoor Skating: $12; Skate Rentals: $10.
Families will enjoy a fun day of outdoor ice skating in an alpine-like setting at the foot of Bear Mountain at Bear Mountain State Park. The rink, popular with visitors from New York City, and Westchester and Rockland counties, also has hiking trails behind it, as well as an adjacent large lawn for children to play. The best times to skate are in the morning and early evening, and, for your convenience, skate rentals, skating lessons, and lockers are available. $5, children 4 and under free; skate rentals $5.
Kiwanis is a clean and well-maintained rink, beloved by the community and an excellent spot to hone your skills. The arena offers Learn to Skate classes for beginner skaters who have never skated to skaters with some skating experience. In partnership with the Skating Club of Saugerties, the arena hosts a Skating Academy that runs through May featuring basic skills classes, Aspire Program classes (for skaters seeking to build a strong skating foundation), and adult/teen classes for anyone 16 and up who would like to learn how to skate, come back to skating, or who wants to improve their skills. Adults admission: $7; kids: $5; kids ages 5 and under: free. Open all year.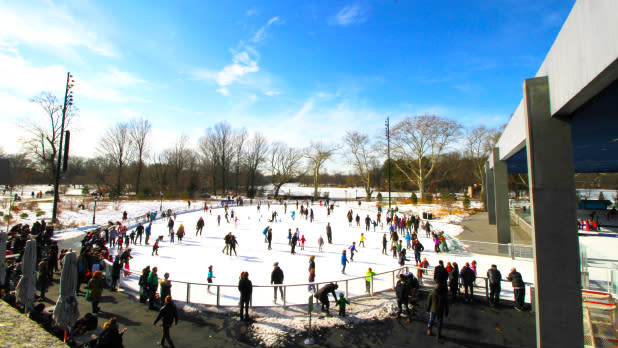 Rockefeller Center ice skating is classic, and NYC residents flock to the ice rink in Bryant Park and Wollman Rink in Central Park (pictured at top), but these aren't the only places for outdoor ice skating in NYC! Head into Brooklyn to enjoy the massive LeFrak Center rink in Prospect Park (pictured). One of the two interconnected rinks is covered (but still open air) so you can enjoy the fresh air and then warm up a bit—all without getting off the ice. Besides great skating, there are views of the lake and the winter wonderland that is the park. The Center offers a skate school for all levels as well as curling class! Refuel at the Bluestone Café with hot food, sandwiches, desserts, and beer (currently open for outdoor and takeaway dining options only). Open 7 days a week, hours vary; weekday admission: $7.50; weekend and holiday admission: $11; skate rentals: $8. Open through March 24
The ice rink at Brooklyn's Industry City is open every Thursday-Sunday through March 1. The rink is uncovered and outside, so dress appropriately for an enjoyable and comfortable skate. Social distancing and masks are required on the rink. Tickets are $12 per person, with skate rentals costing $10 per person.
The Cantiague Park Ice Rink has an enormous domed ceiling that feels as majestic as one would expect of the New York Islanders' former home. Even gold medalists like Nancy Kerrigan have performed here. Admission for non-residents: $10 for kids, $15 for adults; admission for residents: $10 for adults, $6 for kids; skate rentals: $5. Open September–June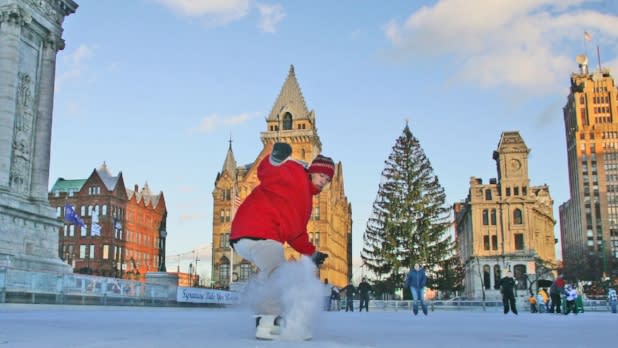 Syracuse is a city that sees serious snow, so the locals are experts at arranging winter fun. The Clinton Square Ice Rink lies in the heart of downtown, surrounded by some of the city's oldest and most beautiful buildings. The rink has indoor storage lockers available for rental. Admission $5 for adults; children ages 12 and under: $3; seniors 55+: $3; skate rentals: $5. Reservations are required and masks must be worn on the rink. Visit the rink's website to make reservations and for more information; open until mid-March.
The Nasser Civic Center Ice Rink in Corning reopened in November 2018 after a $1.2-million upgrade. The rink is outdoors, covered by a large roof, so you can see the trees, and farther back, mountains, while you skate. Public skating and lessons are available seven days a week. Online reservations are required. Admission for adults: $3.50; youth: $2.75; children: $1.50; seniors $3; skate rentals: $2.75. Open December–March.
East Aurora's Classic Rink has become a true asset for the entire Western New York community. Since opening in 2008, the venue has added a pavilion-style roof, locker rooms and warming lodge. With a mix of programs from season to season, some 114,000 people attend events at the Classic Rink each year. From young to old, first timer to professional, the outdoor rink offers something for everyone.
Reservations are required for the rink's public weekend skating sessions, as capacity is limited. Reservations for all weekend sessions will open Wednesday morning prior to the weekend at 9 a.m. and can be made on the rink's website. $6 to skate, ages 4 and under free; $4 for rentals. Each attendee must register separately. Open mid October–mid March.
The Thousand Islands-Seaway region of New York is full-on hockey country, one reason why communities like Watertown love their ice skating rinks. The Watertown Municipal Arena offers affordable skate rentals, skate sharpening, and lesson programs. Admission for non-residents: $4, for special evenings: $5-$6; skate rentals: $4; skate sharpening: $6. Open September–April.
Share your New York State adventures with us on Instagram and Twitter with #iSpyNY and tag us on Facebook!