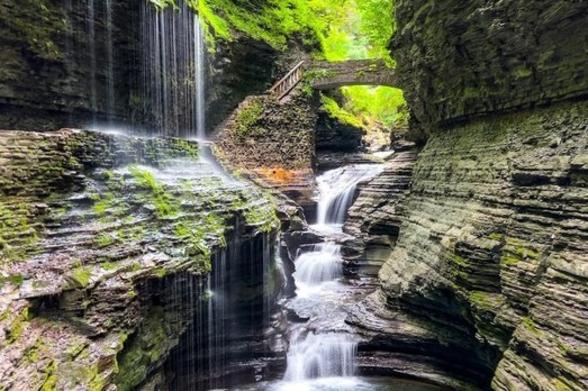 The Finger Lakes is a must-visit destination for nature lovers, wine enthusiasts, and adventure seekers. In 2022, Travel + Leisure named the region "one of the best places to travel", and it's easy to see why; with its stunning natural beauty, 11 crystal-clear lakes, world-class wineries, and endless outdoor activities, the Finger Lakes offers a unique and memorable experience for everyone, and for every budget! An abundance of free and low-cost things to do and see can be enjoyed year-round, whether it's exploring scenic state parks and hiking trails to visiting charming small towns and attending music festivals. Here are 15 ways to make the most of your Finger Lakes getaway!
1. Visit Historic Sites

Immerse yourself in the heroic journey of Harriet Tubman at the Harriet Tubman National Historical Park and relive pivotal moments in the fight for gender equality at the Women's Rights National Historical Park – both absolutely free of charge! Learn about the trailblazing life of Susan B. Anthony at the National Susan B. Anthony Museum & House, adult tickets are $15 and discounts for seniors, military personnel, and students are available. Step into the world of 19th-century statesman William Henry Seward at the Seward House Museum. Adults can enjoy a visit for $14, while AAA members, seniors, military personnel, and students receive discounted admission.
2. Splash around 11 lakes

Dive into 11 pristine lakes (Otisco, Skaneateles, Owasco, Cayuga, Seneca, Keuka, Canandaigua, Honeoye, Canadice, Hemlock, and Conesus) where your water-filled escapades await. From swimming to boating to fishing (license required) to paddling, you can do it all in any of the 11 lakes. Whether you're equipped with a canoe, kayak, or paddleboard, you'll find public access points at each of the 11 lakes, granting you the freedom to launch your vessel free of charge. For a fee, you can also rent from various boating options at each lake.
3. Cheers to unwine-ding

Indulge in the flavors of the Finger Lakes with a wine and brewery tour that won't break the bank! Renowned for its vineyards, you can enjoy award-winning wine tastings and tours for around $10-$15. Popular wineries include: Dr. Konstantin Frank Winery, Wagner Vineyards Estate Winery, Fox Run Vineyards, Glenora Wine Cellars, Americana Vineyards & Winery, and Heron Hill Winery. The Finger Lakes region is also home to several famed wine trails: Cayuga Lake Wine Trail, Keuka Lake Wine Trail, Seneca Lake Wine Trail, and Canandaigua Lake Wine Trail. Prefer brews over wines? You're in luck. The Finger Lakes is abundant in breweries, and for the mere price of your drink you can sip back and be hoppy. Check out some of the area's top breweries: Ithaca Beer Co., Abandon Brewing Co., Aurora Brewing Company, Prison City Pub and Brewery, Fifth Frame Brewing Co.
4. Venture into charming villages

credit: @skan_drone on Instagram
Take a leisurely stroll through the idyllic towns and villages nestled within the Finger Lakes region. Soak in the picture-postcard streets of Skaneateles, Canandaigua, Hammondsport, Watkins Glen, Aurora, Penn Yan, and the vibrant and bustling city of Ithaca, which retains its pedestrian-friendly charm with the beautiful Ithaca Commons. Each town has its own unique character, boasting quaint shops, cozy cafes, and stunning views.
5. Find a festival

Credit: @stillnotafoodie on Instagram
Enjoy a vibrant calendar of festivals and events year-round, with many of them being free to attend. Check out the Finger Lakes Wine Festival, Naples Grape Festival, Ithaca Festival, Syracuse Arts & Crafts Festival, Skaneateles Antique and Classic Boat Show, and Harvest Festival, just to name a few. These events showcase the region's diverse cultural and culinary offerings, providing unforgettable experiences for locals and tourists alike.
6. Marvel at the museums

Credit: @krmusician on Instagram
Be captivated by multiple museums in the Finger Lakes region. Revel in artistry at the Corning Museum of Glass, with admission ranging from $18 to $22, free entry for visitors under 17, and best of all, admission tickets are valid for two consecutive days! Learn the inspiring stories of remarkable women at the National Women's Hall of Fame, where admission is free, but donations are suggested. The Johnson Museum of Art at Cornell University also offers free admission. Delve into the world of play and imagination at the Strong National Museum of Play, with tickets priced from $23 to $37. Uncover the mysteries of our planet at the Museum of the Earth, offering entry for just $12.50, with discounts available. Explore science and technology at MoST (Museum of Science & Technology) for just $10-$12. Snap a shot and take in historic photography at the George Eastman Museum, with prices ranging from $7 to $20, and free admission for all active military personnel and their families. Contemporary art can be enjoyed at the Everson Museum of Art, with tickets priced at $8-$10, free admission for active military, and additional opportunities for free entry every third Thursday and select Saturdays throughout the year. Childhood nostalgia can be felt at the Jell-O Museum, where adults gain entry for $6, kids for $1.50, and children under 5 enjoy free admission. Appreciate movie memorabilia and more at the It's A Wonderful Life Museum for a mere $5.
7. Hit the road

Savor the beauty of nature and the charm of the countryside as you explore the Cayuga Lake Scenic Byway, winding along the shimmering shores of Cayuga Lake. For wine enthusiasts, the Keuka Lake Wine Trail offers a delightful combination of stunning landscapes and exquisite vineyards. Traverse the Seneca Lake Wine Trail, meandering through rolling hills and vine-covered slopes.
8. Chase waterfalls

Cascading waterfalls and majestic rock formations create a mesmerizing landscape at Watkins Glen State Park. Catch a glimpse of a hot air balloon soaring over the falls of Letchworth State Park, often referred to as the "Grand Canyon of the East." Ithaca Falls, Buttermilk Falls, Robert H. Treman State Park's Lucifer Falls, and Taughannock Falls, are just a few of the more than 150 waterfalls in Ithaca. Seek out High Falls in Rochester or Chittenango Falls in Cazenovia, surrounded by lush greenery and a picturesque gorge. Experience the enchanting beauty of two waterfalls in Grimes Glen Park or the five waterfalls in Fillmore Glen State Park. Vehicle and parking fees may apply to certain parks.
9. Bloom with the flowers

Be one with nature at the Cornell Botanic Gardens in Ithaca, a must-visit destination for nature lovers and garden enthusiasts, where admission is free! This botanical haven invites you to explore its diverse gardens and scenic trails, consisting of 25 acres of botanical gardens and 150 acres of the F.R. Newman Arboretum. Engage with the vibrant colors, delicate aromas, and serene landscapes that await you. 
10. Groove to live music

Let the music move you at various free and low-cost concert series in the region! The Canandaigua Music & Arts Festival in July features live music performances, food vendors, and arts and crafts, all free of charge. The Eastman School of Music is one of the world's leading music conservatories, and it offers a wide variety of free concerts and performances throughout the year. The CFCU Downtown Ithaca Summer Concert Series is a free outdoor concert series that takes place every Thursday evening during the summer months in downtown Ithaca's Bernie Milton Pavilion. Jazz in the City is a free summer concert series that takes place Thursday evenings throughout the summer at various locations throughout Syracuse. The series features local and regional jazz musicians and bands, and attendees can bring chairs or blankets to enjoy the music. Party in the Park (Rochester): Martin Luther King Jr. Park transforms into a music mecca for 6 weeks every Thursday, presenting a wide range of music including blues, funk, rock, reggae, and classic rock, admission $7.
11. Catch a game

Step up to the plate and catch a minor league baseball game in the Finger Lakes! Root for the home team (or all three of them) as the region boasts a trio of distinct minor league teams: the Syracuse Mets, Rochester Red Wings, and Newark Pilots. With tickets ranging from just $5 to $20, you'll enjoy major league fun for minor prices.
12. Stay fresh at farmers' markets

Farm-fresh foodies thrive in the Finger Lakes, a farmers market paradise. Indulge your taste buds at the renowned Ithaca Farmers Market (Saturdays and Sundays, year-round), where you'll discover an array of delectable treats, from fresh produce to mouthwatering baked goods and locally made crafts. Make your way to the Canandaigua Farmers Market (Saturdays, June-October), a beloved hotspot showcasing farm-fresh produce, artisanal cheeses, and an enticing selection of locally made products. For a small yet charming market experience, head to the Skaneateles Farmers Market (Thursdays, May-October) where you can peruse a delightful array of vendors offering fresh produce, baked goods, and crafts. Lastly, check out the vibrant Rochester Public Market, a bustling hub that welcomes visitors on Tuesdays, Thursdays, and Saturdays year-round, and hosts 300 unique vendors.
13. Pitch a tent

Breathe in fresh air and the smells of a crackling bonfire as you gaze at the stars in the night sky as you make memories and camp in the "Grand Canyon of the East", Letchworth State Park campground. Choose from a range of accommodations, including tent, cabin, or cottage camping, with prices starting at $25 per night. Other equally enticing state parks to camp in are Watkins Glen State Park and Taughannock Falls State Park, also offering lodging options in the same price range.
14. Join the festivities at the fair

Credit: @dennis.inbliss on Instagram
Mark your calendar for the highlight of the summer—the Great New York State Fair! For 13 days every year beginning late August, this iconic event will immerse you in a world of New York-themed excitement and fun. Indulge in mouth-watering fair food (local to New York State), jam out to live music by big-name artists, hop on thrilling rides that will leave you breathless, and snuggle up with adorable farm animals. Intriguing exhibits showcase the best of New York State's culture, art, and innovation. With an entry fee of just $6, the fair offers an affordable adventure for all.
15. Roar with excitement at the zoo

Two remarkable zoos call the Finger Lakes region home! Seneca Park Zoo in Rochester can be explored for just $9 to $12, with a discounted rate of $5 for military personnel. Beyond offering an exciting zoo experience, this institution takes a leading role in conservation efforts, both locally and globally. Get up close to African lions, olive baboons, and African elephants residing in the popular "A Step Into Africa" exhibit. At Rosamond Gifford Zoo in Syracuse, admission ranges from $5 to $9 and military personnel enter for free. Encounter a diverse collection of over 700 animals, many of which are endangered. Marvel at the majestic Asian elephants, Amur tigers, snow leopards, Humboldt penguins, variety of primates, tropical birds, fish, and the only giant Pacific octopus in upstate New York.
---
Share New York State adventures with us on TikTok, Instagram and Twitter with #ILoveNY and #iSpyNY, and tag us on Facebook!