Credit: @tibbettspointlighthouse on Instagram
A mystical and magical destination with iconic mansions and castles, historic lighthouses, dazzling riverside views, and hundreds of miles of breathtaking coastline await in the Thousand Islands-Seaway. This region's name is no exaggeration - there are actually over a thousand islands scattered throughout the St. Lawrence River between the United States-Canada border (1,864 to be exact)! This world-class region is a hidden gem to many, home to plenty of adventures that won't break the bank, from boat cruises and castle tours to trophy fishing and scenic small towns. Get ready to plan your next New York adventure to the Thousand Islands with these free and low cost things to do throughout the region. 
1. Tour scenic castles
You can't visit the Thousand Islands without paying a visit to its stunningly scenic castles. The magical 120-room Rhineland-style Boldt Castle (pictured) on Heart Island was originally commissioned to be built by George C. Boldt as a gift to his wife Louise in 1900. But, months before its completion, Louise passed and George halted all construction, leaving the castle unfinished and vacant for over 70 years. Since then, the castle has been restored to its former beauty, rivaling those of Europe. To visit this wonder, take a 10-minute boat ride on the Boldt Castle Shuttle ($9-$12.50) with Uncle Sam Boat Tours to Heart Island. From there, you can explore Boldt Castle on a self-guided tour for $12.50, tour Boldt Castle and The Yacht House for $15.50, or just check out the Yacht House for $7 or less. If you're still looking for more castle views, check out boat tours to the 28-room Scottish-inspired Singer Castle, which was owned by the fifth CEO of Singer Sewing Machine Company (hence the name). Boldt Castle is open until October 9. Singer Castle is open until October 15. 
2. Hit the waters on a boat cruise
Get to know the region while you float on the sparkling St. Lawrence River on a relaxing (and affordable) boat cruise. Uncle Sam Boat Tours out of Alexandria Bay offers a ton of themed tours all of which make stops at Heart Island at the end of the trip, and include a free boat ride back to the mainland (until October 9). Travel through one of the Thousand Islands' most historic areas, a group of islands with lavish mansions that were purchased by some of the wealthiest families of the late 1800s and early 1900s on the one-hour Millionaires Row Tour for $22.25. Journey through international waters between the United States and Canada on the two-hour-and-25-minute 2 Nation Tour for $28.50. Clayton Island Tours also offers a variety of fun and relaxing cruises including the Islands, Lighthouses and Castle Tour (until September 9) where an experienced guide will lead you through the Thousand Islands' most memorable views for $25, and the two-hour Sunset Cruise (until September 5) for $23.
3. Stroll through small towns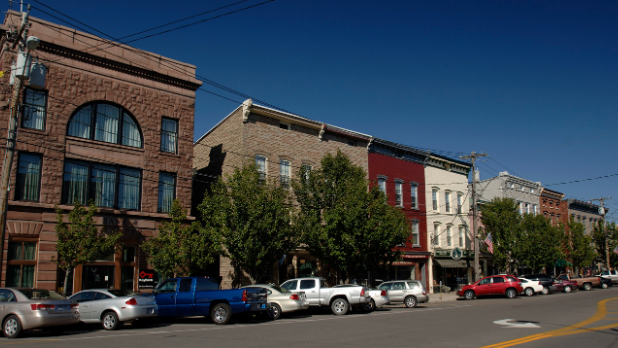 Over a century ago, the Thousand Islands region was a popular vacation destination for some of the nation's wealthiest and most powerful figures. Today, you can still witness the remnants of the era throughout the idyllic small towns scattered throughout the region. Voted #1 for Best Small Town Cultural Scene for 2022 and 2023 by USA Today's 10Best Readers Choice Awards, Clayton is full of classic riverside charm. Stroll on James Street where you'll find all kinds of local establishments like 1000 Island River Rat Cheese, the Thousand Islands Museum, Koffee Kove, and more. Surrounded by the St. Lawrence River is Alexandria Bay. Take a walk down the main street and peruse some of the shops like Good Dog Charlie's, Bay House Artisans, or Lil' River Fudge Co. After, stop into Riley's by the River for a bite to eat. If you're around from August 11-20, check out Bill Johnston's Pirate Days for all things pirates and mermaids. Admire views where the St. Lawrence River meets Lake Ontario as you wander down Cape Vincent's main street, Broadway. Explore all kinds of local treasures and specialty goods like Twist of Cape, Cape Vincent Brewing Company, Chateau on the River and more.  
4. Travel through history at museums 
From extraordinary art collections and local maritime history to the stories of Holocaust heroes and African-American freedom seekers, the Thousand Islands-Seaway is full of museums that cover it all. Spend the day at the Antique Boat Museum in Clayton for $14 (or $40 per family). It's home to the largest collection of antique and classic boats on display in North America with over 300 vessels. In Ogdensburg, you'll find the world's largest collection of art and archival materials from Western-American artist Frederic Remington at the Frederic Remington Art Museum. Admission ranges $10-$20 per person and is free for active duty military and their families through Labor Day. Make stops at both of these amazing museums for the price of one! Paid admission to the Antique Boat Museum also includes free admission to the Frederic Remington Art Museum, and vice versa. Learn about the journey of 982 holocaust refugees who fled Europe during the United States' "Safe Haven" program at the Safe Haven Holocaust Refugee Shelter Museum in Oswego for $5 a person. The Starr Clark Tin Shop and Underground Railroad Museum in Mexico, NY offers free tours (by appointment only) of abolitionist Starr Clark's working tin shop and refuge for African-American freedom seekers from the mid-1830s to the Civil War. To learn about the Thousand Islands' maritime heritage, head to the H. Lee White Maritime Museum for 400 years of Oswego County history ($6-$12 per person), or the Thousand Islands Museum, home to exhibits about the St. Lawrence River region and the Muskie Hall of Fame (Admission is free).
There's nothing like spending the day in the great outdoors surrounded by marvelous waterfront views, and the Thousand Islands-Seaway's state parks are the place to do it. Robert G. Wehle State Park, the former grounds of the Wehle estate in Henderson has 1,100 acres and 17,000 feet of Lake Ontario shoreline to uncover, and admission is free. For $7 a vehicle, you can walk along the sandy beach, fish for muskie in the river, explore rustic paradise at the largest campground complex in the region, and more at Wellesley Island State Park in Fineview. Rolling wooded hills, grassy meadows, a sandy beach on the eastern end of Lake Ontario, and a marina for licensed anglers can be found at Westcott Beach State Park for $8 a vehicle. Cedar Point State Park offers a sandy beach along the St. Lawrence River, a pier for fishing, and an overlook to admire freighters heading out to sea ($6-$7 per vehicle). The sprawling Southwick Beach State Park ($8 per vehicle) is popular for its long sandy beach, ideal for swimming and sunning in the summer, and acres of snowmobiling trails in the winter. 
6. Admire historic lighthouses
In another era, lighthouses were an essential guide for ship captains, ensuring safe passage to their destinations. Today, most modern technology has taken over the job, but the picturesque nature of lighthouses remains. The Thousand Islands is jam-packed with maritime history and dazzling lighthouse views; you just can't visit the region without admiring a few! The Tibbetts Point Lighthouse in Cape Vincent marks the point where the sparkling St. Lawrence River meets the powerful Lake Ontario and is home to the only working Fresnel Lens on Lake Ontario. While you can't enter the lighthouse, you can stroll the grounds for a great view. Admission is free, but donations are welcome. The Oswego Lighthouse, found at the H. Lee White Maritime Museum, can be explored on a two-hour private tour ($20-$30 per person) and includes a roundtrip boat ride to and from the landmark, or admired from the pier of the museum for free. 
7. Visit historic sites
Close proximity to significant waterways made this region a hotspot for many historic conflicts between the United States and British-controlled Canada throughout the War of 1812, as well as battles during the French and Indian War. The historic star-shaped Fort Ontario (open until October 9) was first built by the British in 1755 and saw three battles of the French and Indian War and two from the War of 1812. Today, you can tour the fort and catch exciting reenactments throughout the site for $3-$4 per person. The 70-acre Sackets Harbor Battlefield Historic Site (admission is free) saw two battles of the War of 1812. Explore exhibits or take a tour for $3 and in the summer, witness demonstrations from guides dressed in 1813 military clothing reenacting camp life of a common soldier. Visit the mission fort dating back to 1749 that marks the meeting of the St. Lawrence and Oswegatchie rivers, Fort de la Présentation. Stop by for historical reenactments like the annual Siège du Fort de la Présentation event that celebrates the founding date of the fort. 
8. Take in views along a National Scenic Byway
Get the gang together and hit the road for a journey on one of the first designated National Scenic Byways. The 454-mile Great Lakes Seaway Trail was named one of the Top 9 Great American Drives by Budget Travel and runs along the US-Canada border. You'll admire one-of-a-kind views of the St. Lawrence River, Lake Ontario, the Niagara River, and Lake Erie, and travel through the diverse landscape of the North Country including large towns, quaint villages, picturesque bays, rolling farmland, harbors, lighthouses, wildlife, and more. 
9. Go fishing
The Thousand Islands-Seaway is an angler's dreamland with world-class fishing and breathtaking waterside views around every corner. The St. Lawrence River was named the #1 bass lake in the nation in 2022 by Bassmaster Magazine. While it's famous for bass, you'll also find northern pike, muskellunge, brown trout, and salmon. Lake Ontario is known for trophy-sized catches of salmon, trout, walleye, and bass as well as panfish found near-shore. Black River leads into Lake Ontario and is also known for bass, northern pike, muskellunge, brown trout, and salmon. The Indian River Lakes offer a unique fishing experience with 15 lakes available to the public, each varying in physical and chemical characteristics, providing the opportunity to fish for a plethora of species in a relatively small geographic area. A New York State Fishing License is required to fish in New York, but free fishing days offered throughout the year give visitors and residents a chance to fish for free without a license, and kids under 16 can always fish for free.  
10. Visit an animal lover's paradise
You're bound to hear a moo-moo here and an oink-oink there from one of the 200 farm animals at Old McDonald's Farm. Kids (and kids at heart) can learn about country living, animals, and agriculture with tons of hands-on experiences from feeding adorable cows and petting dozens of goats to touring a modern dairy's calf facility. Explore the farm on a 25-minute scenic hayride, jump on the bounce pad, play barnyard baseball, watch pig races, pick sunflowers and zinnias in late summer and pumpkins in the fall, and more, all included in all-day regular admission ($14.95). The farm is open from early-May until Halloween.
11. Learn about the environment
Explore more about the natural beauty of the Thousand Islands at the 600-acre Minna Anthony Common Nature Center located right next to Wellesley Island State Park. Admire a variety of exhibits and learn about the wildlife and plants you might encounter throughout the region, embark on a hike on nine miles of trails, experience tons of hands-on learning opportunities in the Discovery Room, take in the beauty of elegant butterflies in the Butterfly House (July-August), and more. Before you visit, be sure to check the website for upcoming events like Full Moon Hikes, live birds of prey demonstrations, Riverkeeper Kayaking, Harry Potter-inspired scavenger hunts, and more.
12. Sip back and relax at wineries and vineyards
Credit: @tiwinery on Instagram
From sparkling St. Lawrence vistas to sprawling farmland lookouts, you're sure to enjoy the view while you unwine-d at these wineries and vineyards. Coyote Moon Vineyards offers two Clayton locations, each with equally impressive landscapes. Wine sampling flights at both locations are priced around $4-$6 and include 6 tastings and a small box of snacks to pair with each sample. The Thousand Island Winery is one of the largest in the region stretching across 40 historic acres. Take a free self-guided tour that includes two tastings, a 40-minute guided tour that includes four wine tastings and a glass of wine ($10), or a 55-minute guided tour from one of the winemakers that includes five wine tastings, a barrel tasting, and a glass of wine ($15). Find relaxation amidst tons of blooming flowers from the outdoor patio at Northern Flow Vineyards & DeLuke's Garden Center. Get a taste of award-winning wines from this small farm winery along the St. Lawrence, offering four tastings for $3 and six tastings for $5. 
13. Stroll through farmers markets
Wander through rows of fresh fruits and vegetables, local crafts, and delicious baked goods alongside the dazzling waters of the St. Lawrence River at farmers markets throughout the region. For a small-town shopping experience with a riverside view, head to the Alexandria Bay Farmers Market. It takes place on Fridays, May-September from 9am-3pm and offers a range of seasonal spring and summer produce, canned goods, and crafts. The lively atmosphere of the Clayton Farmers Market can be found every Thursday from June-October, 10am-4pm with homemade foods, produce, and award-winning wine from local vineyards. On Tuesdays, June-September from 11am-4pm in Cape Vincent, the Cape Street Market presents a variety of fresh produce, local artwork, and tons of handmade crafts to browse.
14. Rock out to live music
The only thing better than a night of open-air live music is a free night of open air live music! There are tons of free festivals and weekly concerts sporting some of music's best from up-and-coming local gems to well-known artists. Admire the view from the waterfront overlooking Boldt Castle while you enjoy live music at the Alexandria Bay Summer Concert Series (Wednesdays, 7pm-9pm until September 6). Enjoy sweet melodies from musicians including founding members of Blue Öyster Cult at the Clayton Waterfront Summer Concert Series (Thursdays, 6pm-8pm until August 31). One of Alexandria Bay's most famous events, Rockin' the Bay takes place August 24-27 from 7pm-9pm and features a classic car show and live music that's sure to rock your socks off. Listen to vibrant local musicians, check out homemade crafts, watch exciting demonstrations, and explore kids activities along Broadway in Cape Vincent at the Stroll on Broadway Music Festival (August 26, 10am). Enjoy four days of beautiful blues and waterfront views at Blues in the Bay from September 1-4 in Alexandria Bay. 
---
Don't forget to post photos of your New York adventures on Instagram and Twitter with #iSpyNY and tag us on Facebook!