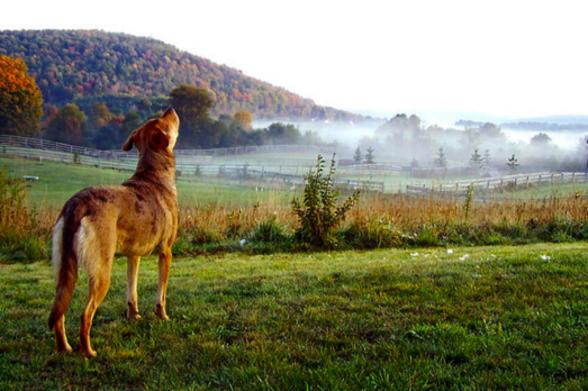 Updated 7/6/23
We know it's hard to truly enjoy yourself when spending time apart from your fur baby, but finding pet-friendly accommodations isn't always easy. Well, you and Fido are in luck. New York State has plenty of pet-friendly getaway options, from campgrounds, beaches, and dog parks, to upscale inns and hotels. Read on to find the trip that's pawsitively perfect for you and your pooch. 
Masks are encouraged, but optional in most settings per New York State guidelines. Individual businesses or attractions may require mask wearing. Call ahead and check websites and social media to make sure attractions and amenities are open and available. 

Credit: @thedapple_
Firelight Camps are comfortable and charming lodgings for people and pets who want to surround themselves with nature. Wake up each morning to complimentary locally sourced breakfast and freshly brewed coffee. Feel free to use the phone-charging station, join in communal campfires, play a game of cornhole, and more. You're also a stone's (or stick's) throw from Upper Buttermilk Falls hiking trails. Bring your pup for an additional fee of just $30 per night (allowed in non-electric tents only). And wine lovers with dogs will be excited that most of the 12 participating wineries on the nearby Cayuga Lake Wine Trail are dog-friendly (many even have treats stashed away behind counters).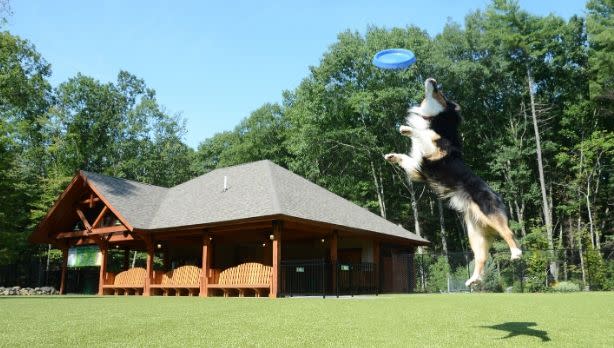 The Lake George RV Park is one of the rare luxury RV parks replete with a water park, Wi-Fi, cable TV, tennis courts, basketball courts, a cafe, a pond with paddle boats, and a trolley shuttle service. Best of all, it's super pet-friendly. Pups can race around the two-acre off-leash dog park, "Charlie's Bark Park," which has both large and small dog areas. There's an indoor dog wash station, a pet treat vending area, dog spray fountain, walking trails, and a turf play area. Opt to stay in a pet-friendly rental unit with up to two pets, or at any campsite with up to six! Just an 8-minute drive away, you and your dog can enjoy stunning views of Lake George aboard a one-hour historic Lake George Waterfront Cruises with fascinating narration from the captain. 
The A-frames and other small cabins at this Catskills retreat offer a perfect taste of glamping with stunning views of Windham Mountain and the countryside, while the main Scandinavian-style lodge is all about coziness. Most rooms and cabins allow you to bring your pet with you ($50 extra per night) to enjoy the nearby hikes and scenery. It's the perfect location for a Windham ski trip and other Catskills explorations!

Credit: Christian Gianelli
This Catskills retreat is all about the pups (no cats allowed, unfortunately). Enjoy a stay up in the mountains, where dogs of all sizes are welcome to trek the trails in the 2,000-acre forest preserve and cannonball themselves into beautiful Lake Joseph. Humans will enjoy the daily country-style breakfast and a picnic lunch. You can also relax by the fire pit with your fur baby and other guests. Dogs are welcome in 11 of the accommodation options, including the cozy four-bedroom cottage, for an additional $25 per night.

Credit: Emerald Glen Getaway
The Getaway at Emerald Glen Farm is not just dog-accommodating but completely dog-centric! On this 120-acre bucolic doggy haven, pups can roam leash-free for the entirety of your stay. Guests can end their days mingling and making s'mores around the campfire with the other humans and canines. You and your dog (2-6 allowed, based on lodging) can sniff out the trails, explore the meadows, and after a nature-filled day, your pup can wash off at the many dog washing stations located around the campgrounds. Choose between a full-functioning house, luxury RVs, cabins, cottages, glamping, and a stylish tiny home, depending on your taste and budget. If your dog could design its own summer camp, this would be it. 
Treat your pup like the VIP he or she is. The Soho Grand Hotel is ready to welcome fur-riends with open arms and lots of pats. Doggy bags will be waiting, as well as bowls and bedding your baby needs. Dogs stay over at no extra cost and the hotel even designates entire floors as pet-friendly so you don't have to worry about making any other guests uncomfortable. But the Soho Grand Hotel truly goes above and beyond with its very own dog park. That's right, you don't even have to leave your hotel to let McScrufferson stretch his legs. The park includes fire hydrant water stations, benches, and a nice garden. Guests at the sister Roxy Hotel, are welcome to bring their pups over too.

Credit: Sylvia Muller
Every pup deserves a trip to the beach. Watch them roll in the sand, bark at the approaching tide, and maybe even meet their first crab! At the East Hampton Main Beach, dogs are welcome to enjoy the seashore off-leash during the off-season (from the end of September until the second week in May). Be sure to book your stay at the Mill House Inn, where the cost to bring your furry companion is $60 per night. There are three pet-friendly suites but the dogs are not to be left alone in them without permission from management. The inn owners are more than happy to direct you to all the dog-friendly beaches and restaurants in the area.
Enjoy the Thousand Islands region 1,000 times more when you visit with your dog. You'll love the clean, cozy, and affordable rooms at the dog-friendly Comfort Inn & Suites Watertown 1000 Islands. There's grass and sidewalk nearby for early morning walks, and just a hop, skip, and a 15-minute drive east will bring you to the Black River Trail. Thanks to the Rails-to-Trails Conservancy, the Black River Trail makes for easy strolling in nature, where your dog can feel the soft earth beneath their paws. Head to Wood Boat Brewery for fresh-brewed beer, brick-oven pizza, and a front deck that  accommodates dogs and overlooks the St. Lawrence River.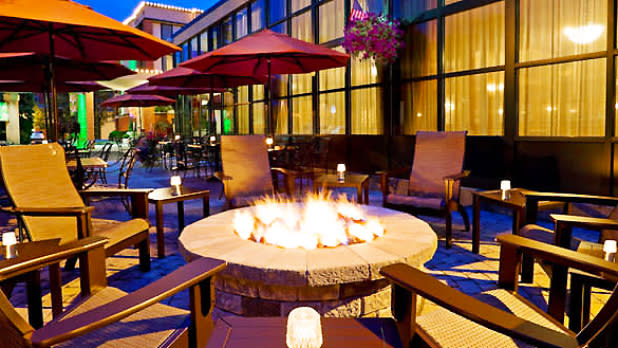 Dogs and people who love them will feel right at home in Saratoga Springs, thanks to its Dog-Friendly Downtown initiative. You'll notice a special sticker in the window of 70 different restaurants, cafes, shops, wineries, bars, and more, indicating that they're down with dogs. All participants can be found here. Post up with your pup at the clean and comfortable Holiday Inn Saratoga Springs for a fee of $30 per night. Guests with pets are usually booked on the first floor so it's easier to get out for walks.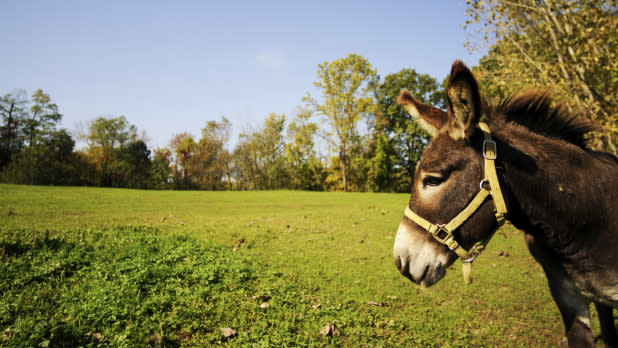 The folks at the calm and peaceful Buttermilk Falls Inn and Spa know you can't truly relax when you think about your pup missing you at home. That's why dogs are warmly welcomed on this 75-acre farm/animal rescue/luxurious lodging. Dogs are free to roam leash-free on the grounds, which include a stream and pond. Your pup can even make new non-dog friends with the rescue farm animals, including Holly the donkey. Dogs of any size are welcome in the carriage and guest houses for a fee of $50 per night per pet.
Bring your four-legged buddy to the dog-friendly Clarion Pointe Jamestown - Falconer. Pet owners are welcome to bring a maximum of two pets, weighing up to 50 pounds each, for just $25 per pup. There's a nice grassy area by the hotel where your pooch can do its business. Just a 20-minute drive will bring you to most of the Chautauqua Rails-to-Trails, absolutely stunning trails through pine and hardwood forests, countryside, and vineyards. The flat terrain is easy for dogs large and small. Check their website to find the trail that's as long or short as you'd like. If you want to relax at the end of the day, bring Fido to the Ellicottville Brewing Company, where you can enjoy a cold pint at one of the sidewalk tables and the staff will happily supply your bestie with water in a doggy bowl.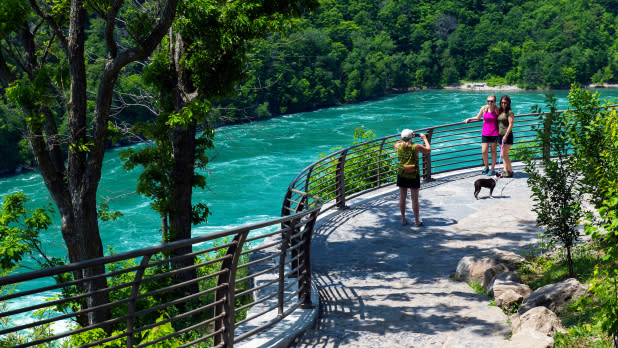 Take your little wonder to see one of the seven wonders of the world! That's right, Niagara Falls State Park is dog-friendly so you can snap the perfect family photo with ALL your family members. That's more than 400 acres of land to sniff out. Just remember that pups must be on a leash and up-to-date on their rabies shots. Go all out and stay at the Giacomo Hotel, a luxury hotel with views of the Niagara River. Besides human treats such as custom chocolates, fresh cookies in the evenings, full European in-room breakfast, whirlpool baths in some rooms, and sunset toasts on the weekends, you can bring dogs up to 50 lbs. for an extra $25 per night and per pet.
---
Share photos of your New York adventures on Instagram and Twitter with #ILoveNY and #iSpyNY and tag us on Facebook!