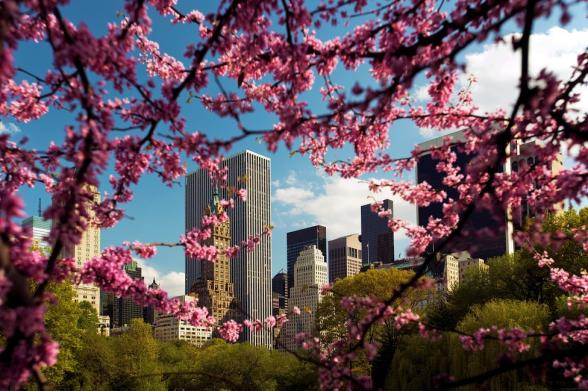 Kick the cold winter months to the curb and welcome spring with the magical bright pink and white blooms of cherry blossom season! Get your cameras ready and be sure to catch the blooming beauties now through mid-May at spectacular New York State parks, gardens, and more!
Masks are encouraged, but optional in most settings per New York State guidelines. Individual businesses or attractions may require mask wearing. Call ahead and check websites and social media to make sure attractions and amenities are open and available. 
The 10th Annual Buffalo Cherry Blossom Festival, Buffalo (Greater Niagara)

This famous yearly springtime tradition is a must-see for all. Since 2014, the Buffalo Cherry Blossom Festival has helped banish the winter blues with a "blizzard of blossoms" while bringing awareness to the six-acre Japanese Garden at Delaware Park. Along with the sea of pink and white, the festival features Japanese cultural events and activities for all ages like Taiko Drum performances, the Pink Parade, and an array of speakers and performers. Can't make it to the festival? Visit the Japanese Gardens of Buffalo anytime from the end of April to mid-May to catch the blossoms. The festival takes place this year from April 29-30, 2023. Event schedule and vendors to be announced. Admission and parking are free.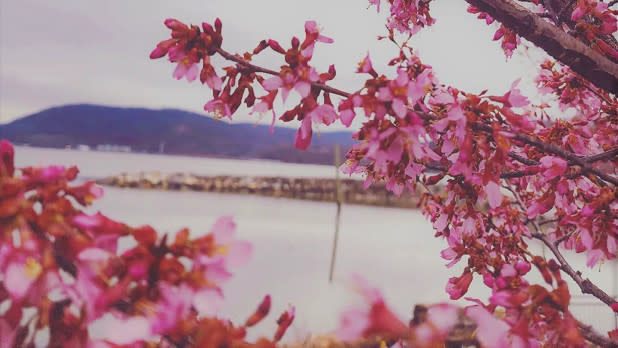 Capture the beauty of over 100 budding cherry blossoms with a backdrop of the Hudson Highlands at the Peekskill Riverfront Walkway! Snap some photos while you take a stroll along the river and visit some of the local vendors, food trucks, plant sales, raffle prizes, and activities for kids like flower pot painting and inflatable slides. The festival takes place Saturday, May 6, 2023, 10 am-5 pm at the Peekskill Riverfront Green Park with easy access from the Peekskill train station. Admission and parking are free.

Best known for its Tulip Festival in early May, Washington Park, in the heart of Albany, is also a beautiful photo spot for cherry blossom trees! Slowly meander through the Knox Street Mall or have a seat on a bench and take in the sweet-smelling blossoms throughout the 84-acre park. Don't forget to check out the monuments, lake, and the oldest and only remaining original structure in the park: the footbridge! Washington Park is free to the public and open from November - April, sunrise to 10 PM, and from May - October, sunrise to 11 PM.
The Japan Center at Stony Brook's Sakura Matsuri: Cherry Blossom Festival, Stony Brook (Long Island)
Welcome spring to Long Island in Japanese tradition at the Sakura Matsuri: Cherry Blossom Festival at Stony Brook University's Charles B. Wang Center! Cherish the blooming of the cherry blossoms while being entertained by the sounds of Taiko drums, elegant Japanese performances, and an array of cultural exhibits and activities for all ages. Takes place Sunday, May 7, 2023, from 12 PM to 5 PM (rain or shine) at Stony Brook University's Charles B. Wang Center located on the West Campus. Admission to the festival is free, but paid wristbands are required for certain events and performances. 
Discover endless photo ops on the 100-acre grounds of the F.R. Newman Arboretum in the Cornell Botanic Gardens featuring over 20 different types of flowering cherry trees! These beautiful and lightly fragrant cherry blossoms like the Okame and Sargentii usually bloom in mid-spring (last year they bloomed late-April) and can be found in the Cornell Class of 1923 Flowering Tree Collection. You can also catch magnolias and crabapples flourish from mid to late May. The Arboretum is free and open to the public year-round, dawn-dusk.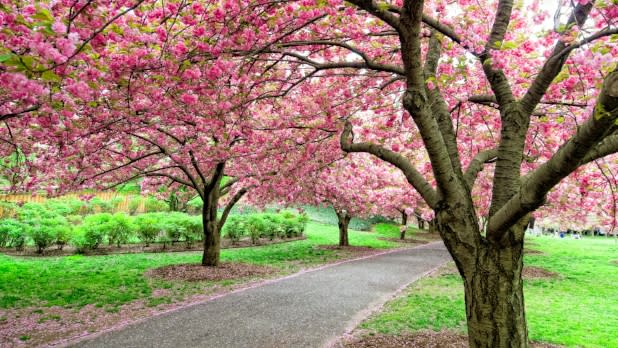 Credit: Antonio M. Rosario; courtesy Brooklyn Botanic Garden
With over 200 cherry blossoms sprawled across six gardens ready to bloom in late April, the Brooklyn Botanic Gardens is the place to be for cherry blossom season! Take a shaded stroll down the Cherry Esplanade and through the late-blooming Kanzan cherry blossoms, or pause for a peaceful moment of reflection at the pond, viewing pavilion, or torii (traditional gate). The shrine on the three-acre Japanese Hill-and-Pond Garden is filled with flowering cherries, Japanese maples, tree peonies, irises, and bamboos. The Cherry Esplanade is also the heart of the Garden's Sakura Matsuri, the annual cherry blossom festival, to be announced. The Brooklyn Botanic Garden in Bloom hours are Tuesday - Thursday 8 AM - 8:30 PM, Friday - Sunday 8 AM - 6 PM, and closed on Mondays (April 1 - May 15). Tickets are required for entry. Use the park's Cherrywatch to find out which blossoms are at peak. 
Get your cameras ready for these picture-perfect cherry blossom displays at the Orange County Arboretum located in the Thomas Bull Memorial Park! Sprawling across 35 acres of former pasturelands are countless collections of trees, shrubs, and plants alongside the breathtaking view of the Shawangunk Mountains. Mosey down the gravel pathway through the Asian Tea Garden for grand displays of flourishing pink and white cherry blossoms or admire from the benches. Blooming in previous years from mid to late-April, these blossoms are ones you don't want to miss! The park is free to the public and open daily rain or shine from dawn until dusk.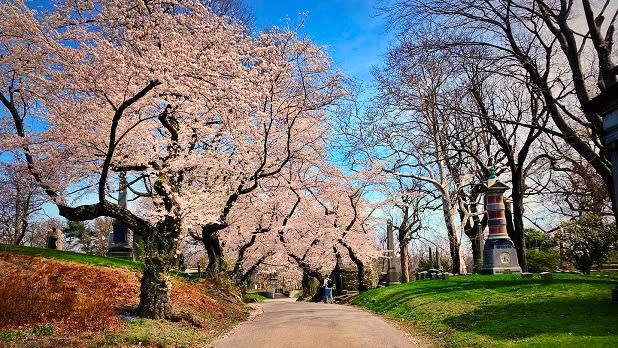 Experience spring in Brooklyn with over 172 cherry blossom trees at the Green-Wood Cemetery. This 478-acre National Historic Landmark was one of America's first rural cemeteries and features an array of peaceful hills, valleys, glacial ponds, and paths. Walk along Battle Avenue or take a trolley ride around the grounds to admire and honor the flourishing pink and white cherry blossoms. Stay tuned for information regarding the annual Hanami Festival. The Main Entrance at Fifth Avenue and 25th Street is open daily from 8 AM - 5 PM. Admission is free. 
Central Park, Manhattan (New York City)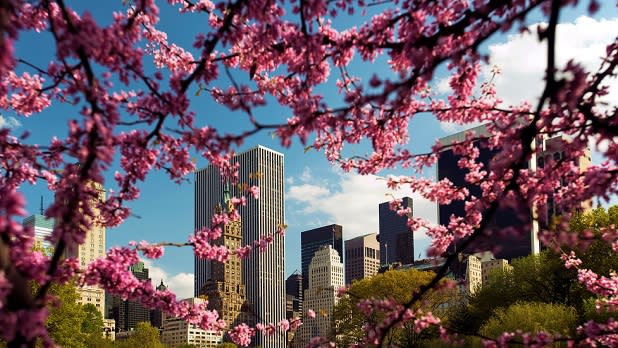 Head over to New York City's 843-acre backyard for the perfect place to capture spring in the city! The short-lived cherry blossom season brings nature lovers from all over the world to admire Central Park's beauty. Witness the park's first cherry blossoms of the season, the early-blooming Okame, blossoming now on the West Side of Reservoir! To see the deep pink, late-blooming Kwanzan trees (typically early May), visit the west side of the Jacqueline Kennedy Onassis Reservoir by 90th Street. Catch the stunning white blossoms of the Yoshino trees flowering on Cherry Hill located mid-park at 72nd Street (typically early to mid-April). To witness the white and pink Higan trees, check out the west side of Sheep Meadow, on Cedar Hill, and in the Conservatory Garden on the Woodland Slope (typically early April). For the most impressive collection of trees go to the southwest corner of the Great Lawn. The park is open daily from 6 AM - 1 AM. Admission is free. Use the park's new Cherry Blossom Tracker to find out when blooms are at peak.

Drop by Flushing Meadows Corona Park in Queens, home to two 20th-century World Fairs and a captivating palette of colorful cherry blossoms! Stroll or bike through one of the city's most iconic parks on one of the many scenic trails and historic walks, while you gaze at the budding blossoms. For a truly delightful view, go west on the Promenade toward the Unisphere. Admission to the park is free. Some costs are required for additional activities. Hours vary based on attraction. See a full list of attractions and hours here.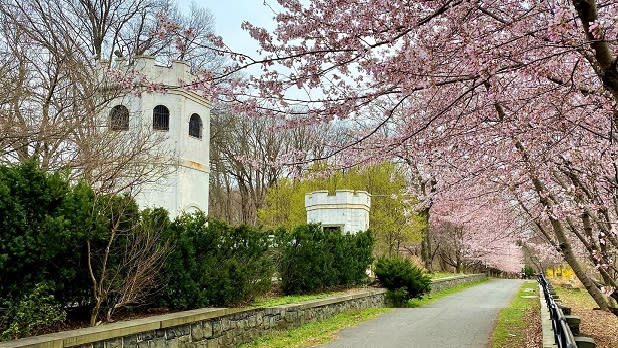 Make your way out to Snug Harbor Cultural Center and Botanical Garden for one of the most exquisite displays of cherry blossoms on Staten Island! This 83-acre campus is said to be the largest ongoing adaptive reuse project in America and home to 23 historical buildings, nine botanical gardens, and 10 acres of wetlands. For premier cherry blossom pictures head over to the site's New York Chinese Scholar's Garden, one of two authentic classical outdoor Chinese gardens built in the United States! Admission to the Snug Harbor Cultural Center and Botanical Garden is free and open seven days a week from dawn to dusk. Tickets for the New York Chinese Scholar's Garden are $5 for adults, $4 for seniors (65+) and students, and free for children under five, active military, and Snug Harbor members. Staten Island residents are admitted free on the first Friday of each month with proof of residency. 
Gaze at early-blooming Yoshino and late-blooming Kwanzan trees along the East River with sweeping views of Manhattan's East Side on Roosevelt Island! Drift through the West Promenade for a beautiful waterfront scene set with cherry blossoms canopying overhead or head over to the Franklin D. Roosevelt Four Freedoms Park to enjoy the scenery from the southern tip of the island! FDR Four freedoms park is free and open to the public 9 AM - 5 PM and closed on Tuesdays.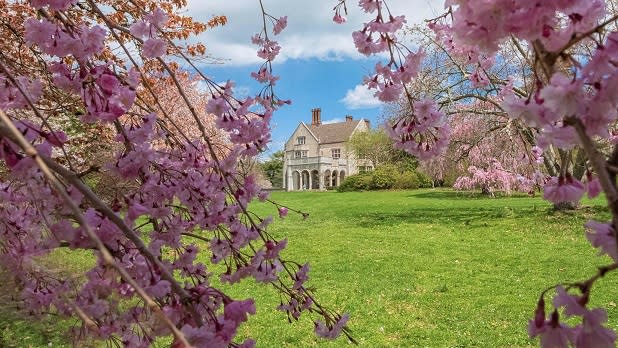 This vibrant and elegant site is home to countless historical structures and horticultural collections including flourishing cherry blossoms in the spring! The Planting Fields Arboretum State Historic Park is listed on the National Register of Historic Districts and holds numerous stories of the past in its two acres of greenhouse displays, 22 gardens, and more than 10,000 types of plants and stunning architecture. Wander through peaceful, quaint paths surrounded by vivid hues of pink, white, and green! Planting Fields is open every day from 9 AM - 5 PM. Parking is $8 per car, $75 per bus ($35 for non-profits), and collected daily from May 1 to Labor Day, on weekends and holidays from Labor Day to November 21, and in April on weekends and holidays only.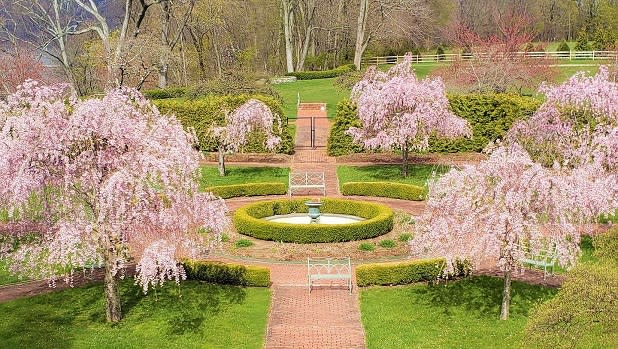 Get your daily dose of history while you snap photos of cherry blossom trees at the Boscobel House and Gardens in Garrison! This nonprofit museum opened 60 years ago and was once the dream house of wealthy British Loyalists. Take in the 68 acres of grounds scattered with flowering cherry trees overlooking the Hudson River and West Point for a breathtaking view and photo opportunity! Admission to the gardens and grounds is $14 for adults, $12 for seniors, $7 for children (4-18 years old), and free for members and children under four. They are open Saturday from 10 AM - sunset, and Sunday from 12 PM - sunset. 
---
Share New York State adventures with us on TikTok, Instagram and Twitter with #ILoveNY and #iSpyNY, and tag us on Facebook!