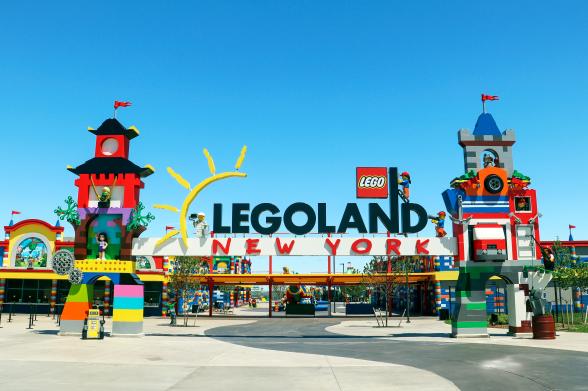 Families have yet another reason to plan a trip to New York State this summer: the new LEGOLAND® is open! This theme park, the largest LEGOLAND ever, is specially designed for children ages 2-12, with 50 rides, shows, and attractions spread out over 150 acres. Located in the Hudson Valley village of Goshen, just 60 miles northwest of New York City, LEGOLAND will bring serious family fun to your summer. To reserve dates and single-day tickets, visit LEGOLAND New York Resort's online reservation system. Here are seven amazing experiences to expect at LEGOLAND New York. 
Remember to social distance and wear a mask as required by state guidelines. Call ahead and check websites and social media to make sure attractions are open and available. 
1. Explore Seven Different Lands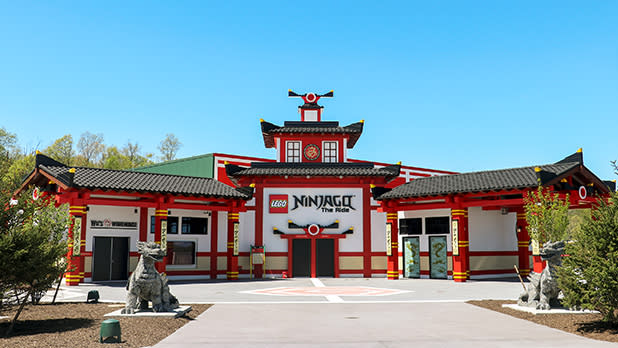 LEGOLAND New York organizes the park into seven distinct sections or "lands" that you can tackle one by one during your visit or over multiple visits. The first is Brickstreet, located just beyond the giant LEGOLAND New York arch. Brickstreet is designed to look like a small-town Main Street and features the Brick Street Café; the Big Shop (where you can find thousands of unique LEGOs); and giant LEGO statues, including life-size LEGO friends sitting on a bench waiting for a photo with you. There are also "model citizens," as LEGOLAND workers are known, who have LEGO minifigures to trade, should you want to exchange LEGO pieces from home.
Besides Brickstreet, you can head to Bricktopia for hands-on building activities; NINJAGO® World, where children learn the ninja-inspired art of spinjitzu in a fun spinning ride; LEGO City, complete with a movie theater, driving school, and fire house; LEGO Castle, home to dragons, wizards, and more; LEGO Pirates, filled with water activities; and Miniland, which has a tribute to LEGOLAND's newest home, New York.
2. Experience LEGOLAND's Signature Rides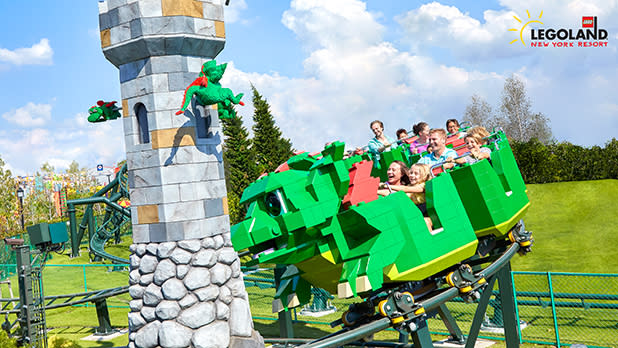 One of the most well-known LEGO characters is the dragon, so it's no surprise that the signature roller coasters at LEGOLAND New York feature the fire-breathing green creature. The Dragon's Apprentice (pictured) is the perfect starter coaster for children, gentle enough not to be scary, but fun enough to provide thrills. For bigger kids, parents, and guardians, the main Dragon coaster features more thrills. 
Another classic is NINJAGO the Ride. This interactive, 3D experience is like a video game in real life. You travel through a monastery to be trained in "spinjitzu" and become a master of fire, water, earth, or air. Then you are ready to go into battle and save the world of NINJAGO. 
3. Try a Brand-New Ride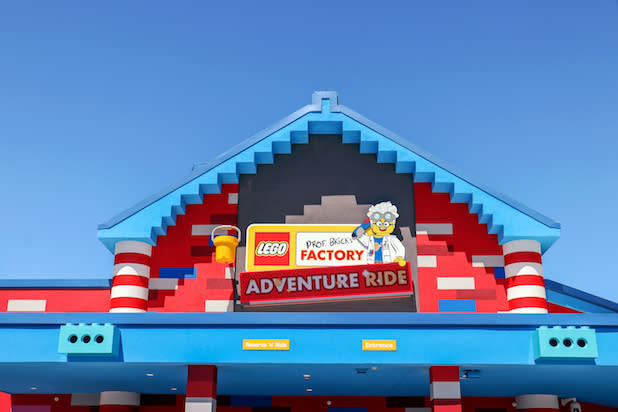 The LEGO Factory Adventure ride will make its worldwide debut at LEGOLAND New York. Learn what it is like to be a LEGO minifigure as the ride simulates the experience of shrinking you to the size of a brick—think Honey, I Shrunk the Kids, LEGO-style. The ride takes you through a LEGO factory where you can see how LEGO bricks and toys are made, encouraging a sense of wonder.
4. See New York City in LEGO Form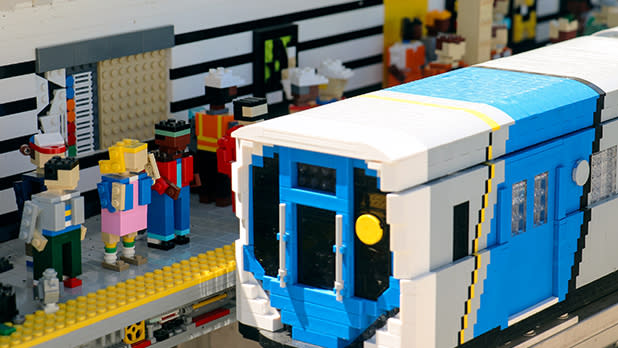 LEGOLAND's Miniland features 10 miniature destinations and attractions from across the country made from 22,231,368 bricks! New York City is a highlight of Miniland, with amazing replicas of the iconic Empire State Building and Statue of Liberty. Times Square is featured in amazing detail with its famed colorful billboards. There's also a replica of the New York City subway (pictured), historic Brooklyn Bridge, and a Yankee Stadium model made with 161,000 bricks and thousands of miniature Yankees fans.
LEGOLAND Miniland wouldn't be complete without a miniature version of its hometown, Goshen. This quaint Hudson Valley village is home to Goshen Historic Track, the oldest continuously operating horse racing track in North America, and the Harness Racing Museum & Hall of Fame, both of which are part of Miniland. The LEGO racetrack even has an interactive, animated "horse race" that you can control! Another standout replica at Miniland is Goshen's First Presbyterian Church, with a stunning steeple tower and tiny stained-glass windows.
5. Eat Locally

Credit: Courtesy of LEGOLAND California
Each land at LEGOLAND features dining options that stay on-theme, from Brickbeard's Food Market at LEGO Pirates to Brickolini's Pizza and Pasta in LEGO City to Ninja Kitchen, offering Asian specialties in LEGO NINJAGO World. Look for classic New York foods such as pretzels, bagels, and pizza throughout the park, as well as plenty of family-friendly fare and creative options like Granny's Apple Fries, which are made from fresh, seasonal New York apples, sprinkled with cinnamon and sugar, and topped off with a vanilla cream dipping sauce. LEGOLAND will aim to work with local food partners, purveyors, and farms to source ingredients for its restaurants, food carts, and snack shacks.
6. Check Out LEGOLAND's Accessibility Features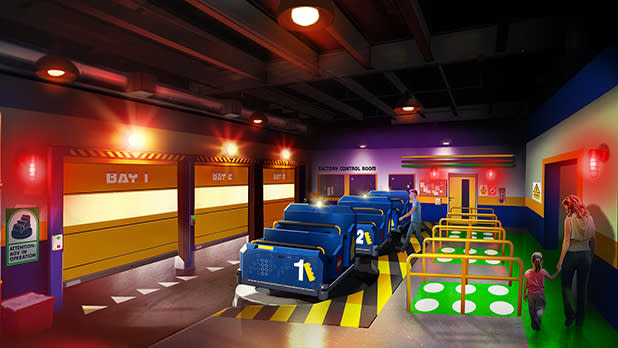 Visitors with accessibility needs will find plenty to love at LEGOLAND New York. The LEGO Factory Adventure ride (pictured) is the first ride at any of LEGOLAND's eight parks with an ADA accessible vehicle that allows guests to ride in their own wheelchairs, no transfers necessary! There are sensory-friendly features for guests with autism, including a Sensory Quiet Room to decompress with weighted blankets, dim lighting, and toys, located in LEGO City. There are also illustrated, step-by-step walkthroughs of every ride and show, in a feature called Social Stories, to avoid being surprised by periods of darkness, loud noises, bright lights, or other elements. LEGOLAND also provides accommodations for those with visual and hearing disabilities. More information is available on the Special Situations section of the LEGOLAND website, and anyone with questions about accessibility features can email LLNY.experience@LEGOLAND.com.
7. Stay for a Weekend. Or Longer!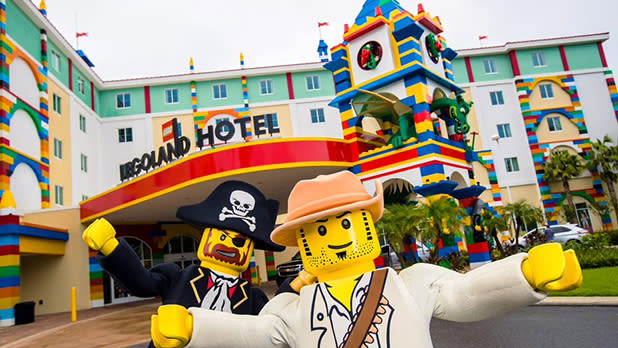 With so many rides, shows, and attractions to experience, it's tough to fit it all in one day, and why should you? LEGOLAND New York also has its own hotel where you can continue your LEGO adventure into the evening after the park closes. The LEGOLAND New York hotel, slated to open August 6, will be the first and only LEGO hotel in the Northeast, with 250 themed rooms. Each room has a separate sleeping area for children and includes a virtual assistant who leads treasure hunts and reads bedtime stories. The hotel will have a heated pool as well. For those who want to experience LEGOLAND before the hotel opens, or who'd like to extend a trip to explore the amazing Hudson Valley, find a place to stay nearby and get ready to have some fun!