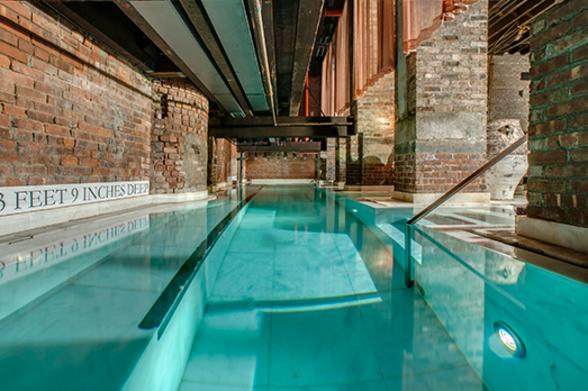 There are easy escapes from the stress of everyday life right here in New York State. Retreat at these bliss-inducing spas where heated pools and massages will melt away your worries. After an afternoon (or a weekend) ​at these calming retreats, you'll have no trouble facing the world. 
Masks are encouraged, but optional in most settings per New York State guidelines. Individual businesses or attractions may require mask wearing. Call ahead and check websites and social media to make sure attractions and amenities are open and available.
Updated 6/5/23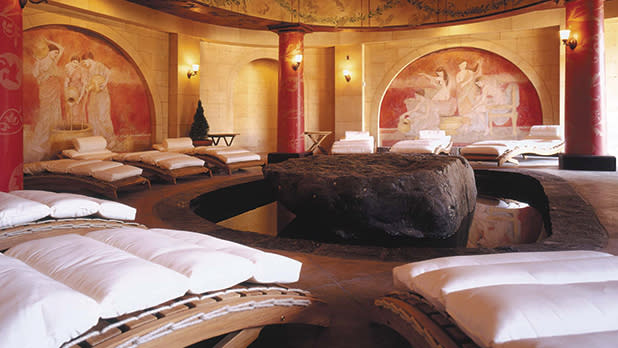 Although the address may say Skaneateles, you'll swear that you're in the French countryside when you arrive at the Mirbeau Inn and Spa. Designed with a distinctly European flair, there you can soak in the healing waters then enjoy a fine meal on a pond right out of a Monet painting.
Mirbeau's location in historic Rhinebeck opened in 2019 with a variety of luxe spa treatments and packages (including the French Clay Detox and an Exotic Milk Ritual), eucalyptus-infused steam rooms, Himalayan salt saunas, an aqua terrace with a hot plunge pool and a fireplace, and accommodations for overnight guests.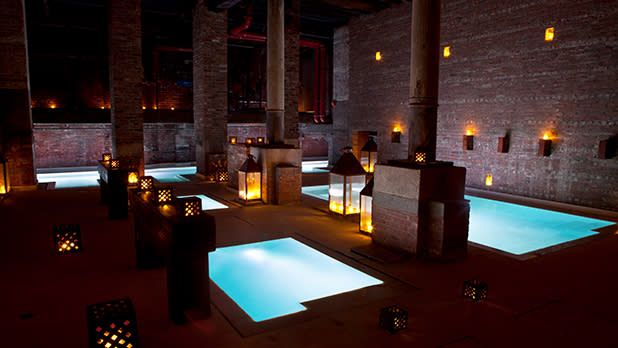 More like a faraway resort than a bathhouse, the Aire Ancient Baths will take you out of the hustle and bustle and transport you to a full mind and body restorative oasis. Soak in baths of varying temperatures to experience the ancient times of the Roman, Greek, and Ottoman traditions.

Credit: ​Photo Courtesy of Belhurst Castle
Nothing completes a trip to the spa like a glass of wine! Geneva's Belhurst Castle offers not only spa treatments, but a winery and dining options. If you're looking for a full-package getaway rather than a day at the spa, you'll find everything you want at this fairytale come to life. 

Credit: Photo by Beautiful Destinations
The Roosevelt Baths and Spa, at the Gideon Putnam in Saratoga Springs was established in 1935 and has been helping visitors find inner peace ever since. Timeless luxuries like mineral baths, facials, and body scrubs will rejuvenate your mind, body, and soul. Thanks to President Theodore Roosevelt's tireless efforts to preserve Saratoga Springs, everyone can relax and enjoy the historic atmosphere.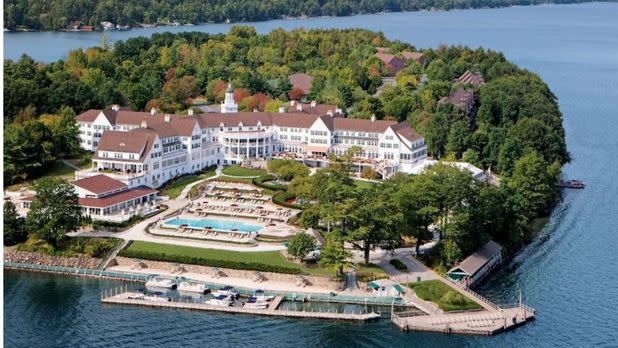 The Sagamore on Lake George isn't just secluded—it's on its own island! This jewel of the Adirondacks offers spa treatments as well as a salon so that you can look and feel your best. If you are feeling more active, there are fitness activities on offer, including an indoor pool and a gym. With a majestic view of the lake, you couldn't ask for a more beautiful wonderland.

Credit: Courtesy of Jim Smith Photography
Named one of the top 100 hotels in the world by Travel+Leisure, this is truly a treasure high in the hills of New Paltz. Part ski lodge/part spa, Mohonk is ideal for those who truly want to get away. There are fantastic overnight deals available, but you might only need a day pass to feel refreshed and ready to take on anything.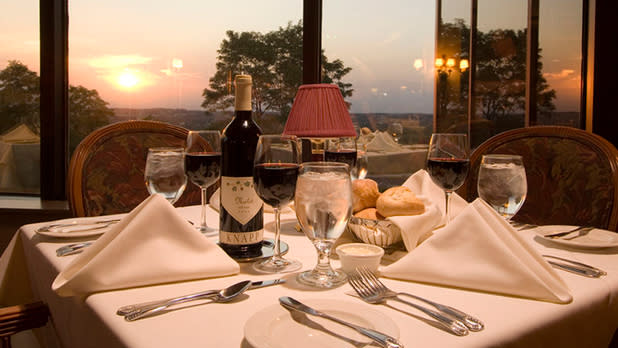 Situated in Rochester near the pristine Finger Lakes, the Woodcliff Hotel offers everything from golf to shopping as well as spa treatments to die for. It's the perfect place for a solo trip, a family getaway, or a bachelorette vacation. Choose from several treatments, including a couples massage, aromatherapy massage, gentleman's facial, and stress fix pedicure, then cozy up to the fireplace and shake off the blues.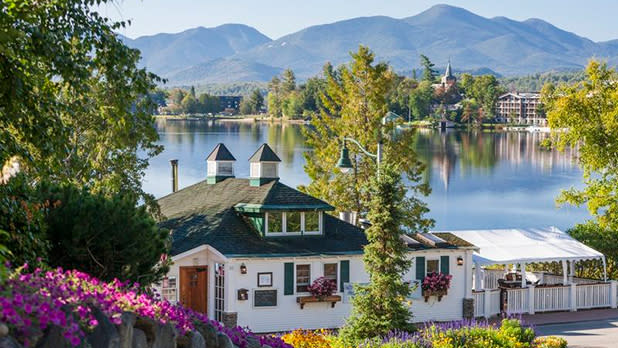 Mirror Lake Inn is like something out of a dream. Rated No. 1 on TripAdvisor, the spa offers a variety of day spa packages, body scrubs, facials, mani-pedis, salt room therapy, and more, as well as two restaurants, so you never have to leave! Package deals are available for couples and families.

Credit: Revette Studio
Experience natural holistic treatments for health and wellness like Ayurvedic hot oil massages, acupuncture, yoga, and more at YO1 Wellness Center, one of the most highly rated resorts and spas in The Catskills.
Don't forget to post photos of your New York adventures on Instagram and Twitter with #iSpyNY and tag us on Facebook!