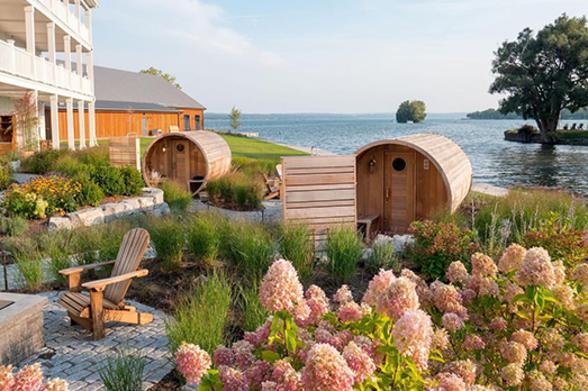 Feel the demands of daily life melt away as you indulge in a world of tranquility and rejuvenation on a wellness retreat steeped in luxury in New York State. Recharge your body, mind, and soul with lavish spa treatments, enlightening healing rituals, and mindful experiences ranging from forest bathing to reiki in serene sanctuaries within an oceanfront oasis on Long Island, the rolling hills of the Hudson Valley, soothing shores of the Finger Lakes, and more.
Masks are encouraged, but optional in most settings per New York State guidelines. Individual businesses or attractions may require mask wearing. Call ahead and check websites and social media to make sure attractions and amenities are open and available. 
Jump to: Adirondacks | Capital-Saratoga | Catskills | Central New York | Finger Lakes | Hudson Valley | Long Island | New York City
Adirondacks
Mirror Lake Inn Resort & Spa, Lake Placid
As Lake Placid's only four diamond resort and spa, Mirror Lake Inn has everything you need for the ultimate wellness escape. Find your zen with a private yoga session, detox and unwind with a cleansing session in the tranquil Salt Room, and get some me time in the award-winning spa with a nourishing treatment like an Adirondack-inspired maple sugar body scrub that will leave your skin hydrated and revitalized. With a heated 60-foot indoor lap pool, sauna and hot tub, private beach for lakeside lounging, tennis court and fitness center, two restaurants including a fine dining experience emphasizing the terroir of the Adirondacks, and luxuriously-appointed rooms with lake and mountain views, the opportunities for self-care at this century-old resort are boundless.
The Sagamore Resort, Bolton Landing
Perched on the serene shores of Lake George, the historic Sagamore Resort is the perfect self-care sanctuary. The Grand Dame of the Adirondacks, poised on the tip of its own island, boasts a spa with natural woods and soft tones evoking the mountainous landscape to provide a peaceful setting to nurture your body and soul in its 13 treatment rooms and relaxing hydrotherapy area. Indulge in a facial, body treatment, or massage, or freshen your look at the salon. A wealth of amenities are yours to enjoy like taking a dip in the infinity pool, sweating it out at the fitness center or striking a pose with a personalized yoga class, golfing the 18-hole Donald Ross course, relishing in fine fare and fresh eats, or hanging out at the family-friendly rec center complete with mini-golf, a movie loft, and more.
Whiteface Lodge, Lake Placid
Immerse yourself in Gilded Age splendor at Lake Placid's Whiteface Lodge, a cozy yet elegant resort with a rustic timber design offering Great Camp ambiance, lavish suites with forest-inspired decor and modern amenities, and breathtaking balcony views of the picturesque Adirondacks woodlands. Experience unparalleled luxury and healing at the spa, ranked among the top 100 in North America by Conde Nast Traveler, with treatments inspired by Adirondack Mountain life like the Ausable River stone massage and detoxifying Lodge Mud Wrap. Complimentary yoga classes, 24-hour fitness center, and heated pools are available along with canoes and kayaks, 56-seat movie theater, upscale and casual restaurants, old-fashioned ice-cream parlor, bowling alley, game rooms, tennis and basketball courts, ice skating rink, snowshoe trails, and evening bonfires with s'mores.
Capital-Saratoga
The Gideon Putnam, Saratoga Springs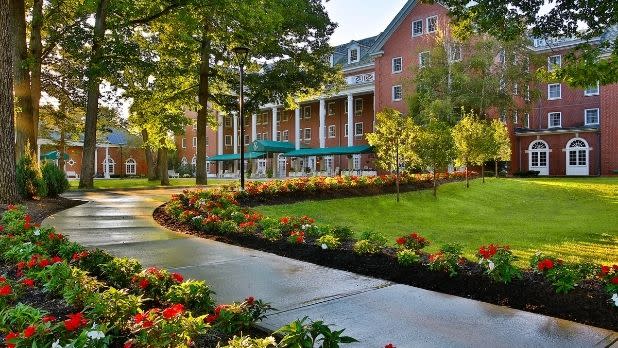 A relaxing retreat comes naturally at the Gideon Putnam, which has been helping visitors find inner peace in the heart of the magnificent Saratoga Spa State Park since 1935. Bathe yourself in historic elegance as you bask in timeless luxuries from healing mineral baths to facials and body scrubs at the hotel's Roosevelt Baths and Spa. Their wellness calendar has a healthy selection of yoga, meditation, and Reiki sessions to choose from and your self-care journey can continue with a satisfying meal at their on-site restaurant and seasonal outdoor patio. After soaking it all in, venture out into the 2,300 acres of parkland to wander the trails and visit attractions such as the world famous Saratoga Performing Arts Center and Saratoga Automobile Museum.
Catskills
YO1 Longevity & Health Resorts, Monticello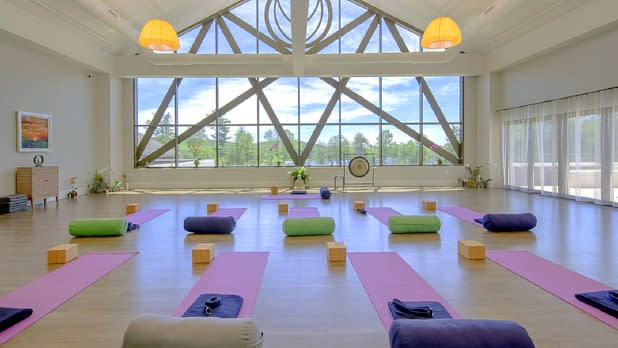 YO1, named in honor of the Sanskrit word meaning "youth," is a relaxing and scenic sanctuary set on 1,300 acres in the Catskill Mountains devoted to health, renewal, and replenishment. Winner of the 2022 International Travel Award for Best Wellness Resort, your all-inclusive experience is made just for you with programs expertly curated to address anxiety, pain management, insomnia, and more. A blend of Ayurveda, yoga, naturopath, acupuncture therapies will guide you on your path to wellness along with fresh cold-pressed juices and immune-boosting, detoxifying chef-prepared meals that you can even learn how to make. Choose from day pass, three-night wellness, and other packages to balance your mind, body, and spirit. Guest rooms feature luxurious amenities such as steam showers, lavish bedding, and breathtaking lakeside and forest views.
Menla Retreat and Dewa Spa, Phoenicia
Feel the healing touch of nature and get a taste of Tibet on a wellness retreat to Menla, a resort and destination spa located on 320 secluded acres tucked amid the pristine wilderness of the Catskill Forest Preserve. Awaken your spirit with private qi gong, yoga, and meditation sessions or indulge in lavish therapies at the Dewa Spa including a Tibetan KuNye massage, herbal bath infused with Himalayan plants, Ayurveda, acupuncture, and sound healing. Clear your mind on a restorative hike, savor farm-to-table vegetarian fare made with ingredients from Menla's gardens, take a dip in the pool, and end your day with a bonfire under the starry skies. Three hotel-style residences provide deluxe private rooms and suites while forest cabins and cottages are perfect for groups. Choose a weekend or week-long group retreat focused on Buddhism, yoga, holistic health, and more, or opt to create your own getaway for a more individualized experience with your personal preferences in mind.
Piaule Catskill, Catskill

Credit: @mp_broll on Instagram
Nature takes center stage at this modernist boutique hotel nestled between the Catskill Mountains and Kaaterskill Creek. Its 24 Scandinavian and Japanese-inspired luxury cabins are scattered on stilts across a forest with each featuring a glass wall facing the evolving landscape allowing guests to fully appreciate the grandeur and beauty of the surrounding scenery. The spa, open to guests only, features a sauna, steam room, as well a hot pool and mineral plunge with breathtaking mountain views. Take your wellness to the next level with a healing massage, immersive sound bath, and other rejuvenating experiences including forest bathing, Reiki, and yoga sessions. Nourish your body and feed your soul at Piaule's highly-acclaimed restaurant featuring hyper-seasonal creations from a Michelin-star chef.
Central New York
Skana Spa at Turning Stone Resort Casino, Verona
Skana Spa at Turning Stone Resort Casino is your best bet for a serene, self-care getaway. Not only a Forbes Travel Guide Four Star award winner, Skana has also been recognized by Spas of America as the #1 spa in North America in 2021 and best spa in New York in 2022. Through its combination of ancient Oneida healing principles with modern therapies you'll experience soothing treatments such as the sage and white pine hot towel massage, strawberry sugar scrub, and sunflower exfoliating wrap that invigorate the body, mind, and spirit with the use of ingredients rooted in the Oneida tradition. Enjoy a wide range of amenities including a steam room, sauna, hot tub, and mineral pool as well as salon offerings. Turning Stone is a destination resort that truly has something for everyone from Vegas style gaming and dazzling live entertainment to luxurious lodging and award-winning dining.
Finger Lakes
The Lake House on Canandaigua, Canandaigua
Live in the lap of lakefront luxury at The Lake House, a sleek and stylish 124-room hotel on the banks of Canandaigua Lake once named the best resort hotel in the state by Travel + Leisure. The hotel's Willowbrook Spa harnesses the beauty and healing powers of nature to deliver restorative and rejuvenating massages, skincare, and body treatments tailored with custom-blended herbal tinctures and herbal-infused oils to meet your wellness needs. Relax in the sunroom, find inner peace in the garden, and embrace purification in a Nordic-inspired barrel sauna while overlooking the crystal lake. With a daily schedule of morning yoga, meditation, and stretch sessions, you can start your day with a gentle awakening of the mind, body and spirit. Enjoy a dip in the heated lakefront pool or soak in the hot tub, candlelit dinners at Rose Tavern, relaxing paddling experiences, cozy nights by the fire, and more as you indulge in the opulence of lake life.
Inns of Aurora, Aurora
Poised at the edge of Cayuga Lake, the Inns of Aurora layer the spirit of a simpler time with a contemporary approach to wellness, hospitality, and design. Named New York's best resort in 2022 by Travel + Leisure, its five historic estates nestled amid 350 bucolic acres create a storybook setting for an idyllic Finger Lakes getaway with a hilltop spa offering a peaceful respite for the ultimate in rest and relaxation. With two hydrotherapy circuits and an extensive menu of Ayurveda-inspired treatments (plus a seasonally-inspired café), it's easy to find bliss. Wellness activities extend to yoga, tea blending, essential oil blending, and spirit card readings. Director of Serenity Laura Couburn has also crafted a special two-day head-to-toe reawakening retreat featuring a scrub, oxygen facial treatment, hydrotherapy, time in nature, journaling, reflexology, and hydrotherapy.
Mirbeau Inn & Spa, Skaneateles
Escape into the relaxing French countryside without the stress of boarding a flight to Europe at the Mirbeau Inn & Spa in Skaneateles. Ponds and gardens straight out of a Monet painting and rooms in the chateau-style inn complete with cozy fireplaces, oversized soaking tubs, and cloud-soft beds with down comforters, create a quiet oasis for your self-care journey. Indulge yourself at the centerpiece spa featuring 18 treatment rooms with fireplaces, a resting area with heated foot pool, herbal-infused saunas, stream rooms, calming mineral bath, heated whirlpool spa with private bar, and a full menu of services from massages to facials. Health, nutritional, and fitness consultations are available along with daily yoga and fitness classes, state-of-the-art fitness center, and motion studio.
Hudson Valley
Wildflower Farms, Auberge Resorts Collection, Gardiner
Tucked away on 140 secluded acres once home to a tree nursery and dairy farm, Wildflower Farms taps into its agricultural roots and stunning natural surroundings to create a pastoral wellness escape like no other. Its 65 freestanding suites, cottages, and bungalows overlook the Shawangunk Ridge while the picturesque grounds evoke a Hudson River School painting with its orchards, heirloom gardens, farm, and fields of wildflowers. The spa caters to your self-care needs with an indoor saltwater pool, outdoor hot tubs, sauna, and seasonally-inspired treatments that use hand-harvested local ingredients. Find inner harmony with a grounding sound bath or healing Reiki ritual, join daily wellness classes that range from meditation and breathwork to yoga, or go forest-bathing on three miles of on-site trails. Wellness stretches beyond the spa with unique experiences to enliven your senses and bring you closer to nature including forest foraging to botanical mixology.
Mohonk Mountain House, New Paltz
Step into the pages of a fairytale on a wellness retreat to the Mohonk Mountain House, a grand 265-room Victorian castle resort perched along the glacial-formed Lake Mohonk surrounded by the Shawangunk Ridge. Founded in 1869, Mohonk Mountain House is the ultimate destination for recreation and renewal of body, mind, and spirit. The award-winning spa features 16 treatment rooms, a solarium, eucalyptus steam room, dry rock sauna, outdoor heated mineral pool, yoga and motion studio, plus a menu of 80 unique nature-inspired treatments like the Mohonk Red Massage which utilizes witch hazel. Private wellness sessions from a yoga hike to forest bathing help you further unwind, and the new Lakeview Summerhouse provides a seasonal spa setting immersing you in the sights and sounds of nature. The opportunities for recreation are endless with a skating pavilion, rock climbing, 85 miles of trails, exquisite gardens, nine-hole golf course, tennis courts, and stables for horseback riding and horse-drawn carriage rides.
Troutbeck, Amenia
Once a gathering place for cultural luminaries including Ralph Waldo Emerson, Mark Twain, Henry David Thoreau, W.E.B. Du Bois, Thurgood Marshall, and Theodore Roosevelt, this historic estate hotel nestled in the hills of Amenia now beckons the curious and adventurous to its tranquil 250-acre wellness haven. The enchanting property features 38 lushly-appointed guest rooms throughout four residences, a restaurant specializing in farm-to-table fare, serene walled garden, and rich woodlands. Elevate your spirit at The Barns, a health-centric complex clad in timber reclaimed from the old Tappan Zee Bridge, with daily yoga, meditation, and fitness classes. Spa services include acupuncture, massages, and somatic experiences to treat trauma and stress, plus a traditional and infrared sauna for a round of detoxing. Outdoor enthusiasts who find nurture in nature can hit the hiking trails, seasonal pool, tennis courts, and even take a private falconry session.
Habitas-on-Hudson, Staatsburg
Habitas-on-Hudson is all about creating enlightening experiences and fostering human connection in nature at the Habitas brand's first U.S. location in the heart of the Hudson Valley. Taking inspiration as a summer camp for grown-ups, the luxurious retreat offers 30 rooms in the 18th century manor, lodge, and stonehouse surrounded by towering trees and rolling hills, plus a restaurant that serves up family-style dinners with a seasonal flare. Its expansive roster of adventure and wellness programming makes it an appealing four-season destination. Yoga, meditation, harmonious soundbaths, pilates, and stretch sessions leave you feeling rejuvenated while other activities like intimate film screenings, craft cocktail classes, mushroom foraging, and s'mores beside a bonfire delve into the benefits of community. You'll also find tennis courts, a game room, and swimmable pond on site.
Long Island
Shou Sugi Ban House, Water Mill
This three-acre sanctuary of zen with 13 guest studios in the luxurious Hamptons is inspired by openness and exploration, as well as wabi-sabi—the principle of accepting your imperfections. Shou Sugi Ban House's name is rooted in the ancient Japanese technique of preserving wood by charring it symbolizing rebirth and transformation. Treat your body to a variety of therapies including body wraps and scrubs, a cryo-balancing facial, and deep tissue massage. The hydrotherapy suite features saltwater plunge pools, eucalyptus steam room, dry and infrared saunas, and an ice fountain. Choose from an extensive selection of wellness rituals including sound baths, crystal and shamanic healing, Reiki, meditation and breathwork, yoga, pilates, and nutritional consultations and workshops to discover the meaning of food as medicine. The plant-rich culinary program, designed by a Michelin-starred chef, features a Nordic-inspired menu with Asian influences that's not to be missed.
Gurney's Montauk Resort and Seawater Spa, Montauk

Photo Courtesy of Gurney's Montauk Resort
Let the breezy ocean air and soothing sounds of crashing waves bring you to a peak state of relaxation on Long Island's East End. Gurney's, the only beachfront luxury hotel in the Hamptons, is the perfect spot to take in the sea and sand thanks to their 158 rooms, suites, and beachfront cottages that all deliver dramatic Atlantic Ocean views. The 30,000-square-foot Seawater Spa features the only ocean-fed seawater pool in North America, a caldarium, thermae baths, reinvigorating cold plunge pools, indoor-outdoor treatment rooms, eucalyptus-infused steam rooms, dry sauna, heated stone bench, and a variety of fitness studios. Feel the healing powers of the sea in treatments ranging from a body scrub utilizing organic seaweed to a massage featuring your choice of a nourishing algae-based oil or balm. Awaken your body and mind with a daily schedule of morning classes that include oceanfront tai chi, yoga, meditation, pilated, and more.
New York City
Equinox Hotel, Manhattan
If you think you need to escape the city to experience the best in wellness, think again. Named one of the 50 best hotels in the world, the Equinox Hotel is an urban oasis with 212 guest rooms and suites offering stunning views of the Manhattan skyline and Hudson River. Rooms are outfitted with soundproofing, black out curtains, temperature-regulated bedding, and more fine touches to ensure a restful and restorative night's sleep. This luxury-lifestyle hotel offers a resort experience with its 60,000-square-foot fitness club, heated rooftop pool and 25-yard indoor saltwater lap pool, saunas, cold plunges, and innovative spa with a menu of always-evolving treatments, from indulgent massages to techno-therapies designed to enhance your health and performance. Elevate your post-workout recovery in their rooftop barrel saunas where you can recharge while soaking in breathtaking city views. Level up your stay with a three-day curated experience guided by an Equinox-certified coach who will unlock your full potential with a personalized wellness roadmap to optimize your health and lifestyle routine.
Aman New York, Manhattan
Get the royal treatment at the Aman Hotel as you relish in a serene self-care getaway in the heart of the concrete jungle within the iconic Crown Building on Fifth Avenue overlooking Central Park. Aman New York abounds with opulence with 83 luxurious rooms, garden terrace and bar, subterranean jazz club, wine room, two on-site restaurants, and 25,000-square foot, three-floor spa featuring an infrared sauna, a 65-foot pool lined with daybeds and firepits,  cryotherapy chamber, marble steam room, and two private spa houses than can be rented out for a half or full day. Hand-pick treatments from the spa's menu of signature massage therapies and holistic facials, reach a new level of personal wellbeing with a wellness immersion program, or join exclusive experiences like a half-day strength and recovery programme curated by Maria Sharapova or a four-day retreat led by Bon Buddhist master and scholar, Geshe La. Complimentary wellness activities including guided morning runs and walks through Central Park and evening meditation are also available.
The Rockaway Hotel + Spa, Queens
A laid back beach escape with a focus on wellness is just a ferry ride away from Manhattan at The Rockaway Hotel + Spa in Queens. Chic rooms with views of the beach and bay with soothing palettes and Scandinavian design aesthetic will leave you feeling worlds away from the bustling city. The spa is a transformative oasis with healing offerings for mind and body like an aloe and seaweed body wrap and luxurious recovery massage using cold-pressed hemp, marula, jojoba and olive oils. Relax in a cedar barrel sauna situated near the outdoor pool, recenter yourself at a daily yoga class, or work up a sweat in a sculpt class. All hotel guests also enjoy complimentary access to Orange Theory, which is just a short 4 minute drive away.
---
Don't forget to post photos of your New York adventures on Instagram, TikTok, and Twitter with #iSpyNY and tag us on Facebook!