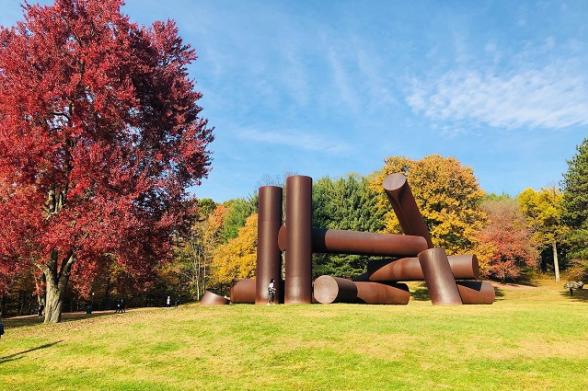 Art doesn't have to be admired exclusively inside a museum (although New York is home to some of the world's best). Get outside and breathe in the fresh air as you marvel at beautiful sculptures with the natural landscape as their canvas. New York State has a plethora of sculpture parks and gardens that let you experience art and culture amid rolling hills, manicured lawns, gorgeous blooms in the spring and summer, stunning foliage in the fall, and even snow-blanketed paths in winter.
Updated 06/23/2023
JUMP TO: Catskills | Hudson Valley | Finger Lakes | Chautauqua-Allegheny | NYC | Long Island | Central New York | Capital-Saratoga | Adirondacks | Greater Niagara
CATSKILLS
Nestled in the heart of the Catskills near Esopus Creek, Brunel Sculpture Garden features 14 unique sculptures and towering concrete totem poles (some weighing as much as 20 tons!) constructed between 1929 and 1941 by French artist and photographer Emile Brunel. This tranquil folk art paradise is a place for peaceful reflection as you gaze toward the trees, sky, and towering monuments honoring the traditions, culture, and contributions of Native Americans. The 1.3 acre woodland property was once the site of Brunel's home and Le Chalet Indien hotel, which played host to the likes of Franklin D. Roosevelt, Eleanor Roosevelt, and actor Jimmy Cagney. Rumor has it FDR claimed Brunel cooked the best pancakes in the country! 
HUDSON VALLEY
Art and nature come together in perfect harmony at Storm King Art Center's 500 scenic acres on the banks of the Hudson River, with Storm King Mountain looming in the background. Discover over 100 large-scale sculptures as you explore the sprawling meadows, rolling hills, and woodlands by foot, bike, or tram. This world-renowned outdoor sculpture park features rotating works and permanent installations by acclaimed visionaries, including Sarah Sze's Fallen Sky, where the sky is reflected in pieces of mirrored stainless steel in this 36-foot-round earthwork embedded in the side of a gentle hill.
Spend a day in the great outdoors experiencing art in nature with a picnic, bike ride, or stroll amid the 120-acres of fields and forest at Art Omi, where rotating exhibits of large-scale sculptures by contemporary artists jut out of the landscape begging to be explored. Will Ryman's Pac-Man-inspired maze and Hou de Sousa's brightly-colored prismatic forms are among the works that will take you on a unique artistic journey. The sculpture and architecture park can be enjoyed from dusk until dawn in all seasons and is particularly stunning in the fall when the changing leaves create their own masterpiece in an autumnal palette. 
When you think of soda companies, art may not be the first thing that comes to mind. At the PepsiCo headquarters, you'll find an incredible collection of 45 sculptures by Alexander Calder, George Segal, David Smith, and other 20th century luminaries amid magnificently tended gardens that are themselves a work of art. The gardens are open to the public from 10 a.m. to 4 p.m. on weekends from April 1 through November 19.
Opus 40 - Saugerties, NY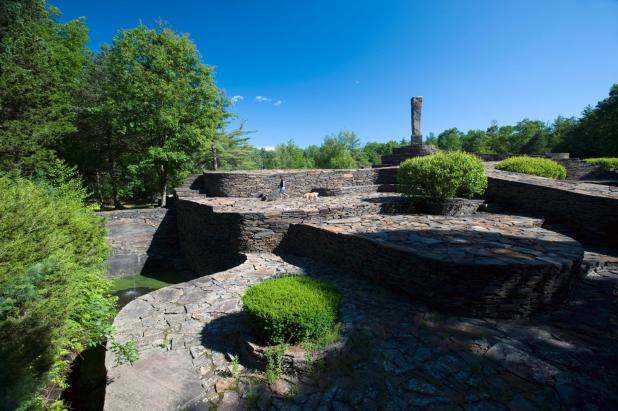 In a masterful feat of art and engineering, Harvey Fite used only hand tools to create his epic and dazzling 6.5-acre environmental sculpture. Over 40 years, he diligently crafted a series of terraces, ramps, pools, and fountains out of an abandoned bluestone quarry that today attracts tens of thousands of visitors annually. The massive stonework sculpture is framed by surrounding woods, grasslands, and mountains in a commanding showcase of natural beauty. Hours of operation vary by season.
The 20-foot tall sculpted head of Gaea, the Greek goddess of Earth, peers over the Taconic State Parkway, beckoning drivers to go off the beaten path to explore this hidden gem roadside attraction. Self-taught sculptor Roy Kanwit transformed his 3-acre yard into an open air gallery displaying his marble and limestone works inspired by Greek, Roman, and other ancient mythologies to create a whimsical space with 360-degree views of the surrounding rolling hillsides. You'll also encounter a happy waving dragon plus a mini castle. The park is open seasonally on weekends from 9am to 5pm with a $10 fee per car.
The 10-acre Catherine Konner Sculpture Park at the Rockland Center for the Arts hosts rotating sculptures throughout its grounds year round. To celebrate RoCA's 75th anniversary, the park is presenting Fluid Curves with the whimsical sculptures of Doris Laughton, sometimes called the "splat lady," on display through November 2023. The park is also showcasing  works by influential 20th century artist Dorothy M. Gillespie, a force in the women's art movement. Her brilliantly-colored starburst sculptures hang from branches and stand among the tree-lined path to create a magical enchanted garden that inspires awe and wonder. The sculpture park is open dawn to dusk and is free to the public.
The Circle Museum just off Route 22 may be easy to overlook, as some may mistake this eight-acre sculpture park and its scrap metal masterpieces for a junkyard. You'll be treated to an unexpected adventure as you explore the 100 sculptures in this natural forest setting. The sculptures are all born from the imaginative mind of artist BIjan Mahmoodi, who takes inspiration from the circular nature of the earth, sun, moon, and life.
FINGER LAKES
The University of Rochester is a great destination for art lovers thanks to its Memorial Art Gallery, which recast 10 acres of its grounds to create Centennial Sculpture Park into a wonderful gathering spot amid art. Works include a colorful 25-foot stainless steel sculpture by Albert Paley and Wendell Castle's Unicorn Family, a cast iron outdoor living room complete with three oversize chairs, a table, and a lamp perfect for sitting and chatting. Also have fun finding 17 mini bronze figures by Tom Otterness, which will look familiar to anyone who has ever visited the NYC subway station at 14th Street and 8th Avenue.
At the foot of the Finger Lakes region spread out across 40-acres of woodland property you'll find the carefully crafted metalwork sculptures of one man who has made it his life's mission to pay homage to his heroes through his art. You'll encounter these fascinating abstract works as you wind and weave your way through the manicured paths amid the trees. C. Lyon installed his first sculpture on the property in 1984 and his collection has since grown to over 785 pieces. Tours are by appointment only and admission is free. The artist also offers ATV tours, which seat four to five people.
Ludovico Sculpture Trail is the perfect spot to stretch your legs and encounter surprising pieces of art as you explore the town of Seneca Falls, the birthplace of the women's rights movement. The nearly one-mile trail parallels the Seneca-Cayuga Canal, not far from the Women's Rights National Historic Park, and features several sculptures that pay tribute to the history of Seneca Falls, its role in women's suffrage, and the beauty of the Finger Lakes.
CHAUTAUQUA-ALLEGHENY
Griffis Sculpture Park, one of America's oldest and largest sculpture parks, features 250 enormous structures of steel and other materials that reside in the woods, fields, and even ponds of this sprawling 450-acre art wonderland. A series of hiking trails will lead you to these works of sculpture art that are just as stunning as the surrounding natural landscape. In the fall, the park emits an eerie glow during Night Lights, a special event that bathes the landscape and sculptures in colorful theatrical lighting. The park is open from sunrise to sunset from May 1 through October 31.
NYC
Once an abandoned landfill, Socrates Sculpture Park has established itself as a cultural anchor in Queens since being converted into an open air studio and exhibition space in the 1980s. With its rotating exhibits, this five-acre waterfront destination is an art lover's dream offering the latest and greatest in contemporary public art. It's also a great place for a picnic with picturesque views of Manhattan's skyline or a walk along the East River.
LONG ISLAND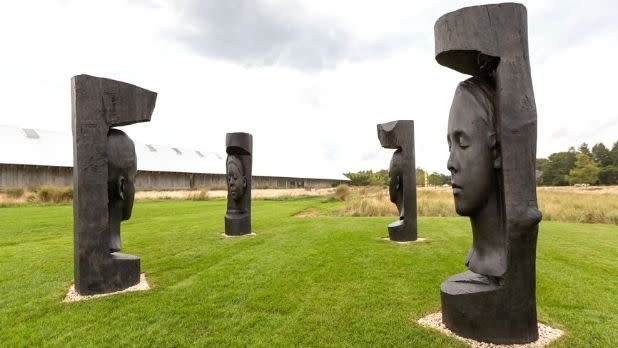 The Parrish Art Museum which grew from a small village art gallery on Long Island's East End into a collection of more than 2,600 works by contemporary artists housed in a show-stopping building designed by Herzog & de Meuron. It also utilizes its 14 acres of grassy meadows to showcase important sculpture art.
The grand former Frick Estate in the heart of Long Island's fabled Gold Coast which now houses the Nassau County Museum of Art is worth a trip alone, but the property's 145-acre world-class sculpture park makes this destination irresistible. More than 40 pieces by 30 sculptors—including Tom Otterness, Masayuki Nagare, Richard Serra, and more— interact with the natural environment as they're scattered across the fields, woods, ponds, and formal gardens. With six miles of walking trails, it's the perfect spot for a day of wonder and exploration.
On a former horse farm sits a stunning sculpture park that visitors are free to wander through seven days a week from dawn to dusk year-round. It features an impressive privately-owned collection of breathtaking works that includes pieces by Robert Graham, Cheryl Farber Smith, and Audrey Flack's 3,000-pound bronze beauty Civitas, which stands proudly as the field's centerpiece.
The idyllic Hamptons landscape pairs beautifully with the more than 70 pieces of contemporary sculpture that punctuate this magical 16-acre reserve and garden filled with ponds, dunes, and a 1,000-foot hemlock hedge. With every turn comes a delightful surprise as you encounter works by everyone from Yoko Ono to Willem de Kooning. The reserve is open Wednesday-Sunday from 12:30pm to 5:00pm from April through December; $20 for adults, $10 for seniors.
CENTRAL NEW YORK
Dedicated to providing access to the outdoors and art, Stone Quarry Hill Art Park is nestled on 104-acres with breathtaking views of the bucolic landscape that surrounds it. Four miles of earthen, gravel, and grassy trails let you explore stunning works by emerging and established artists ranging from monumental sculptures made of reclaimed wood to grazing horses created out of forged steel. The park is open daily from dawn until dusk with a pay-what-you-want admission policy (with a suggested donation of $5/person), and even has trails for cross-country skiing and snowshoeing in the winter.
CAPITAL-SARATOGA

Credit: @mariasohn on Instagram
Travel along four miles of old logging trails through the sprawling 120-acres of Salem Art Works' Cary Hill Sculpture Park, which showcases impressive rotating sculptures by regional, national, and international artists on the grounds of a former dairy farm. A trek up the hilltop provides amazing views of the Green Mountains and vast horizon. With camping allowed on the property and even fire pits available, you can turn this into a true outdoor art retreat under the stars. 
ADIRONDACKS
Along the banks of the beautiful Sacandaga River, you'll discover an eight-acre sculpture park on the site of a former 19th century lumber mill featuring the works of internationally recognized sculptors John Van Alstine and Caroline Ramersdorfer. Massive abstract works of granite, marble, stone, and steel are strategically nestled within the natural landscape and are a treat to behold in the fall when the foliage comes to life. The park is open for tours by appointment. 
GREATER NIAGARA
Artpark - Lewiston, NY

Credit: Brian Nacov
Greater Niagara's Artpark has the unique distinction of featuring an installation where you can make music out of art. Bells, gongs, chimes, and percussion instruments let you play with sound at the sculptures featured in the Artpark Percussion Garden. You'll also come across an impressive structure echoing a flock of birds midair, a tranquil Native American Peace Garden, and other unique finds as you walk the trails of this epic outdoor venue that also features a world-class amphitheater along the scenic Niagara River Gorge.
---
Don't forget to post photos of your New York adventures on Instagram and Twitter with #iSpyNY and tag us on Facebook!