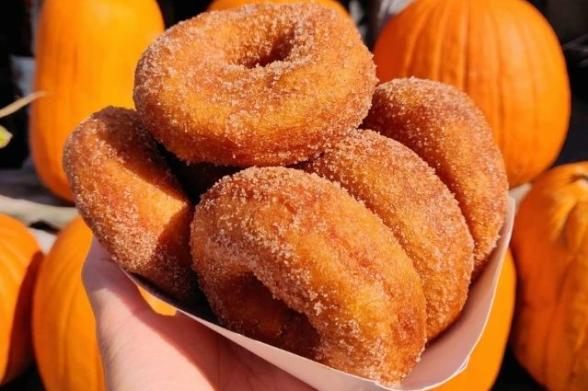 Updated 3/26/21
New Yorkers love their iconic New York foods and love to share their opinions. We tell friends where to find the best pizza slice or bagel. We travel across our towns or cities in search of the most perfectly moist half moon cookie. We make pilgrimages to the places where Buffalo wings or the Rochester garbage plate were first served. And we debate the merits of one food versus the other, which brings us to the new I LOVE NY Food Bracket. Voters on the I LOVE NY Instagram, Facebook, or Twitter accounts have now spoken, and NY Pizza is the winner of the 2021 Bracket! Follow I LOVE NY and while voting has ended, please feel free to make passionate comments about why your choice is the best!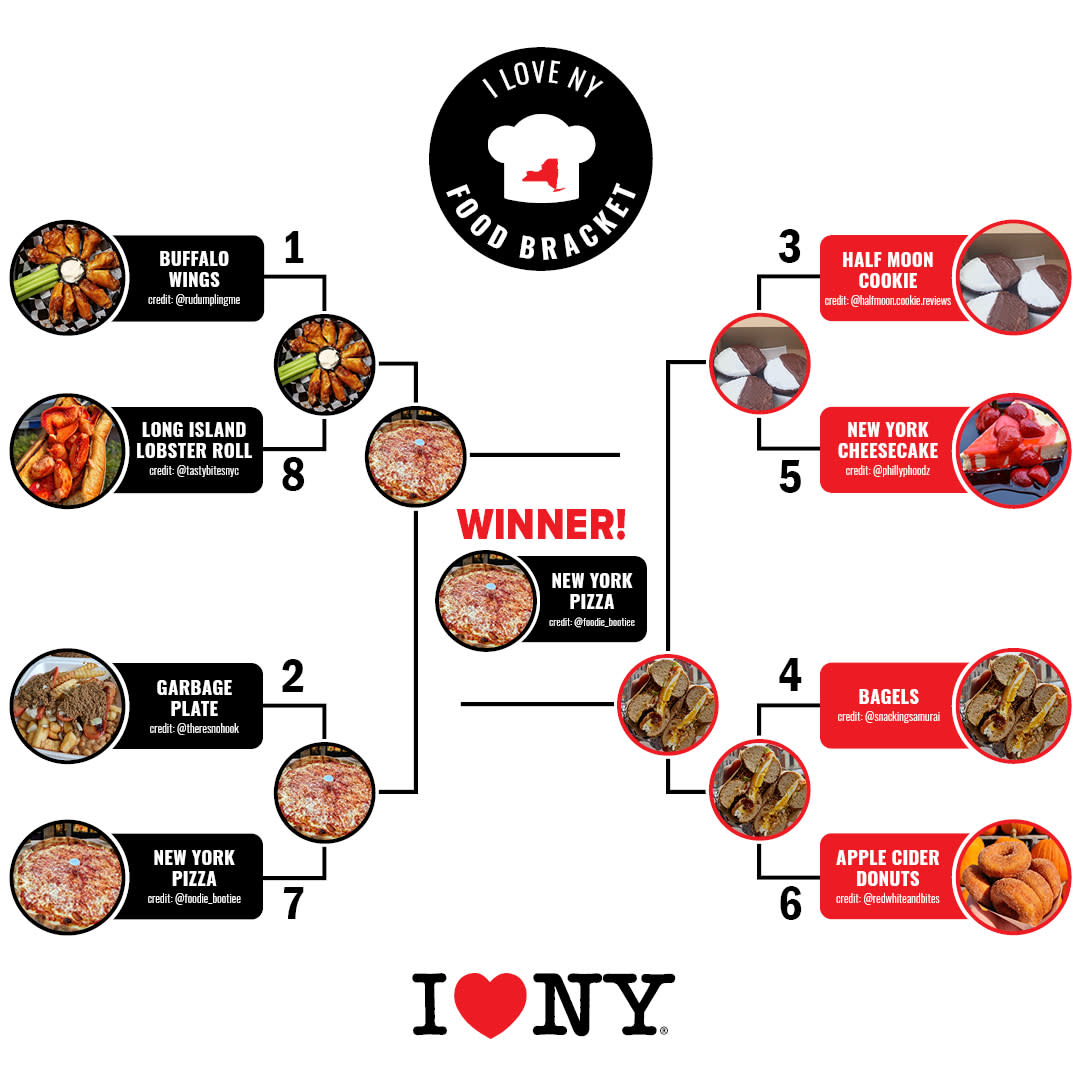 MATCH-UPS
Match-Up 1 (Wednesday, March 17)
Buffalo Wings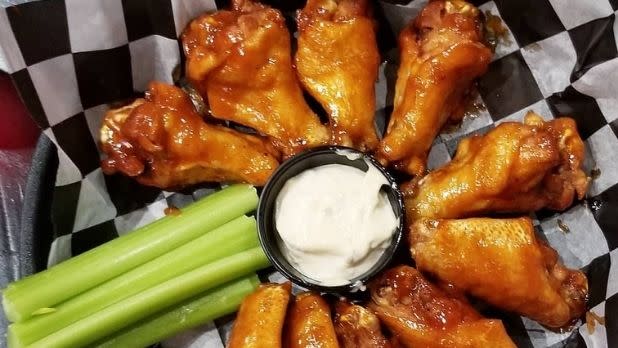 Credit: @reudumplingme on Instagram
Invented at the Anchor Bar in 1964, Buffalo wings are one of America's most beloved foods, served in bars, restaurants, and in homes from coast to coast. The Anchor Bar and many other Buffalo establishments still put wings at the top of their menu today, and there's even a buffalo wing trail you can visit to try all the favorites!
Vs.
Long Island Lobster Roll
Long Island's tasty summertime treat features juicy lobster meat lightly dressed with a sauce and served in a buttered, griddled bun. It's best enjoyed on one of Long Island's famous beaches followed by a dip in the Atlantic Ocean or Long Island Sound. There are many seafood shacks on the north and south shores of Long Island, and several great places to stop on the way out to spend a weekend in Montauk.
WINNER: Buffalo Wings
Match-Up 2 (Thursday, March 18)
Half Moon Cookie
The Half Moon or black and white cookie is another made-in-New York creation, this one dating back 1920, when Hemstraught's Bakery in Utica started selling cookies baked from scratch and covered in half chocolate fudge and half vanilla buttermilk frosting. The same recipe is still in use today at the Utica bakery, and countless versions are available at bakeries throughout the state, sometimes called "black and white cookies."
vs.
New York Cheesecake
The origin of New York cheesecake, like many food stories, begins with immigrants taking a recipe from the Old Country and adapting it for the changing tastes of the New World. In the case of cheesecake, around the turn of the 20th century, bakers used cream cheese, a new product invented in Chester, New York, in place of the European soft cheeses typically used at the time, added a graham cracker crust, and New York cheesecake was born. Junior's, a bakery in downtown Brooklyn, started making a rich, creamy cheesecake in the 1950s that still serves as the gold standard today, and you can even visit the original location or order online for shipping.
WINNER: Half Moon Cookie
Match-Up 3 (Friday, March 19)
Garbage Plate
One bite of Rochester's most famous dish will make a believer out of anyone. Originated at Nick Tahou Tots in 1918, where it's still being served today, the Garbage Plate features a burger patty, Italian sausage, chicken, and white or red hots served atop fried potatoes, beans, and topped with hot sauce.
vs.
New York Pizza
New York pizza is an attraction all its own, though we can help you find 11 of the best places to try it. You can also visit the pizzeria credited with bringing the Italian staple to New York, Lombardi's. The "New York slice" is a thing of beauty, a foldable, portable snack that can also be a meal, whether "plain," with cheese and sauce, or with toppings such as pepperoni.
WINNER: NY Pizza
Match-Up 4 (Monday, March 22)
Bagels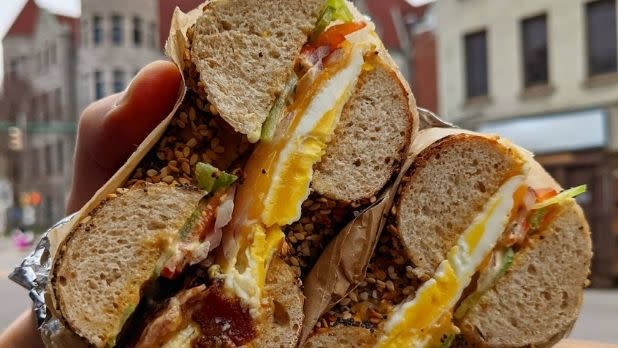 Credit: @snackingsamurai on Instagram
The bagel may be the most debated food in all of New York: to toast or not to toast, big or small, with cream cheese or with butter. Every true New Yorker has an idea of what makes a perfect bagel, and everyone is entitled to opinion. But we can all agree that nothing beats a New York bagel. Fortunately, there are many places throughout the state with great bagels to try!
vs. 
Apple Cider Donuts
New York is the second-largest apple producing state in the country, so it stands to reason that we would find creative ways to use the fruit. At fall festivals, farmers markets, and on orchards that you can visit, apple cider donuts are always a main attraction. They're made with New York apple cider and a pinch of nutmeg and coated in a cinnamon-sugar mix that makes these donuts a fall favorite that are irresistible any time of year!
WINNER: Bagels
Match-Up 5 (Tuesday, March 23): Buffalo Wings vs. NY Pizza
WINNER: NY Pizza
Match-Up 6 (Wednesday, March 24): Half Moon Cookie vs. Bagels
WINNER: BAGELS
Match-Up 7 (Thursday, March 25): Bagels vs. NY Pizza
Winner and Champion: NY Pizza